Pillowy soft gnocchi is the perfect landing place for rich and hearty Italian all-beef meatballs. We serve them alongside sweet green peas and tangy marinara sauce for the perfect balance of sweet, savory, and salty. This Rapid Cook meal is custom designed to be made in your Suvie 2.0. Order it directly from Suvie, have it delivered to your door, and dinner is ready in a flash
Suvie Cook Settings
Bottom Zone: Roast at 350°F for 15 mins for 2 servings, 25 mins for 4 servings
Top Zone: Roast at 375°F for 15 mins for 2 servings, 25 mins for 4 servings
Select YES from frozen when preparing a Rapid Cook Meal.
Meatballs with Gnocchi Marinara
Please always check your food to ensure your food has been cooked to safe serving temperatures. Please see our guide
here
for recommended FDA Time & Temperatures.
Servings: 2-4
Difficulty: 30 mins for 2 servings, 40 mins for 4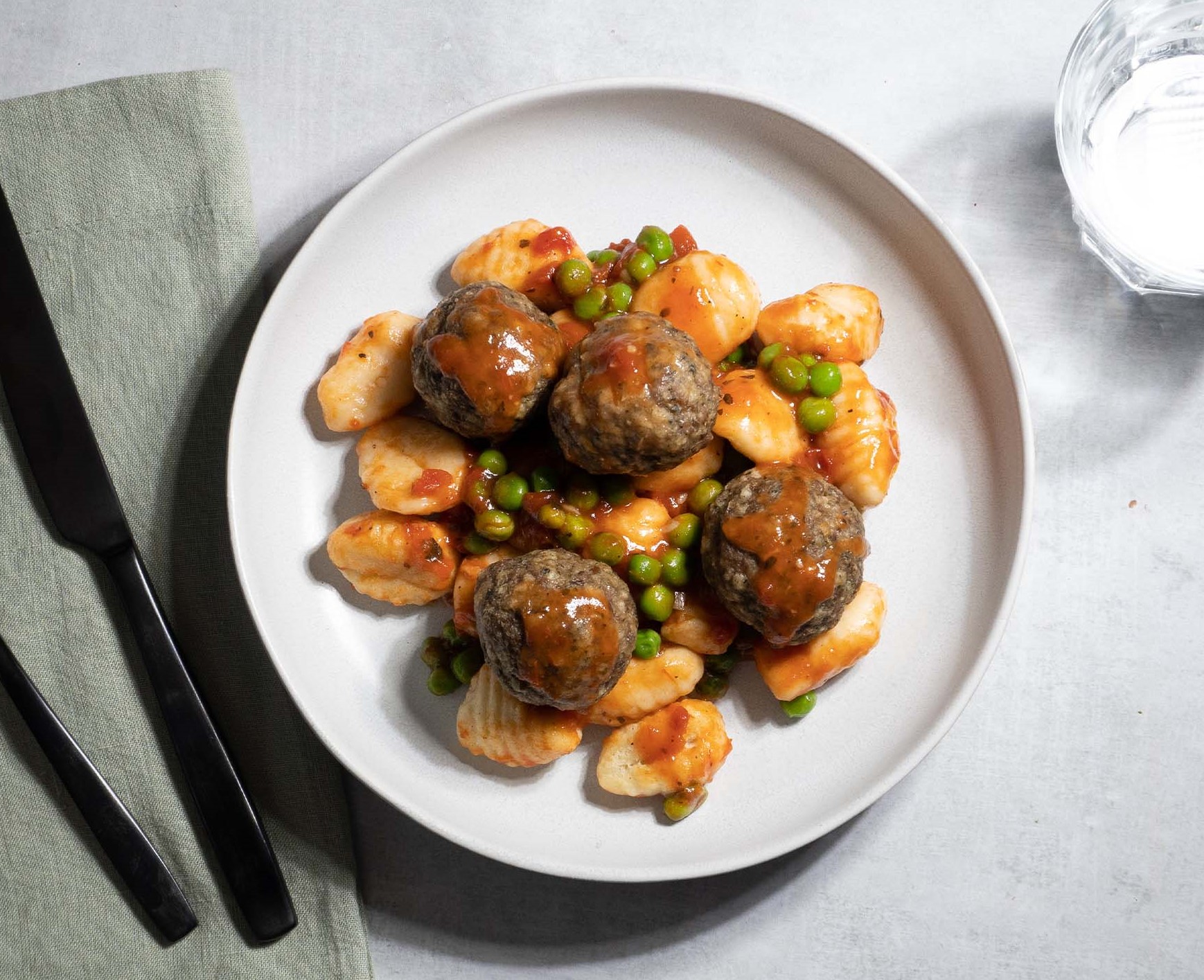 Ingredients
12 oz meatballs
10 oz gnocchi
5 oz green peas
8 oz marinara
Directions
1) Set a wire roasting rack in a Suvie pan. Open meatballs, place on the roasting rack, and drizzle with 1 tbsp olive oil. Place pan in the top zone of your Suvie.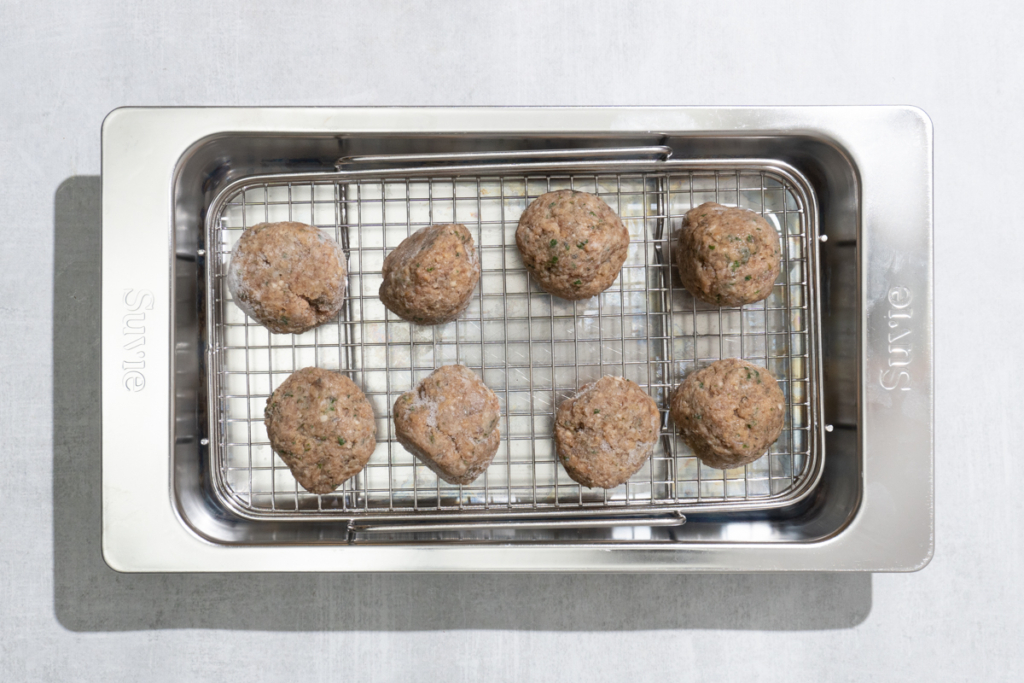 2) Open gnocchi, pour into a Suvie pan, and add 3 tbsp of water. Open green peas and evenly distribute over the gnocchi.
3) Cut open marinara and squeeze out of the packaging so that it rests on top of the gnocchi and green peas. Place pan in the bottom zone of your Suvie.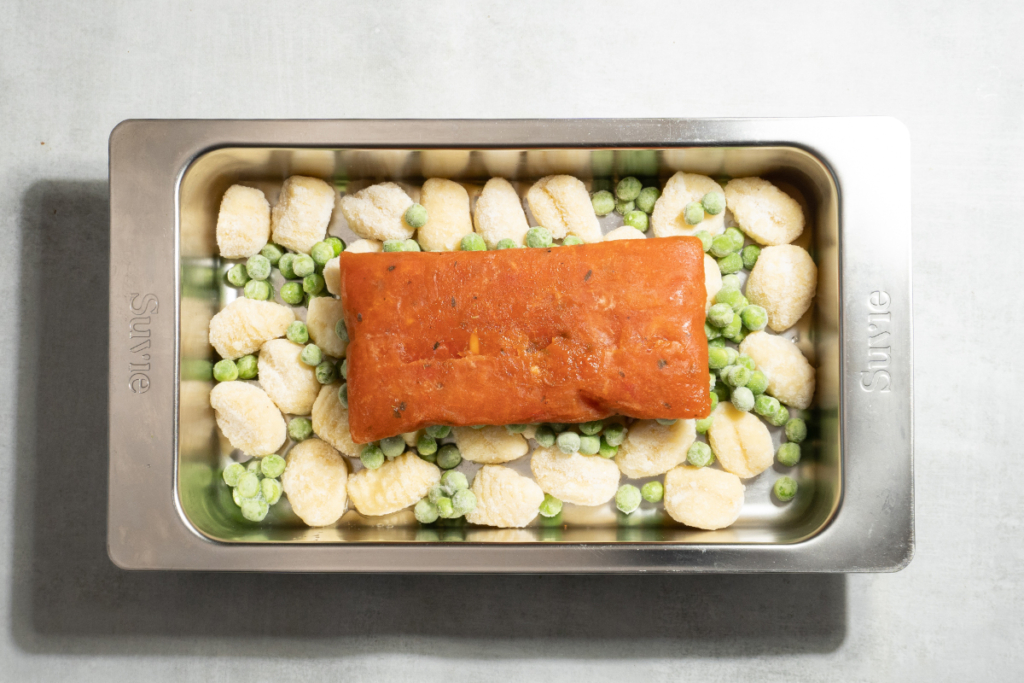 4) Input settings and cook now. Alternatively, you can store or schedule the meal in the Suvie, but note you will need to select Cook Now to begin cooking your stored or scheduled meal. (Please be sure to select "Yes" when asked if cooking from frozen).
Suvie Cook Settings
Bottom Zone: Roast at 350°F for 15 mins for 2 servings, 25 mins for 4 servings
Top Zone: Roast at 375°F for 15 mins for 2 servings, 25 mins for 4 servings
5) After the cook is complete, mix the gnocchi, green peas, and marinara together with a spoon. Divide between plates with meatballs and serve.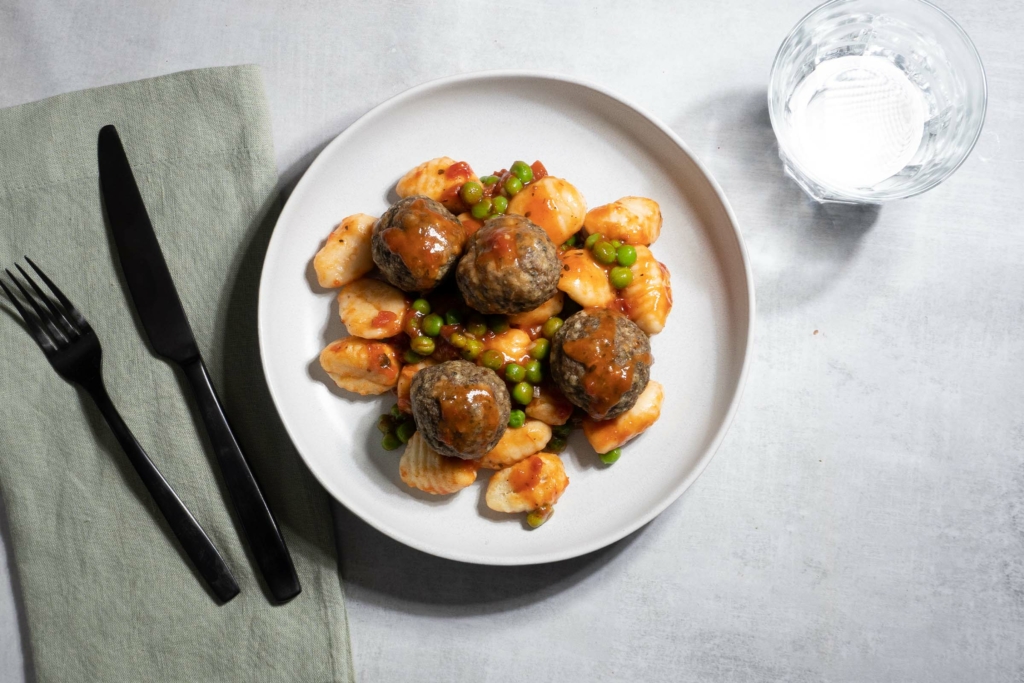 Nutrition
Nutritional Information per serving (2-4 servings per recipe): Calories 540, Total Fat 16g, Total Carbohydrates 75g, Total Sodium 1100mg, Total Protein 24g.