Meatloaf is an economical and delicious dish, and is a culinary staple in hundreds of countries. People have been eating some form of meatloaf for thousands of years; one of the oldest surviving Roman cookbooks, Apicius, contains a recipe for meatloaf. American meatloaf, a relative newcomer, is generally served with a sauce or relish. We're serving our meatloaf with a classic sauce of ketchup, Worcestershire, and brown sugar. Sous vide may be an unconventional cooking method for meatloaf, but it ensures that the finished dish is moist and flavorful – never dry. The finished meatloaf is brushed with sauce and then broiled until browned and bubbling.
Meatloaf with Parmesan Mashed Potatoes and Green Beans
Please always check your food to ensure your food has been cooked to safe serving temperatures. Please see our guide
here
for recommended FDA Time & Temperatures.
Servings: 4
Difficulty: 2 hours and 30 minutes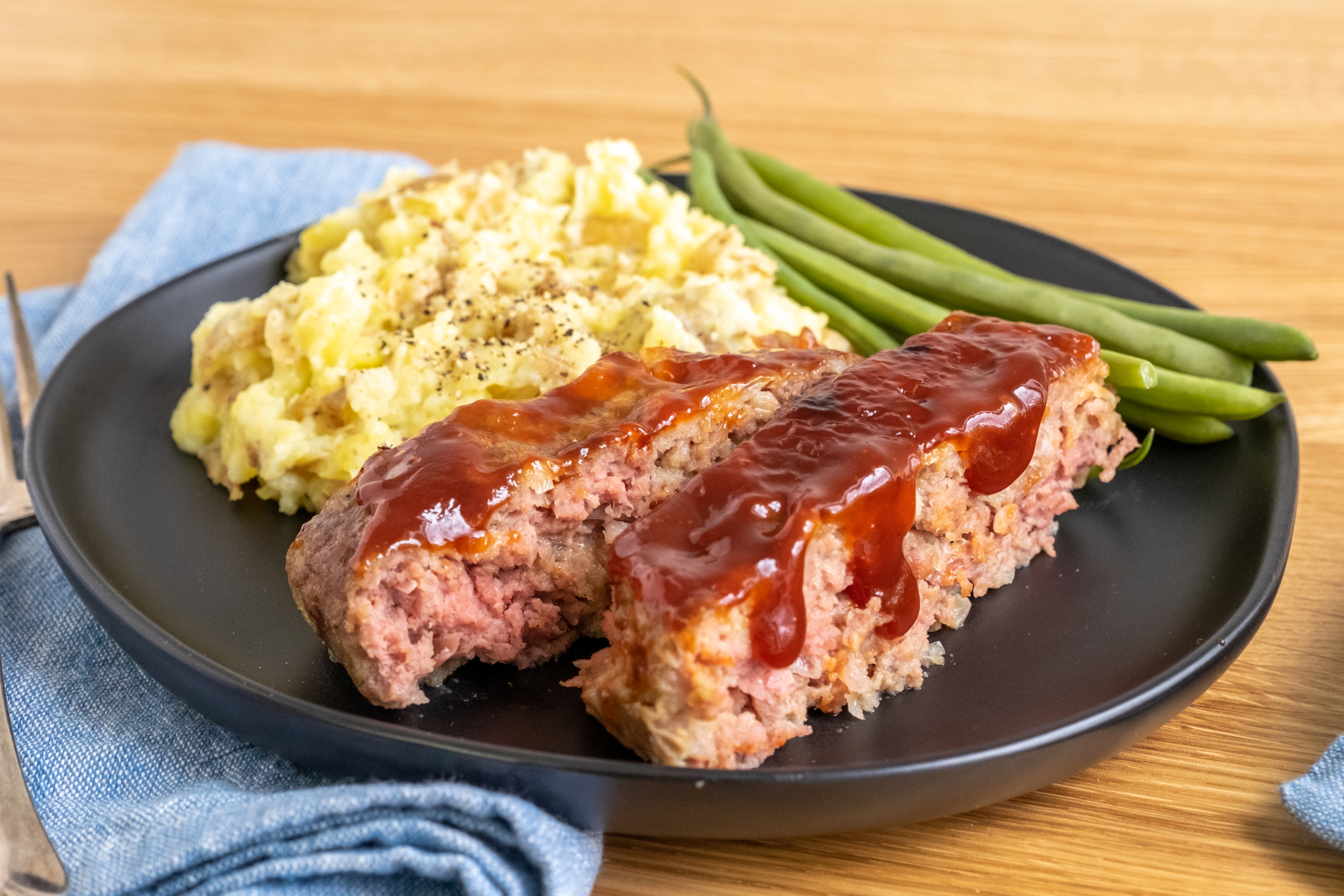 Ingredients
1 small onion, finely chopped
4 garlic cloves, 2 minced, 2 peeled and left whole
2 tsp vegetable oil
1 lb ground meatloaf mix (equal parts beef, pork, and veal)
1 large egg, beaten
½ cup panko breadcrumbs
¼ cup cold milk, plus ¾ cup warm milk, separated
1 cup grated parmesan, divided
12 oz green beans
1 lb baby potatoes
¼ cup ketchup
2 tbsp packed brown sugar
1 tbsp Worcestershire sauce
4 tbsp unsalted butter
Directions
1) Stir together onions, minced garlic, and 2 tsp vegetable oil in a Suvie pan. Broil until softened, about 15-20 minutes, stirring halfway through. Remove onions from Suvie and allow to cool slightly.
2) In a large bowl, stir together the meatloaf mix, broiled onion mixture, 1 egg, 1/2 cup panko breadcrumbs, ¼ cup cold milk, 1 tsp salt, ½ tsp pepper, and half the grated Parmesan until well incorporated.
3) Place the meatloaf mixture in a vacuum bag and press into a rectangle roughly the same size as a Suvie pan and about 1-inch thick. It's helpful to place the bag into a Suvie pan and use your fingers to press the meatloaf into shape. Vacuum seal the meatloaf, place in a Suvie pan, and cover with water. Place pan in the bottom zone of Suvie.
4) Place green beans on a roasting rack set within a Suvie pan. Pour 1/3 cup water into the pan and place in the top zone of Suvie. Input settings and cook now or schedule.
Suvie Cook Settings
Bottom Zone: Sous Vide at 150°F for 2 hours
Top Zone: Steam for 10 minutes
5) Place potatoes and remaining 2 garlic cloves in the Suvie starch strainer set within the Suvie pasta pot (green handles). Cover pot with lid and place inside the Suvie Starch Cooker, ensuring the pot is centered on the hot plate.
Suvie Starch Cooker Settings
Potatoes, Uncut, 50 minutes
6) In a small bowl, stir together the ketchup, brown sugar, and Worcestershire sauce; set aside.
7) Transfer potatoes and garlic to a large bowl with the butter and mash to desired consistency. Stir in ¾ cup warm milk, remaining Parmesan cheese, and season with salt and pepper to taste.
8) Pour off any residual water from the green beans and season with salt and pepper. Remove meatloaf from the bag and pour off any residual liquid. Wipe pan dry and return the meatloaf to the pan. Brush the top of the meatloaf with the ketchup mixture.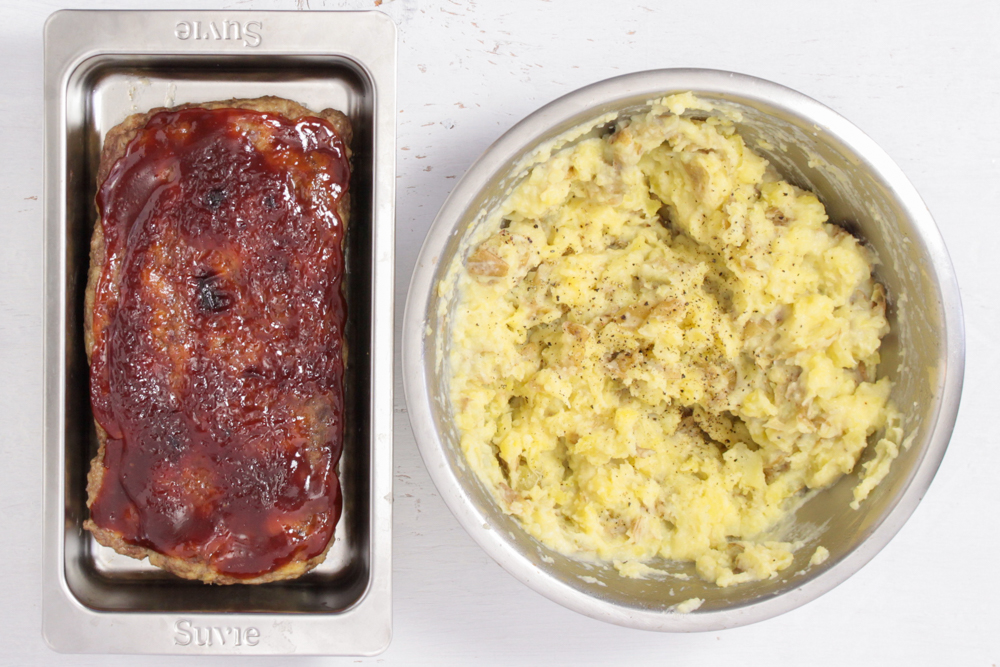 9) Return meatloaf to Suvie and set to broil for 10-15 minutes, or until browned and bubbling. After the broil, transfer the meatloaf to a cutting board and cut into slices. Divide mashed potatoes, green beans, and meatloaf between plates, serving extra ketchup sauce on the side.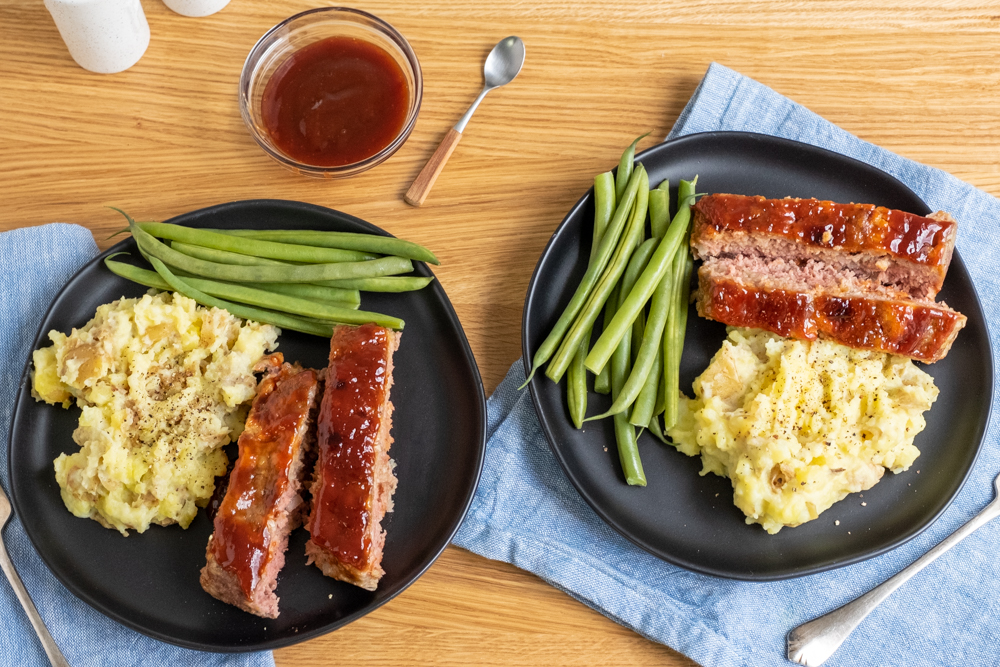 Nutrition
Nutritional Information per serving (5 servings per recipe): Calories 736, Total Fat 36g, Total Carbohydrates 35g, Total Sodium 847mg, Total Protein 28g.