As the seasons change, so do my breakfast preferences. In the heat of the summer, I was all about overnight oats. But now it's chilly when I walk downstairs in the morning and the leaves are starting to turn colors, so it's time for a new breakfast routine: hard boiled eggs with a side of toast. I hard boil six eggs at the beginning of the week so the only thing I have to do in the morning is peel the egg while my bread is toasting.
Alton Brown's tried and true method for hard boiling eggs works for me every time. Here's what you do:
Place eggs in a pan of cold water, with the water covering the eggs entirely.
Bring the water to a full boil.
Once the water starts boiling, take the pan off the heat and let the eggs sit in the hot water for 8 minutes.
Transfer the eggs to a bowl full of ice water for 5 minutes.
Remove the eggs from the ice bath and store in the fridge until you're ready to peel and eat.
I find hard boiled eggs most delicious when sprinkled with a good helping of freshly ground salt and pepper. Pair that with jam on toast, and you have a perfect salty/sweet balanced start to your morning.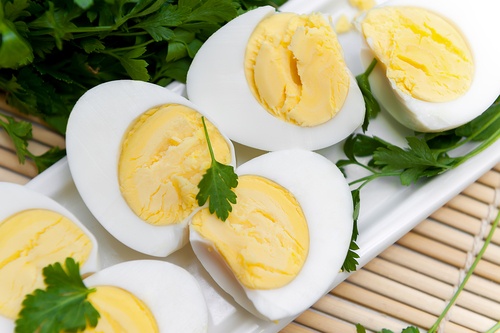 Side Note: If you have any leftover hard boiled eggs at the end of the week, don't fret! There are so many delicious ways to use up those eggs. Try any one of these twelve ways to garnish a simple deviled egg. Or whip up this egg, spinach and spelt salad. For a light dinner, this delightful steak and egg salad sandwich is made with pita bread and comes together quickly.