Peaches ripened in the South months ago, but here in the north country we're just getting our peach on. If you love fresh peaches and want to do more than just eat them off the tree, here are six quick, delicious recipes to try. We've got you covered for breakfast, lunch, dinner, and dessert. Enjoy!
Peach Butter from Two Peas and Their Pod
I love making fresh fruit spreads (like my rhubarb-strawberry compote) that I can use on everything from toast and oatmeal to yogurt and ice cream. This peach butter does not disappoint, and takes only minutes to make.
Peach-berry Buckle from King Arthur Flour
Everyone loves coffee cake, and a buckle is basically a coffee cake with fruit on top. This recipe marries peaches with berries (I like using blueberries) for a cake that's great for breakfast or dessert.
Melon and Peach Salad with Proscuitto from Food and Wine
You've heard of proscuitto-wrapped melon? Take it to the next level and make a whole salad out of it, with mozzarella, peaches and fresh herbs.
Pork Ribs with Chipotle Peach Beer Barbecue Sauce from the Beeroness
This is by far the most involved recipe of the group, but if you like ribs, find the time to make this. BBQ ribs are something else, and homemade BBQ ribs with homemade sauce are even better.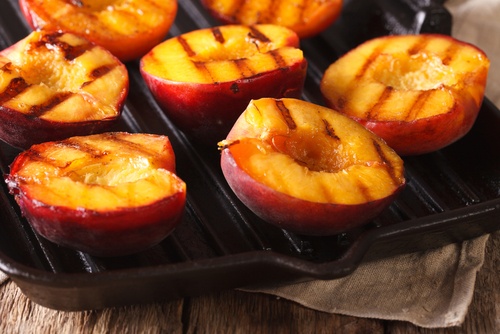 Grilled Peaches with Black Pepper and Basil Lime Syrup from Epicurious
I love grilling fruit. It's such an easy way to change up your fruit eating experience. Try this grilled peaches recipe with a twist!
Peach Pistachio Galette from the Pioneer Woman
I love peach pies, but sometimes you don't have time to get that crust just right. Enter the galette — just roll out your pie crust, add your filling, and fold over the edges. You'll be eating dessert in no time.