Anticuchos are a popular style of street food found throughout Peru. These meaty meals consist of skewers or marinated meat typically served with corn and potatoes. While beef heart is the most popular type of anticucho, we have used sirloin steak instead. What makes these skewers (and their satisfying sides) so delicious and so popular are ají chili peppers. These vibrant peppers are considered the backbone of Peruvian cuisine and impart sweet, smoky, fruity, and spicy flavors to any dish. This recipe uses two types of aji chili peppers: ají panca and ají amarillo. Chili pastes are more widespread than fresh ají peppers; Zócalo is a brand we like and can be purchased online. These pepper pastes are more flavorful than spicy but every palate and preference is a little different, so be sure to take a tiny taste before diving and adjust the amount called for as needed. 
Beef Anticuchos with Warm Corn and Potato Salad
Please always check your food to ensure your food has been cooked to safe serving temperatures. Please see our guide
here
for recommended FDA Time & Temperatures.
Servings: 2
Difficulty: 30 minutes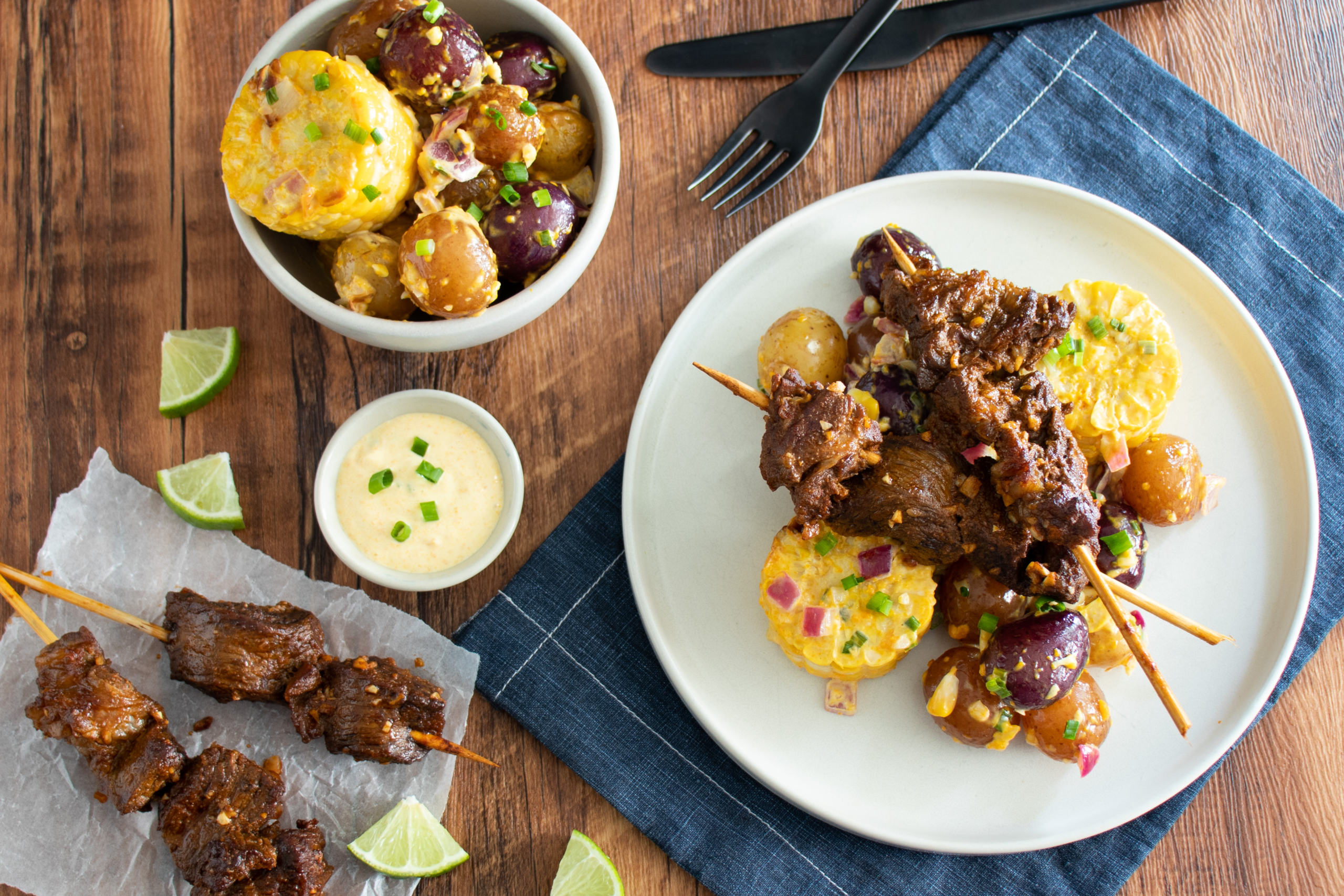 Ingredients
2 tbsp aji panca paste
1 tsp cumin
6 garlic cloves, peeled, minced, and divided
1 tbsp apple cider vinegar
4 tbsp olive oil, divided
½ tsp granulated sugar
1 lb sirloin steak, cut into 1-inch cubes
½ lb tri-colored baby potatoes
1 ear of corn, cut into coins
½ cup diced red onion
3 tbsp mayonnaise
2 tbsp aji amarillo paste
1 tbsp lime juice
2 tbsp chopped scallions, plus extra to serve
2 lime wedges, to serve, optional
Directions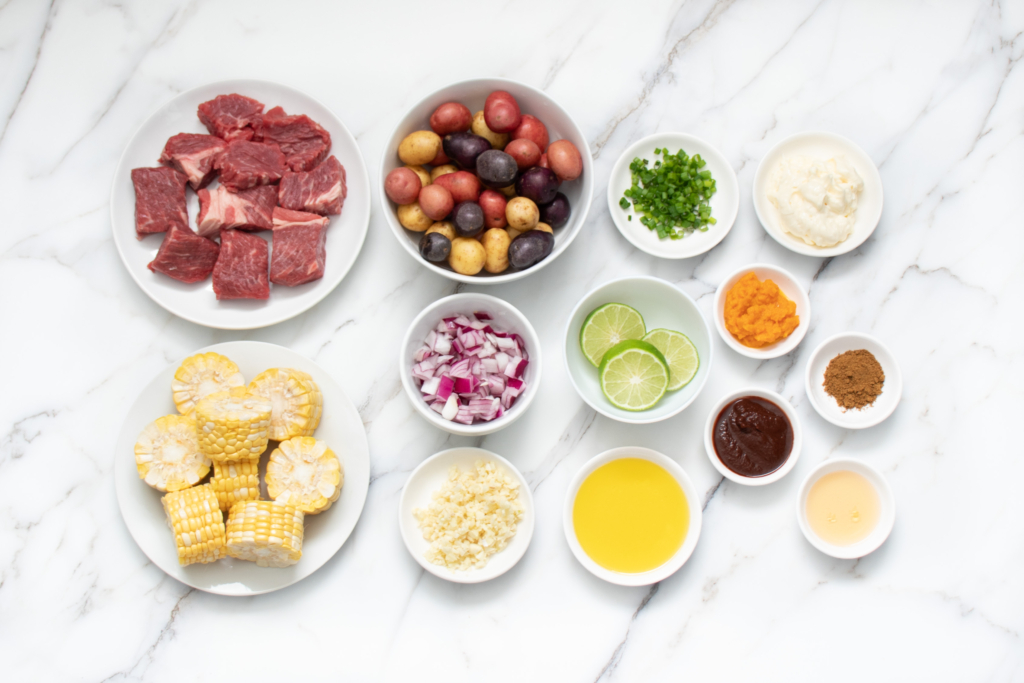 1) Place 2 tbsp aji panca paste, 1 tsp cumin, 3 minced garlic cloves, 1 tbsp vinegar, 2 tbsp olive oil, ½ tsp sugar, and ½ tsp salt in a large bowl, whisking to combine. Add 1 lb sirloin steak to the bowl and toss to coat. Set aside to marinate for 30 minutes at room temperature or refrigerate for 1 hour or up to overnight.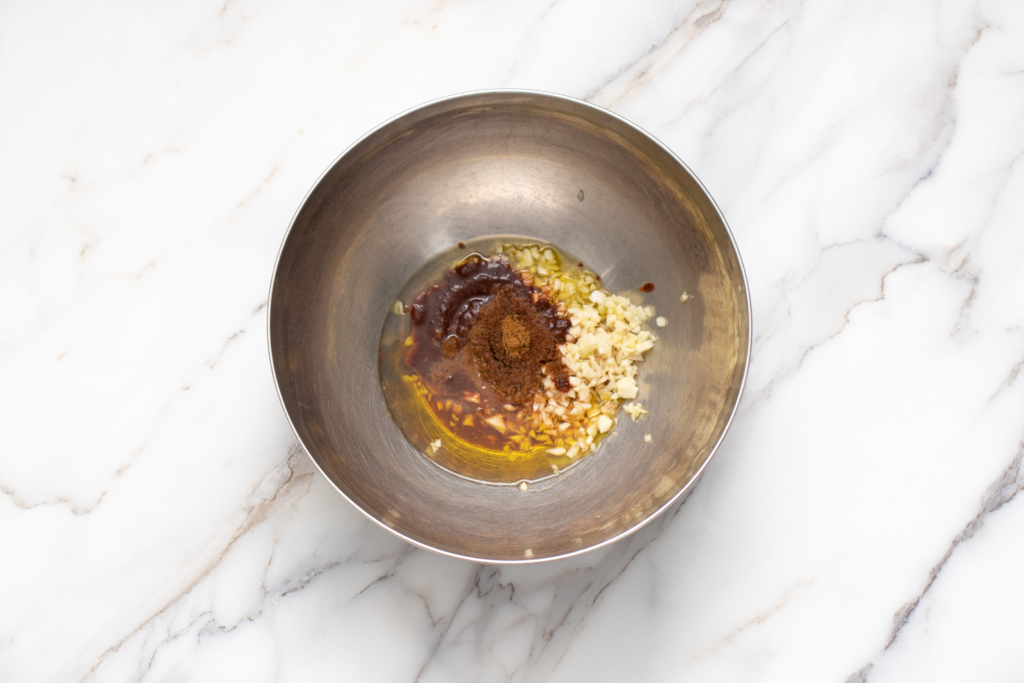 2) Meanwhile, combine ½ lb baby potatoes, corn coins, ½ cup red onion, 3 tbsp minced garlic, and 2 tbsp olive oil in another large bowl, tossing to coat.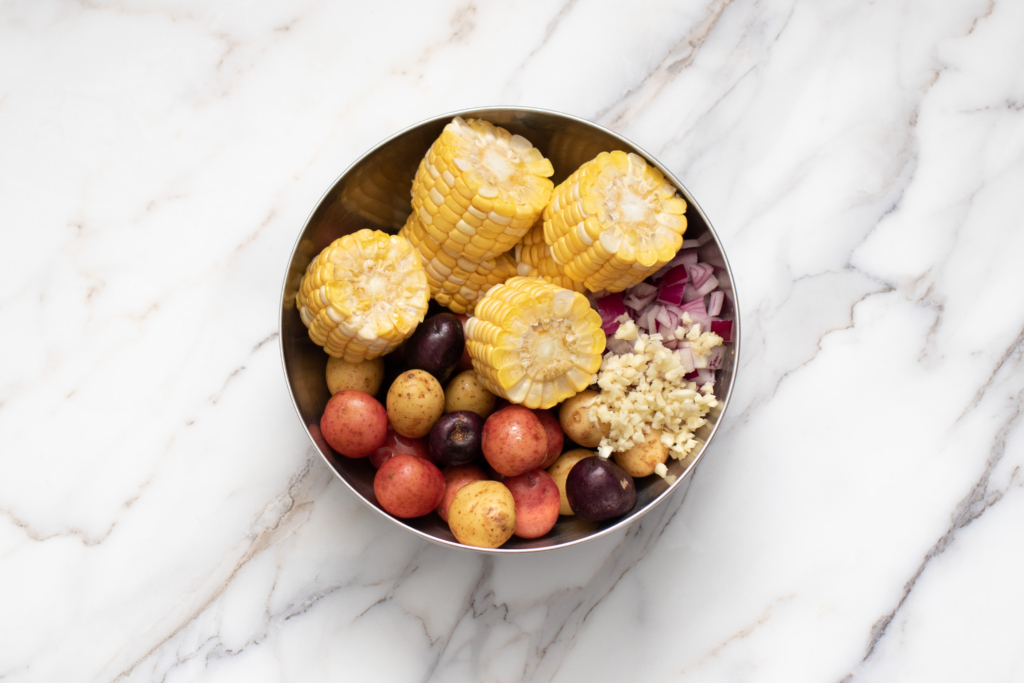 3) After the meat has marinated, thread onto 4 skewers and place in a Suvie pan. Brush the skewers with any remaining marinade and place the pan in the top zone of your Suvie. Place the corn and potato mixture in another Suvie pan and place in the bottom zone of your Suvie. Input setting and cook now.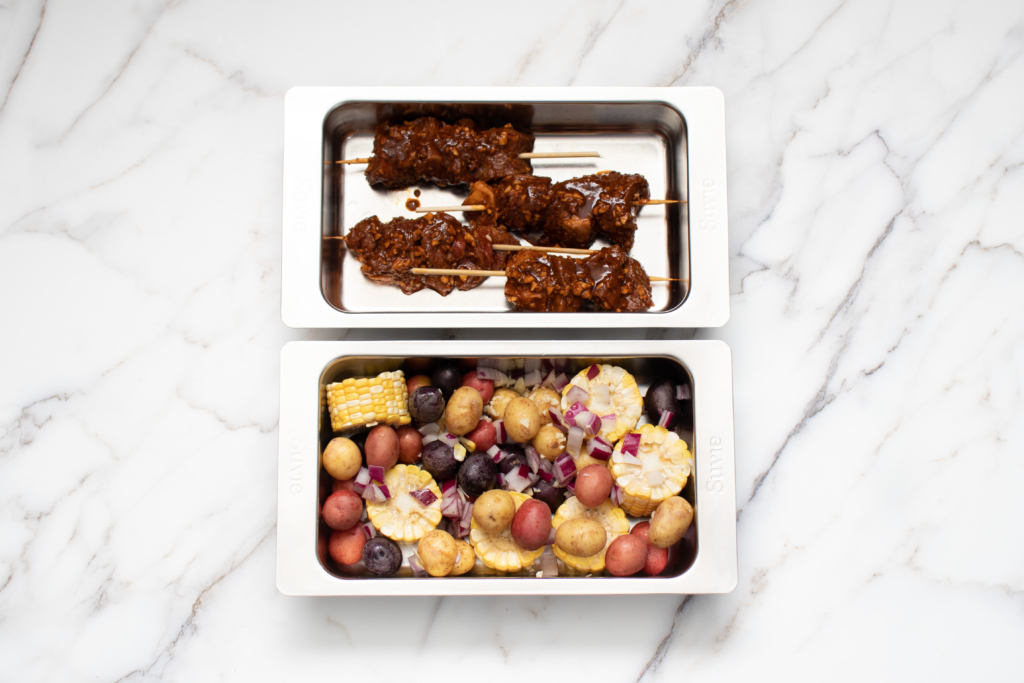 Suvie Cook Settings
Bottom Zone: Roast at 400°F for 30 minutes
Top Zone: Broil for 20 minutes
4) Approximately halfway through the cook, flip the skewers, and carefully stir the potatoes and corn.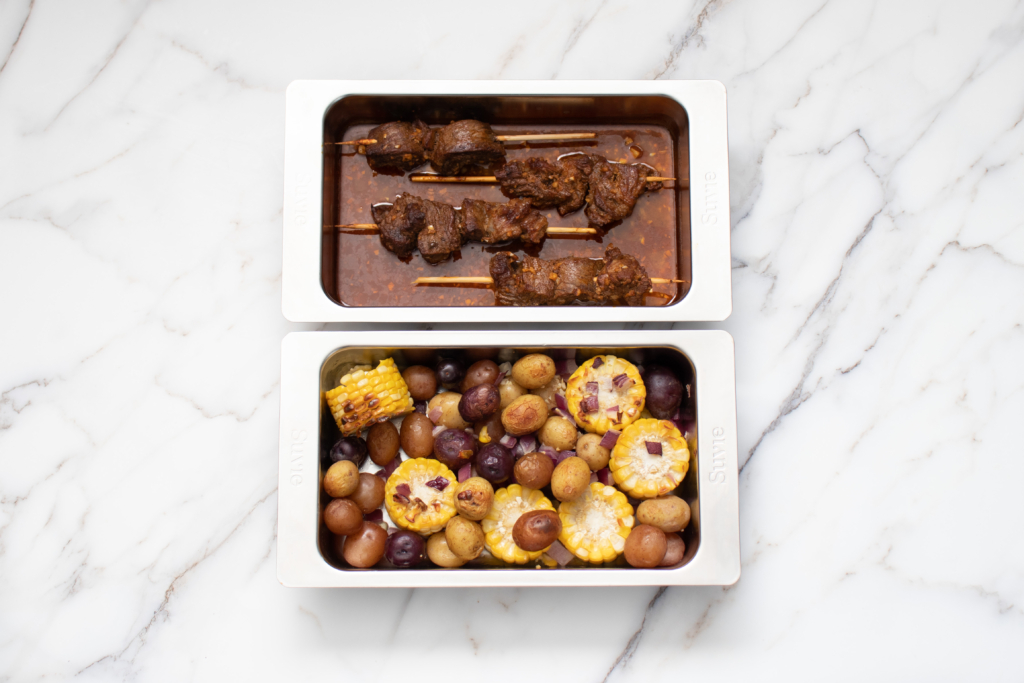 5) In a large bowl, whisk together 3 tbsp mayonnaise, 2 tbsp aji amarillo paste, 1 tbsp lime juice, and 2 tbsp of chopped scallions. Remove ¼ cup of the dressing and set aside to use as a dip for the skewers.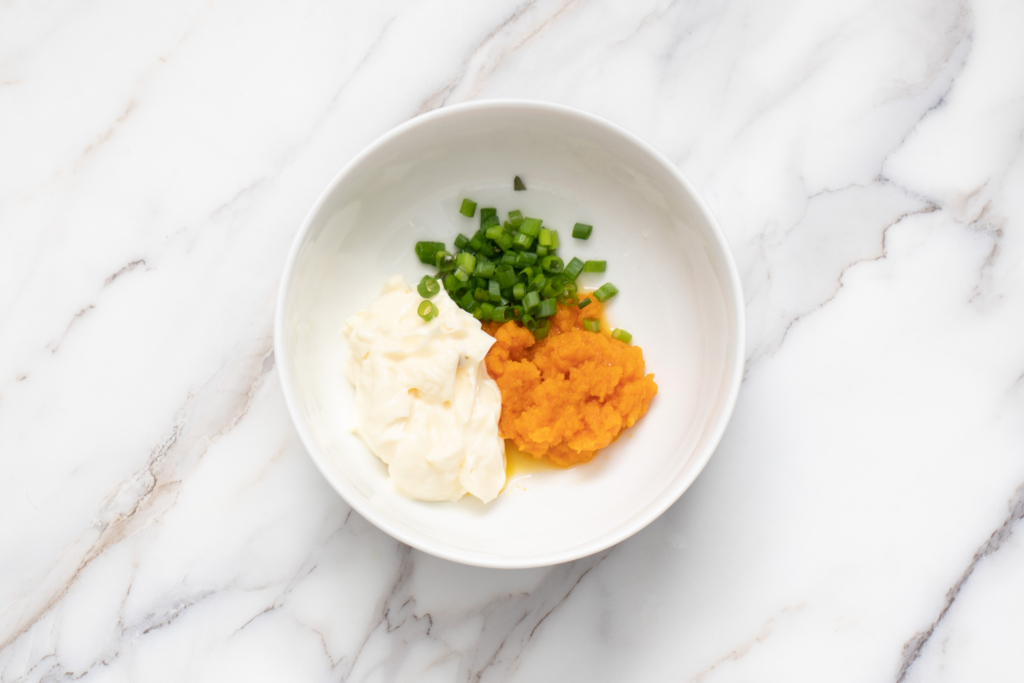 6) After the cook, remove the pans from your Suvie, and set the skewers aside to rest while you assemble the salad. Transfer the corn and potatoes to the large bowl with the mayonnaise mixture, stir to combine, and season to taste with salt.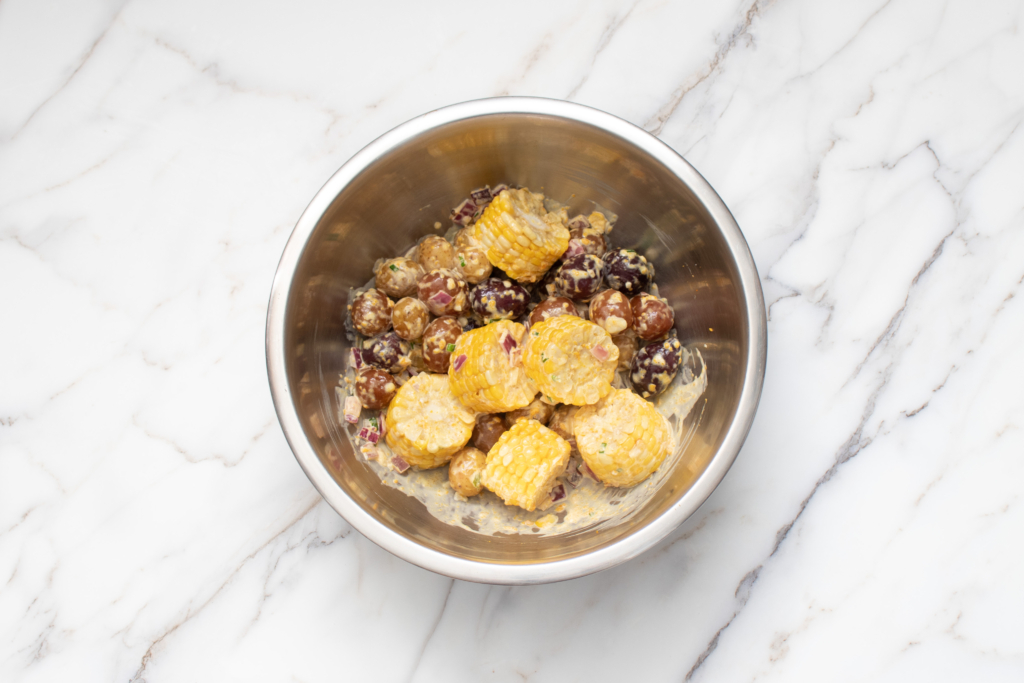 7) Divide the skewers and salad between 2 plates and garnish with lime wedges and scallions, if using. Serve with the reserved dressing on the side.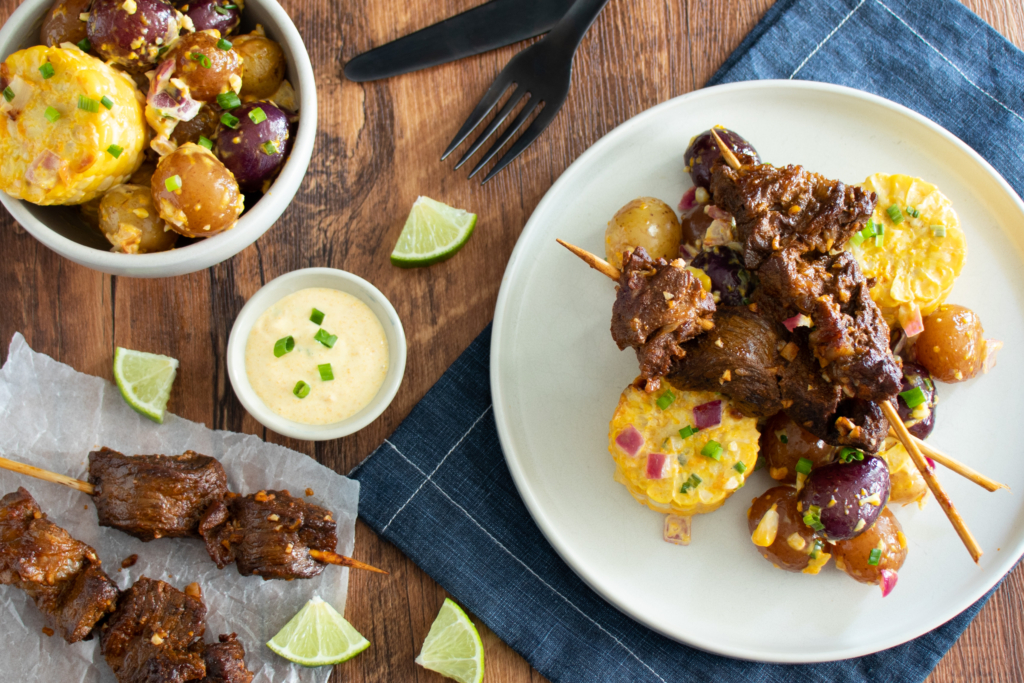 Nutrition
Nutritional Information per serving (2 servings per recipe): Calories 798, Total Fat 45g, Total Carbohydrates 42g, Total Sodium 1186mg, Total Protein 58g