As we move further into autumn, winter vegetables are starting to appear at farmer's markets and in the grocery store. One of my favorites is spaghetti squash. Originally brought to prominence when "no-carb diets" were popular, many people use spaghetti squash only as a substitute for spaghetti. However, there are other ways to prepare this delightfully light vegetable that do not involve drowning it in sauce.
Basic Recipe
Cooking a spaghetti squash is incredibly easy. You can stick the whole thing in the oven to bake, then cut it and scrape out the strands after it cools. However, my go-to method is faster and uses just the microwave. I chop the squash in half lengthwise, scrape out the seeds, then put it in a microwavable container cut-side down. I add a bit of water to the bottom of the pan and stretch plastic wrap over the top. I microwave it for 7 minutes, check it, then throw it in again for another 7 minutes. When it's done cooking, the squash will be nice and soft and easy to scrape out of its shell with a fork.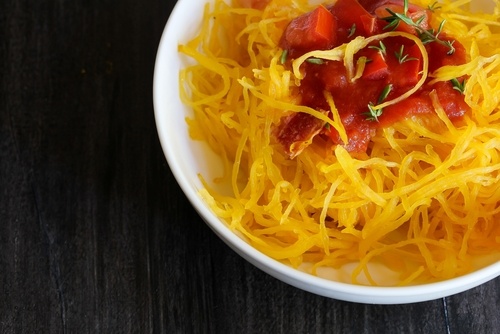 Make it Shine
Many people stop there and eat the squash, plain or smothered in butter, tomato sauce, and/or cheese. However, I like to take my squash game to the next level, and cook it again. The easiest thing to do is throw your already-cooked squash into a pan and stir fry it with any number of sauces and other vegetables or proteins. Check out Emeril Lagasse's recipe for a Chicken and Spaghetti Squash Stir Fry with an Asian flair.
Another way to double cook your squash is to mix it up with other ingredients, put it back in its squash shell, and bake it (kind of like a twice baked potato). Cooking Light offers a recipe for Spaghetti Squash Shakshuka that does exactly that.
I love the idea of using shredded squash in place of shredded potatoes, as in these two recipes: Spaghetti Squash, Quinoa and Parmesan Fritters from Julia's Album, and, for the young at heart, Spaghetti Squash Tater Tots from Kirbie's Cravings.
These are just a few ways to move your squash from bland pasta-like substance to delicious melt-in-your-mouth meal. Experiment with your favorite sauces and flavors and see what works for you!