A friend from Argentina introduced me to dulce de leche, a sweet caramel-type spread made from sweetened condensed milk. You can purchase it premade from the international aisle of your local grocery store (Nestle is the most common brand here) or from your nearby Trader Joe's, or you can make it yourself by leaving a can of sweetened condensed milk in boiling water for a couple hours. I prefer to purchase it.
In my search for different things to do with dulce de leche other than the traditional Argentinian alfajores, I stumbled upon this take-off of a jam thumbprint cookie from the blog Love and Olive Oil. I've never been a fan of jam thumbprints — the dough always seemed too dense with either too much jam or not enough. But these cookies, with their delightfully light and mildly sweet shortbread dough and heaping spoonful of dulce de leche are perfect, unusual yet familiar, and delicious.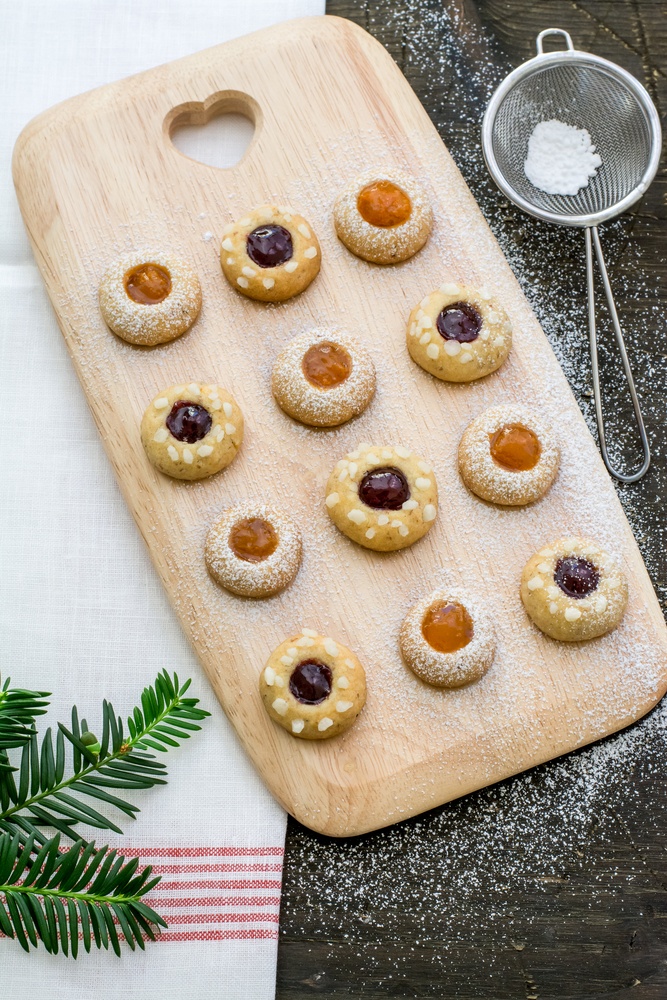 From Love and Olive Oil
Ingredients
2 sticks unsalted butter, softened
2/3 c. sugar
1 large egg yolk
1 tsp. vanilla
2 1/4 c. flour
1/2 tsp. kosher salt
dulce de leche
Recipe
Preheat oven to 375 degrees. Line a baking sheet with parchment paper. In a mixing bowl, beat together butter and sugar until fluffy. Add the egg yolk and vanilla and beat until smooth. Add the flour and salt and mix until well incorporated. The dough should come together to form a ball.
Scoop 1″ balls of dough onto the cookie sheet, and make small indents in the top of each one with the back of a spoon. Bake for 8 to 10 minutes or until just barely brown on top. Remove the cookie sheet from the oven and gently re-indent the tops of each cookie. Scoop a spoonful of dulce de leche into the indent on the top of each cookie and return the sheet to the oven to bake for an additional 3 minutes. Cool cookies on a wire rack.
Notes
I've found that the Nestle brand dulce de leche tends to be thicker than the Trader Joe's brand; thicker works better in this recipe.

The original recipe has good tips for making the indents and dulce de leche scoops uniform and beautiful. I genereally prefer the rustic look, but I'd consider putting in more effort if the occasion called for it.

If you're not a fan of dulce de leche, swap in your favorite jam variety for a more traditional cookie experience.