The muffuletta is an iconic New Orleans deli sandwich. These hearty sandwiches are stuffed full with Italian deli meats, cheeses, chopped olives, and giardiniera veggies. Being that both the muffuletta and stromboli are Sicilian creations, we thought that it was high-time these two delicious items collaborated. Meet (or meat, ha!) the muffuletta stromboli! Instead of an oversized bread loaf, we're swaddling the traditional muffuletta ingredients, meats, cheese, and olives in pizza dough. 
Muffuletta Stromboli
Please always check your food to ensure your food has been cooked to safe serving temperatures. Please see our guide
here
for recommended FDA Time & Temperatures.
Servings: 4
Difficulty: 40 minutes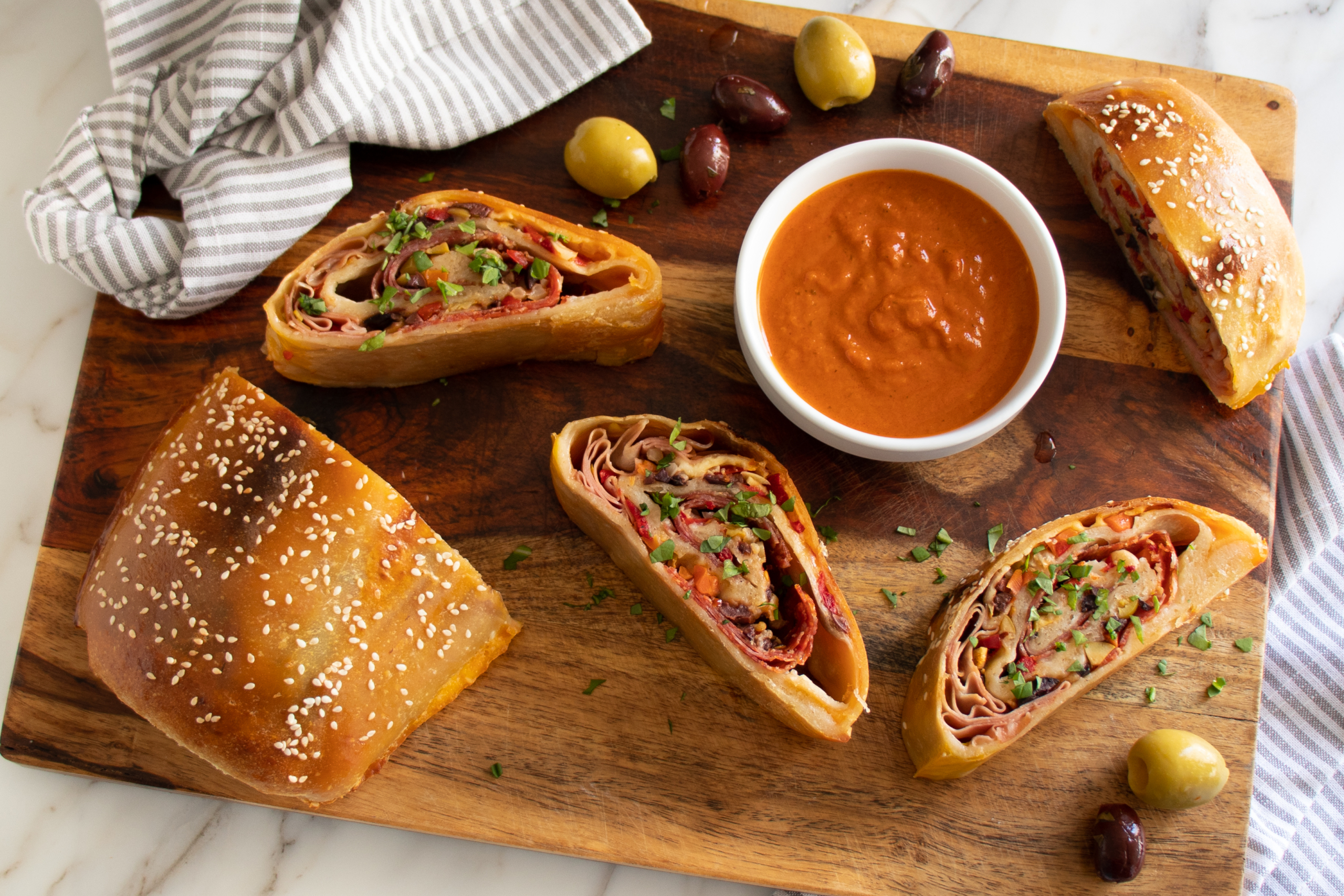 Ingredients
12-14 oz raw pizza dough
2 oz sliced soppressata
2 oz sliced salami
2 oz sliced mortadella
3 oz sliced provolone cheese
½ cup chopped mixed olives
½ cup chopped giardiniera
½ cup chopped roasted red peppers
2 garlic cloves, peeled and chopped
¼ tsp crushed red pepper flakes, optional
1 large egg, beaten
1 tsp sesame seeds
1 cup pizza sauce
2 tbsp chopped basil
Directions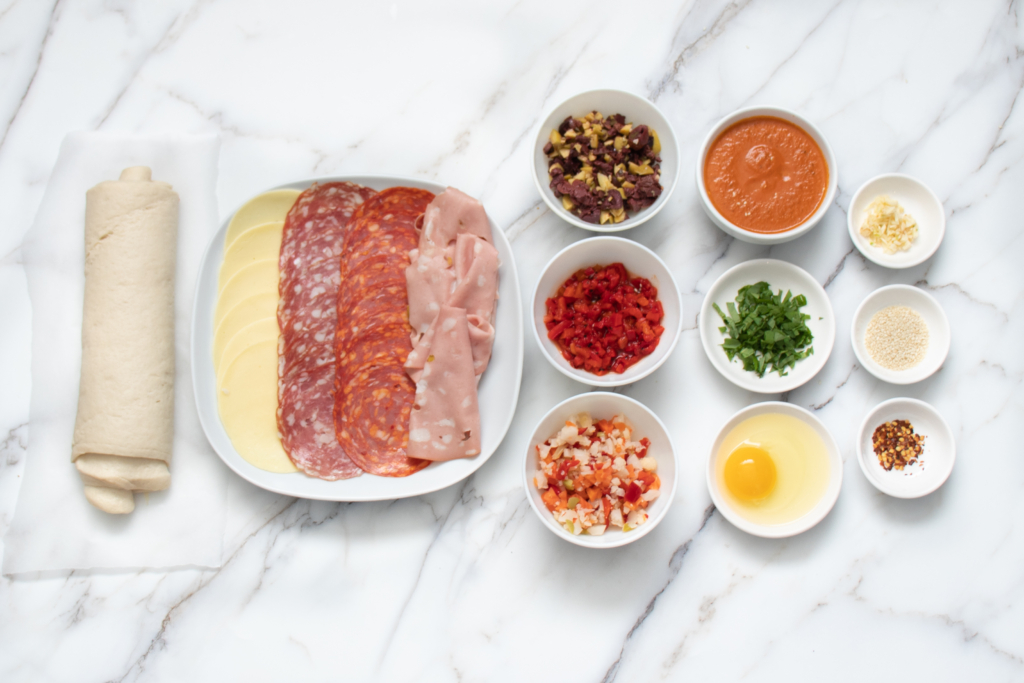 1) Preheat your Suvie to Roast at 325°F for 20 minutes while you prepare the stromboli.
2) Roll the pizza dough into a 16''x 12'' large, rectangular sheet. Top the dough with 2 oz soppressata, 2 oz salami, 2 oz mortadella, and 3 oz provolone, with each ingredient running in a straight line, leaving a ½ inch border of pizza dough exposed.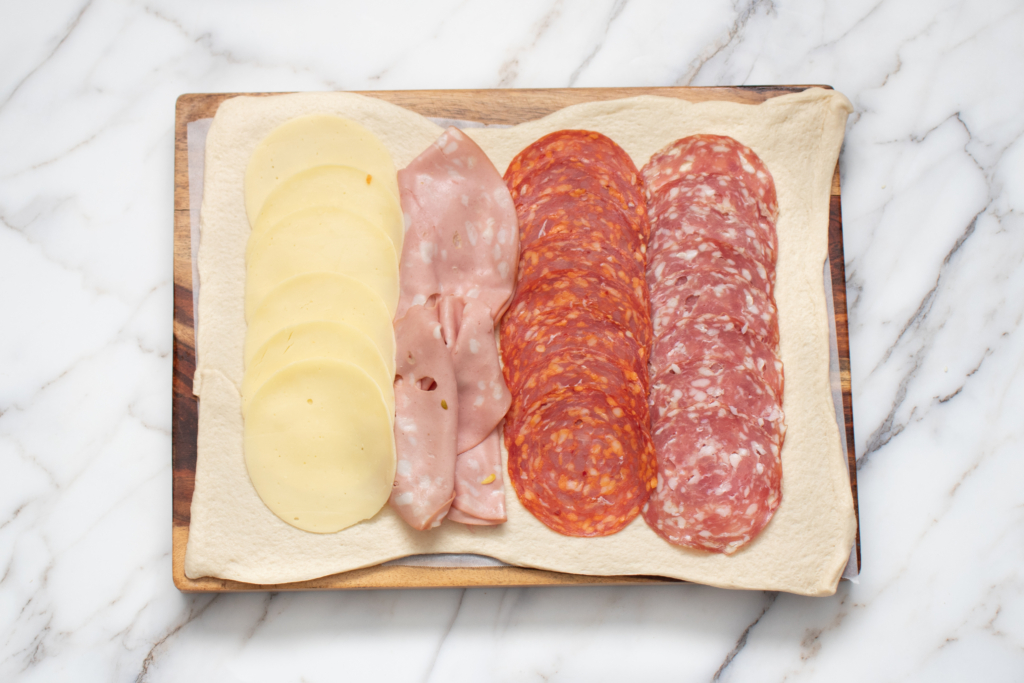 3) Evenly top the pizza dough with ½ cup chopped olives, ½ cup chopped giardiniera, ½ cup roasted red peppers, 2 minced garlic cloves, and ¼ tsp of crushed red pepper flakes, maintaining the ½ inch border.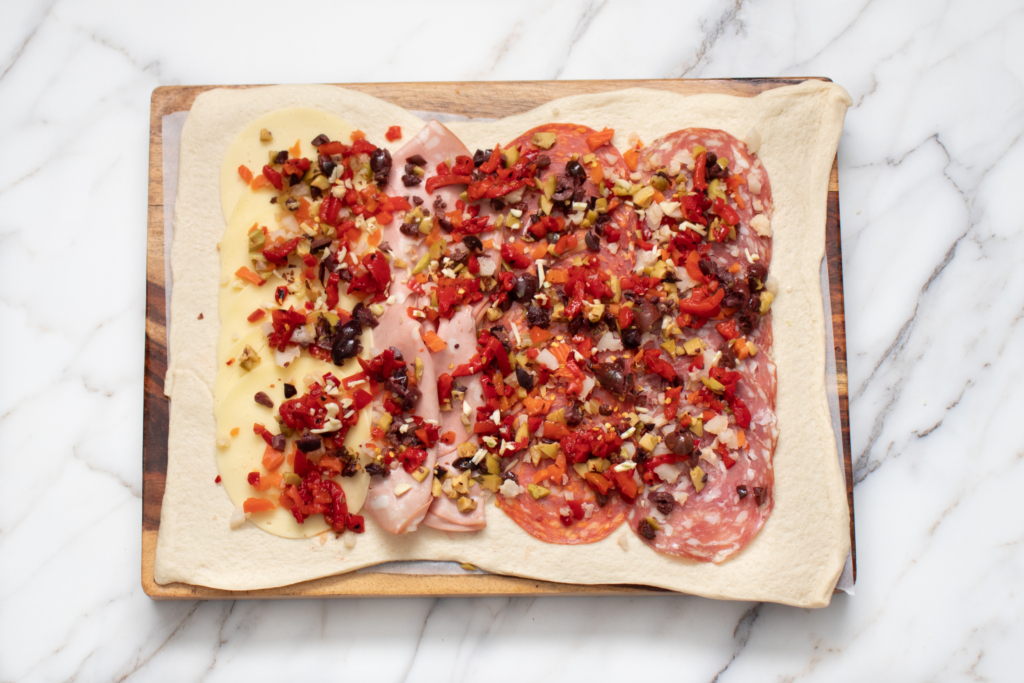 4) Starting from the short side of the dough, roll the pizza up into a tight cylinder, tucking in the ends like a burrito.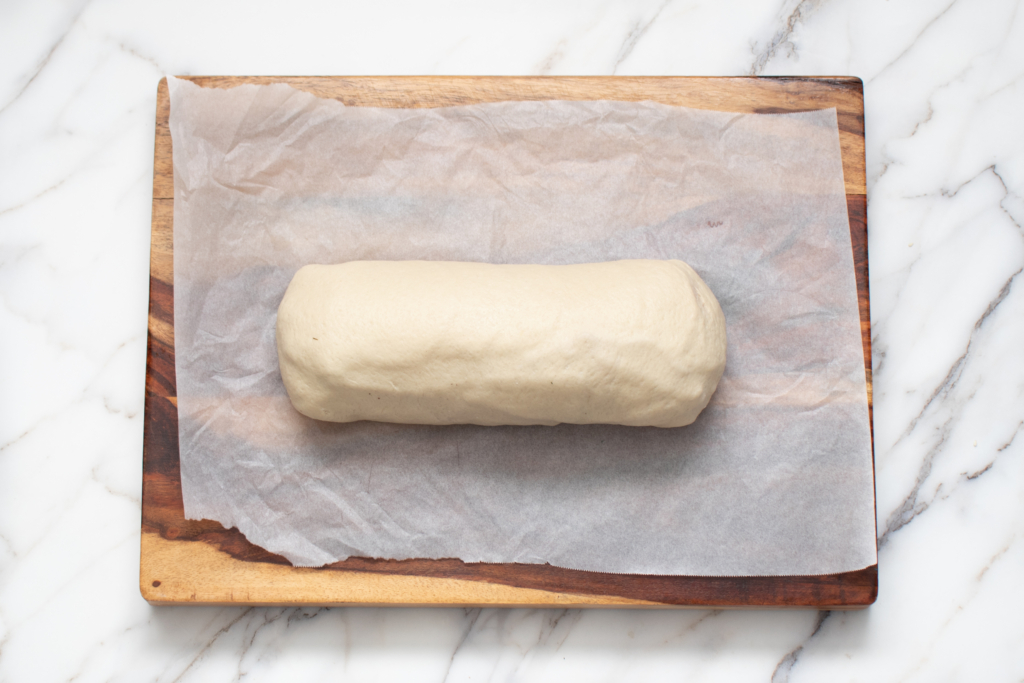 5) Line a Suvie pan with parchment paper and lightly grease with cooking spray. Carefully transfer the stromboli to the prepared pan. Brush beaten egg over the top and sides of the stromboli, and sprinkle with 1 tsp sesame seeds. Once your Suvie has preheated, loosely tent the stromboli with aluminum foil, and place in the top zone of your Suvie. Input settings and cook now.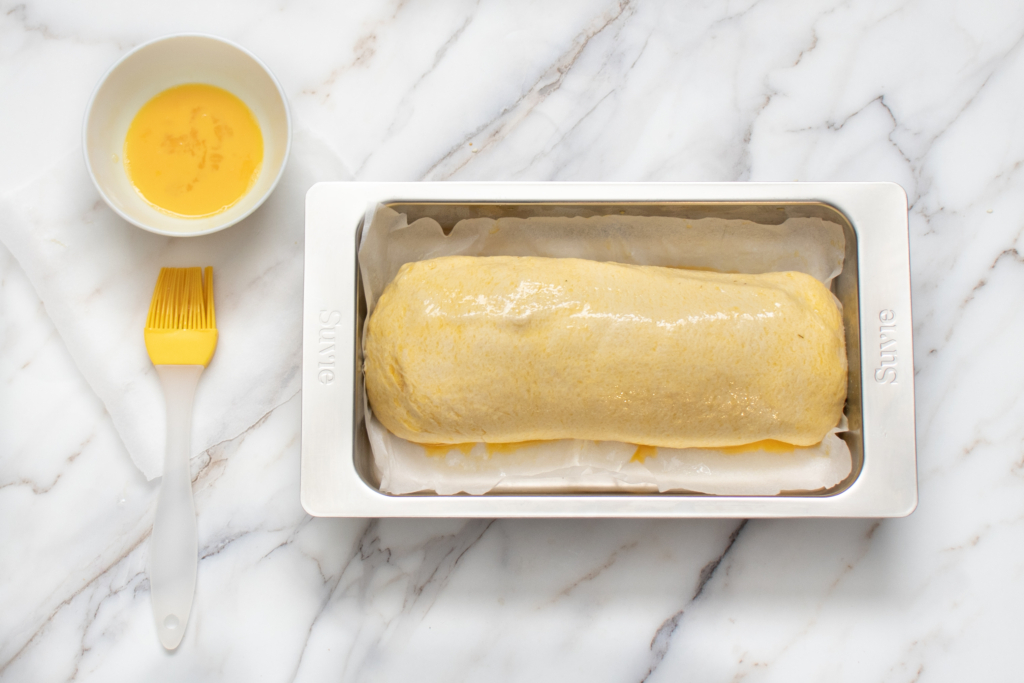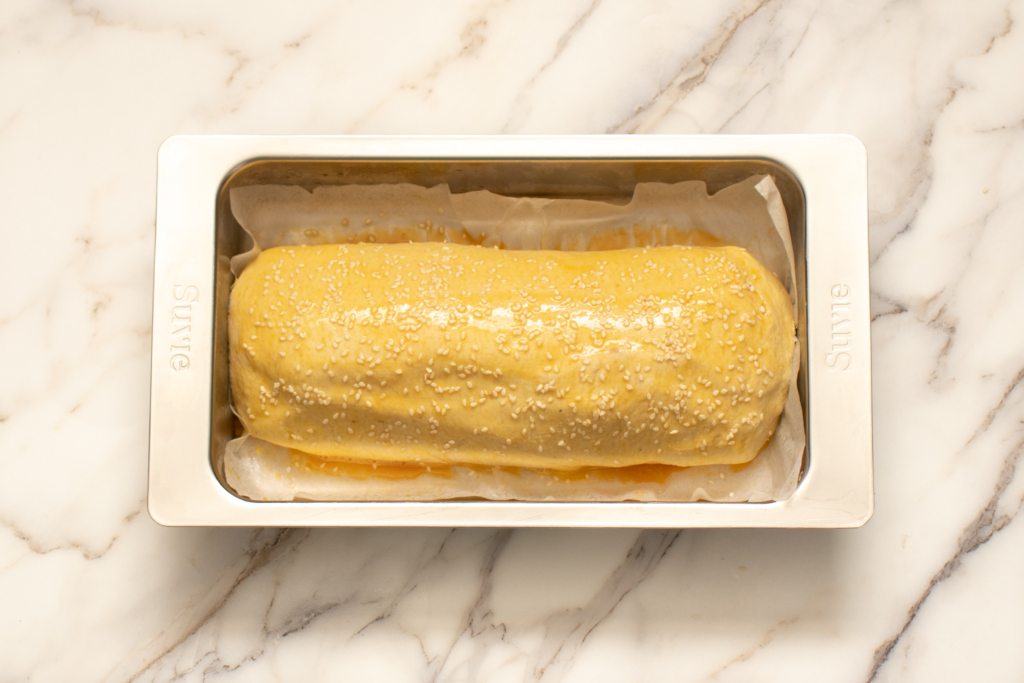 Suvie Cook Settings
Bottom Zone: Roast at 325°F for 40 minutes  
Top Zone: Roast at 325°F for 40 minutes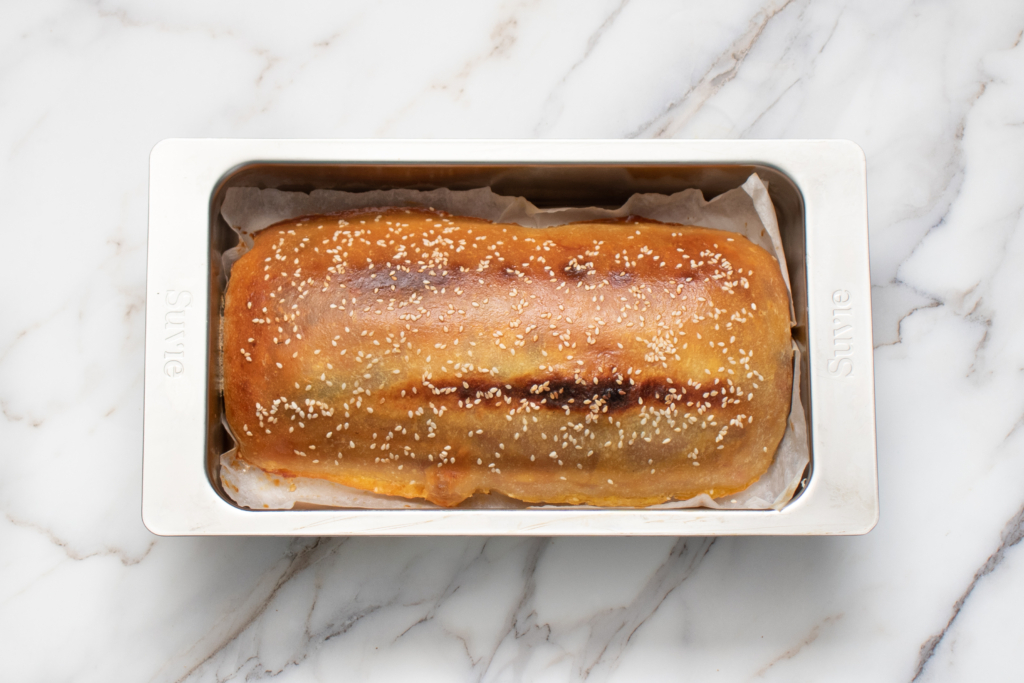 6) Halfway through the cook, remove the foil, and rotate the pan for even browning. After the cook, remove the pan from your Suvie, and set aside to rest for 5 minutes before slicing. Serve stromboli with 1 cup of pizza sauce for dipping and garnish with 2 tbsp chopped basil.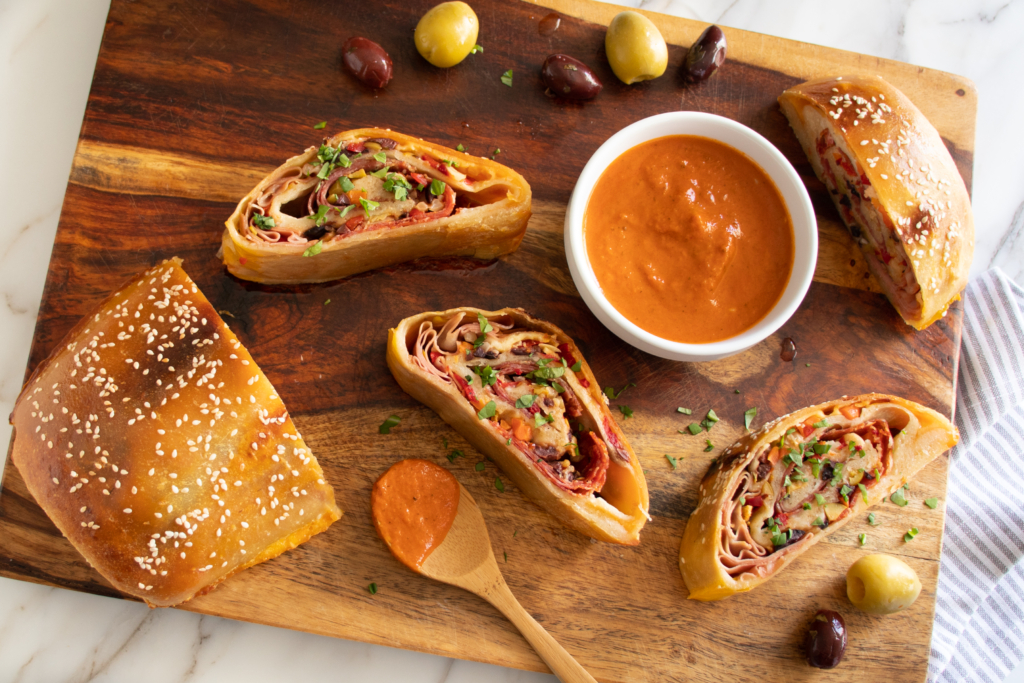 Nutrition
Nutritional Information per serving (4 servings per recipe): Calories 528, Total Fat 35g, Total Carbohydrates 32g, Total Sodium 1562mg, Total Protein 19g.