Chimichurri is an Argentinian sauce known for its bold, bright flavor profile. While traditional chimichurri consists of chopped parsley, oregano, garlic, olive oil, and vinegar, we chose to up the ante by giving ours a deep herbaceous flavor with fresh cilantro, a pop of lime juice, and some heat from chili powder and red pepper flakes. Its fresh, summery taste is the perfect complement for steak as it balances out the steak's savory, beefy flavor. Feel free to slather it across the steak, potatoes, bell peppers, onions, and anything else in your life that needs a zip of flavor. The mouth-watering seared steak drizzled with chimichurri, crispy potatoes, and charred veggies make for an easy weeknight meal or a "how are you such a good cook?" date night.
Note: This recipe requires Suvie 2.0 and the Suvie Starch Cooker. To prepare this meal in Suvie 1.0, set the potatoes to cook for 50 minutes in Step 3.
My Cook: Chimichurri Steak
Please always check your food to ensure your food has been cooked to safe serving temperatures. Please see our guide
here
for recommended FDA Time & Temperatures.
Servings: 2
Difficulty: 2 hours
Ingredients
2 strip steaks, about 1 lb total
¼ cup, plus 5 tbsp olive oil, divided
10 oz new potatoes
1 red bell pepper, thinly sliced
1 small yellow onion, halved and thinly sliced
½ shallot, peeled
2 garlic cloves, peeled
¼ cup fresh cilantro
¼ cup fresh parsley
3 tbsp red wine vinegar
2 tbsp lime juice
1 tsp dried oregano
½ tsp chili powder
½ tsp cumin
1 pinch red pepper flakes
Directions
1) Pat steaks dry and season with kosher salt and pepper on all sides. Vacuum seal steaks with 2 tbsp olive oil and place in a Suvie pan. Cover steaks completely with water and load into bottom zone of Suvie.
2) Combine peppers and onions in a second Suvie pan and place in top zone of Suvie. Input cook settings below and cook now or schedule.
3) Place potatoes in a Suvie pasta strainer set in a Suvie pasta pot. Load pot into Suvie Starch Cooker, ensuring pot is centered on the hot plate. Select "Potatoes" from the display screen, fill the reservoir with water, and set to cook for 50 minutes. Cook now or schedule.
Suvie Cook Settings
Bottom Zone: Sous Vide at 125 °F for 60 minutes
Top Zone: Sous Vide at 125°F for 60 minutes
4) During the cook, make the chimichurri sauce. Remove cilantro and parsley leaves from stems, discard stems.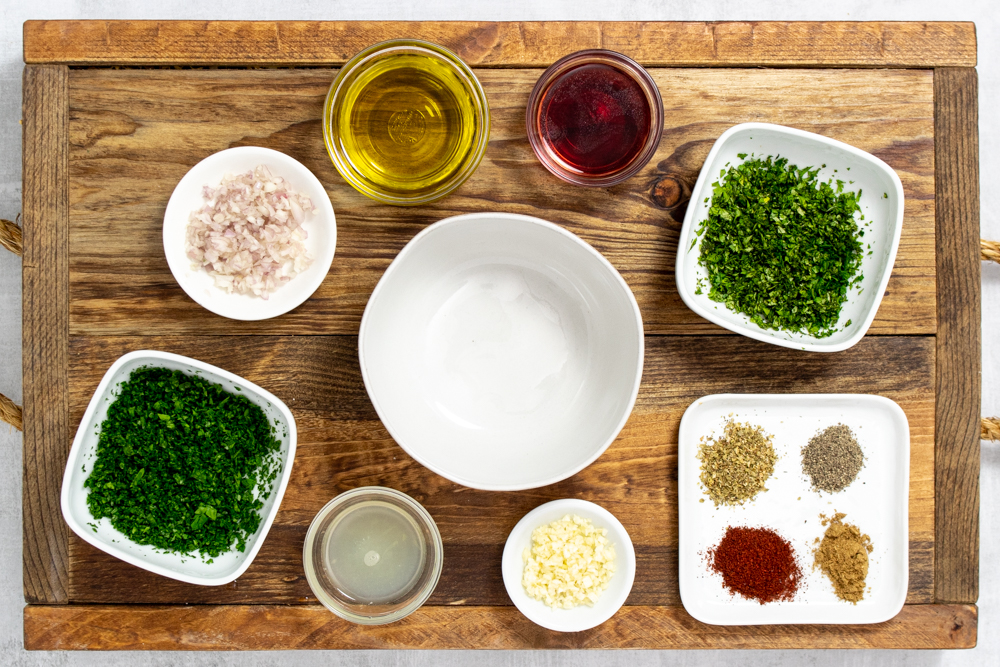 5) Place shallot, garlic, cilantro, and parsley into a food processor and blend until finely chopped. Alternatively, mince the shallot, garlic cloves, cilantro, and parsley. Mix the chopped herbs in a small bowl with the red wine vinegar, 5 tbsp olive oil, lime juice, oregano, chili powder, cumin, red pepper flakes, 1 tsp salt, and ½ tsp black pepper. Set aside.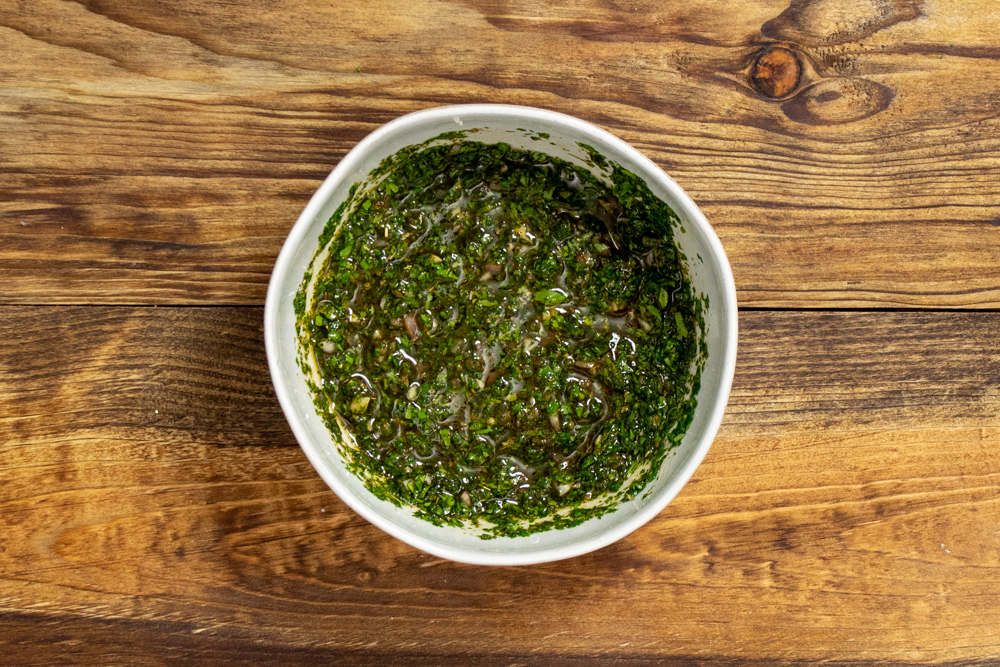 6) After the cook, remove steaks from Suvie pan and pour off excess water. Drain liquid from bell pepper and onion pan and pat dry. Drizzle olive oil, salt, and pepper to taste over the veggies and return to Suvie.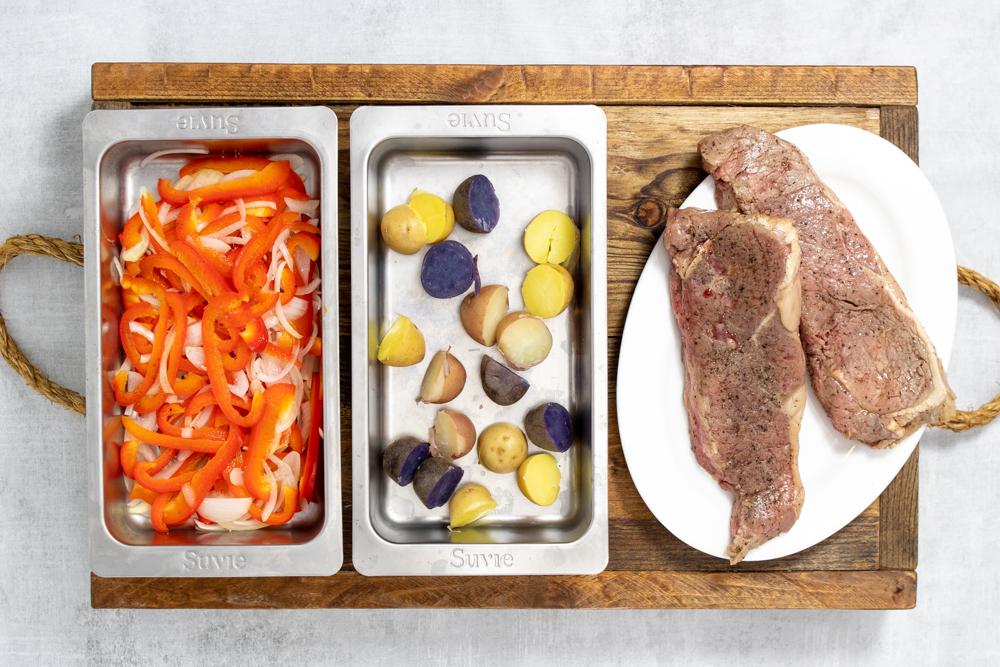 7) Remove potatoes from Suvie Starch Cooker, carefully cut in half (they will still be hot), and place in a dry Suvie pan. Drizzle with olive oil, salt, and pepper to taste. Place pan in Suvie. Broil peppers, onions, and potatoes for 20 minutes, stirring halfway through cooking.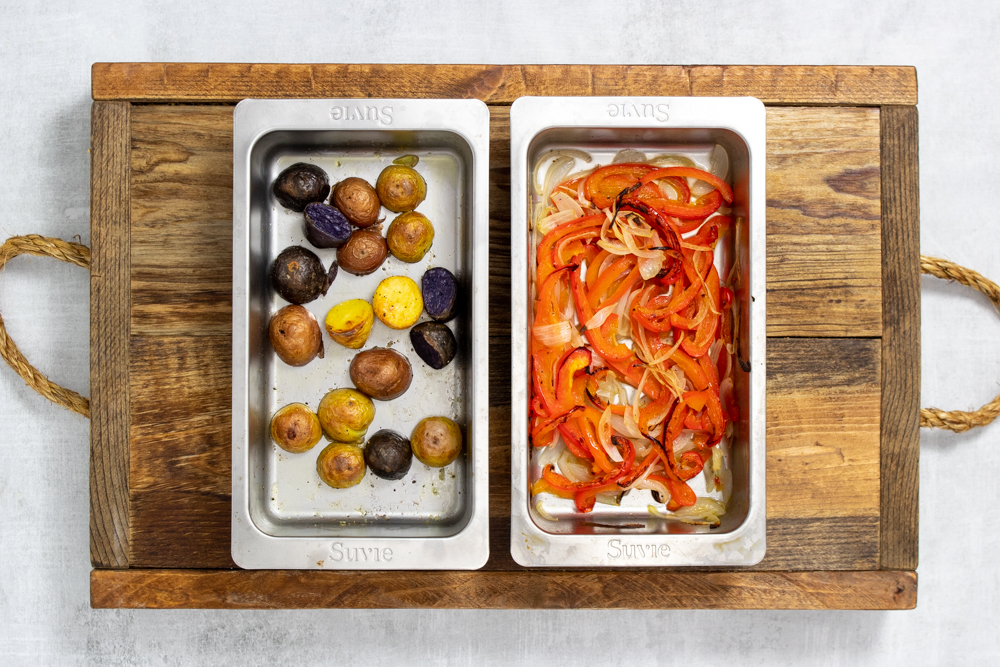 8) While the vegetables broil, heat 1 tbsp vegetable oil in a large cast iron skillet over high heat until almost smoking. Add the steaks and sear until well browned on all sides, about 45 seconds to a minute per side. Brown the fat cap by pressing it against the bottom of the skillet for an additional 30 seconds. Lower heat if the pan begins to smoke in excess. Transfer steaks to a cutting board.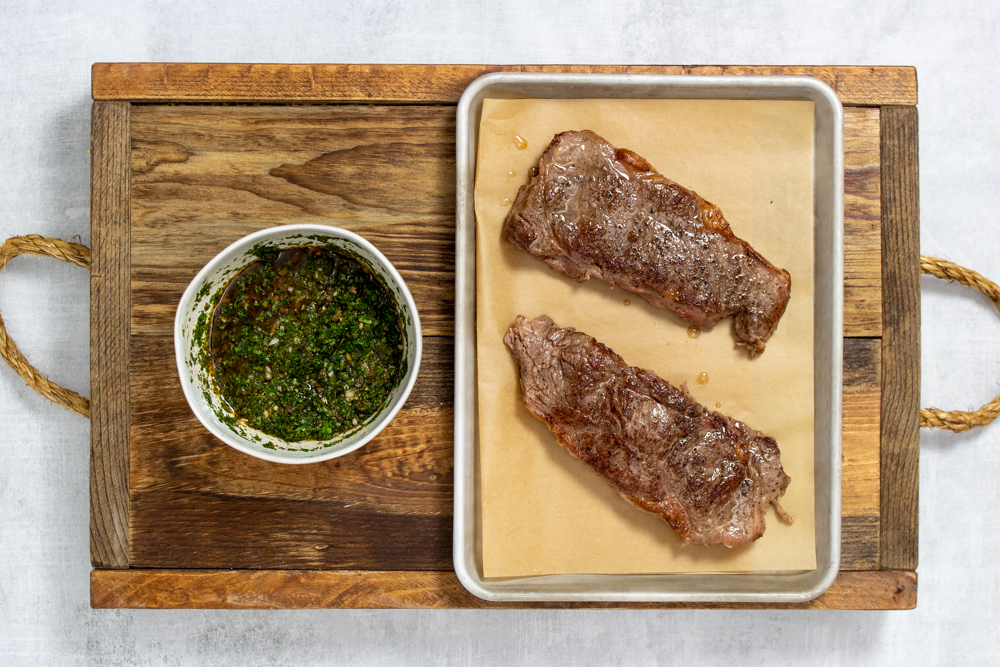 9) To serve, slice each steak across the grain and place on two plates. Divide the bell pepper, onion, and potatoes between the two plates. Spoon the chimichurri sauce over the steak and enjoy!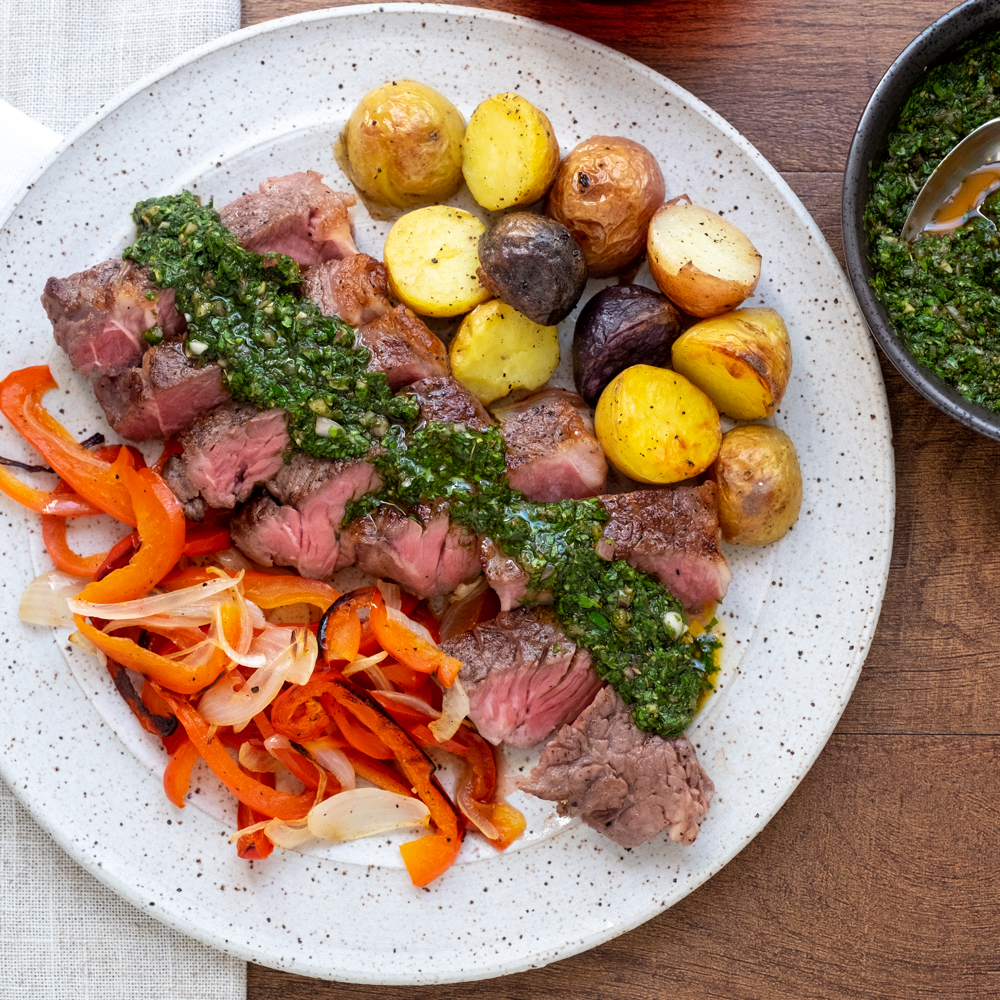 Wine Pairing
While steak is often best paired with a big and bold red wine, the chimichurri sauce can be easily overwhelmed by full-bodied wines. We recommend a well balanced Cabernet Sauvignon.