Gravlax, the delicious Scandinavian salmon delicacy can be prepared in many different styles. Read on and get to know some mouth-watering salmon gravlax recipes.
What is gravlax?
Gravlax is a traditional Scandinavian dish made by curing raw salmon with salt, sugar, and herbs. Traditional gravlax recipes leverage fresh dill and white pepper as seasoning. Gravlax was first prepared in the 14th century when fishermen cured the salmon with salt and buried it in sea sand for a slight fermentation to occur.
Today, fermentation is no longer used in the preparation of salmon gravlax. Instead, the raw salmon is buried in a dry mixture of salt, sugar, and dill. After the salmon is cured in the brine mixture, it's thinly-sliced and served right away. The brine mixture is also used in Scandinavian cooking for sauce preparation.
Gravlax is commonly presented as an appetizer alongside hovmästarsås (mustard dill sauce), rye bread, or boiled potatoes. Nordic cuisine considers gravlax as an essential component in the smorgasbord, a buffet-style table with a range of hot and cold dishes.
Flavor of gravlax
Gravlax offers a mild meaty flavor, similar to sashimi and smoked salmon but without the typical smokey taste. Herbs, salt, and sugar seasoning along with the soft texture, and pinkish-orange color makes gravlax simply irresistible. The delicate flavor of gravlax is perfect for appetizers, sandwiches, and salads.
Scrumptious gravlax recipes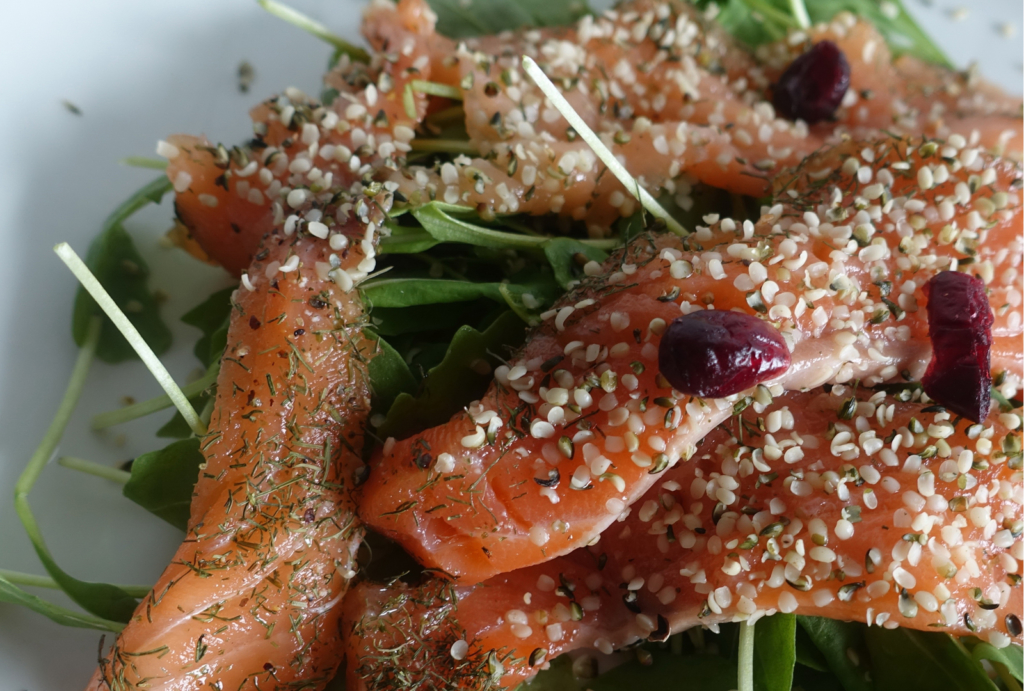 Besides the original Scandinavian gravlax recipe, other cuisines have incorporated salmon gravlax with their unique touch of spices and herbs. Asian gravlax recipes use a bunch of aromatic spices to add more flavors to the typical gravlax. Fresh coriander, red bird's eye chilies, and sherry bring a fresh, sweet, and spicy flavor to the Asian gravlax recipes.
Mexican-style gravlax recipe incorporates cumin, chipotle chile powder, kosher salt, black pepper, brown sugar, cilantro, lime zest, and silver tequila. Mexican gravlax is served with Mexican crema, avocado, and a splash of fresh lime on top.
Beetroot cured salmon is another variation of the original salmon gravlax delicacy. The main ingredients include salmon, caster sugar, sea salt, shredded beetroot, orange, lemon verbena tea leaves, and dill. The beetroot gravlax is served with sourdough, caper berries, and pickled beetroot to make it more appetizing.
Similarly, cardamon-cured salmon gravlax is prepared from seasoning salmon fillet with cardamom spice, smoked paprika, coriander seeds, fennel seeds, ground cloves, garlic, mustard seeds, brown sugar, and kosher salt.
Salmon gravlax makes one of the finest sandwiches, canapés, breakfasts, and salads as well. No matter how you prepare salmon gravlax, this delicacy is best enjoyed alongside potatoes, eggs, herbs, sour cream, sauces, and bread. 
Feature Image: Mogens Petersen from Pixabay