Aloo matar is a rich and flavorful vegetarian dish from the Punjab region of northern India and eastern Pakistan. This dish consists of aloo (potato) and mattar (peas), which are simmered in a fragrant tomato sauce. We're serving our aloo matar with basmati rice and topping it with fresh cilantro. We love aloo matar because it is flavorful, spicy, and filling; we think slow cooking is a fantastic method for preparing aloo matar because the potatoes have hours to absorb all the delicious flavors from the sauce.
Aloo Matar with Basmati Rice
Please always check your food to ensure your food has been cooked to safe serving temperatures. Please see our guide
here
for recommended FDA Time & Temperatures.
Servings: 4
Difficulty: 2 hours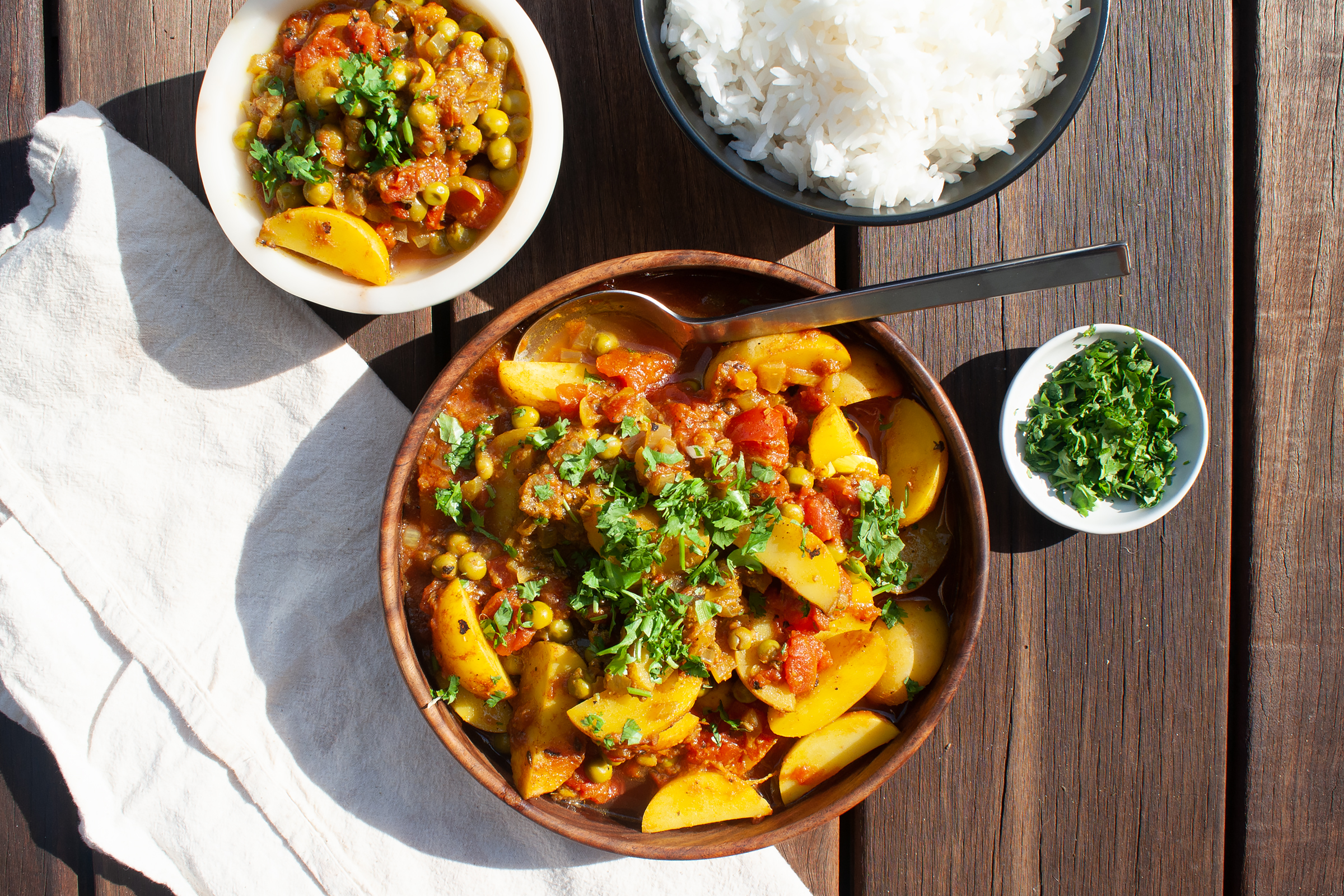 Ingredients
1 small onion, finely chopped
1 (1-inch) piece of ginger, peeled and minced
2 garlic cloves, minced
½ tsp cumin seeds
½ tsp ground coriander
½ tsp chili powder
½ tsp garam masala
½ tsp ground turmeric
¼ tsp cayenne pepper
1 tbsp olive oil
12 oz baby potatoes, quartered
1 (14.5) oz can fire-roasted tomatoes
1 cup basmati rice
¾ cup frozen peas
2 tbsp chopped fresh cilantro
Directions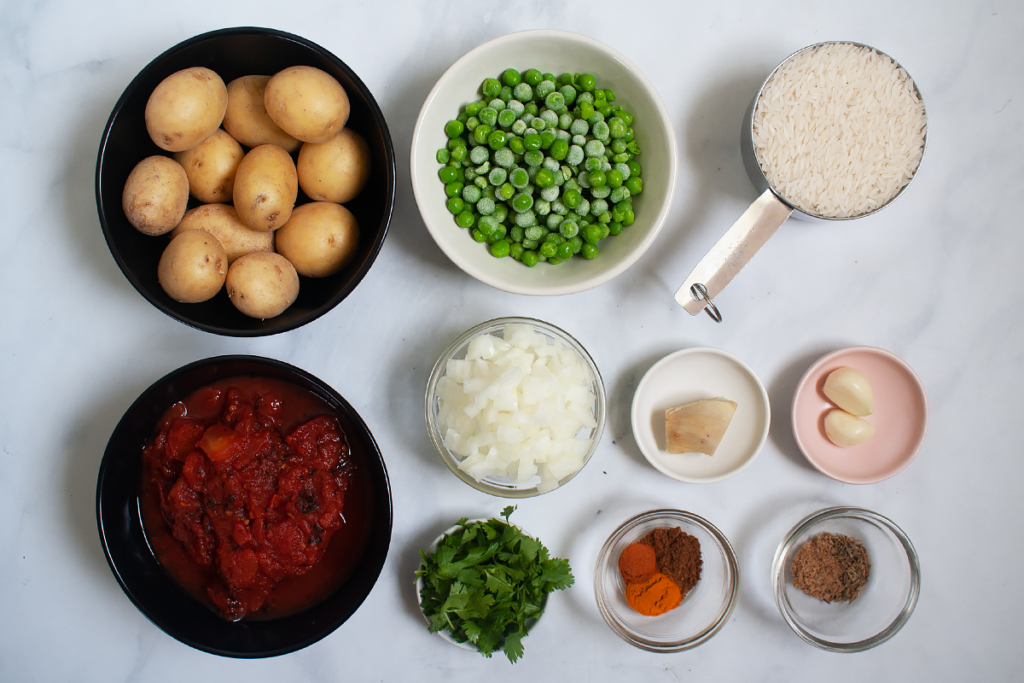 1) In a Suvie pan stir together onion, ginger, garlic, cumin seed, coriander, chili powder, garam masala, turmeric, cayenne, olive oil, and 1 tsp salt. Insert into the bottom zone of Suvie and broil for 10-12 minutes, stirring halfway through, until fragrant.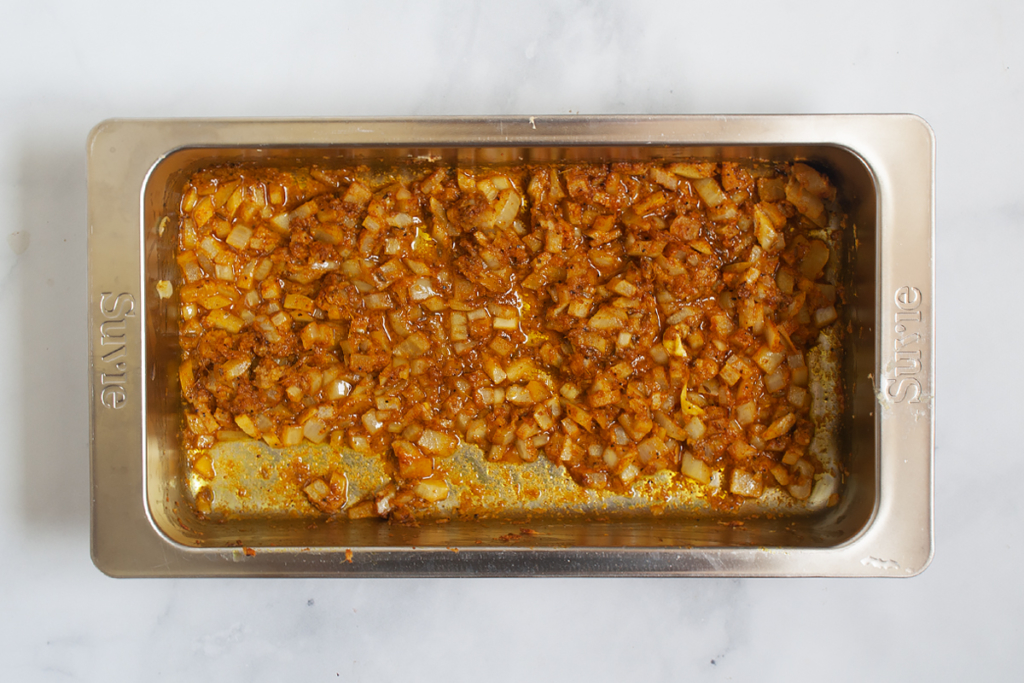 2) Remove pan from your Suvie and stir in potatoes, tomatoes, peas, and ½ cup water or vegetable broth.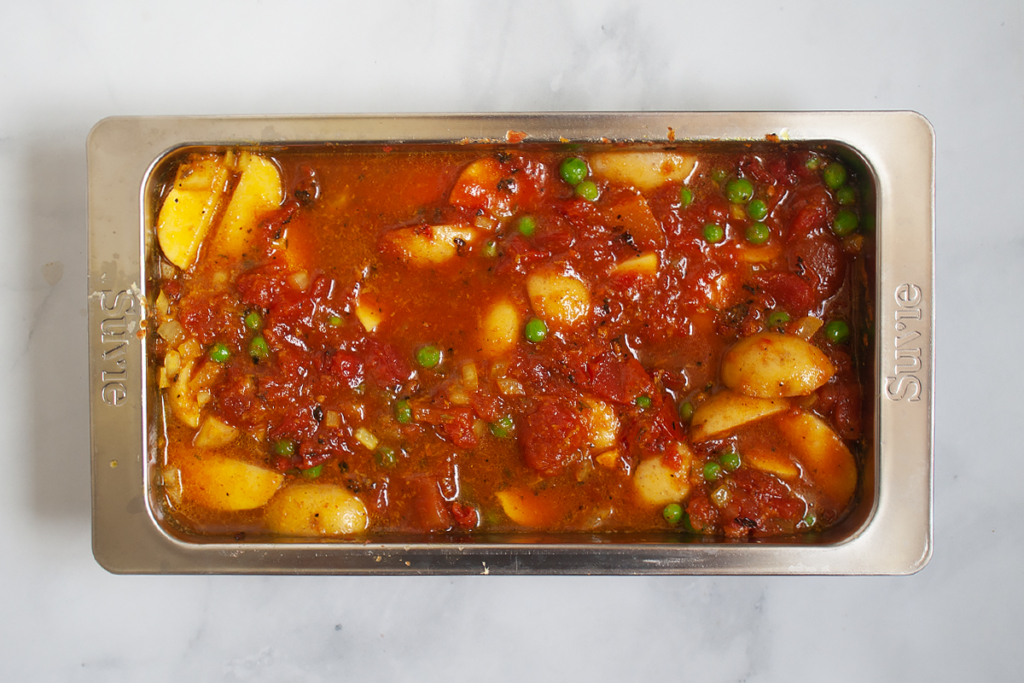 3) Return pan to Suvie. Input settings and cook now or schedule.  
Suvie Cook Settings
Bottom Zone: Slow Cook High, 1 hour, 30 minutes
4) Place 1 cup rice in the Suvie rice pot (black handles) and cover pot with lid. Place pot inside the Suvie Starch Cooker, ensuring pot is centered on the hot plate. Input settings and cook now or schedule.
Suvie Starch Cooker Settings
Rice, Long Grain, 1 Cup
5) Remove pan from Suvie. Fluff rice with a fork and season with salt to taste. Divide rice between four bowls. Season aloo matar with salt and pepper to taste. Divide between bowls, garnish with cilantro, and serve.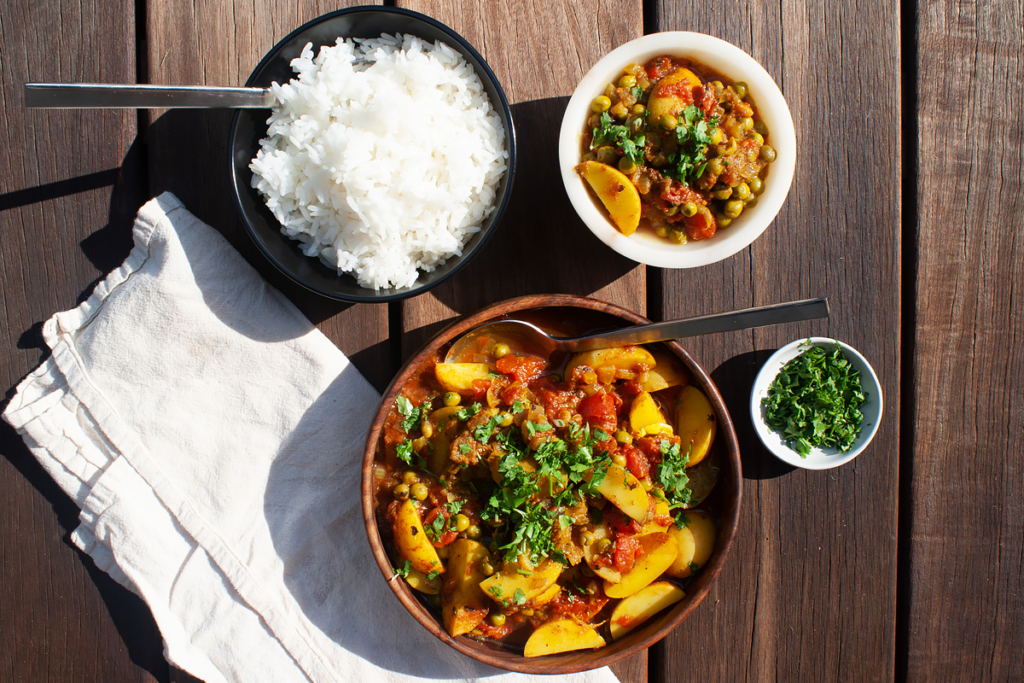 Nutrition
Nutritional Information per serving (4 servings per recipe): Calories 330, Total Fat 5g, Total Carbohydrates 62g, Total Sodium 760mg, Total Protein 7g