Pho is a Vietnamese soup consisting of meat, fresh herbs, and noodles in a fragrant broth. Typically, pho is made with rice noodles, but we found that cellophane noodles held their shape better and didn't require a rinse with cold water that cooled our soup down. The onion, ginger, star anise, clove, cinnamon, and coriander seeds infuse the broth during the long slow cook for a complex and aromatic soup filled with multifaceted flavor. Adding thinly sliced beef to the hot broth during the last five minutes of cooking adds rich flavor to the pho without running the risk of overcooking the meat.
Note: If you would like to schedule this meal, but do not want to wait for the broiler to cool before refrigerating, broil ingredients in Step 1 in a conventional oven or toast in a large skillet over medium heat for 6 minutes.
Beef Pho
Please always check your food to ensure your food has been cooked to safe serving temperatures. Please see our guide
here
for recommended FDA Time & Temperatures.
Servings: 2
Difficulty: 4 hours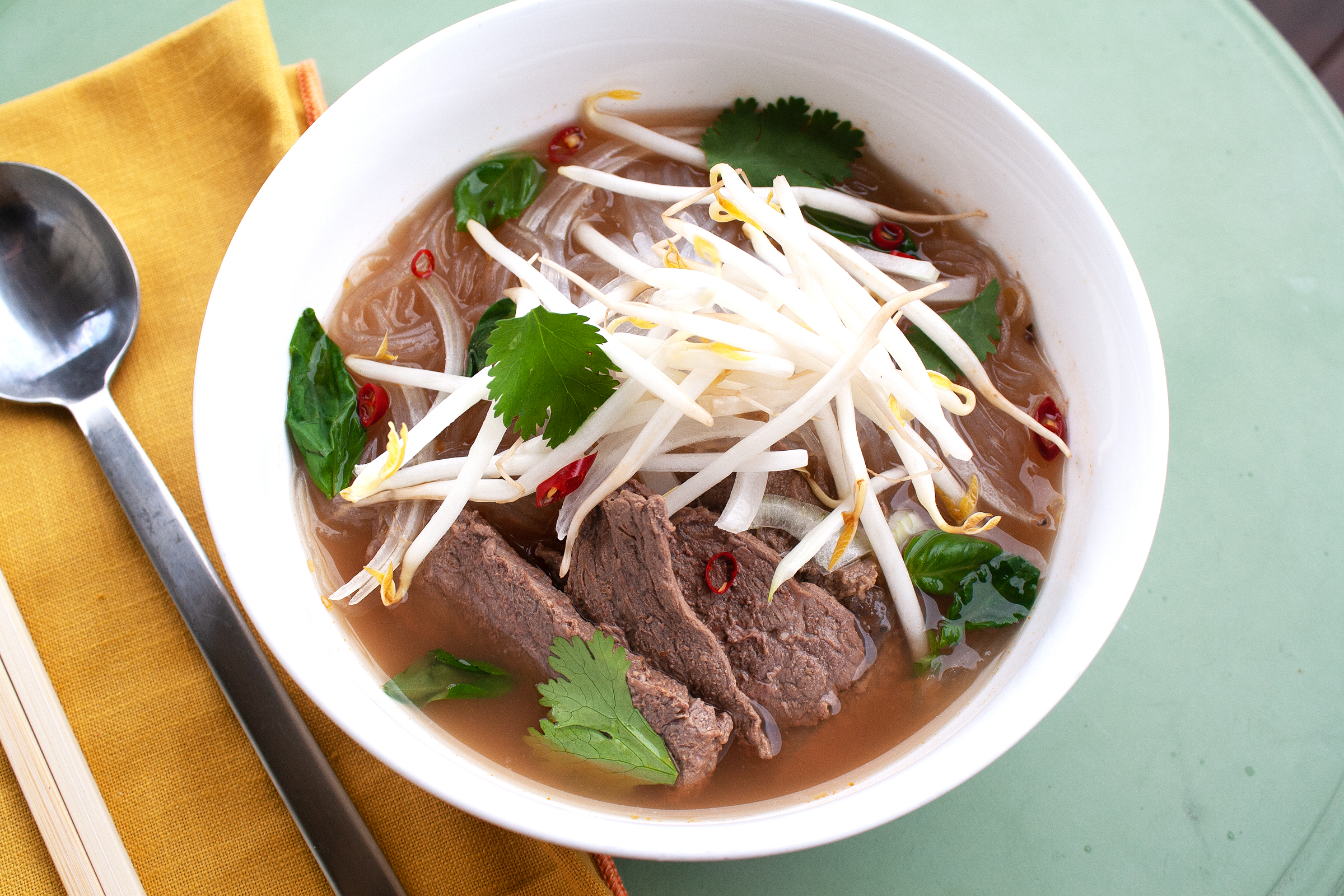 Ingredients
1 large yellow onion, quartered
1 (2-inch) piece ginger, halved lengthwise
2 star anise pods
4 whole cloves
1 (2-inch) cinnamon stick
½ tsp coriander seeds
4 cups beef broth
2 tbsp fish sauce
1 tbsp granulated sugar
2 (5 oz) sirloin steaks
4 oz cellophane noodles
2 tbsp basil leaves
2 tbsp cilantro leaves
1 cup bean sprouts (optional)
Directions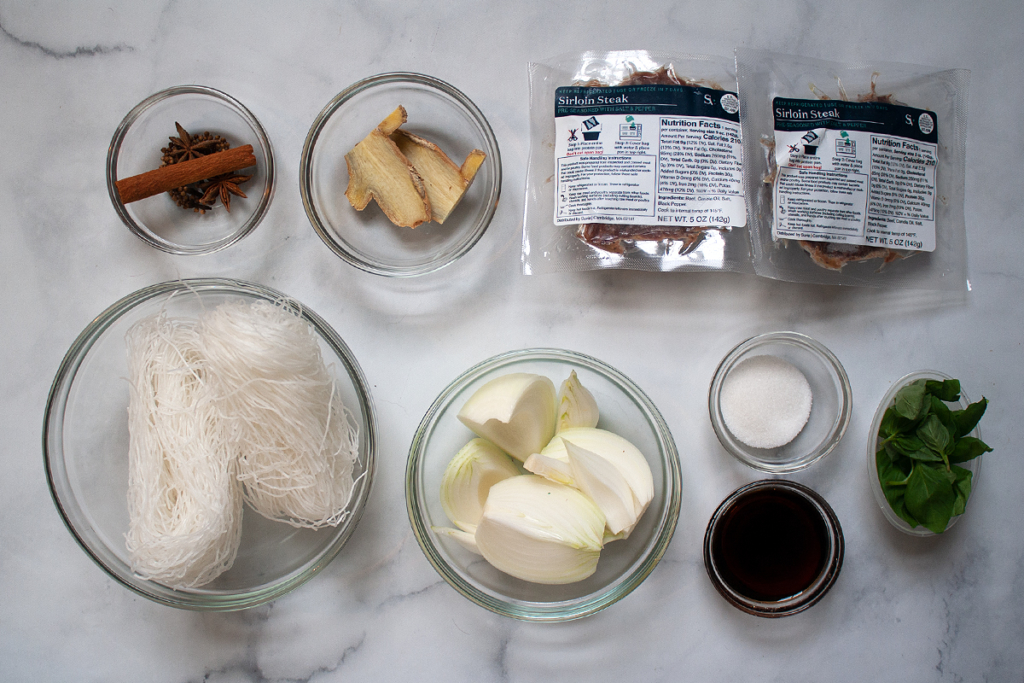 1) Arrange 3 onion quarters, ginger, star anise, cloves, cinnamon, and coriander seeds in a Suvie pan.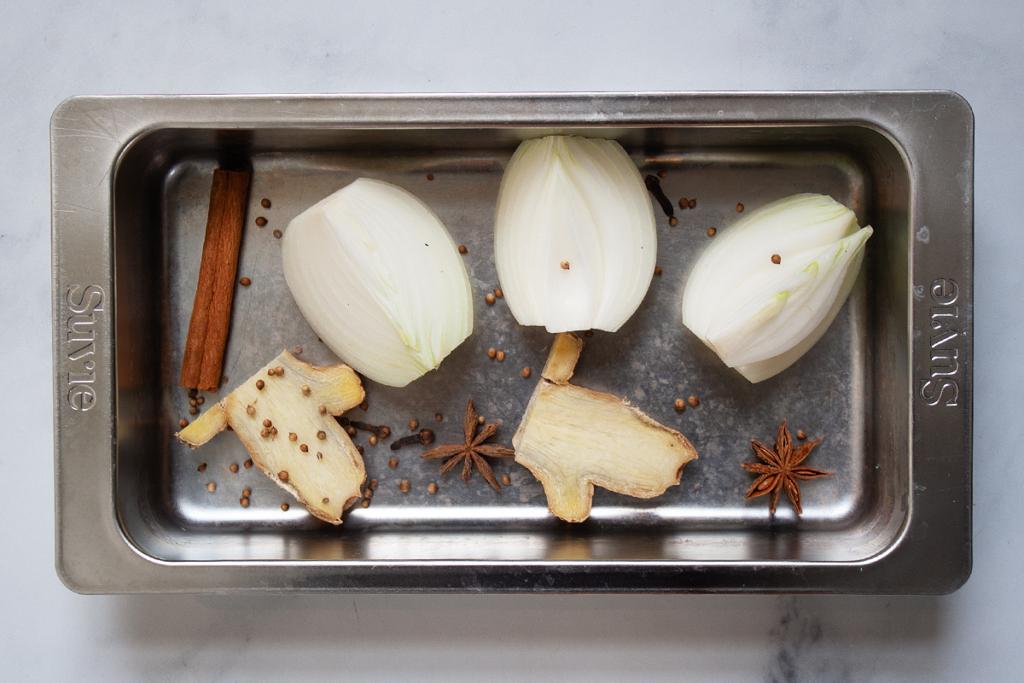 Insert pan into the top of your Suvie and broil for 10 minutes, or until fragrant.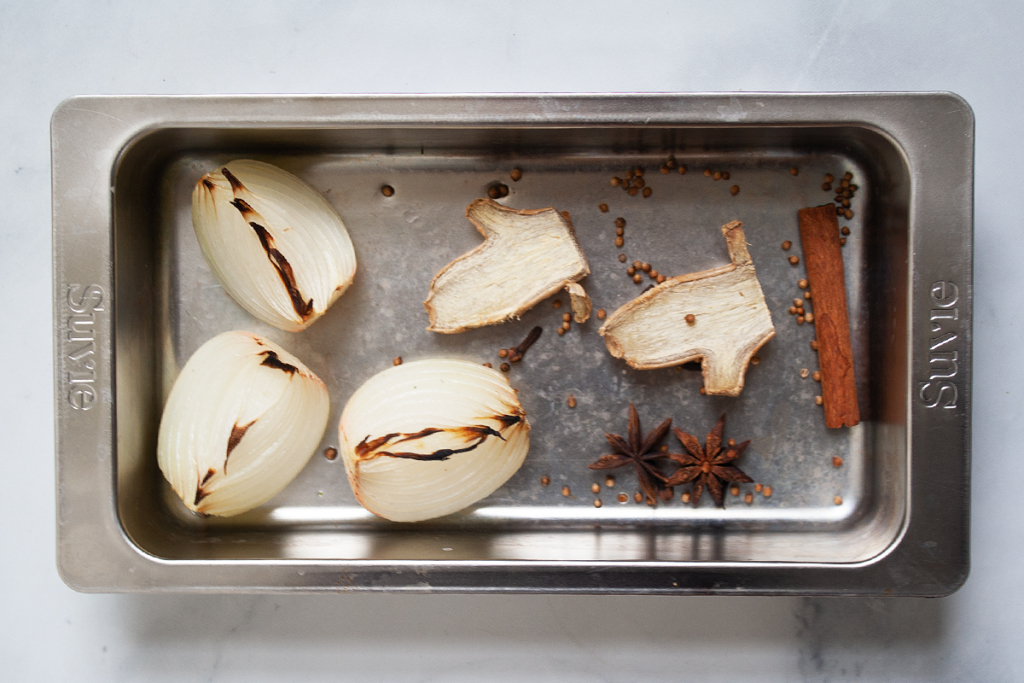 2) Add beef broth, fish sauce, and granulated sugar to pan with the onions, stirring to dissolve sugar. Return pan to Suvie. Input settings, and cook now or schedule.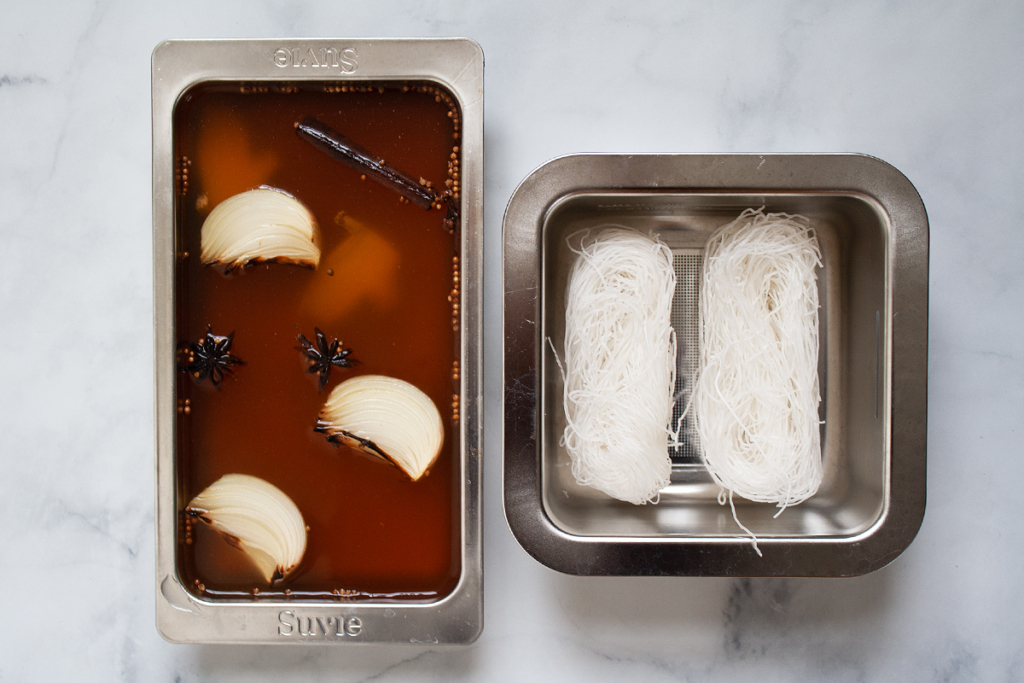 Suvie Cook Settings
Bottom Zone: Slow Cook Low for 2 hours
3) While the broth cooks, cut sirloin steaks in half widthwise and freeze until firm, about 20 minutes.
Set frozen steaks flat-side down on a cutting board and cut into very thin slices. Set aside in fridge.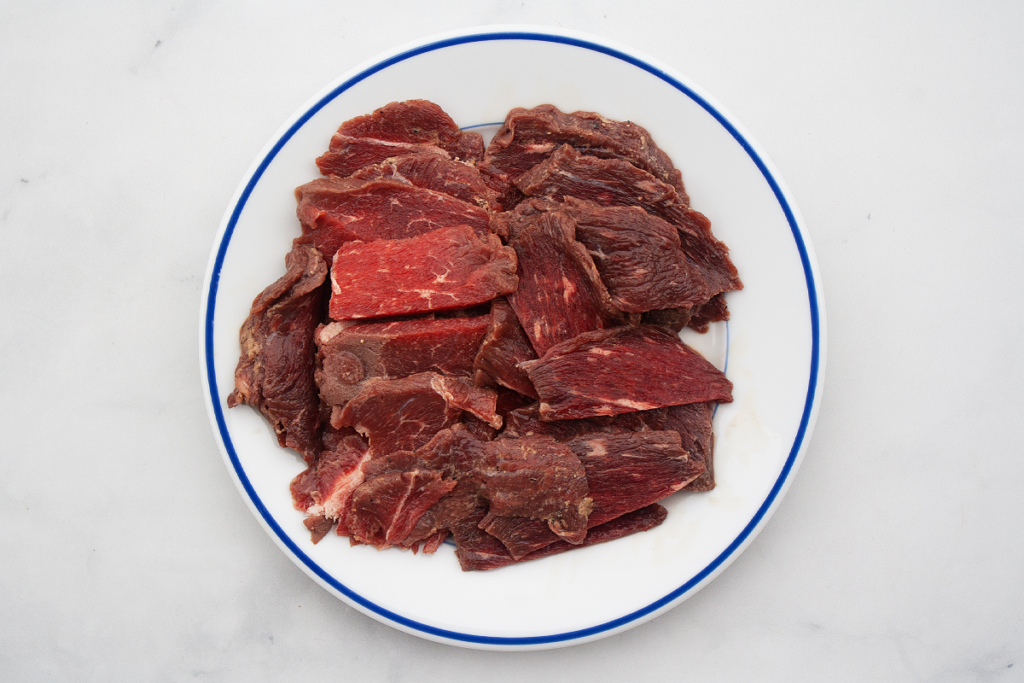 4) Five minutes before the pho is done cooking, add beef slices to Suvie pan. Thinly slice remaining onion quarter.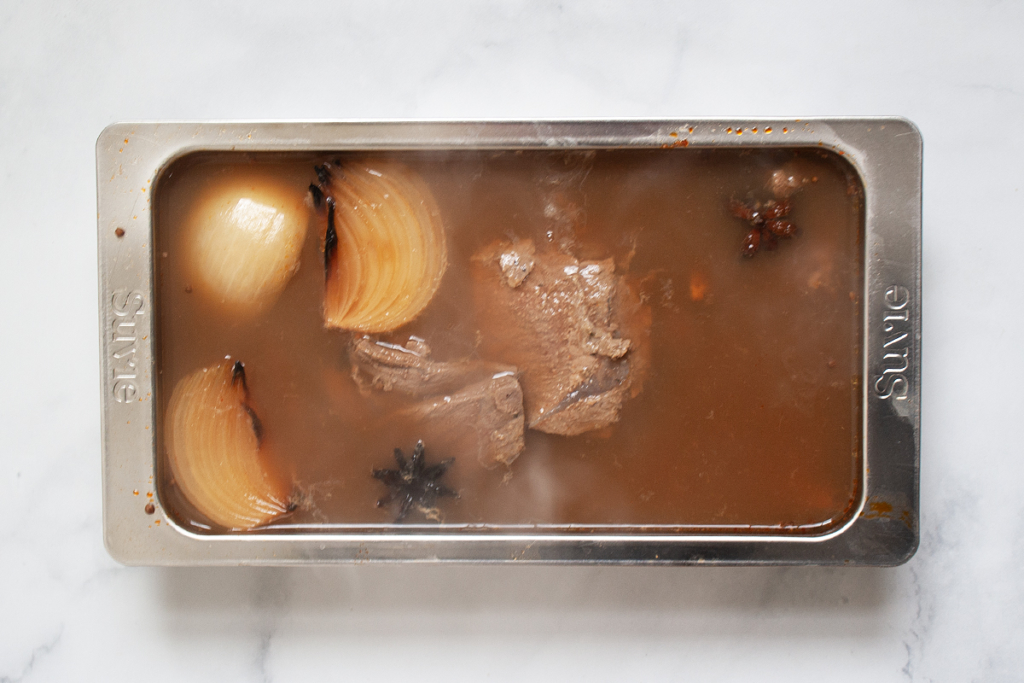 5) Divide noodles between bowls. Remove and discard onion, ginger, star anise, and cloves. Pour hot pho over the noodles. Garnish with cilantro, basil, sliced onion, and bean sprouts (if using), serve with sriracha or thinly sliced thai chiles.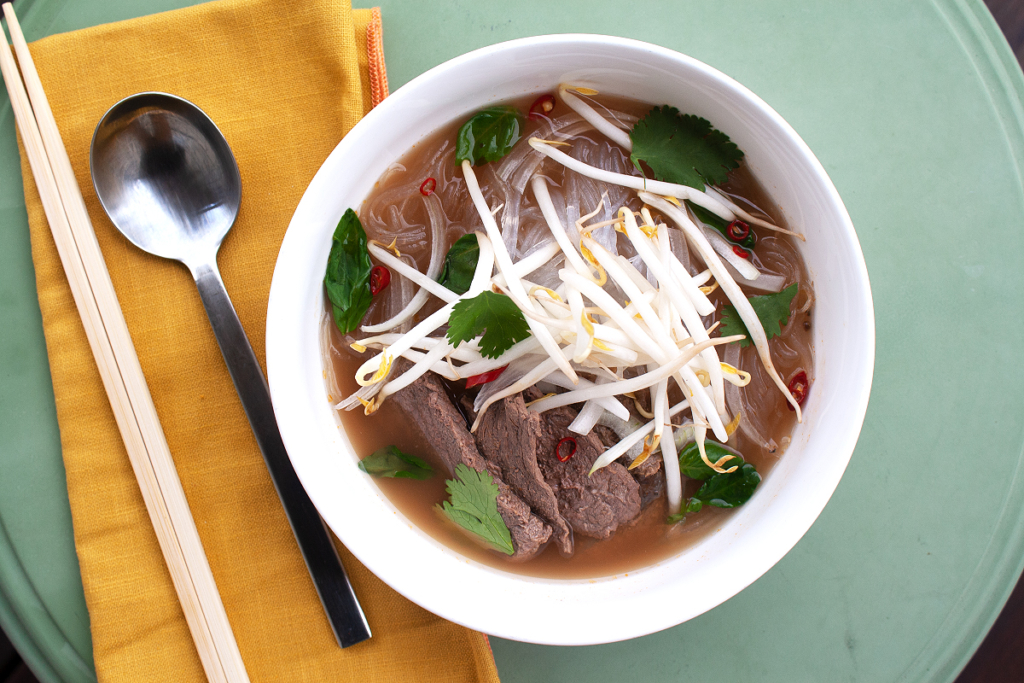 Note: If you would like to make this recipe in Suvie 1.0, insert pan into the top zones of Suvie, fill reservoir, and set to Slow Cook on High for 2 hours.
Nutrition
Nutritional Information per serving (2 servings per recipe): Calories 510, Total Fat 10g, Total Carbohydrates 64g, Total Sodium 3470mg, Total Protein 39g