Beans and rice are the classic pantry staple power couple: they last for months if not years on the shelf, taste great, and make a complete protein when mixed together. In this recipe, we've combined the beans with an onion, some spices, tomato paste and broth but you can substitute or omit almost all of these ingredients if you don't have them on hand, just make sure you taste for seasoning and add more as needed. This meal is simple, quick and hearty enough to feed the entire family. If you have extra toppings such as guacamole, salsa, or sour cream, you can certainly add them, but you will still have a delicious and tasty meal without.
Black Bean and Rice Casserole
Please always check your food to ensure your food has been cooked to safe serving temperatures. Please see our guide
here
for recommended FDA Time & Temperatures.
Servings: 4
Difficulty: 3 hours and 20 minutes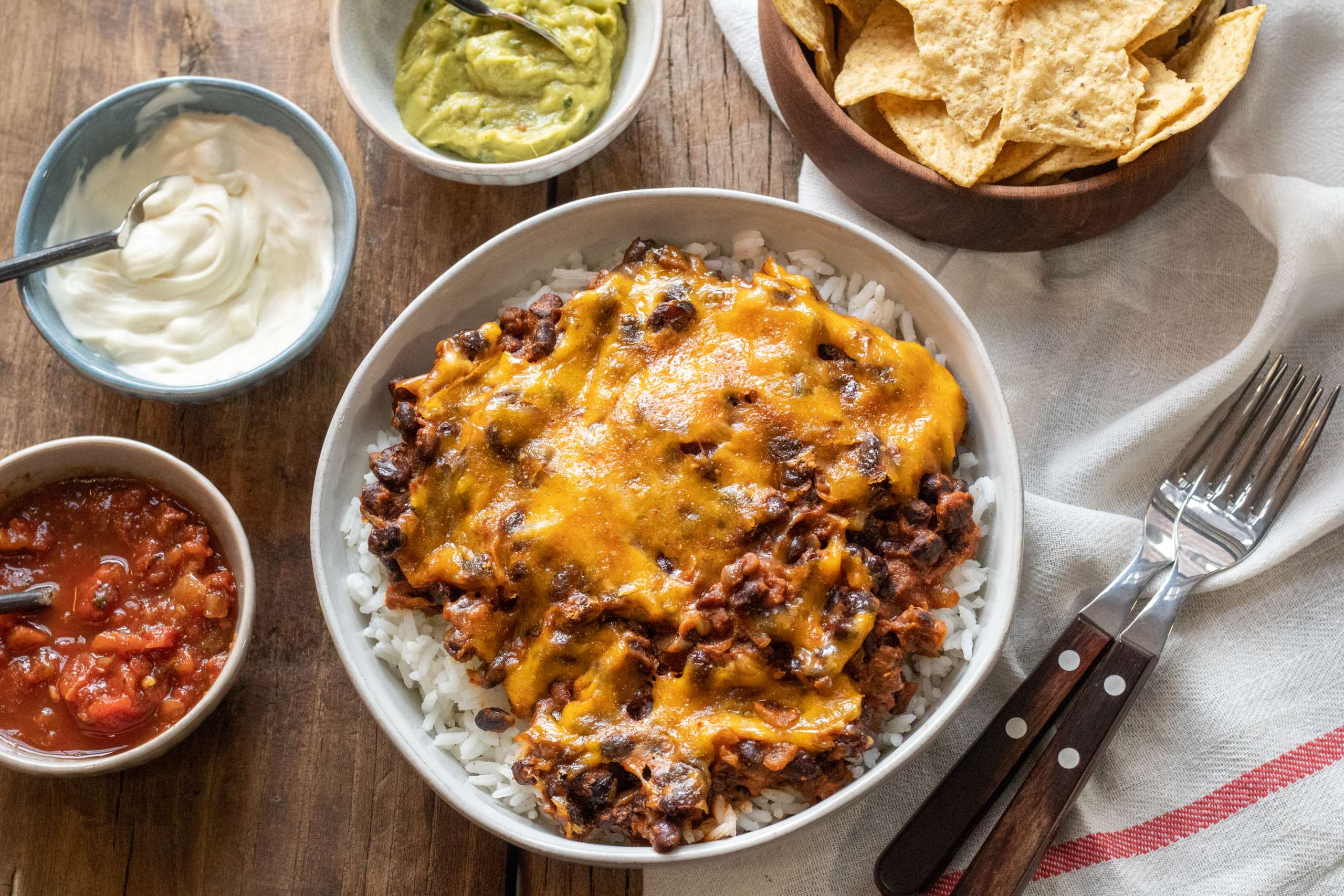 Ingredients
2 tbsp olive oil
2 tsp garlic powder
2 tsp smoked paprika
1 tsp ground cumin
1/2 tsp red pepper flakes (optional)
1 medium onion, diced
2 (14 oz) cans black or pinto beans, drained and rinsed
¼ cup tomato paste
½ cup chicken or vegetable broth
1 ½ cup shredded cheese, cheddar or mozzarella
1 cup white rice
3 cups tortilla chips, to serve
Directions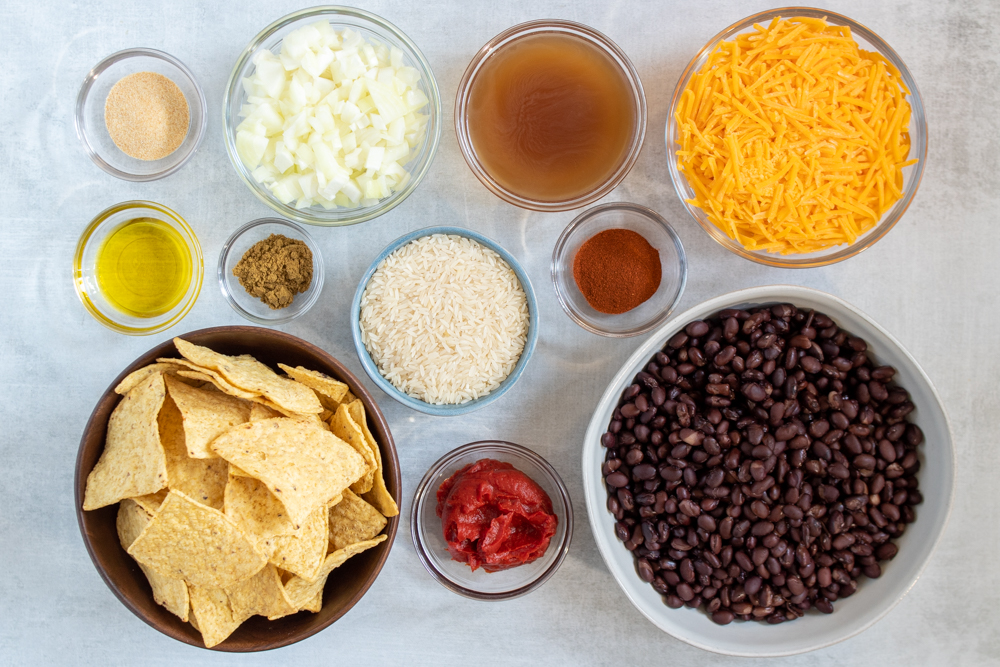 1) In a large bowl stir together 2 tbsp olive oil, 2 tsp garlic powder, 2 tsp smoked paprika, 1 tsp ground cumin, 1/2 tsp red pepper flakes (if using), 1 tsp salt, and 1 onion. Add to a Suvie pan and broil for 12 minutes. During the broil add 2 cans black beans to the now-empty bowl.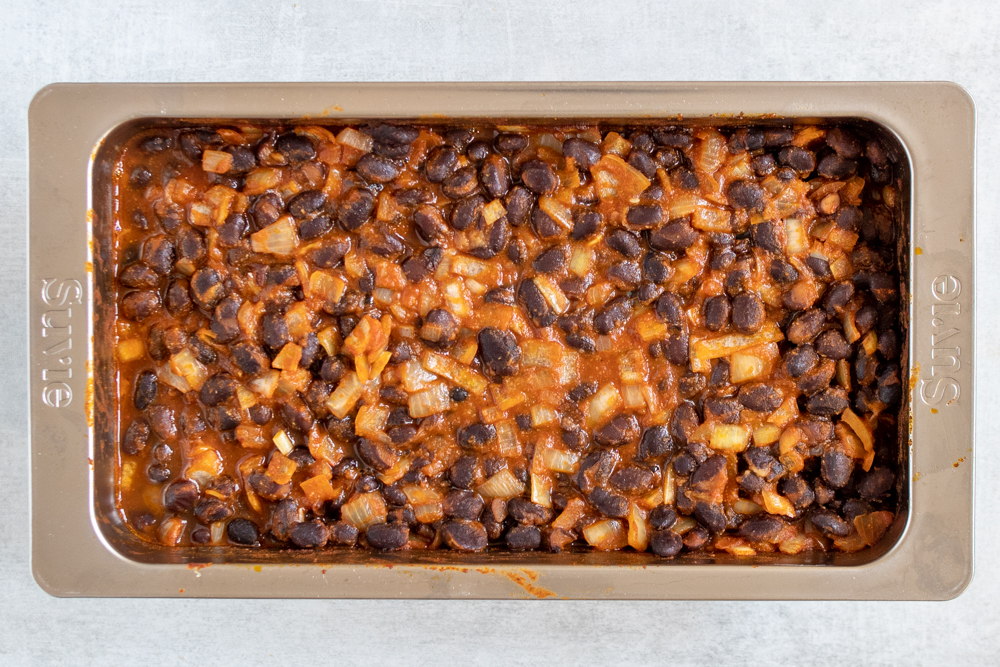 2) After the broil, add tomato paste to the Suvie pan and mix to incorporate. Add 1/2 cup broth to the pan and mix until well incorporated. Pour the mixture over the beans in the large bowl and stir to combine. Pour the beans back into the Suvie pan. Return pan to Suvie. Input cook settings and cook now or schedule.
Suvie Cook Settings
Bottom Zone: Slow Cook on High, 2 hours
3) Add 1 cup rice to the Suvie rice pot (black handles). Cover pot with lid and place pot in the Suvie Starch Cooker, ensuring pot is centered on the hot plate. Enter cook settings, and cook now or schedule.
Suvie Starch Cooker Settings
Rice, Long Grain, 1 Cup
4) Remove beans from Suvie and sprinkle evenly with cheese. Return beans to your Suvie and broil until cheese is melted and starting to brown, about 7 minutes.
5) Fluff rice and divide between plates, top with beans and serve with chips, guacamole, salsa, sour cream or anything else you have on hand.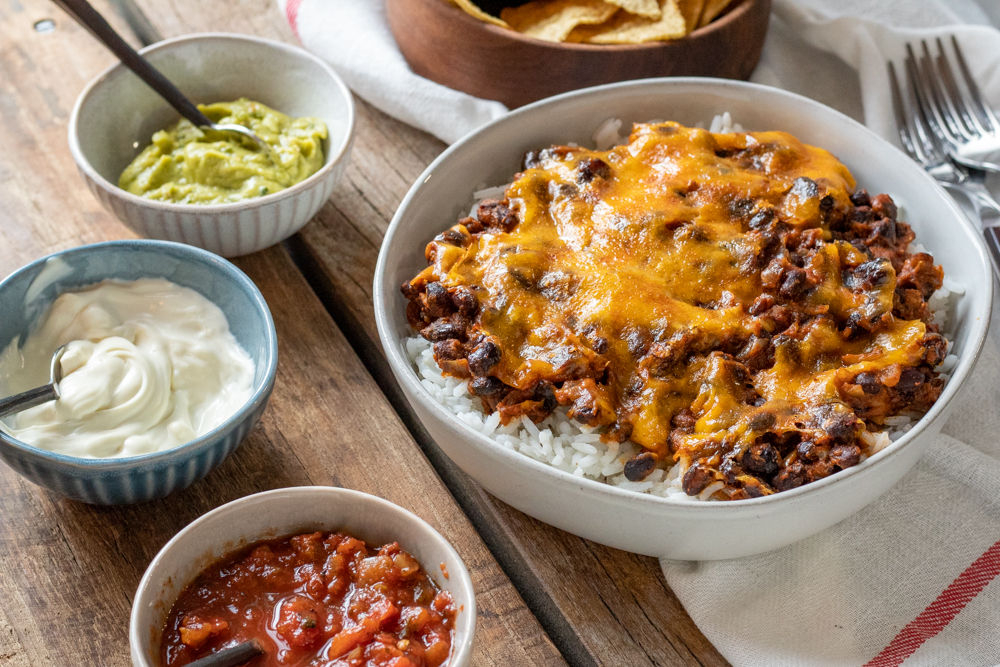 Nutrition
Nutrition Info per 1 Serving (4 Servings per Recipe, Tortilla Chips not Included): Calories 509, Total Fat 15.7g, Sodium 1198.4mg, Total Carbs 67.9g, Protein 24.2g