Chicken Basquaise is a rustic dish that embodies the simplistic elegance of French Basque-country cooking. Garlic, shallots, bell peppers, stewed tomatoes, and baby new potatoes are slow cooked in a paprika-heavy white wine base. A seared split chicken is nestled into the vegetables, creating a magical meld of flavors. If a whole split chicken is difficult to source from your grocery store, feel free to buy a whole chicken and split it at home. Here is a handy video with step by step instructions for splitting a chicken. Smaller-sized chickens, those weighing around 2 lbs., fit very well into the Suvie pans.
Chicken Basquaise
Please always check your food to ensure your food has been cooked to safe serving temperatures. Please see our guide
here
for recommended FDA Time & Temperatures.
Servings: 2
Difficulty: 4 hours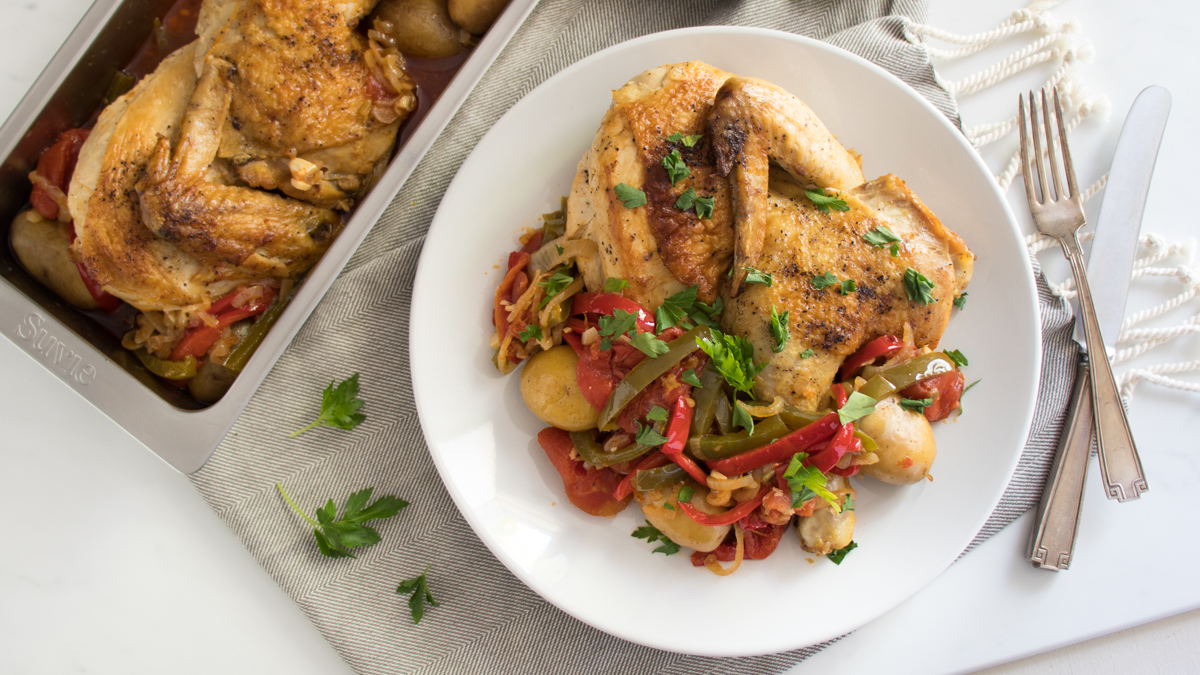 Ingredients
1 small whole chicken (around 2 lbs), split
¼ cup olive oil
¼ cup white or rosé wine
2 shallots, peeled and sliced
2 garlic cloves, peeled and minced
1 red bell pepper, seeded and sliced
1 green bell pepper, seeded and sliced
1 cup canned stewed tomatoes, drained
½ lb baby new potatoes
2 tsp paprika
2 tbsp chopped parsley
Directions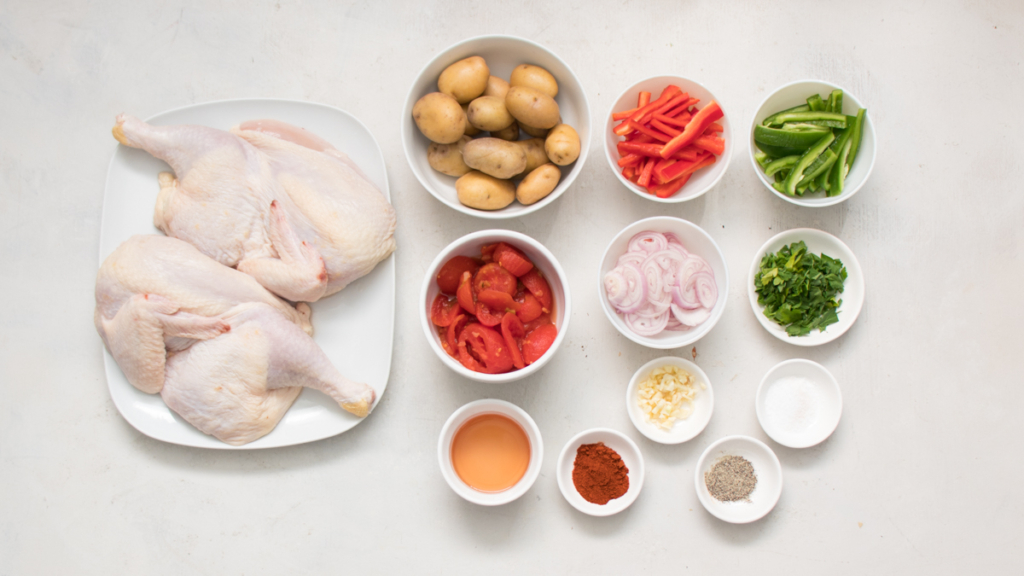 1) Pat chicken dry with paper towels and season all over with 1 salt and ¼ tsp pepper. Heat oil in a large skillet over medium-high heat. Once the oil is shimmering, carefully place chicken halves in the skillet and sear until the skin is crispy and browned, about 2-3 minutes.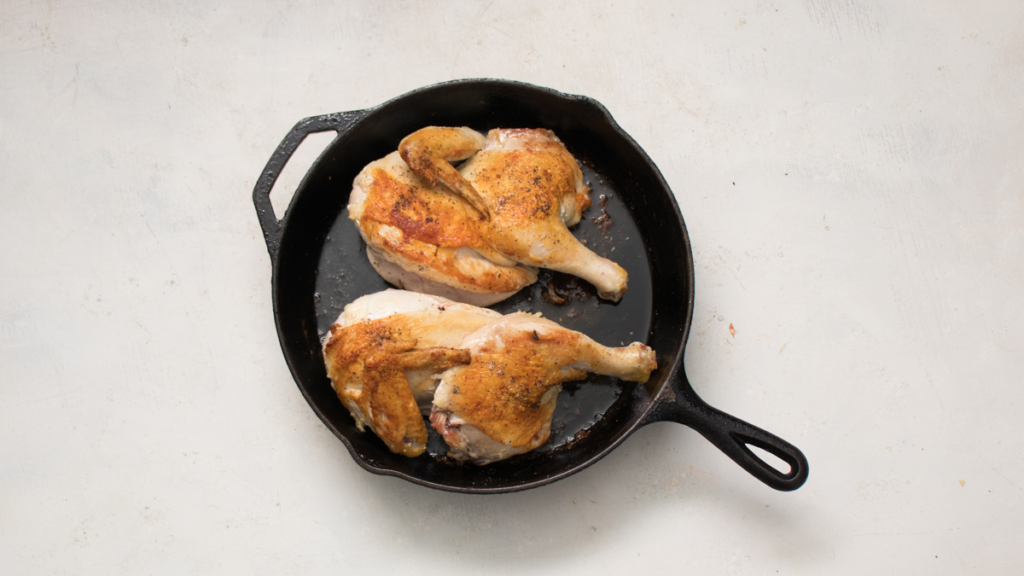 2) Remove the chicken from the skillet and add wine, scraping up any browned bits from the bottom of the pan. Add shallots, garlic, peppers, stewed tomatoes, potatoes, and paprika to the skillet, stir to combine. Sauté vegetables for 2-3 minutes or until tender-crisp.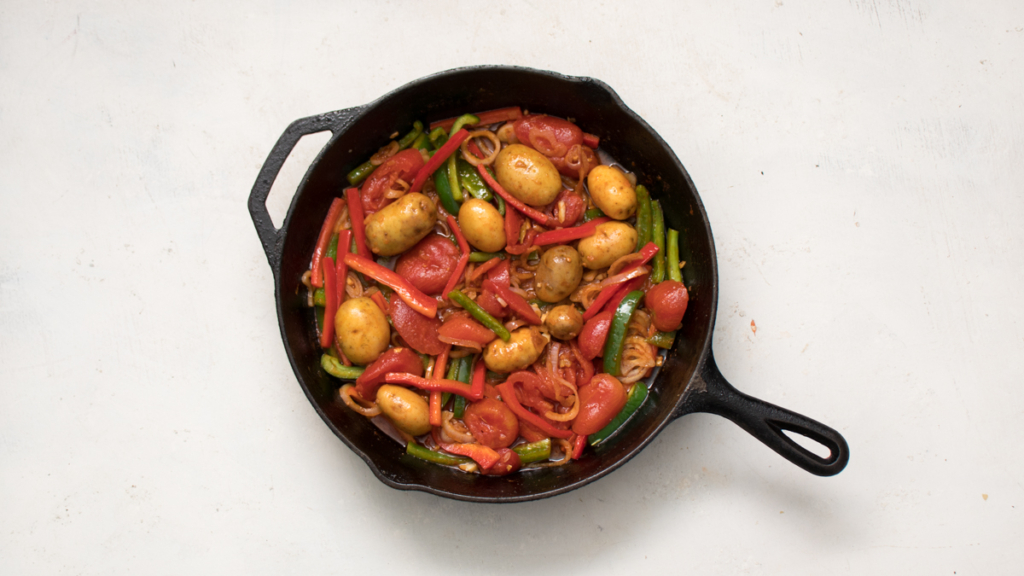 3) Divide vegetables and chicken between two Suvie pans, nestling the chicken into the pans. Insert pans into your Suvie, input settings, and cook now or schedule.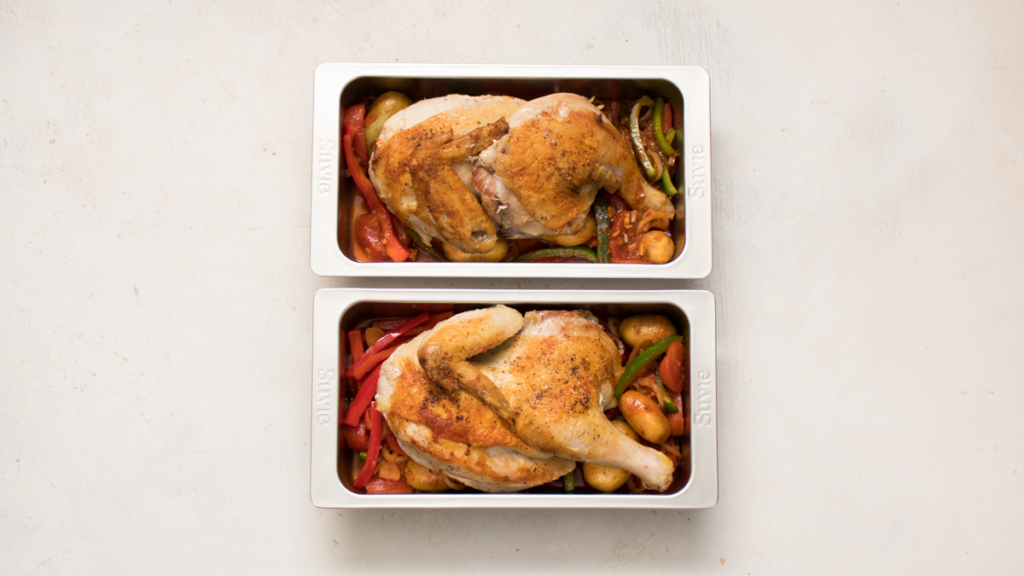 Suvie Cook Settings
Bottom Zone: Slow Cook Low 2 hours 30 minutes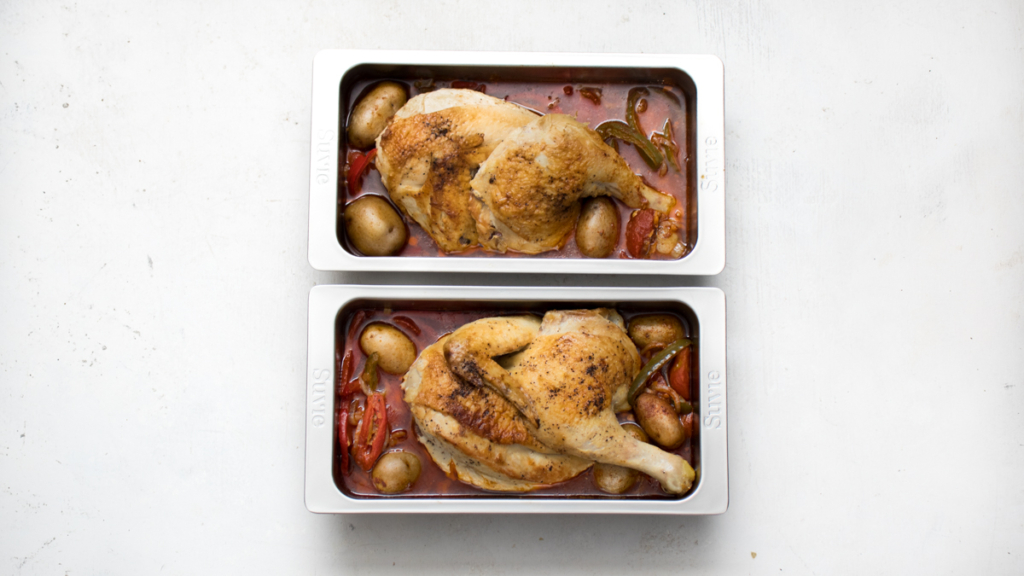 3) After the cook, remove the pans from your Suvie. Divide chicken and vegetables between 2 plates, season to taste with salt, and sprinkle with chopped parsley.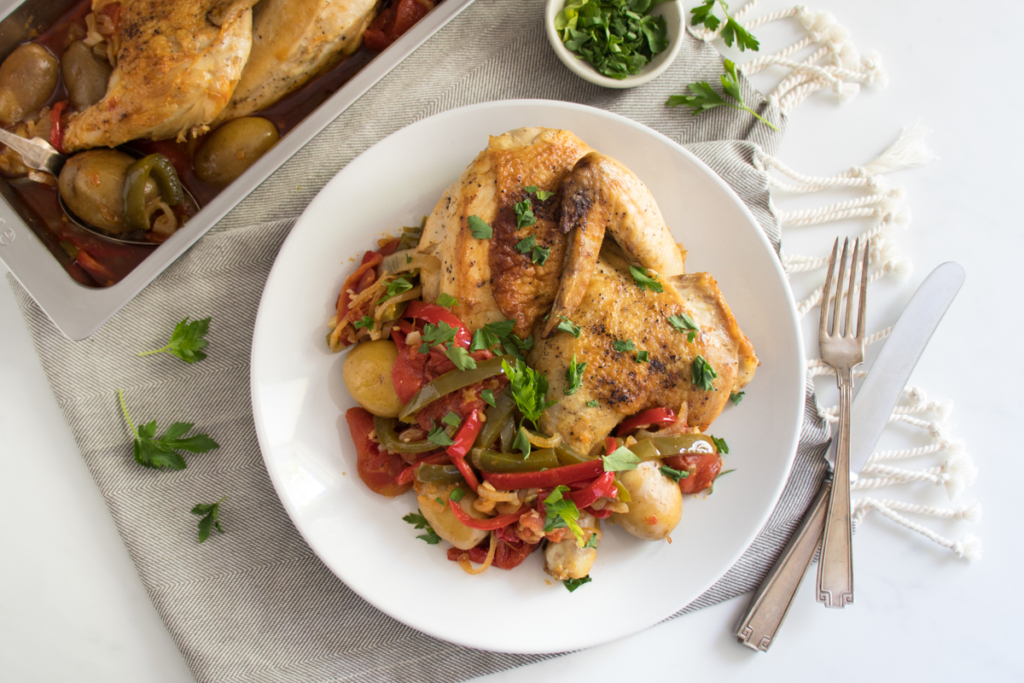 Note: If you would like to make this recipe in Suvie 1.0, insert pans into the top zones of Suvie, fill reservoir, and set to Slow Cook on Low for 2 hours 30 minutes.
Nutrition
Nutritional Information per serving (2 servings per recipe): Calories 830, Total Fat 43g, Total Carbohydrates 33g, Total Sodium 1452mg, Total Protein 64g.