Dan Dan Noodles are a famous type of Sichuan street food. Freshly cooked noodles are served in a Szechuan peppercorn, chili oil, and tahini sauce that's topped with ground pork, roasted baby bok choy, chopped peanuts, and scallions. Once the dish is assembled, everything is stirred together with a pair of chopsticks to coat the noodles and incorporate the other ingredients, giving you a well rounded bite with every bite. The mouth-numbing, spicy, smoky, and savory flavors is what makes this dish so iconic and crave worthy. Feel free to make the chili a day or two in advance; keep covered at room temperature. You can also adjust the spiciness by either eliminating or increasing the amount of crushed chili pepper reserved in the infused oil. 
Dan Dan Noodles with Roasted Bok Choy
Please always check your food to ensure your food has been cooked to safe serving temperatures. Please see our guide
here
for recommended FDA Time & Temperatures.
Servings: 2
Difficulty: 1 hour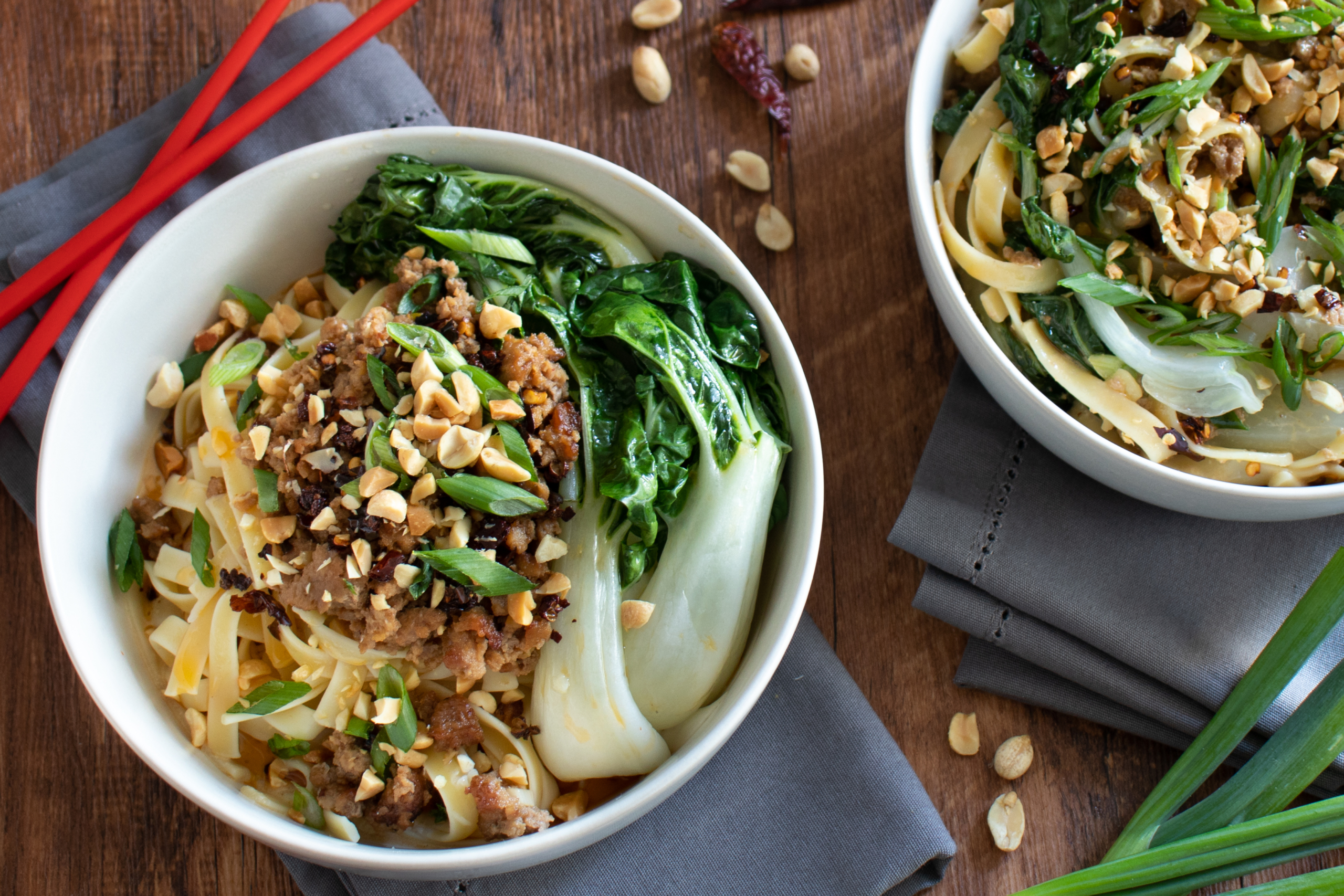 Ingredients
1 ½ tsp Szechuan peppercorns
1 cinnamon stick
2 star anise pods
¼ cup vegetable, peanut or canola oil
2 tsp crushed red pepper flakes
8 oz fettuccine or wide egg noodles
8 oz ground pork
2 garlic cloves, peeled and minced
1 tbsp hoisin
2 tsp rice wine or shaoxing wine
2 tsp low sodium soy sauce
2 tsp granulated sugar
3 baby bok choy, halved
2 tbsp tahini paste
¼ cup chicken or beef broth
2 tbsp chopped roasted peanuts
2 tbsp chopped scallions
Directions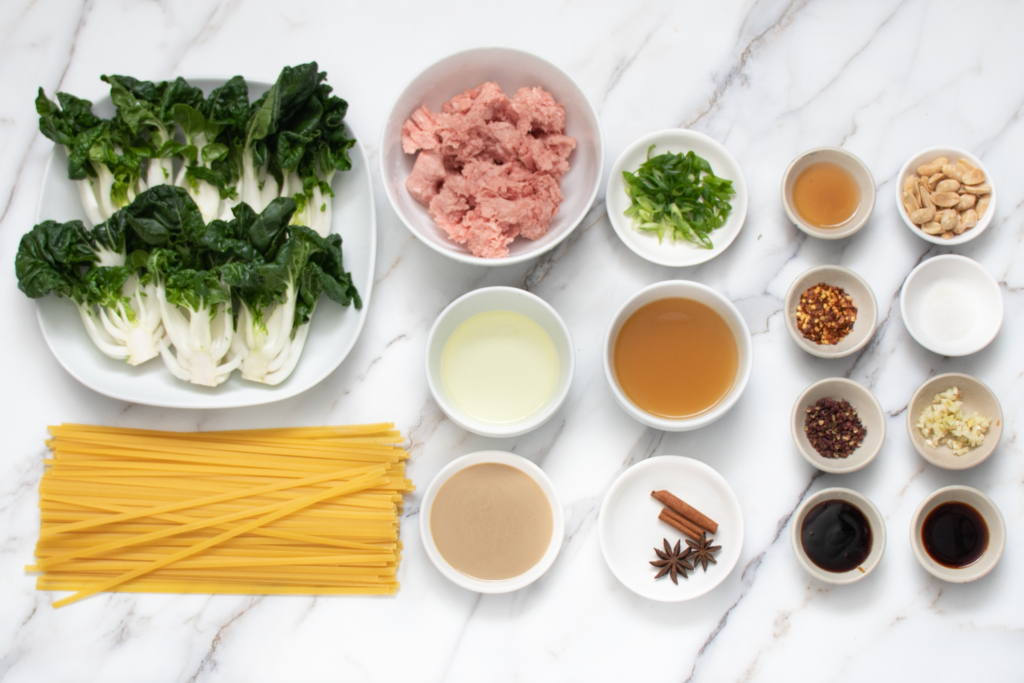 1) Place 1 ½ tsp Szechuan peppercorns, 1 cinnamon stick, 2 star anise, and ¼ cup oil in a Suvie pan. Place pan in the bottom zone of your Suvie and Roast at 350°F for 20 minutes.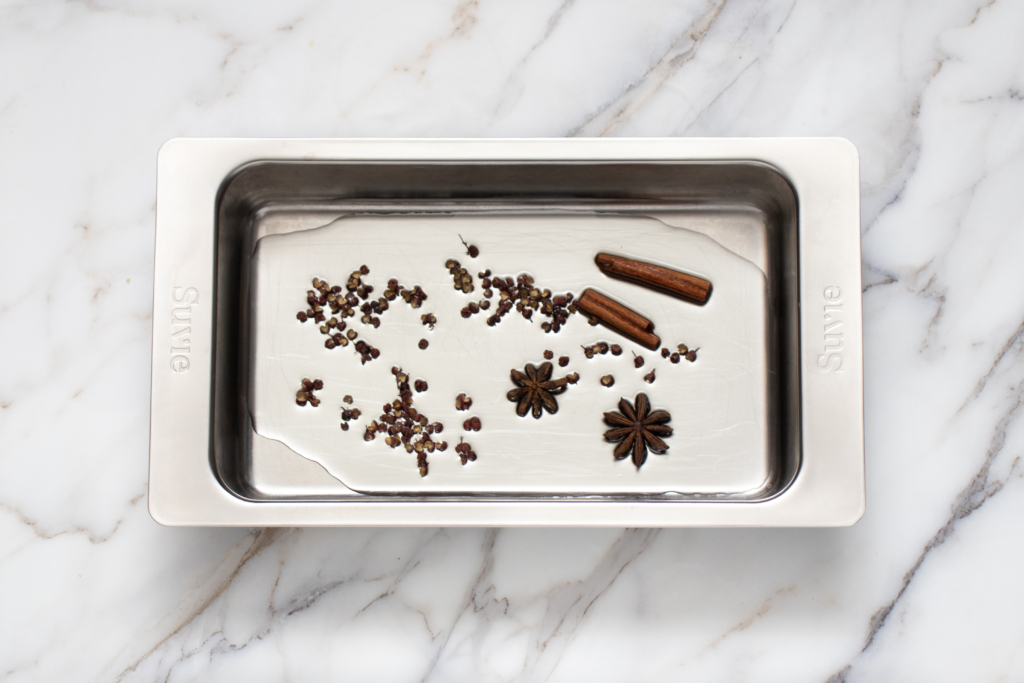 2) After the oil has heated, carefully remove the pan from your Suvie. Add 2 tsp crushed red pepper flakes, and set aside to infuse until the oil is a reddish tint, about 15 minutes. Strain the oil through a fine mesh strainer, discarding the cinnamon stick and star anise, and set aside. To increase the spiciness, spoon a couple teaspoons of crushed red pepper flakes and peppercorns into the oil.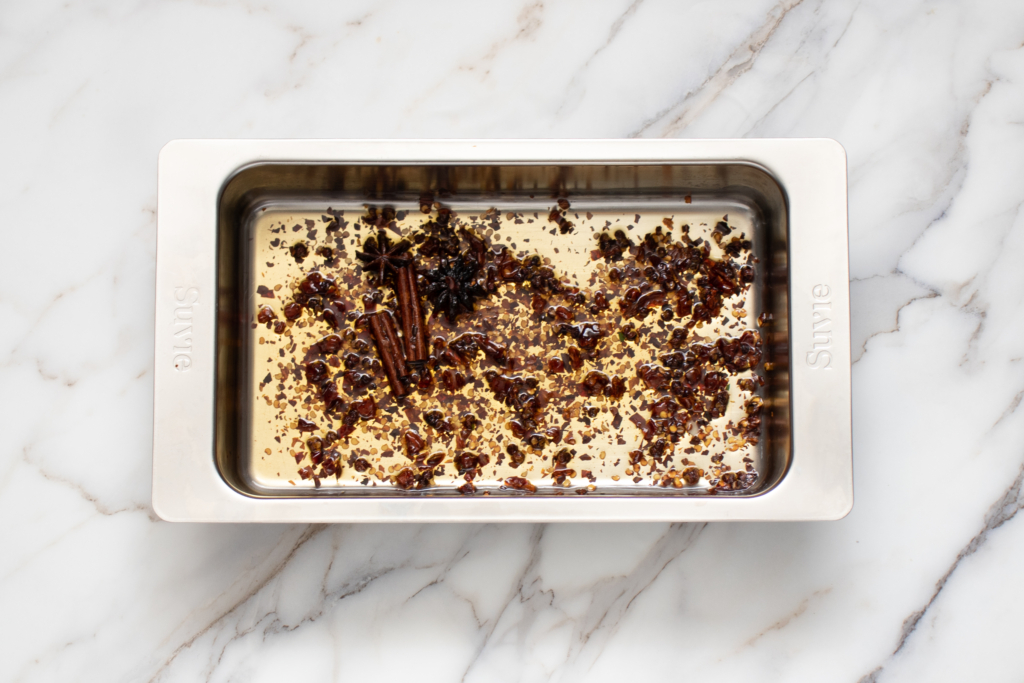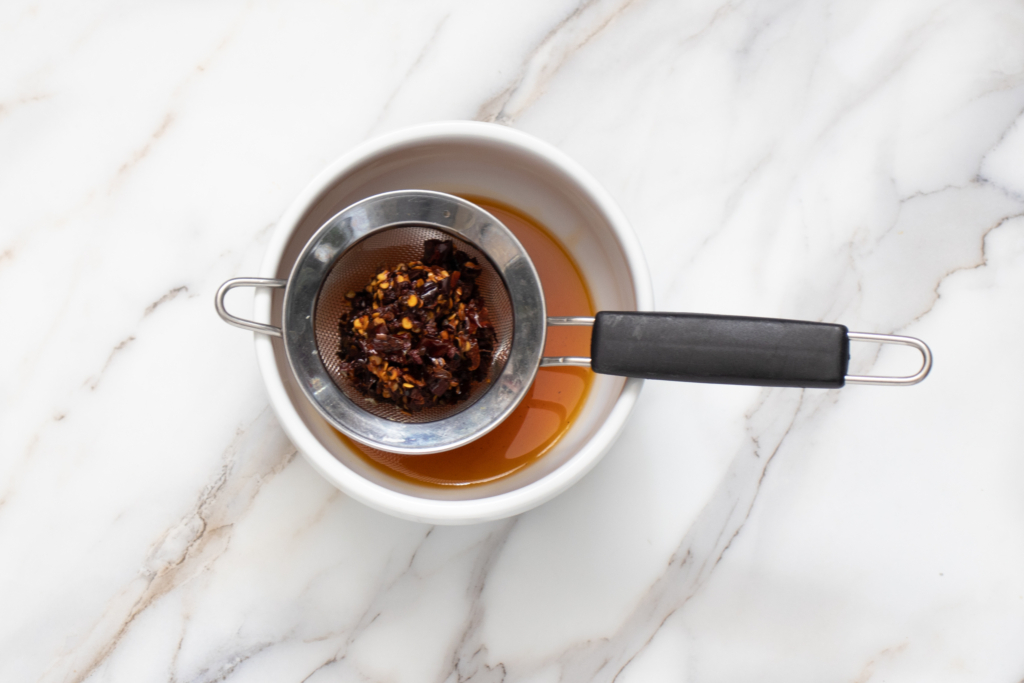 3) Place 8 oz of noodles in the Suvie Starch Cooker strainer insert, place strainer insert into the pasta pot (green handles), and cover with the pot lid. Place the pasta pot on the hot plate, close the door, ensure drain tray is in place, and hit "Cook".
Suvie Starch Cooker Settings:
Pasta, 12 minutes (or longer if necessary, check the package for suggested cook times)
4) While the noodles are cooking, crumble 8 oz ground pork into a Suvie pan. Season with 2 garlic cloves, 1 tbsp hoisin, 2 tsp rice wine, 2 tsp soy sauce, 2 tsp sugar, and 2 tsp infused chili oil, stirring to combine. Place 3 halved baby bok choy in another Suvie pan, drizzle with 2 tsp chili oil and season with a pinch of salt. Place the pans in the top and bottom zones of your Suvie, input settings, and cook now.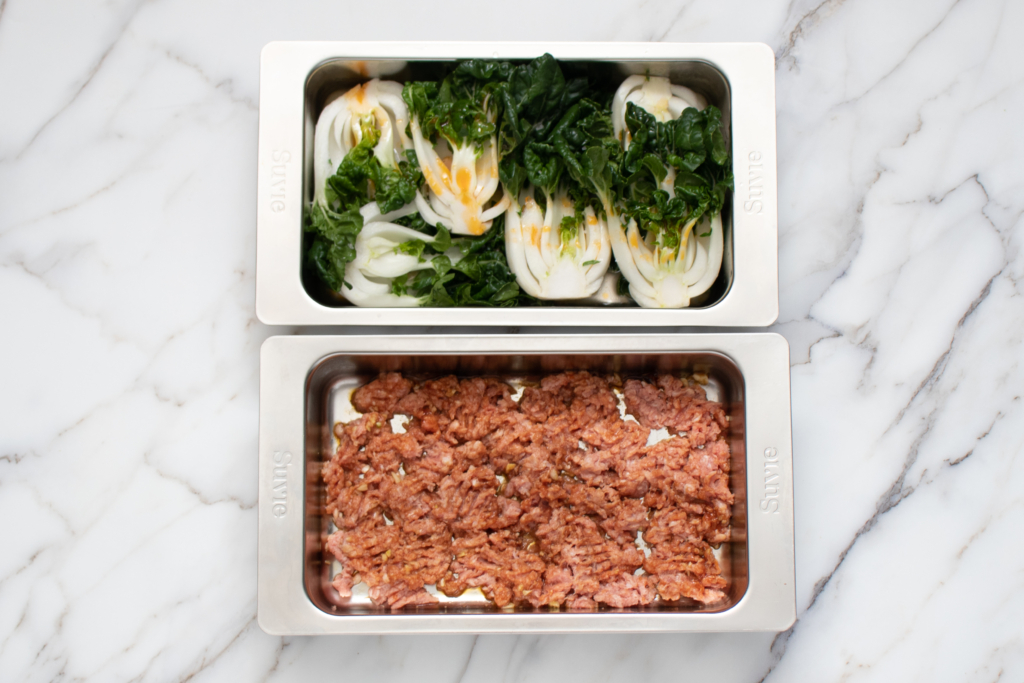 Suvie Cook Settings
Bottom Zone: Roast at 400°F for 15 minutes 
Top Zone: Roast at 400°F for 15 minutes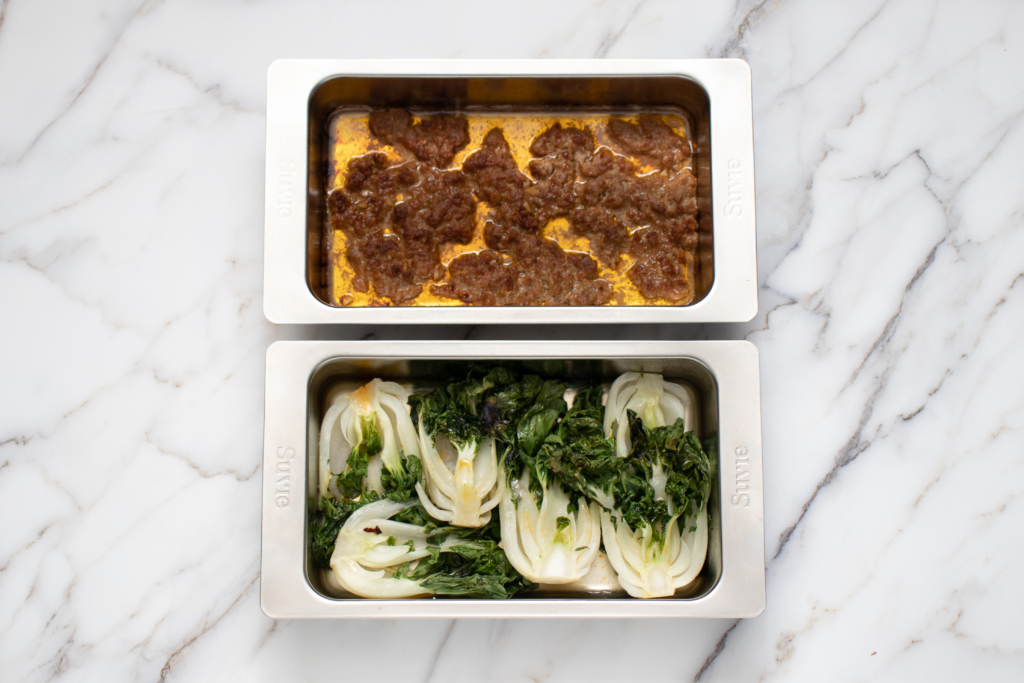 5) During the cook, place 2 tbsp tahini paste and ¼ cup broth in a medium bowl and whisk to combine. Divide the mixture between 2 serving bowls and drizzle with the remaining chili oil.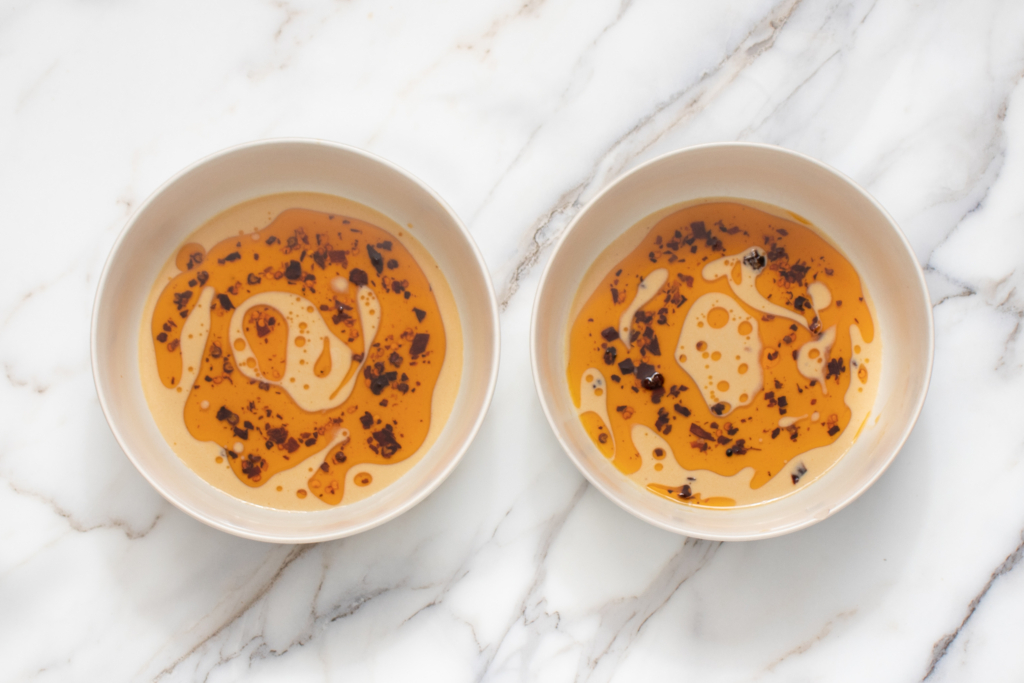 6) After the pasta has cooked, remove the strainer insert and thoroughly drain the noodles. Divide noodles between the two bowls on top of the sauce.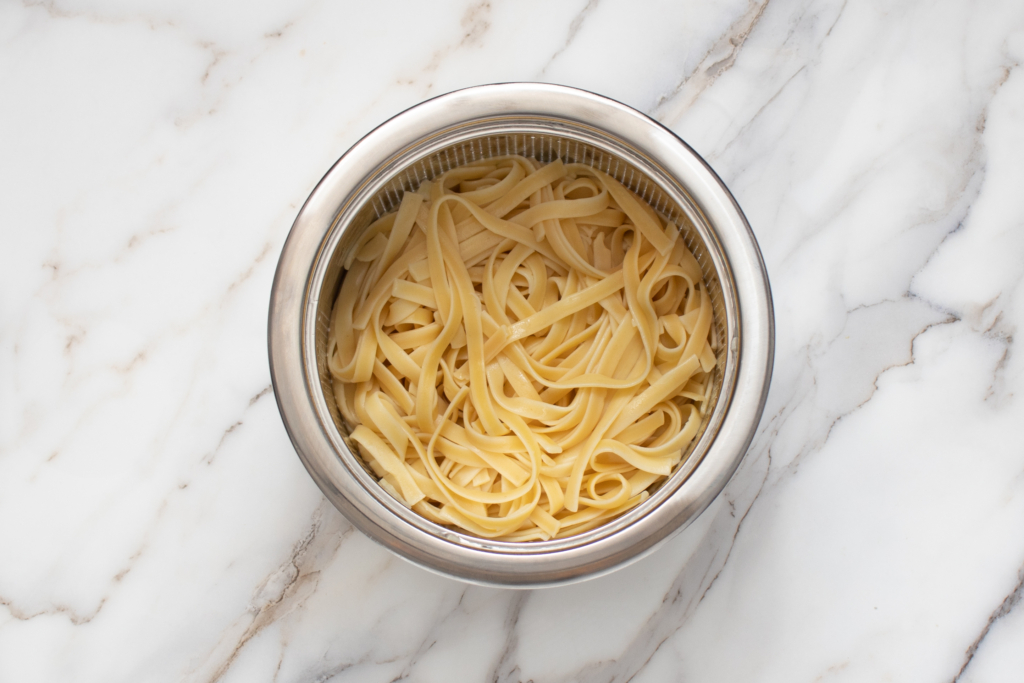 7) After roasting, remove the pans from your Suvie and use a fork to break the ground pork into small crumbles. Divide the ground pork and bok choy between bowls. Garnish with 2 tbsp peanuts and 2 tbsp scallions before serving.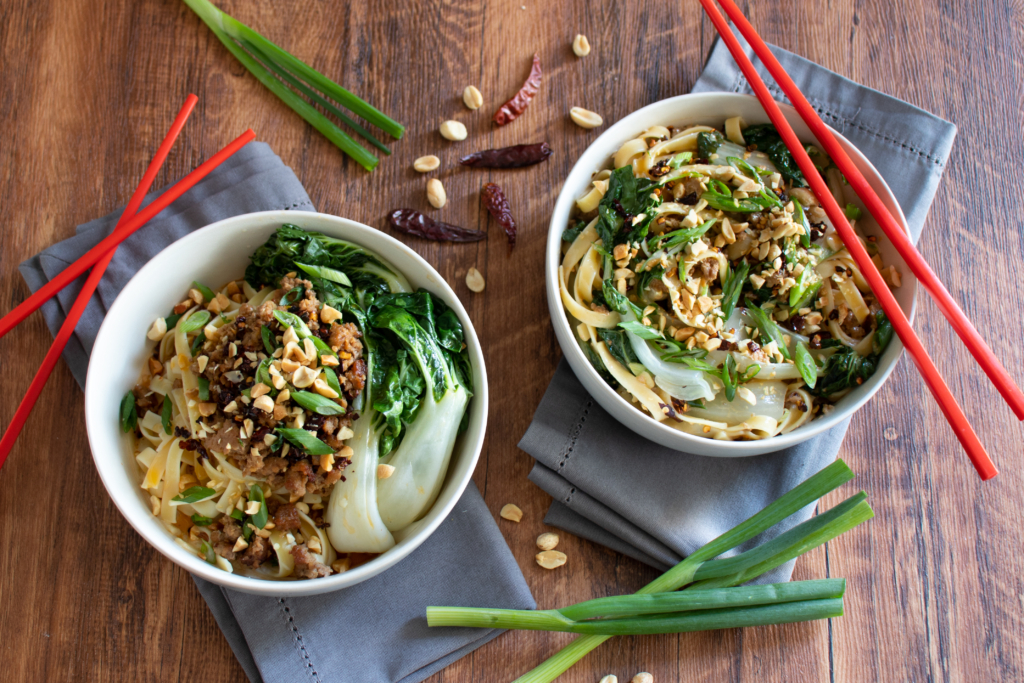 Nutrition
Nutritional Information per serving (2 servings per recipe): Calories 804, Total Fat 43g, Total Carbohydrates 62g, Total Sodium 601mg, Total Protein 44g.