Cheese lovers rejoice! A gooey melty pot of cheesy deliciousness awaits, ready for all imaginable 'dippables'.
What is Fondue
Derived from the French word fondre, meaning "to melt", fondue is an alpine creation and the specialty dish of Switzerland. Created as a clever way to utilize hardening cheese and stale bread, fondue primarily consists of cheese combined with a boozy element such as wine, cognac, or brandy. Served communially, the large pot of fondue is kept warm throughout service with chunks of bread, fruit, or cured meat served alongside. Long skinny forks are used to skewer the ingredients and to make for easy fondue dipping.
Types of Fondue Cheeses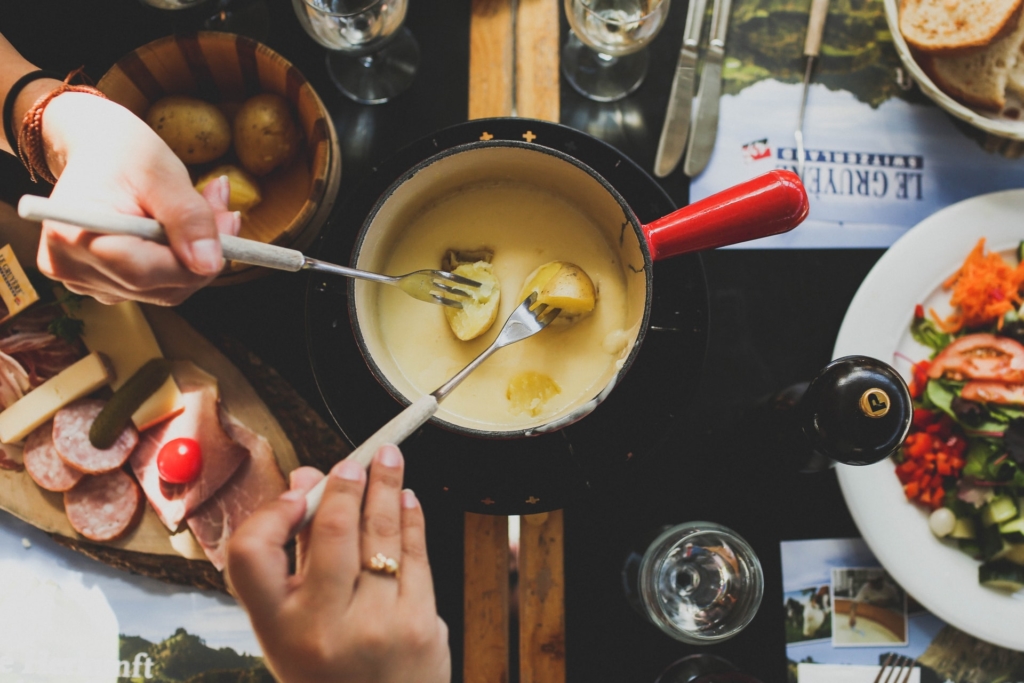 The popularity of fondue flourished throughout Europe, especially in the prominent cheese producing regions. With just some slightly substitutions to fit the country's national cheeses and ingredients of choice.
Switzerland: Emmental and Gruyere cheeses are the most popular with a combination of tart white wine and Kirsch (a cherry liqueur).
France: Big, bold and creamy cheeses like Comte, Beaufort, and Reblochon are combined with buttery white wines and aged Brandy or Cognac.
Italy: Super creamy Fontina, Mozzarella, or Provolone are combined with a touch of Parmesan or Pecorino as well as crisp Northern Italian white wines. 
Germany: Raclette, a funky melty cheese, is popular in Germany. Instead of simmering the cheese in a wine and spirit, Germans opt for a beer and spirit combination.
How to Source the Perfect Cheese
A local cheese shop or gourmet grocer with a robust cheese selection should have some of the easier cheeses to source such as gruyere, emmental, comte, fontina, and mozzarella. To save on some prep time at home, tell the mongers that you're planning on using the cheese to make fondue, they may be able to help trim and cube the cheese for you.
How to Make Fondue
Fondue is actually pretty easy to make, below is a simplified method.
You will need a sturdy, heavy-bottom pot. Fondue aficionados prefer a ceramic fondue pot for the best results and most even cooking.
An emulsifier is typically used when making fondue to ensure the dish remains smooth and melts evenly without separating. Whisk the boozy elements with a little cornstarch to create a slurry and heat slowly in the pot to just a low simmer.
Add the cheese, a few chunks at a time, stirring until the cheese has melted before adding the next handful. Once all the cheese has melted, a light sprinkle of salt and pepper is added to enhance the flavor. If you're looking for a more authentic recipe check out this recipe for Authentic Swiss Fondue.
Feature Image: Pat_Scrap from Pixabay