This family-friendly and conveniently keto dish is perfect to whip up when you're short on prep time and want a dinner to look forward to. The low and slow cooking method makes the garlic deliciously sweet and roasty, perfect for spreading across chunks of bread or pieces of chicken (just make sure to brush your teeth after this meal!). Herbs de Provence, an herb blend consisting of dried lavender, basil, thyme, rosemary, savory, and marjoram, imparts the flavors of the French countryside and can be found in any supermarket spice aisle.
Note: If you would like to schedule this meal but do not want to wait for the broiler to cool before refrigerating, sauté the garlic, olive oil, butter, carrots, and onions in a large skillet over high heat until softened, about 8 minutes, instead of broiling.
Garlic-Herb Chicken Thighs
Please always check your food to ensure your food has been cooked to safe serving temperatures. Please see our guide
here
for recommended FDA Time & Temperatures.
Servings: 4
Difficulty: 3 hours and 15 minutes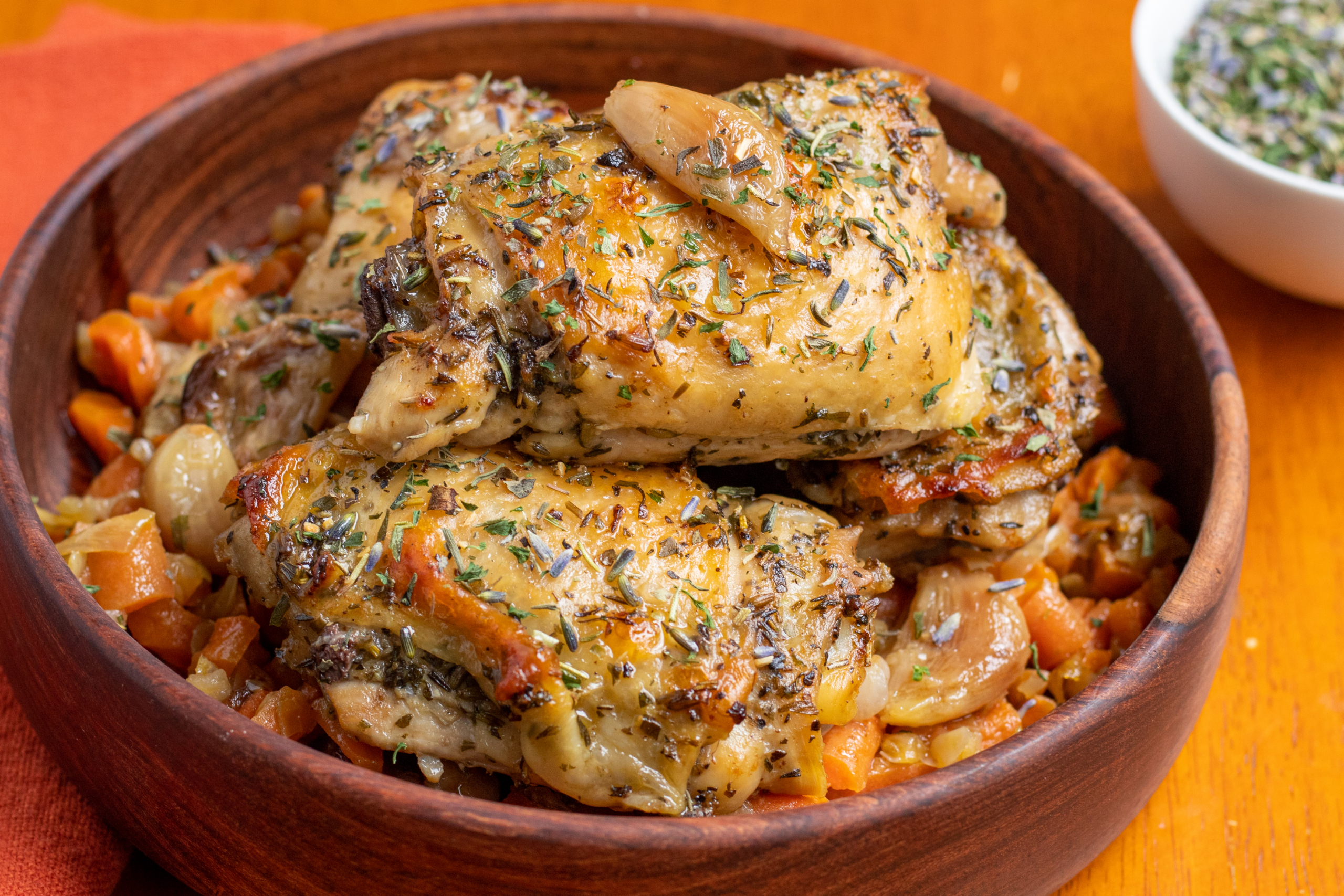 Ingredients
1 lb bone-in, skin-on chicken thighs
1 head garlic, peeled whole cloves (approx 15-20 cloves)
3 tbsp olive oil, divided
2 tbsp butter, melted
5 carrots, peeled and diced
1 yellow onion, diced
2 tsp herbs de Provence
2 tsp cornstarch
1/4 cup chicken stock
1/2 lemon, juiced
Directions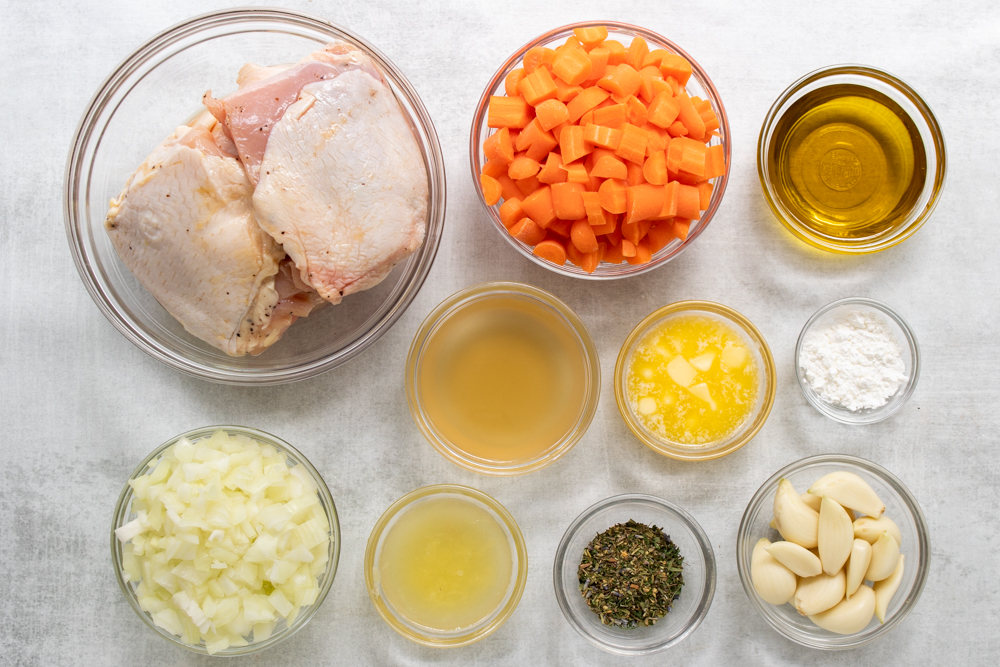 In a Suvie pan combine the garlic, 1 tbsp olive oil, and 2 tbsp melted butter. In another Suvie pan add carrots and onion with salt, pepper, and remaining 2 tbsp olive oil.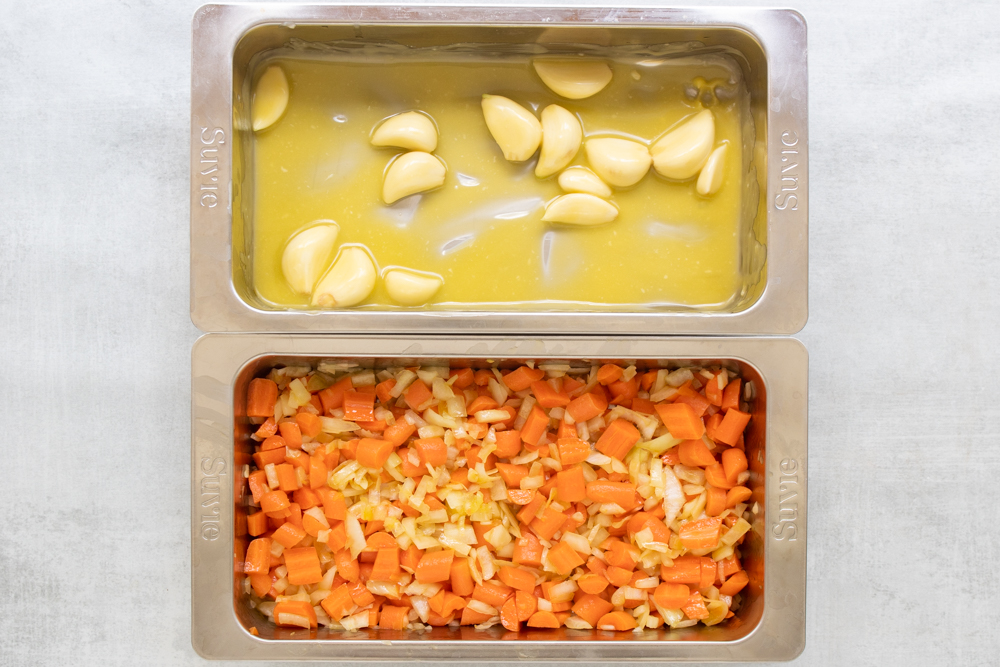 Broil pans for 10 minutes stirring halfway through. Do not fill reservoir before broiling.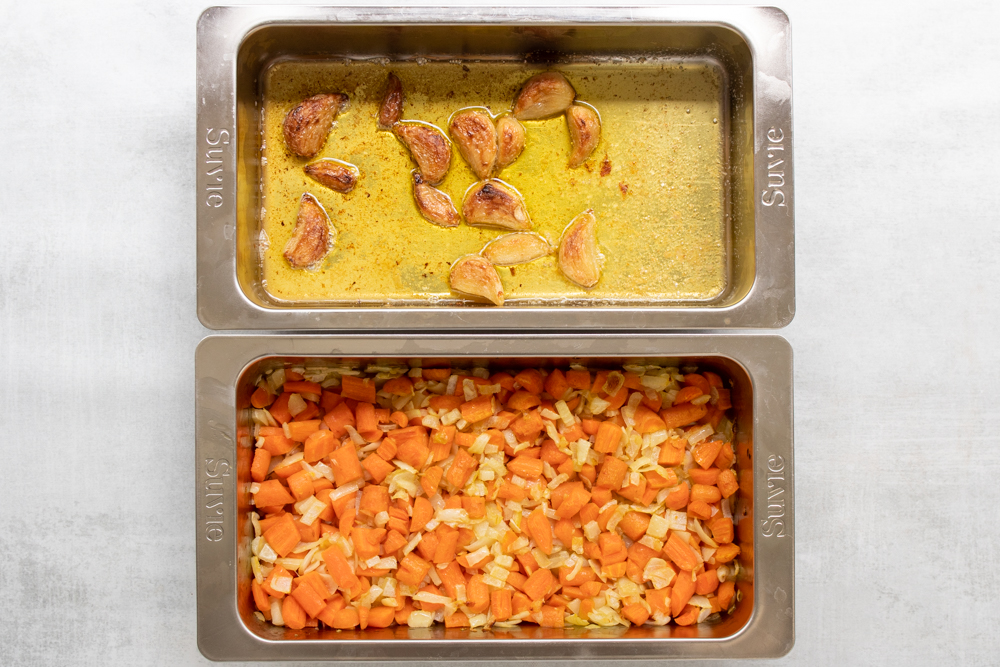 During the broil, pat the chicken thighs dry, season with salt, pepper and herbs de Provence. In a small bowl whisk together the cornstarch, chicken stock, and lemon juice. After the broil, remove the garlic pan from Suvie and whisk in the chicken stock mixture. Nestle the chicken thighs into the pan spooning some of the liquid over the thighs.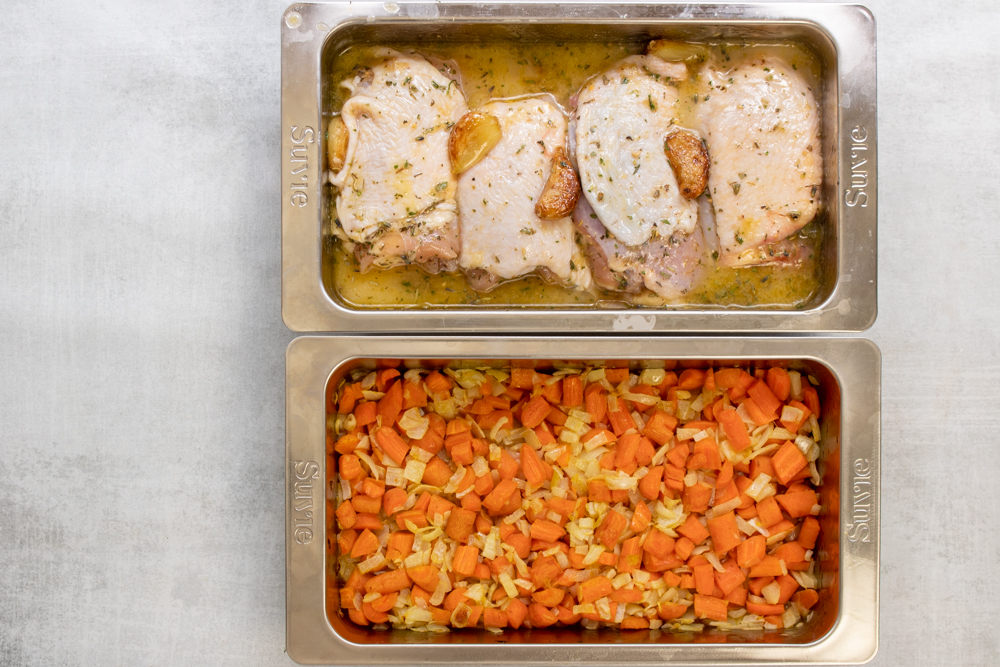 Insert pans into your Suvie, input settings, and cook now or schedule.
Suvie Cook Settings
Bottom Zone: Slow Cook High for 1 hour and 30 minutes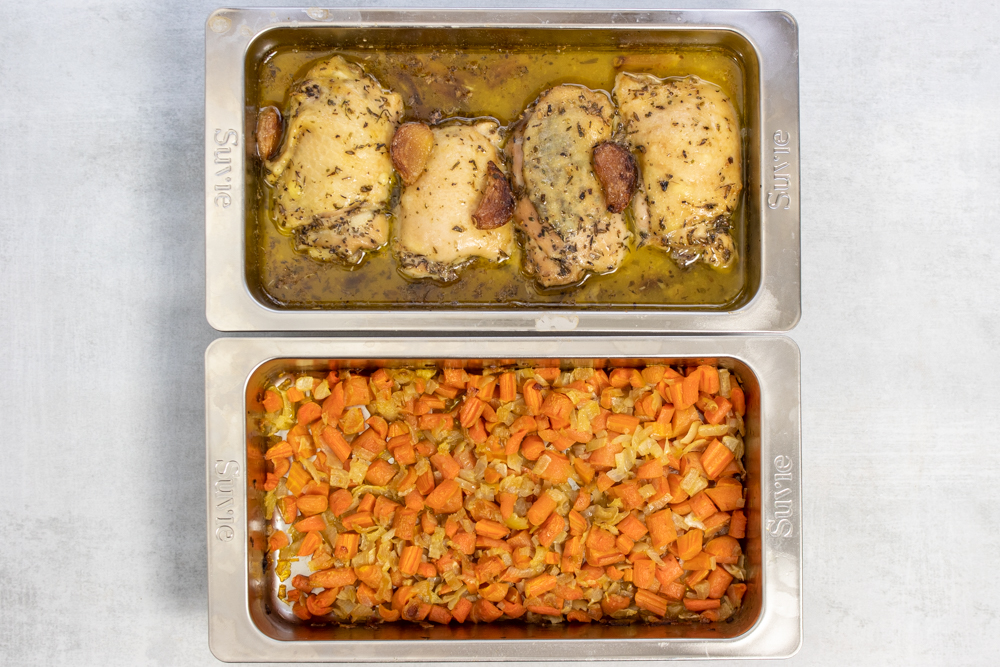 After the cook, broil the chicken thighs for 7-10 minutes until the skin is crispy. Remove both pans from Suvie. Serve chicken over the carrots and onions, and drizzle with garlic cloves and sauce from the chicken pan.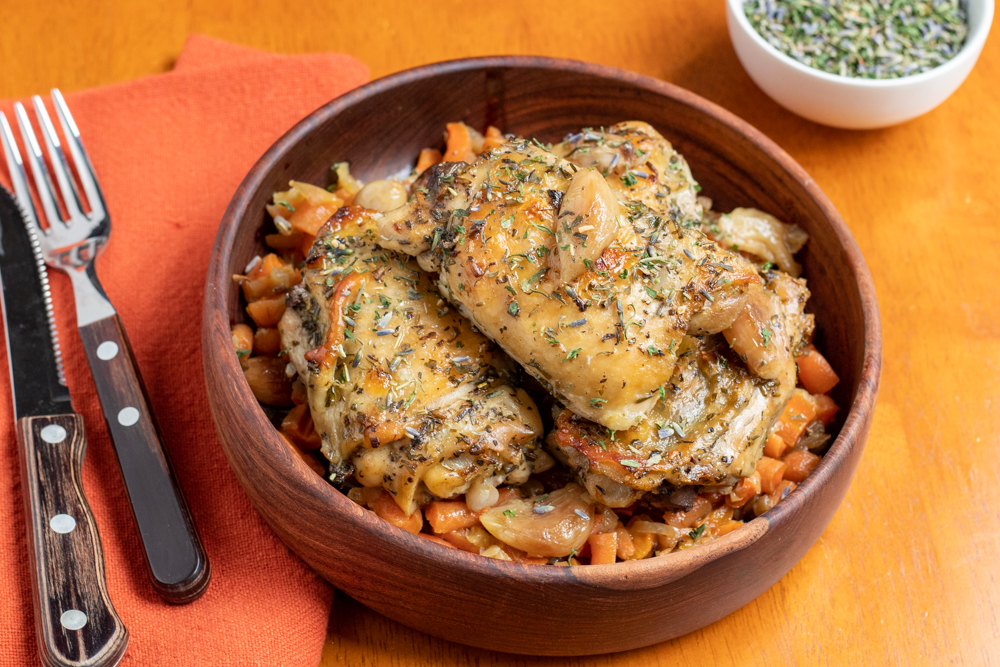 Note: If you would like to make this recipe in Suvie 1.0, insert pans into the top zones of Suvie, fill reservoir, and set to Slow Cook on High for 1 hour and 30 minutes.
Nutrition
Nutritional Information per serving (4 servings per recipe): Calories 378, Total Fat 30.3g, Total Carbohydrates 8.1g, Total Sodium 116.6mg, Total Protein 18.5g