Meatballs are a multifaceted ingredient and take on the flavors of whatever you add to them. From turkey meatballs to beef to lamb, there is no limit to the type of meatball you can cook in Suvie. In this guide we break down the three best ways to cook meatballs: sous vide, roasted, and slow cooked.
How to Sous Vide Meatballs in Suvie
While sous vide may not be the first method that comes to mind when cooking meatballs, it's a great way to ensure perfectly cooked meat with juicy interiors. We like to broil our meatballs to get a crisp crust on the outside and additional browning. Follow the instructions below for a variety of meatballs.
1)  Vacuum seal your meatballs, place in a Suvie pan, and cover completely with water. 
2) Select "Sous Vide" on the display screen.
3) The best temperature to sous vide meatballs is between 130°F and 150°F for 2 to 3 hours depending on the protein you use. Select the time and temperature.
4) Input settings, and cook now or schedule. If cooking frozen meatballs, select "Yes" when asked if cooking from frozen. 
| | | |
| --- | --- | --- |
| Meatball Type | Temperature | Time |
| Lamb or Beef | 130°F  | 2-3 hours  |
| Chicken or Turkey  | 140°F  | 2-3 hours  |
| Pork  | 150°F  | 2-3 hours  |
5) After cooking, pour off water from pans, and remove meatballs from vacuum packaging.
6) Pat meatballs dry. Heat 1 tbsp vegetable oil in a large cast iron skillet until just smoking. Add meatballs and sear for 1 minute per side until browned. Alternatively, transfer meatballs to a clean, dry Suvie pan and brush with oil. Return pan to Suvie and Broil for 4 minutes, or until browned.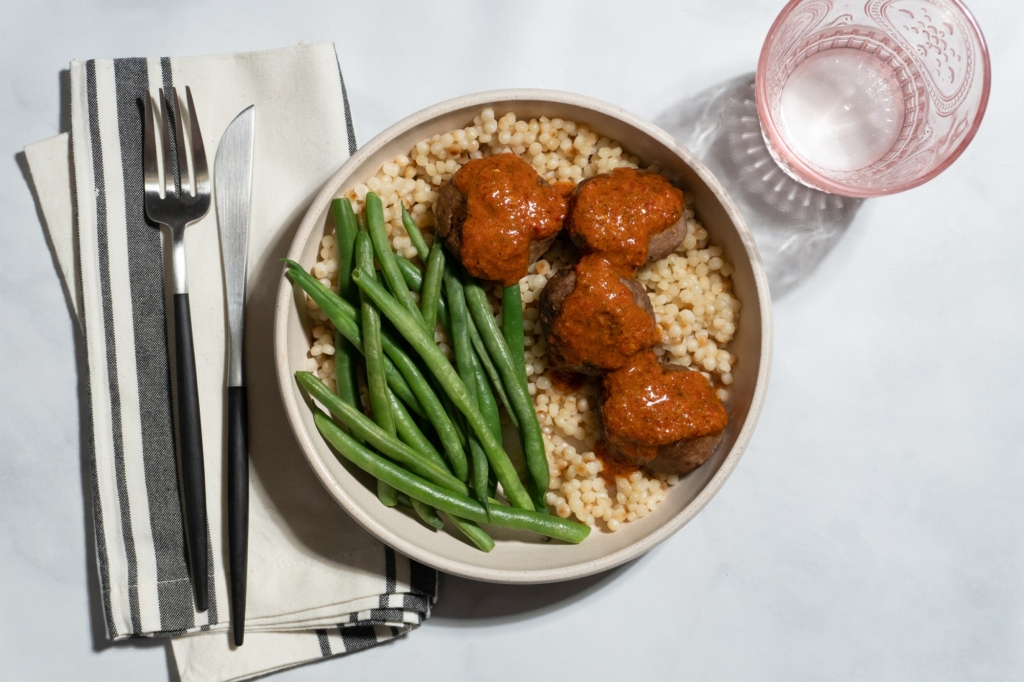 How to Roast Meatballs in Suvie
Prefer to cook your meatballs more conventionally? You can also roast your meatballs with fantastic results. For 1 ½" meatballs, we recommend roasting in a clean dry Suvie pan at 400°F for 20 minutes for lamb and beef and pork; roast chicken and turkey meatballs for 16 minutes.
How to Slow Cook Meatballs in Suvie 
Slow cook your meatballs to mimic the results from simmering meatballs in sauce on the stovetop for hours. Whether you'd like to slow cook your meatballs in marinara or gravy, take the more hands-off approach and let Suvie cook your meatballs for you. We recommend slow cooking beef, pork, or lamb on Low for 3 hours and turkey and chicken on Low for 1 hour.