Pork tenderloin is a lean and delicious cut of meat that is easy to over cook. When done right, pork tenderloin can be the star of a meal, but most cooking methods yield lackluster results. By sous viding the pork tenderloin, you can ensure perfectly cooked pork, every time. If you're short on time, or prefer to not have to sear your pork tenderloin after sous viding it, you can also roast your tenderloin in Suvie with spectacular results. For a complete list of pork tenderloin recipes, click here.
How to Sous Vide Pork Tenderloin in Suvie
Sous viding pork tenderloin ensures perfect pork from edge to interior. Follow our steps below and use our temperature chart as a guide to get your preferred pork tenderloin.
1) Vacuum seal your pork tenderloin, place in a Suvie pan, and cover completely with water.
2) Select "Sous Vide" on the display screen.
3) The best temperature to sous vide pork tenderloin is between 135°F and 145°F for 1 to 3 hours. Select the time and temperature.
4) Input settings, and cook now or schedule. If cooking from frozen, be sure to select "Yes" when asked if cooking from frozen.
| | | |
| --- | --- | --- |
| Temperature | Time | Result |
| 135°F | 1-3 hours | Very juicy, soft and tender, rosy pink |
| 140°F | 1-3 hours | Slightly pink, juicy and firm, but still tender |
| 145°F | 1-3 hours | No pink, firm and slightly juicy |
5) After cooking, pour off water from pans, and remove pork tenderloin from vacuum packaging.
6) Pat pork tenderloin dry thoroughly. Heat 1 tbsp high-heat oil in a large cast iron skillet or heavy bottomed skillet or cast iron until almost smoking.
7) Add pork tenderloin and sear for 1-2 minutes per side until browned. Transfer to a cutting board, cut into slices, and serve.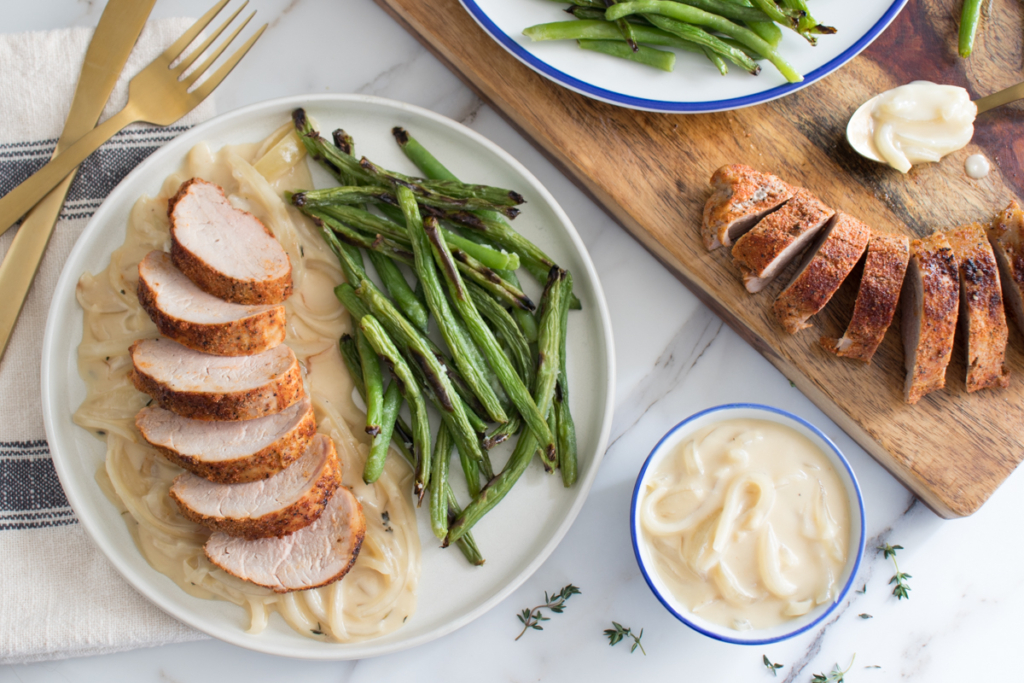 How to Roast Pork Tenderloin in Suvie
Suvie makes it easy to cook pork tenderloin. By using the Suvie roasting rack, you can get perfectly cooked tenderloin in less than half an hour. We recommend the following settings:
– Roast at 350°F for 25 minutes