This popular dish of Ethiopia and Eritrea is a traditional spicy beef stew packed with toasty flavors and warming aromas. Simply adjust the amount of berbere seasoning in the recipe to accommodate your desired level of heat. If you'd like to make your own berbere at home, combine 3 tbsp paprika, 1-2 tbsp cayenne pepper, 1 tsp fenugreek, 1 tsp ginger powder, 1 tsp onion powder, 1 tsp ground cardamom, 1 tsp ground coriander, ½ tsp ground cinnamon, ½ tsp cumin, ½ tsp ground cloves, ¼ tsp ground allspice, and ¼ tsp ground nutmeg.
Note: If you plan to schedule this cook but do not want to wait for the broiler to cool before refrigerating, skip the broil step and add onions, garlic, tomato paste, berbere seasoning, sugar, and salt to medium skillet. Cook over medium low heat about 5 minutes, until onions are translucent. Transfer to Suvie pan and continue with Step 2.
Key Wat
Please always check your food to ensure your food has been cooked to safe serving temperatures. Please see our guide
here
for recommended FDA Time & Temperatures.
Servings: 4
Difficulty: 7 hours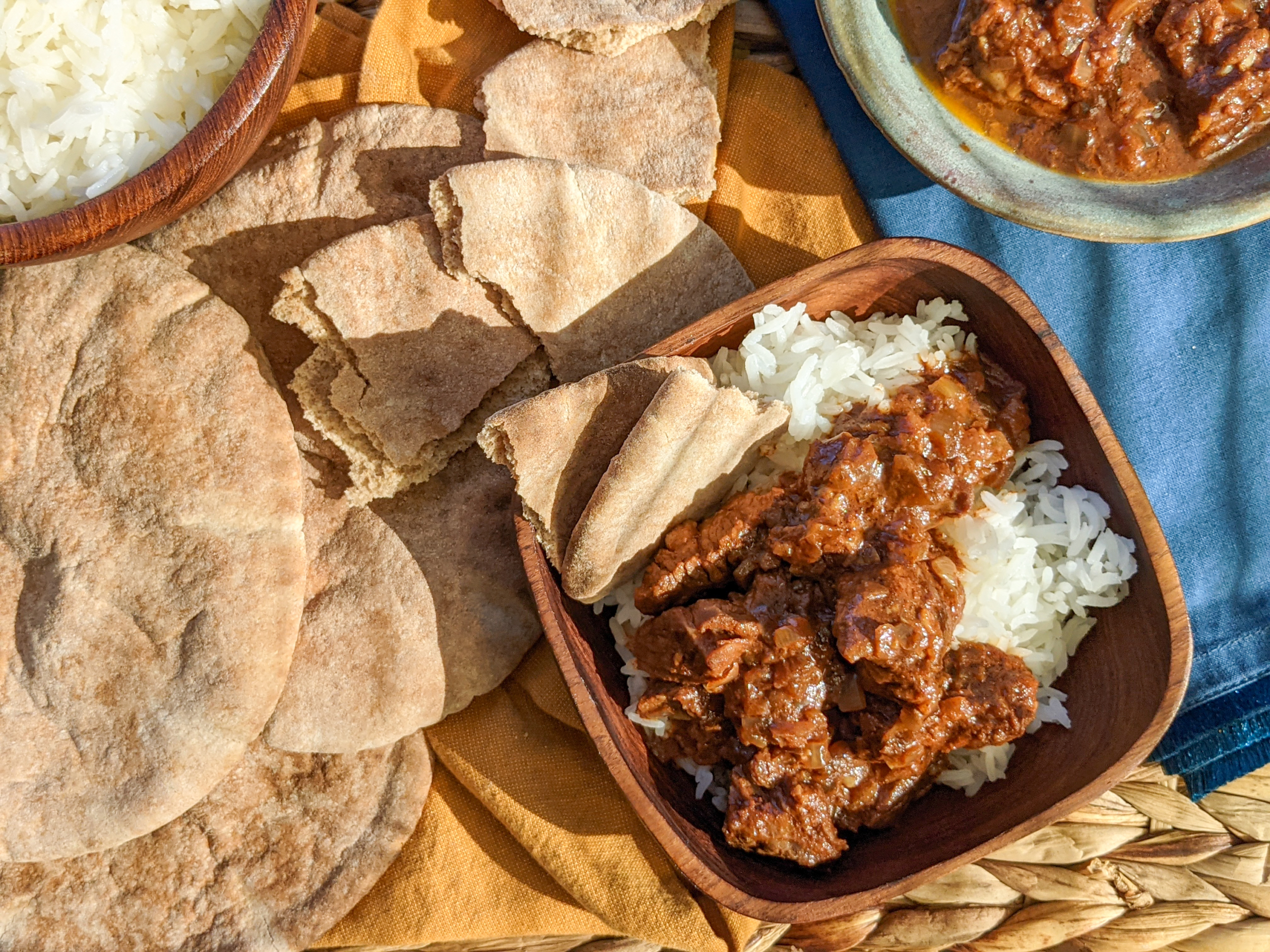 Ingredients
1 lb chuck roast, cut into 1" cubes
½ cup finely chopped yellow onion
2 cloves garlic, finely chopped
2 tbsp tomato paste
2-3 tbsp berbere seasoning blend
½ tsp sugar
½ cup beef stock
4 whole wheat pitas, warmed
1 cup jasmine rice
Directions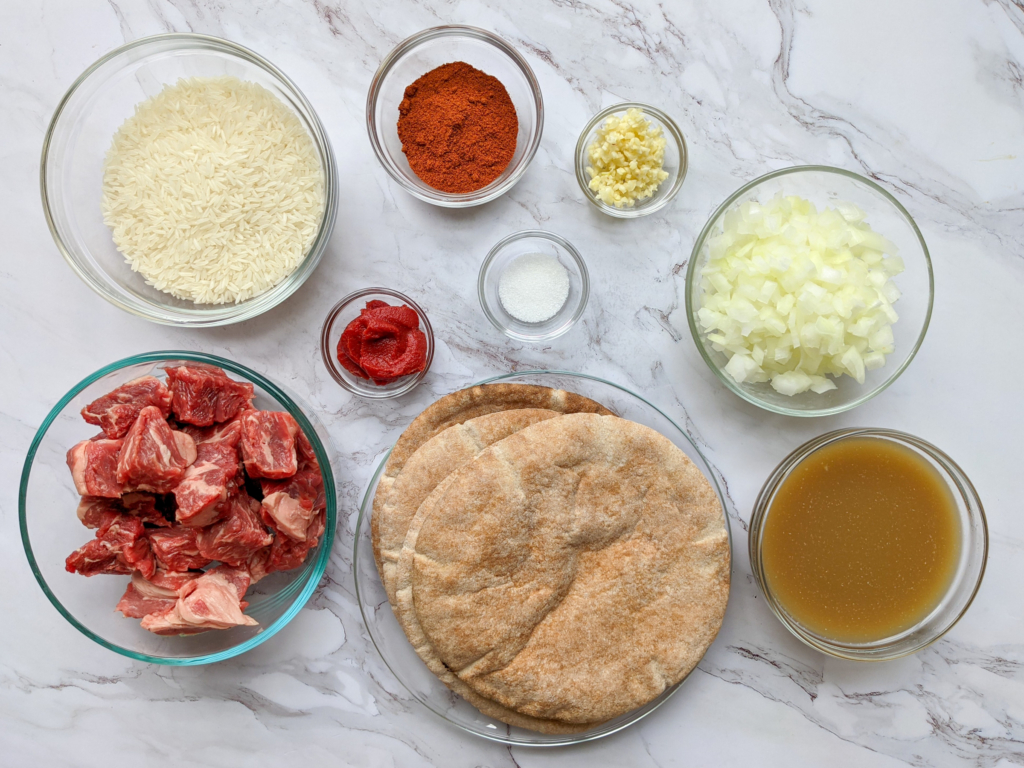 1) In a Suvie pan, combine onions, garlic, tomato paste, berbere seasoning, sugar, and salt. Place pan into the bottom zone of Suvie. Broil onion mixture for 15 minutes, stirring occasionally until fragrant.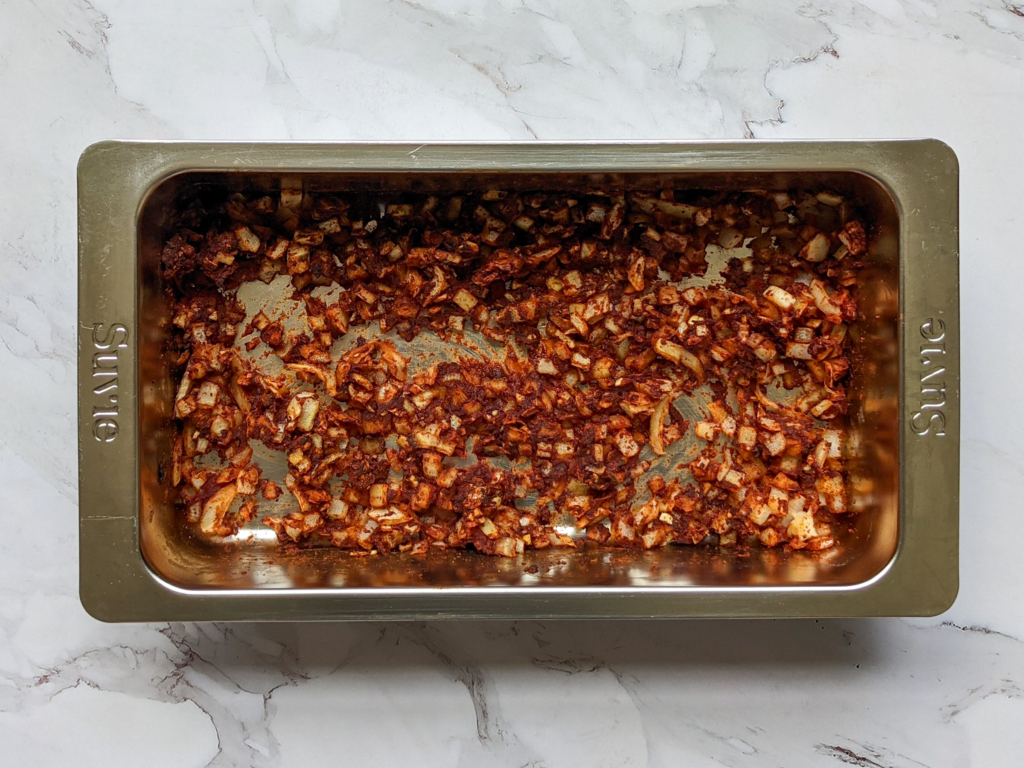 2) Remove pan from Suvie. Add beef broth to onion mixture, whisking to combine.
3) Stir 1 lb chuck roast into the pan, coating the meat in sauce. Return pan to Suvie. Input settings and cook now or schedule.
Suvie Cook Settings
Bottom Zone: Slow Cook Low, 6 hours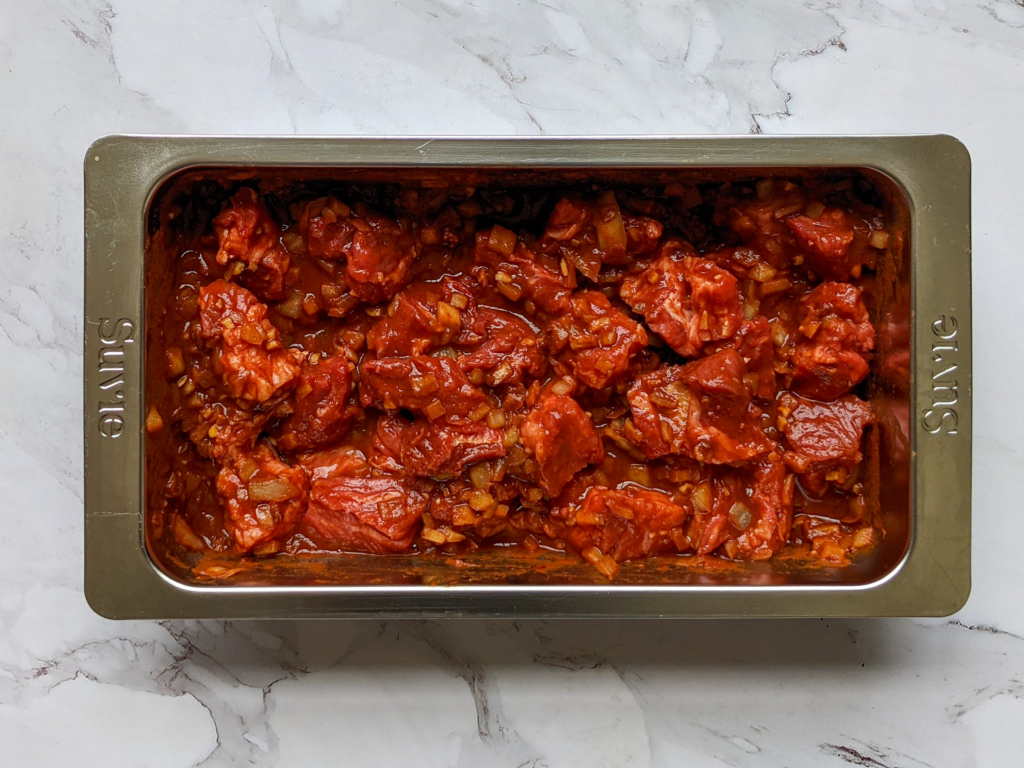 4) Add 1 cup jasmine rice to the Suvie rice pot (black handles). Cover pot with lid and place pot in the Suvie Starch Cooker, ensuring the pot is centered on the hot plate. Enter cook settings and Cook Now or Schedule.
Suvie Starch Cooker Settings
Rice, Long Grain, 1 Cup
5) After the cook, remove pans from Suvie and stir key wat. Season to taste with salt and pepper. Divide rice and warm pita between bowls, top with key wat, and serve.
Nutrition
Nutritional Information per serving (4 servings per recipe): Calories 576, Total Fat 30.4g, Total Carbohydrates 55.1g, Total Sodium 296.5mg, Total Protein 27.9g