No one quite knows how King Ranch Casserole got its name. King Ranch, the largest ranch in the United States is a cattle ranch and not a chicken farm (to give you an idea of its enormity it is larger than the state of Rhode Island). King Ranch Casserole, however, is definitively a chicken casserole. This dish, packed with tortillas, shredded chicken, tomatoes, and cheese, more closely resembles chilaquiles than any other type of classic Tex-Mex dish. We love this dish for its layers of creamy filling, chewy tortillas, melty cheese, and crunchy Frito topping.
Note: If you would like to schedule this meal but do not want to wait for the broiler to cool before refrigerating, toast the tortillas in a 375°F oven until crisp, about 8 minutes.
King Ranch Casserole
Please always check your food to ensure your food has been cooked to safe serving temperatures. Please see our guide
here
for recommended FDA Time & Temperatures.
Servings: 4
Difficulty: 2 hours and 40 minutes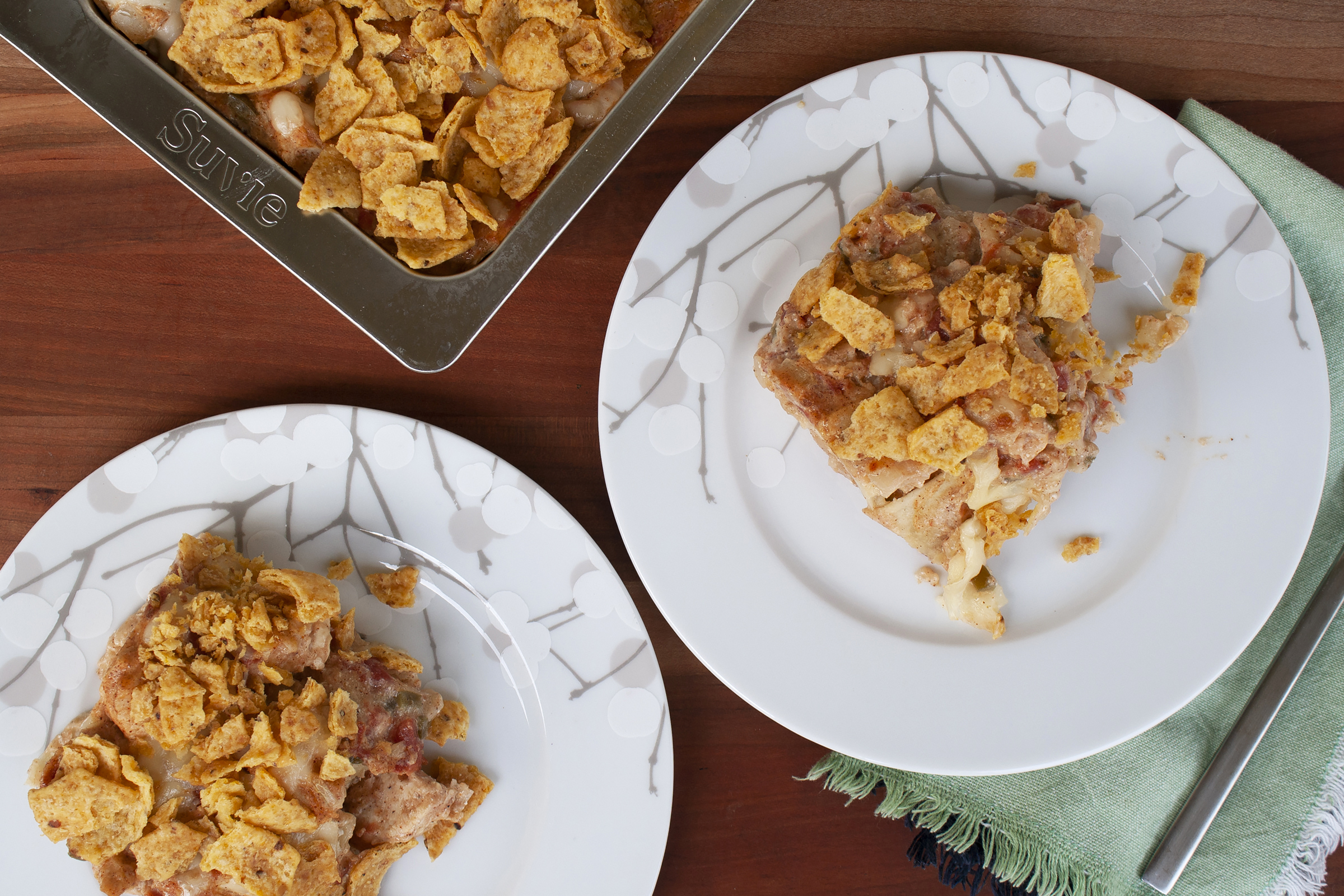 Ingredients
4 (6″) corn tortillas
2 tsp vegetable oil
1 small onion, chopped
1 jalapeño, stemmed, seeded and finely chopped
1 tsp cumin
1 tsp chili powder
1 lb chicken boneless skinless chicken breast, cut into 1/2″-inch pieces
1 (10 oz) can Ro-Tel tomatoes, drained
¼ cup cornstarch
½ cup sour cream
½ cup chicken broth
1 cup shredded Monterey jack cheese
1 cup Fritos, crushed
Directions
Tear tortillas into bite-sized pieces and divide between two Suvie pans. Spray tortillas with cooking spray or brush with vegetable oil.
Insert pans into the top zones of you Suvie and broil for 10 minutes, stirring halfway through. Do not fill reservoir before broiling.
In a separate Suvie pan, stir together vegetable oil, onion, jalapeno, cumin, chili powder, 1 tsp salt, chicken breast, and Ro-Tel tomatoes.
In a small bowl, whisk together the cornstarch and chicken broth. Add sour cream and chicken broth mixture to the chicken, stirring to incorporate.
Remove tortillas from your Suvie and set aside.
Place chicken mixture into a suvie pan, insert pan into your Suvie, input settings, and cook now or schedule.
Suvie Cook Settings
Bottom Zone: Slow Cook High for 1 hour
After the chicken has finished cooking, stir to incorporate. Spray a clean, dry Suvie pan with cooking spray and arrange half the tortilla pieces along the bottom of the pan. Pour half the chicken mixture over the tortillas followed by half the cheese. Repeat layering with remaining tortillas, chicken, and cheese. Return pan to your Suvie and broil for 10 minutes or until cheese is melted and bubbling. Remove pan from Suvie and immediately top with Fritos. Cool 5 minutes before serving.
Note: If you would like to make this recipe in Suvie 1.0, insert pan into the top zone of Suvie, fill reservoir, and set to Slow Cook on High for 1 hour.
Nutrition
Nutritional Information per serving (4 servings per recipe): Calories 422, Total Fat 23g, Total Carbohydrates 23g, Total Sodium 1350mg, Total Protein 31g