Infuse your weekday dinner menu with a meal loaded with colorful vegetables, lean protein, fiber-rich grains, and healthy fats. The Suvie Starch Cooker makes cooking rice easy, freeing you up to explore all sorts of exciting recipes – recipes like these brown rice bowls! Carrots, bell peppers, zucchini, mushrooms, and shrimp are roasted in a lemon, olive oil, and garlic mixture. After all the ingredients have been roasted, the extra virgin olive oil, lemon, and garlic pan sauce is drizzled over the rice bowl to add even more flavor. 
Lemon-Garlic Shrimp and Vegetable Rice Bowls
Please always check your food to ensure your food has been cooked to safe serving temperatures. Please see our guide
here
for recommended FDA Time & Temperatures.
Servings: 2-4
Difficulty: 60 minutes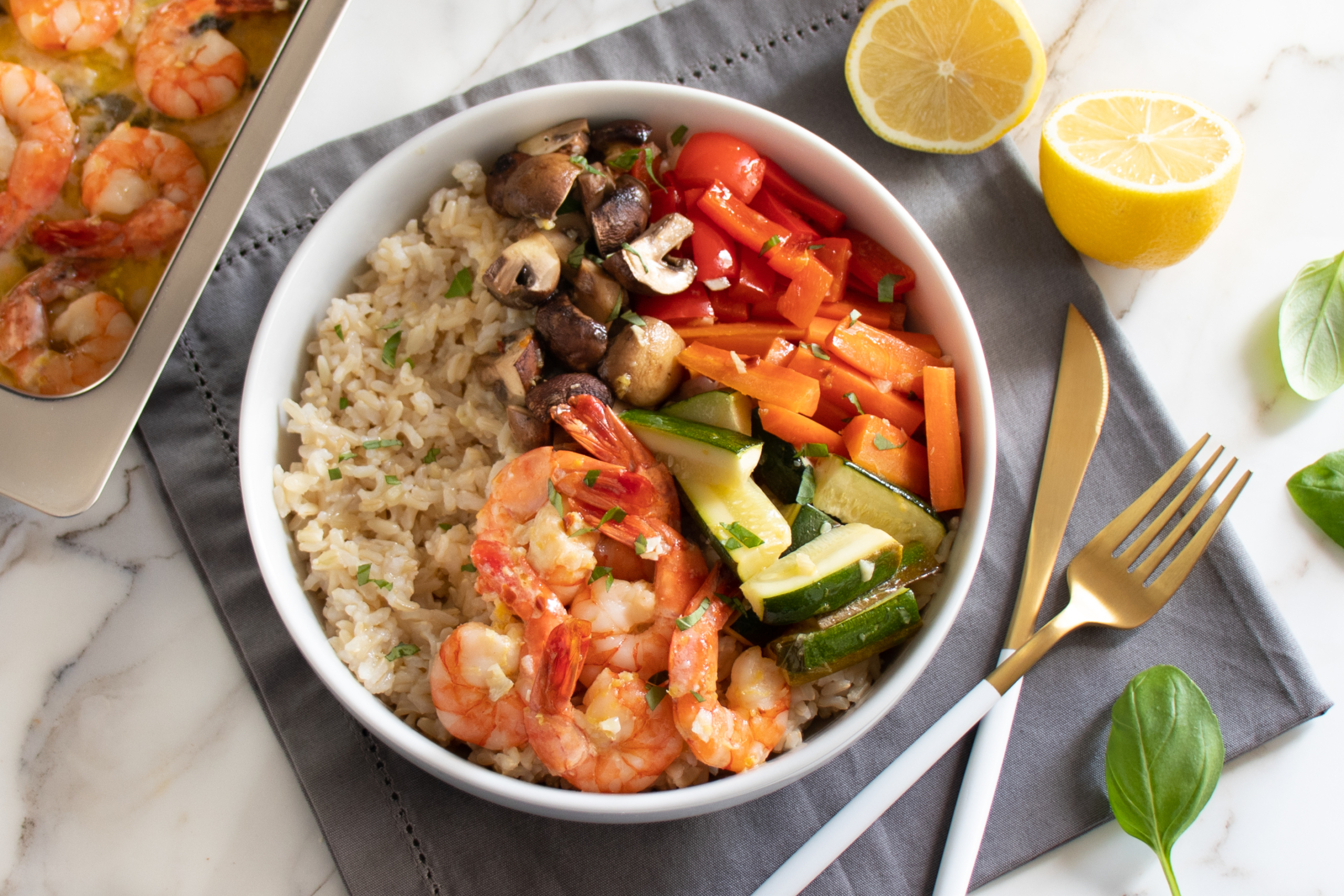 Ingredients
1 cup brown rice
¼ cup fresh lemon juice
¼ cup extra virgin olive oil
4 garlic cloves, peeled and minced
2 tsp lemon zest
1 pinch crushed red pepper flakes
2 tbsp chopped basil, plus more for garnish
½ cup sliced carrots
½ cup sliced red bell pepper
1 cup sliced zucchini
1 cup sliced baby bella or button mushrooms
10 oz raw shrimp, peeled
Directions
1) Add 1 cup brown rice to the Suvie Rice Pot and place in the Suvie Starch Cooker, making sure the pot is centered on the hot plate. Fill reservoir and select "Cook" or "Schedule".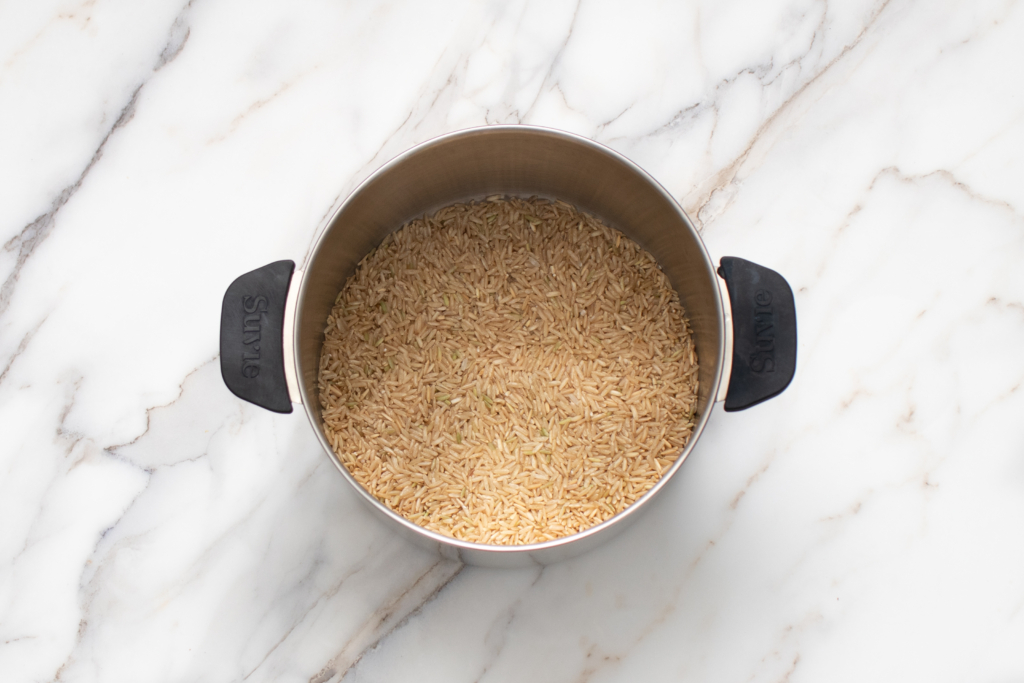 Suvie Starch Cooker Settings:
Rice, Short Grain, 1 Cup
2) When there are about 20 minutes remaining on the rice cook, divide ¼ cup lemon juice, ¼ cup olive oil, 4 minced garlic cloves, 2 tsp lemon zest, 1 pinch crushed red pepper flakes, and 2 tbsp chopped basil between two Suvie pans.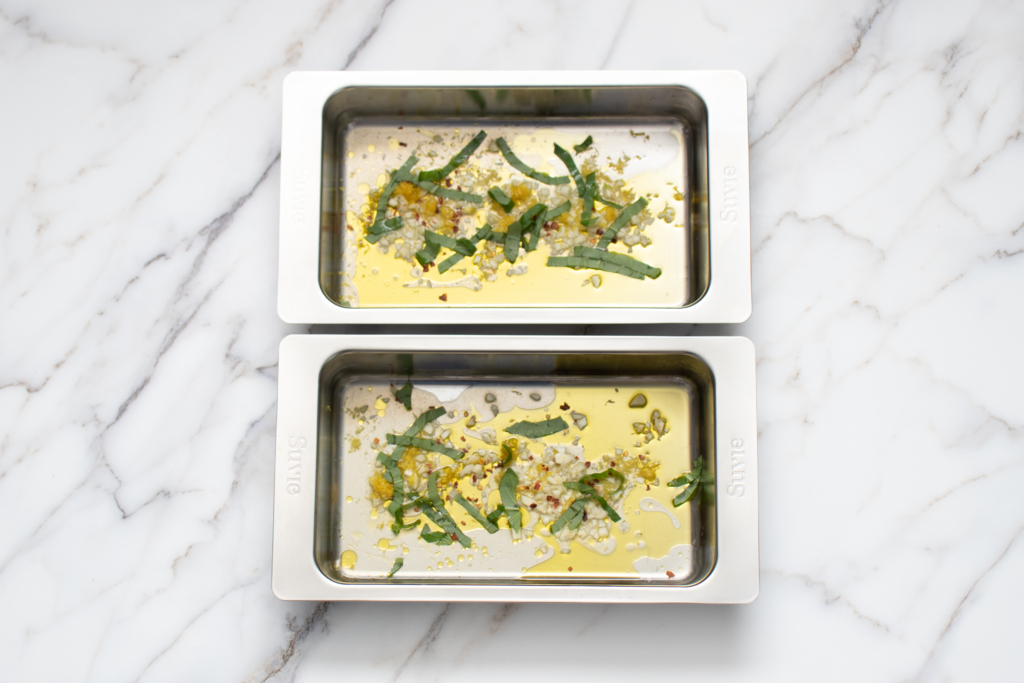 3) Place ½ cup carrots, ½ cup bell pepper, 1 cup zucchini, and 1 cup mushrooms in one of the prepared Suvie pans and gently toss the vegetables to coat in the lemon-garlic mixture. Place 10 oz of shrimp in the other prepared pan and toss to coat as well. Place the pans in the top and bottom zones of your Suvie, input settings, and cook now.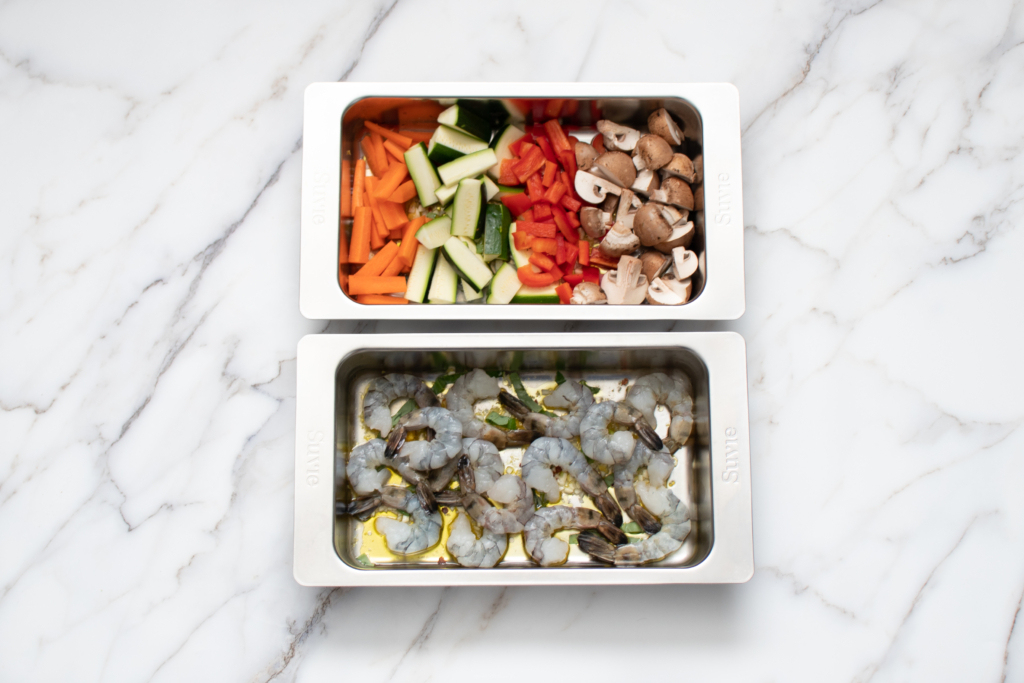 Suvie Cook Settings
Bottom Zone: Roast at 375°F for 20 minutes 
Top Zone: Roast at 375°F for 20 minutes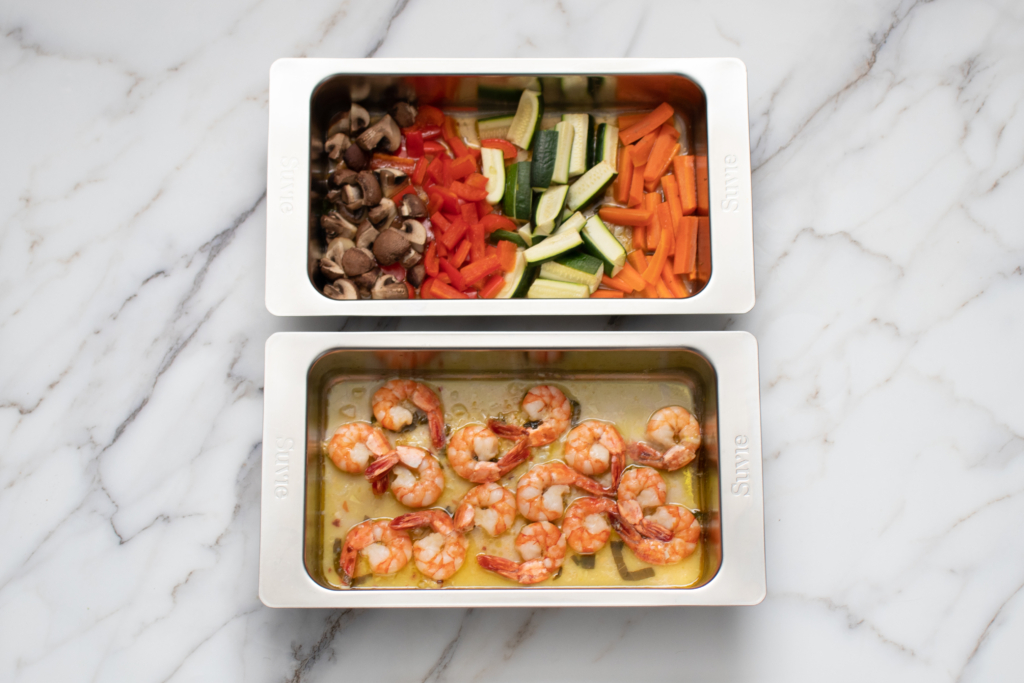 4) After the rice has cooked, remove the pan from the Suvie Starch Cooker, fluff with a fork, and divide the rice between bowls.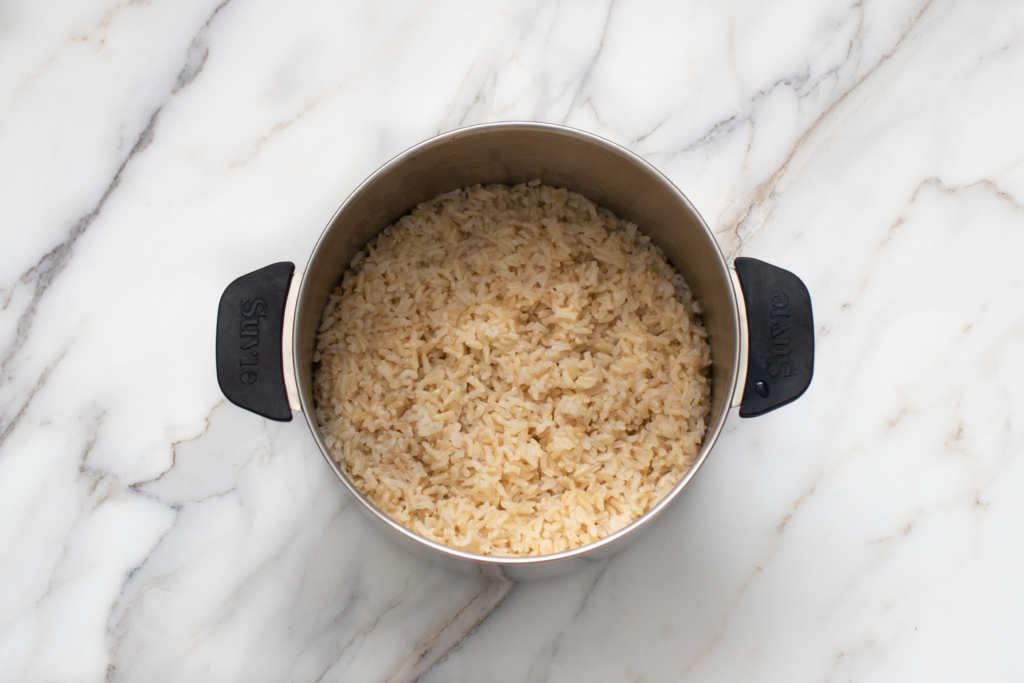 5) After the shrimp and vegetables have cooked, remove the pans from your Suvie, and divide the contents between bowls. Drizzle the bowls with the pan drippings and season to taste with salt and pepper. Garnish with a little chopped basil before serving.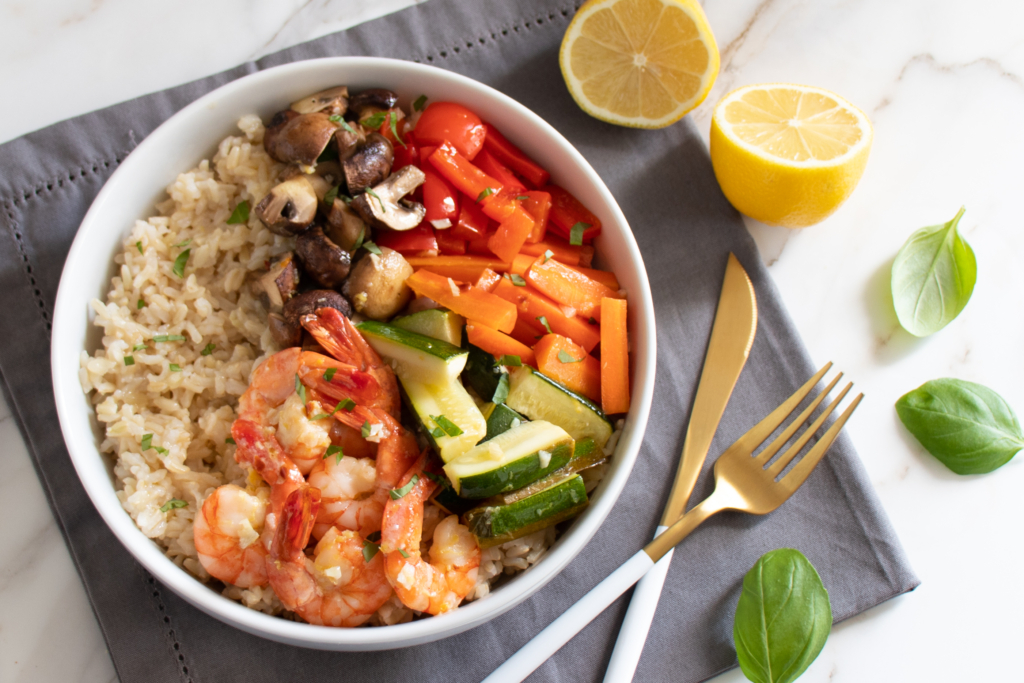 Nutrition
Nutritional Information per serving (4 servings per recipe): Calories 392, Total Fat 15g, Total Carbohydrates 42g, Total Sodium 192mg, Total Protein 21g.