Our Mediterranean Roast Pork Tenderloin is a hearty and wholesome meal packed with colorful veggies. Flavorful roast pork tenderloin is served over a bed of our whole grain orzo, kale, and chickpea blend, plus tender roasted artichokes. Finish it off with a drizzle of refreshing basil pesto for a satisfying lunch or dinner.
Meal Card: Mediterranean Pork Tenderloin
Please always check your food to ensure your food has been cooked to safe serving temperatures. Please see our guide
here
for recommended FDA Time & Temperatures.
Servings: 2-4
Difficulty: 40-50 minutes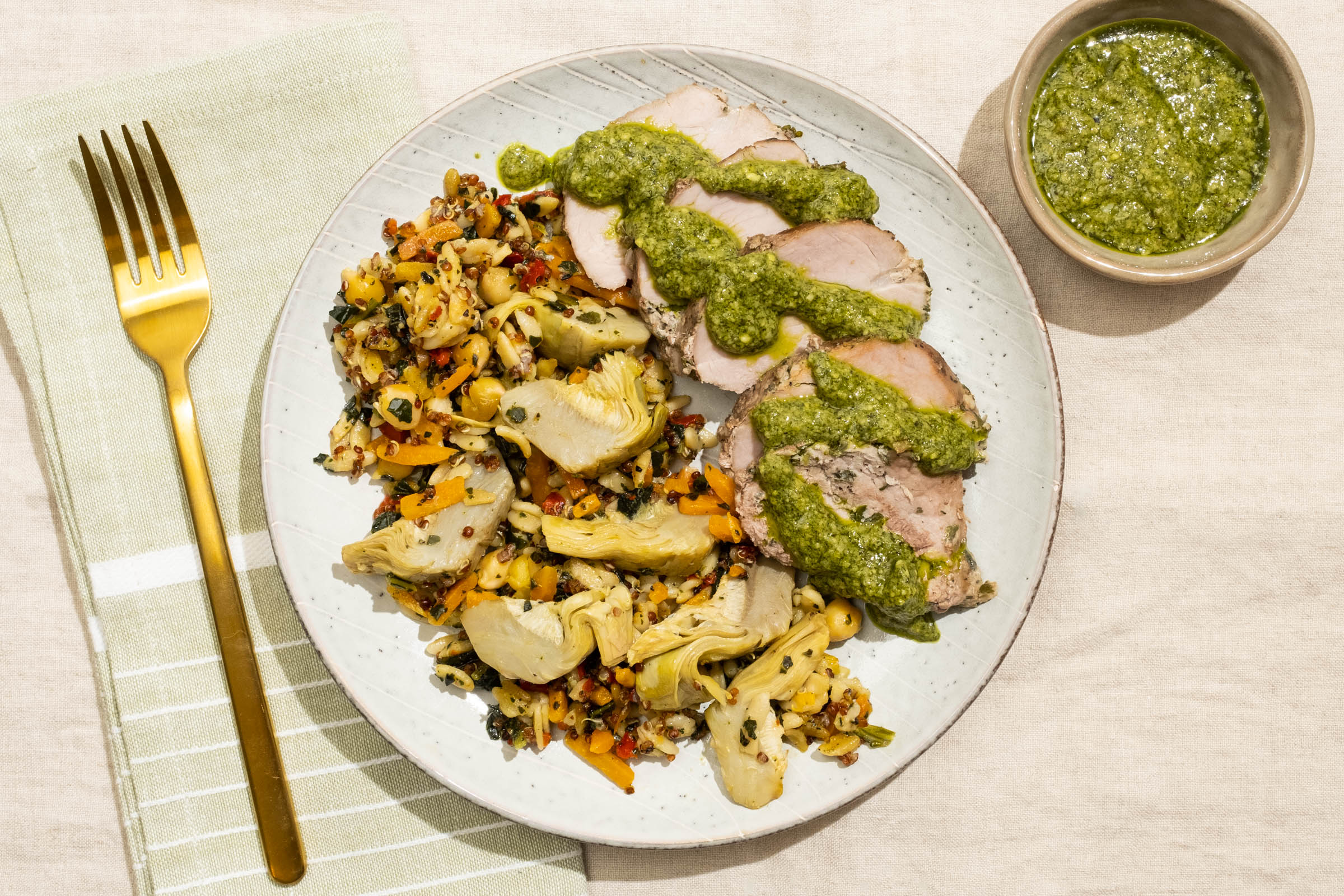 Ingredients
1 – 2 packets Pesto
1 – 2 packages Garlic & Herb Pork Tenderloin
1 – 2 packages Orzo Blend
1 – 2 packages Artichokes
Directions
1) Thaw pesto sauce in warm water, or place in the refrigerator to thaw if scheduling. (You can also place on top of Suvie to warm if you are doing a "Cook Now".) Open pork tenderloin and place on the Suvie roasting rack (handles facing up) set within a Suvie pan. Place pork tenderloin in the Top Zone of Suvie.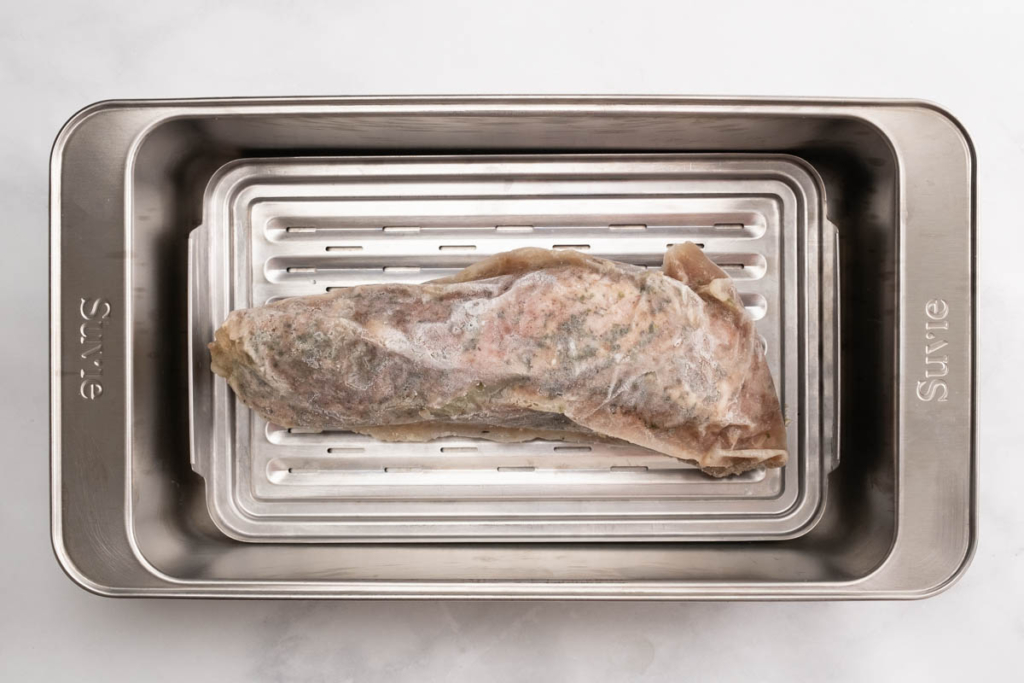 2) Before opening, tap orzo package against the countertop to break up any large pieces. Open orzo blend and artichokes, and add to a second Suvie pan.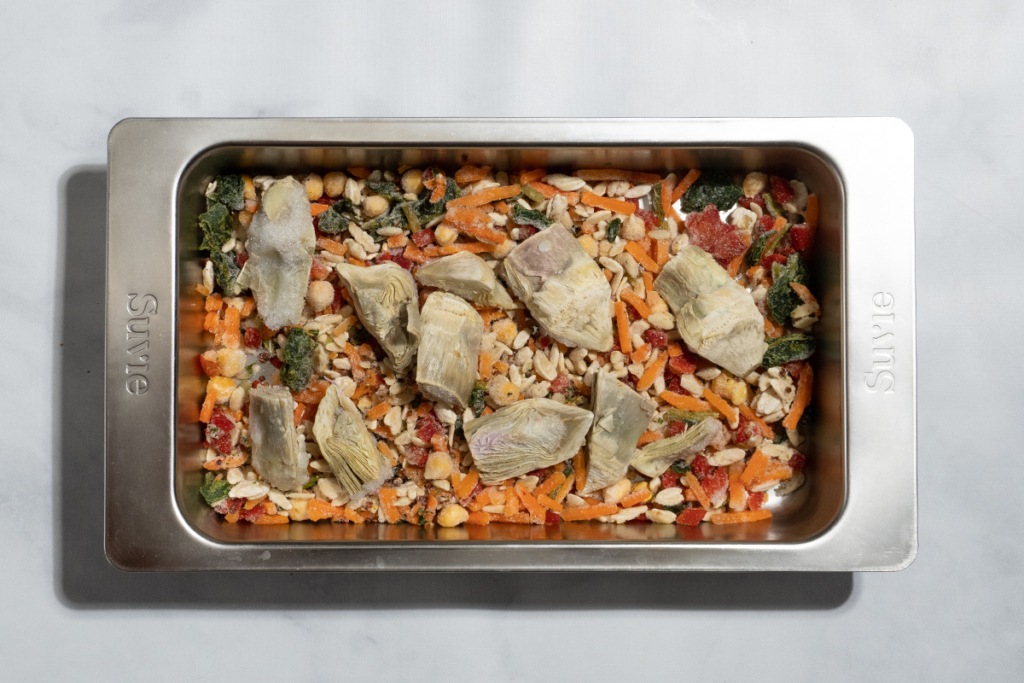 3) Season with 1 tbsp olive oil (2 tbsp for 4 servings), 1/2 tsp (1 tsp for 4 servings) salt and freshly ground pepper. Place orzo and artichokes in the Bottom Zone of Suvie. Input settings and cook now or schedule. Be sure to select "Yes" when asked if cooking from frozen.
Suvie Cook Settings
Bottom Zone: Roast at 400°F for 15 minutes
Top Zone: Roast at 325°F for 25 minutes
4) When the cook is complete, remove pans from Suvie. Transfer pork tenderloin to a cutting board and let rest for 4 minutes. Stir orzo and artichokes together and season to taste with salt. Divide between plates. Slice the pork tenderloin and divide between plates with the orzo and artichokes. Top with the pesto sauce.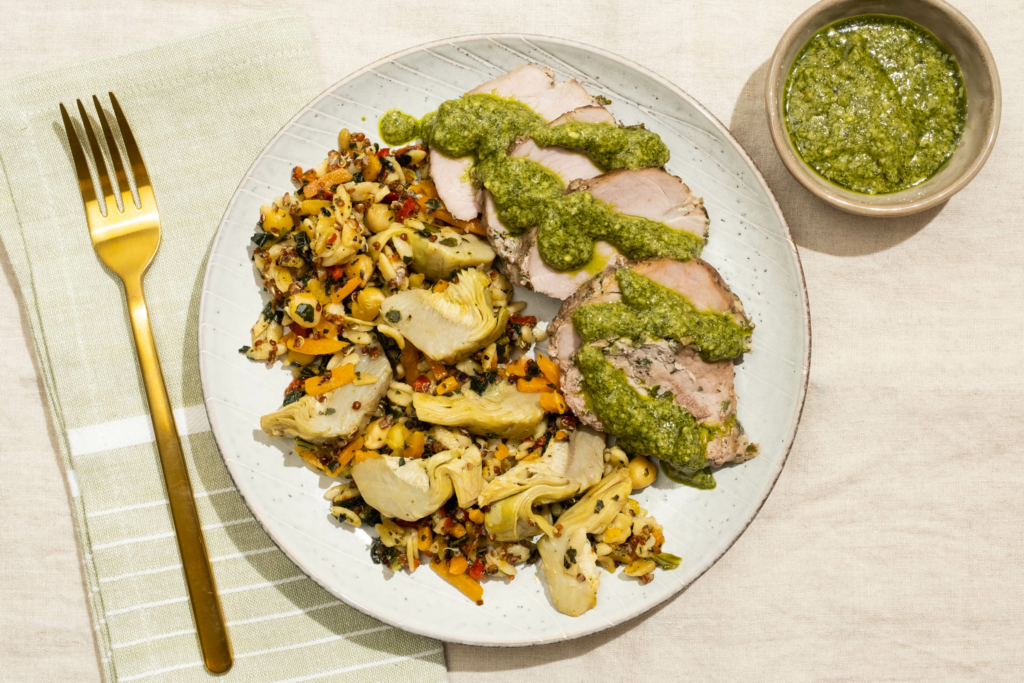 Nutrition
Nutritional Information per serving (2-4 servings per recipe): Calories 610, Total Fat 36g, Total Carbohydrates 28g, Total Sodium 720mg, Total Protein 41g.