When thinking about the beverages of Mexico, tequila and beer are the first that come to mind, yet winemaking has been part of its culture for hundreds of years. Mexico is home to what is considered the oldest operating winery in North America, Casa Madero, established in 1597 in the town of Santa Maria de las Parras (Holy Mary of the Grapevines) in the Northeast state of Coahuila.
In the 1990's production of high quality fine wine took off in Mexico with small producers building on the success of wineries established in the 1920's near the United States, which allowed them to prosper as thirsty Americans crossed the border during prohibition. Today, grapevines are planted on over 7,600 acres in seven states but almost 90 percent of production occurs in Baja California, with the majority coming from the Valle de Guadalupe near the city of Ensenada.
Sometimes referred to as the Napa Valley of Mexico, Valle de Guadalupe has over 70 wineries producing wines from mostly Italian, Spanish, and French grape varietals. Lying to the west of the mineral rich Sierra De Baja mountains the valley has sandy alluvial and mountain decomposed granite soils which adds salinity and mineral flavors to the wine. The valley also has a hot dry climate; grapes are grown at 1,000 to 1,200 feet elevation to catch the cool morning fog and winds off the Pacific. Warm sunny days and cool nights make this area ideal for growing both red and white grape varietals, and has produced world class, award-winning wines.
Finding a place to purchase Mexican wine can be difficult as production is limited, approximately 100,000 cases a year, and only a few vineyards export to the US and other countries. You will have better success finding Mexican wines If you live in the Western half of the US and especially in Southern California where they are more widely distributed.
The most popular white varietals grown in Mexico are Sauvignon Blanc, Chardonnay, Viognier, and Chenin Blanc. They are typically made in a dry, fresh, and fruity style with a medium body and crisp minerality on the palate. Some Chardonnay is aged in oak providing a more elegant, rich, and full-body style.
White Wine Pairing for Mahi Mahi with Mango Salsa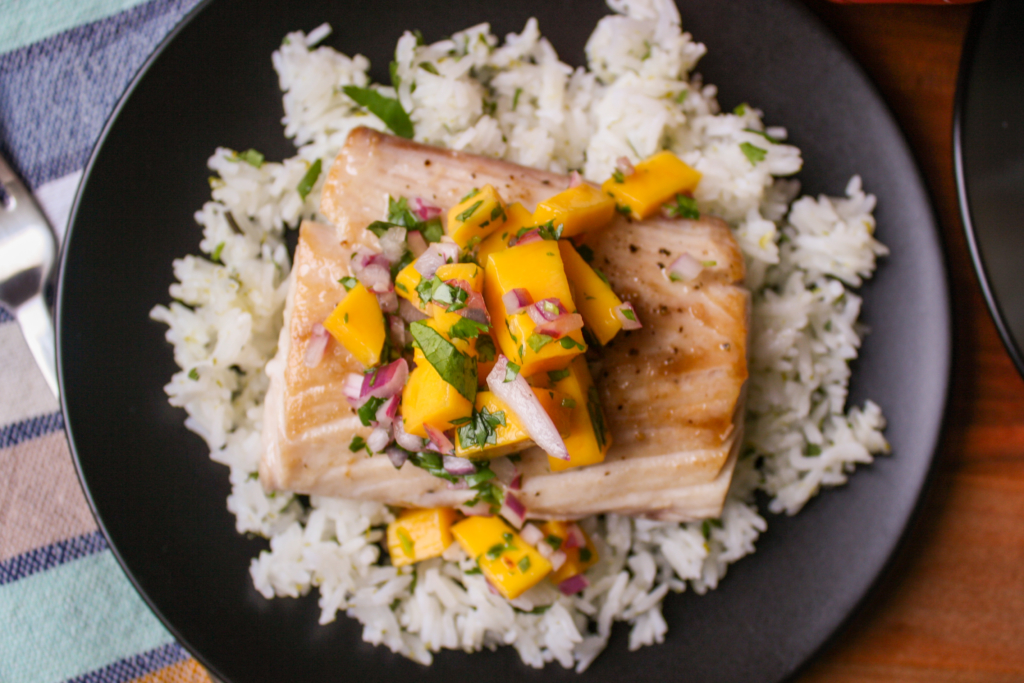 To complement the bright fruit flavors and high acidity of this dish look for a Sauvignon Blanc from the L. A. Cetto or Casa Magoni vineyards. Both wines offer lemon, lime, and herbaceous notes on the nose and palate along with a crisp minerality that will create an enjoyable pairing with this Mexican-inspired Mahi Mahi dish. If you cannot find a Mexican produced Sauvignon Blanc choose one from Sonoma County California or a Pinot Grigio from the Veneto region of Italy.