Our recipe for char siu pork is sweet, savory, rich, and spicy thanks to a marinade made with five-spice powder, sesame oil, Shaoxing rice wine, soy and hoisin sauce. The pork is Sous Vide for 4 hours until tender and fully infused with flavor. A final broil crisps the skin for a beautiful textural balance of tender pork with a crisp exterior.
My Cook: Char Siu Pork
Please always check your food to ensure your food has been cooked to safe serving temperatures. Please see our guide
here
for recommended FDA Time & Temperatures.
Servings: 4
Difficulty: 4 hours and 30 minutes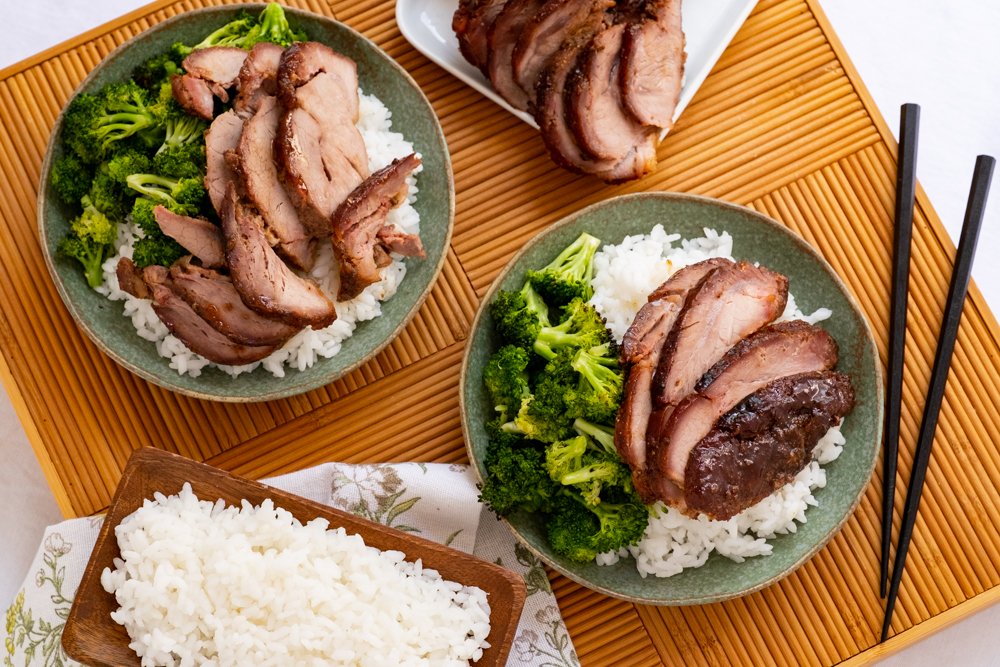 Ingredients
½ cup sugar
1 teaspoon five-spice powder
1 teaspoon sesame oil, plus 1 tbsp, separated
2 tablespoon Shaoxing rice wine (or mirin)
2 tablespoon soy sauce
2 tablespoon hoisin sauce
4 teaspoons molasses
6 cloves garlic, minced
2 tsp grated fresh ginger
2 lbs boneless pork shoulder
1 cup white rice
8 oz broccoli, cut into small florets
Directions
1) In a medium bowl whisk together sugar, 1 tsp kosher salt, five-spice powder, 1 tsp ground black pepper, sesame oil, Shaoxing rice wine, soy sauce, hoisin sauce, molasses, garlic, and ginger. Set aside ½ cup of the marinade.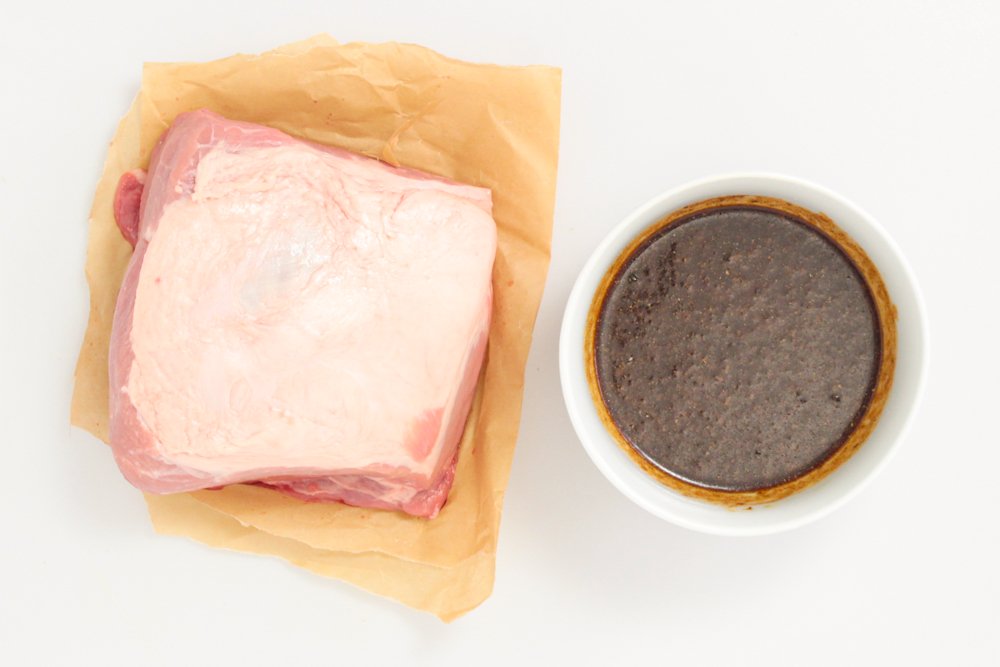 2) Pat pork dry and place in vacuum seal bag with the remaining marinade; vacuum seal. Place sealed pork in a Suvie pan, cover with water and load into bottom zone of Suvie. Enter cook settings, and cook now or schedule.
Suvie Cook Settings
Bottom Zone: Sous Vide at 175°F for 4 hours
3) Place 1 cup jasmine rice in the Suvie rice pot (black handles). Cover pot with lid and place inside the Suvie Starch Cooker, ensuring the pot is centered on the hot plate. Input settings and cook now or schedule.
Suvie Starch Cooker Settings
Rice, Long Grain, 1 cup
4) After the cook remove pork from Suvie. Remove pork from marinade, allowing liquid to drip back into the bag. Place pork into a clean, dry Suvie pan. Brush reserved marinade over the pork. Return pan to Suvie.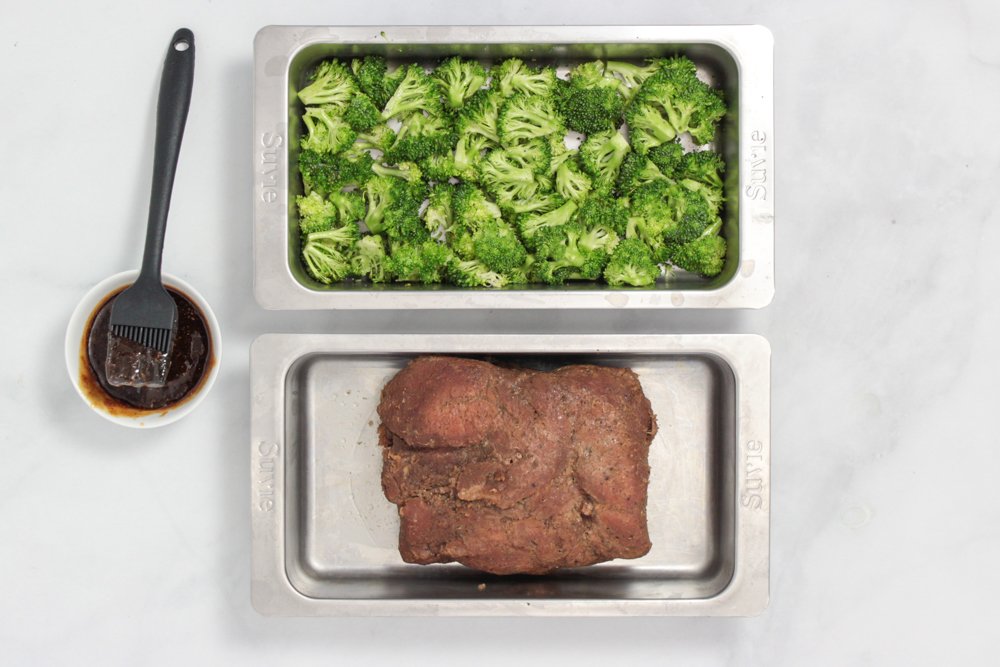 5) Add raw broccoli to a second Suvie pan, season with 1 tbsp sesame oil, 1/2 tsp salt, and 1/4 tsp pepper to taste and place in top zone of Suvie.
6) Set the broccoli to broil for 15 minutes and the pork for 10-12 minutes, until the marinade is caramelized and broccoli is tender but crisp. Watch pork closely to avoid over-browning.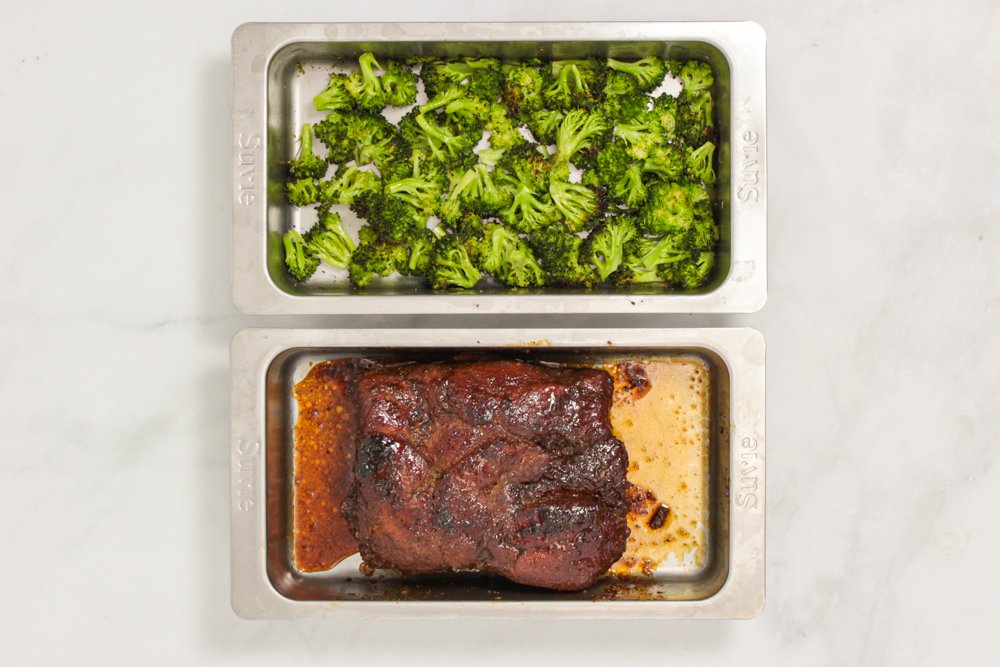 7) Transfer pork to a cutting board, slice pork against the grain. Divide rice between four bowls, top with sliced pork, broccoli and extra marinade from the broil pan as needed.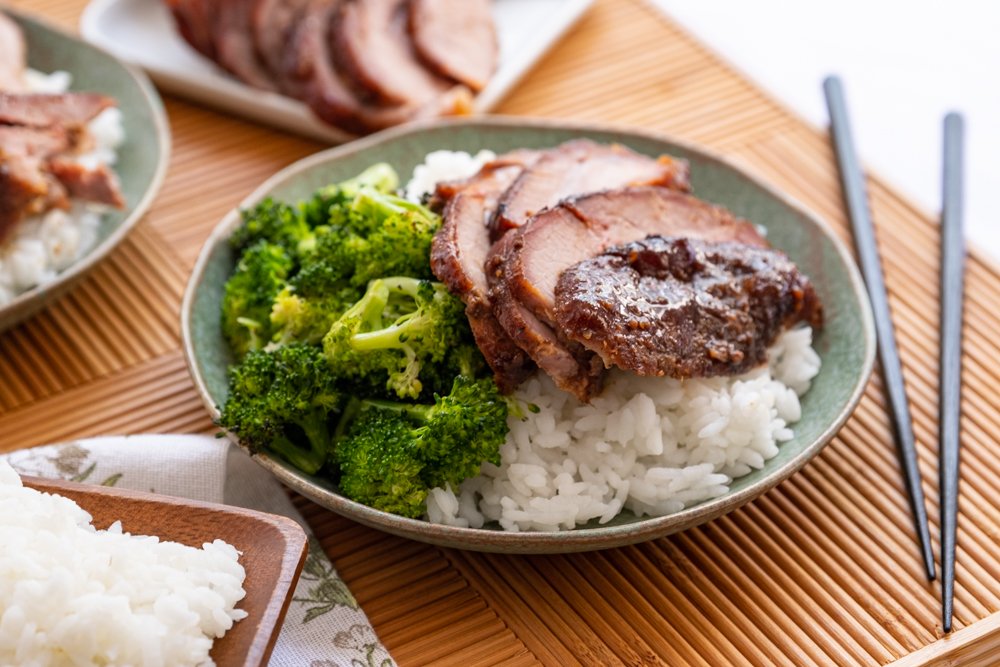 Wine Pairing
A big, bold Shiraz will balance out the sweet and spicy notes of this dish. Alternatively, try serving it with a robust Merlot or a Pinotage.