Tagines are traditional Moroccan stews that are typically slow cooked in a clay pot with a conical lid. Flavored with warming spices like cinnamon and cumin, these stews can be made with any mixture of meats or fish. Medjool dates are a natural sweetener that are very popular in Morocco, but you can also use golden raisins or another dried fruit to add sweetness. Feel free to substitute traditional fine couscous for Israeli couscous, simply mix with equal parts couscous and boiling water, cover and let sit for 5 minutes. Fresh cilantro (or parsley) bring out the bright flavors of the dish, and the chopped almonds add a delicious crunch.
My Cook: Chicken Tagine
Please always check your food to ensure your food has been cooked to safe serving temperatures. Please see our guide
here
for recommended FDA Time & Temperatures.
Servings: 4
Difficulty: 4 hours and 30 minutes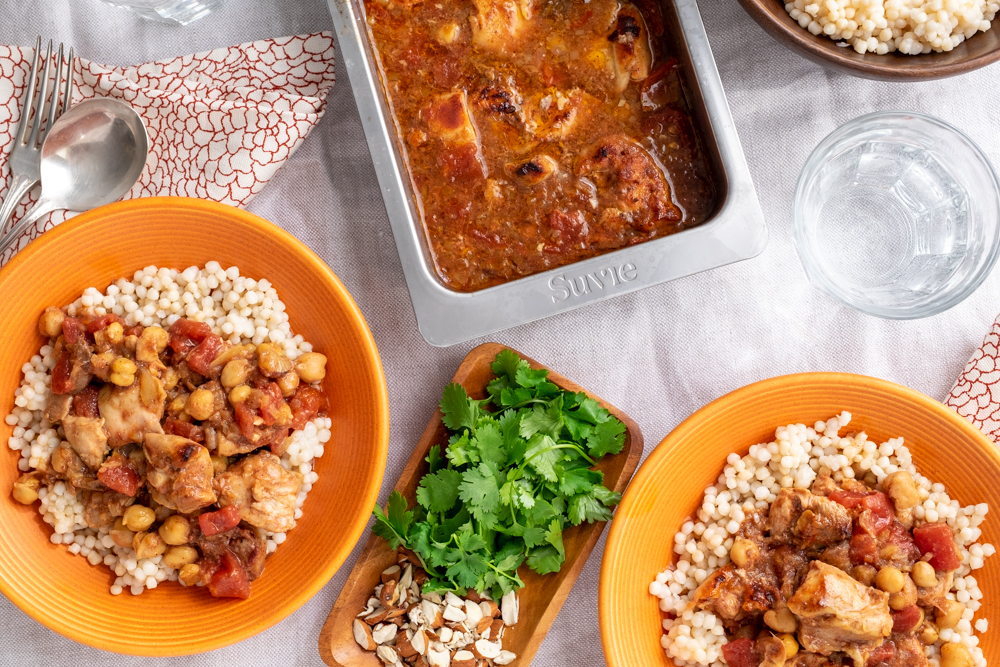 Ingredients
1 medium onion, finely chopped
2 cloves garlic, minced
1 tbsp cumin
1 tsp paprika
½ tsp cinnamon
1 1/2 lbs boneless skinless chicken thighs, cubed
1 (14.5 oz) can chopped tomato
1 (15.5 oz) can chickpeas, rinsed
4 pitted Medjool dates
1 cup chicken stock
1 cup Israeli couscous
1 small bunch fresh cilantro
¼ cup chopped almonds
Directions
1) Mix onion and garlic together in a Suvie pan with 1 tbsp olive oil, 1 tbsp cumin, 1 tsp paprika, 1/2 tsp cinnamon, and 1/2 tsp salt and 1/4 tsp pepper.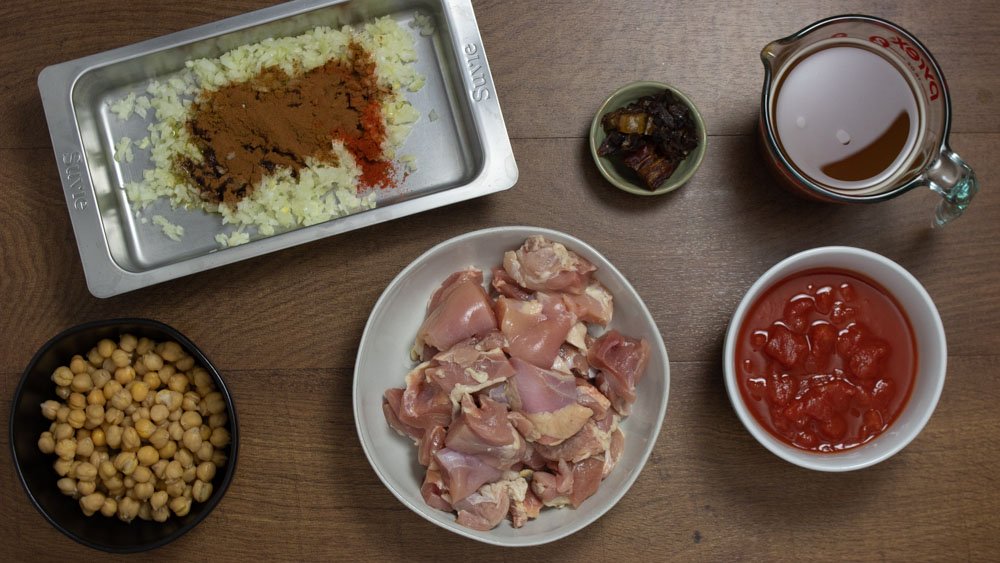 2) Place pan in bottom zone of Suvie, and broil for 12 minutes until softened and fragrant.
3) Add 1 1/2 lbs chicken, 1 can tomatoes, 1 can chickpeas, 4 pitted dates, and 1 cup chicken stock to the onion mixture.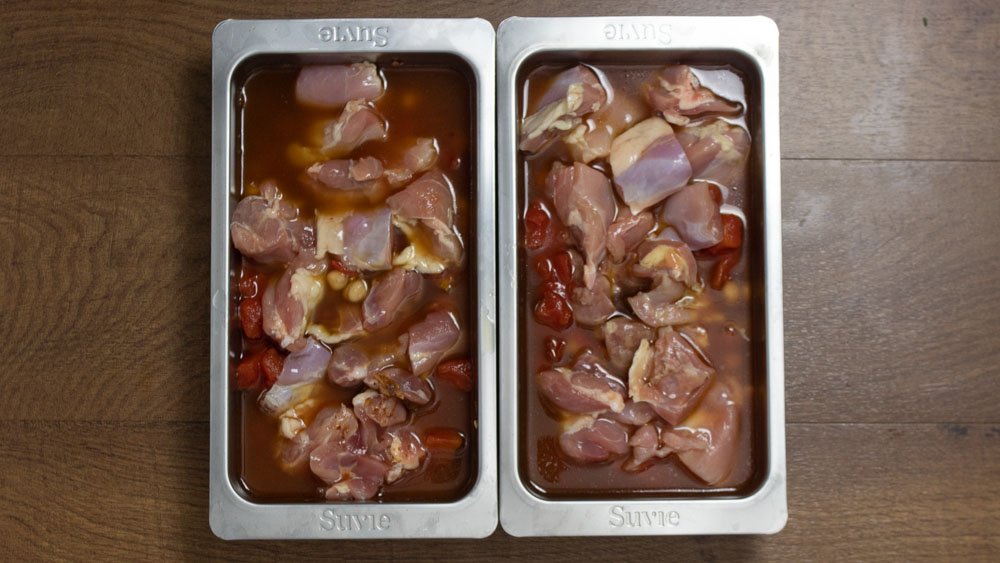 4) Divide the mixture between two Suvie pans and place in your Suvie. Input settings and cook now or schedule.
Suvie Cook Settings
Bottom Zone: Slow Cook on Low for 3 hours
5) Place 1 cup Israeli couscous in the Suvie starch strainer set within the Suvie pasta pot (green handles). Cover pot with a lid, place pot inside the Suvie Starch Cooker, ensuring pot is centered on the hot plate. Input settings and cook now or schedule.
Suvie Starch Cooker Settings
Pasta, 1 cup, 9 minutes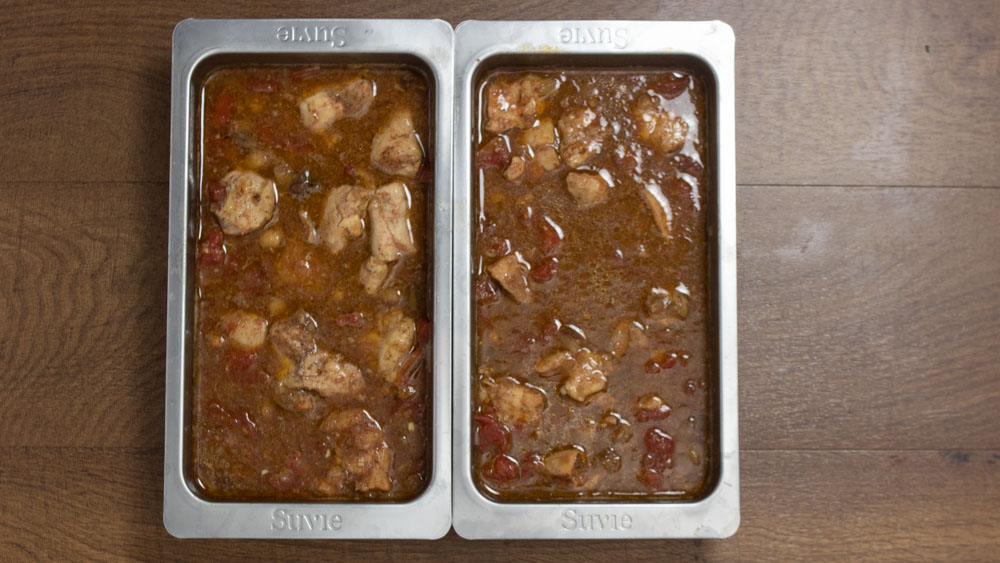 6) After the cook, broil the tagine to brown the chicken, about 7-10 minutes. Fluff the couscous and adjust seasoning to taste. Serve the chicken tagine and sauce over the Israeli couscous, garnish with 1/4 cup chopped almonds and 1 bunch chopped fresh cilantro.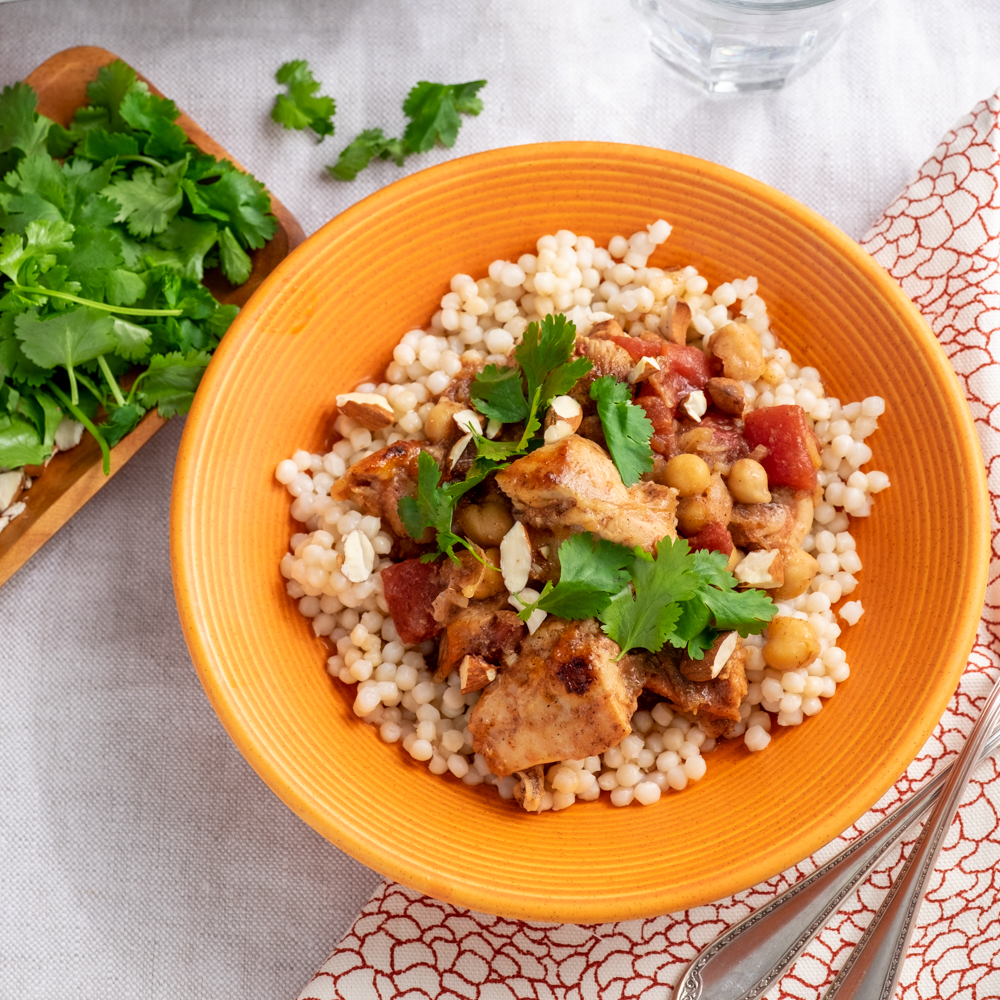 Wine Pairing
While chicken is often best enjoyed with white wines, in the case of this dish we recommend pairing it with a good quality Rosé. The savory notes of the wine will beautifully balance out the fruit flavors of the tagine.
Nutrition
Nutritional Information per serving (4 servings per recipe): Calories 690, Total Fat 18g, Total Carbohydrates 83g, Total Sodium 670mg, Total Protein 51g.