Close the bag and place in a Suvie pan with the seal over the edge (you can use a binder clip or two magnets to keep the bag in the place).
Fill the pan with water and place in the upper right zone of your Suvie. Add the broccoli to a Suvie pan and place in the upper left zone. Break the spaghetti in half so that it will fit in the starch strainer, place in the starch pan, season with salt and place in the lower right zone. Enter the My Cook settings and cook.
After the cook, remove the broccoli and toss with the minced garlic, 1 tbsp olive oil, and salt and pepper to taste. Remove the spaghetti and egg yolk, add 1 tsp egg yolk to a small bowl. In a large bowl add the drained spaghetti and ¼ cup of the pasta water remaining in the bottom of the starch pan along with the remaining egg yolk sauce. Wipe out the pan that had the egg yolks and add the pancetta.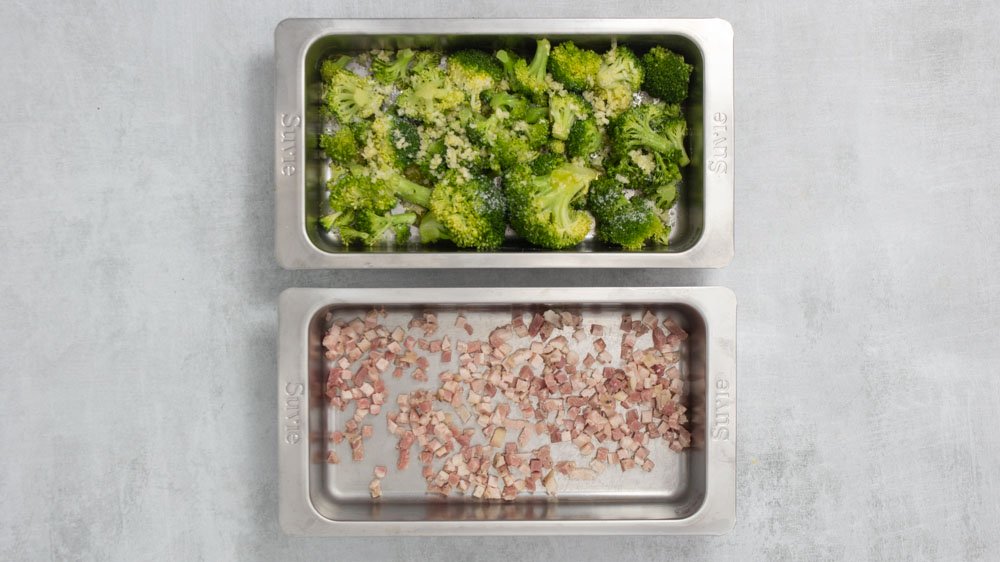 Place the broccoli in the upper left zone, and the pancetta in the upper right zone, then broil for 10 minutes.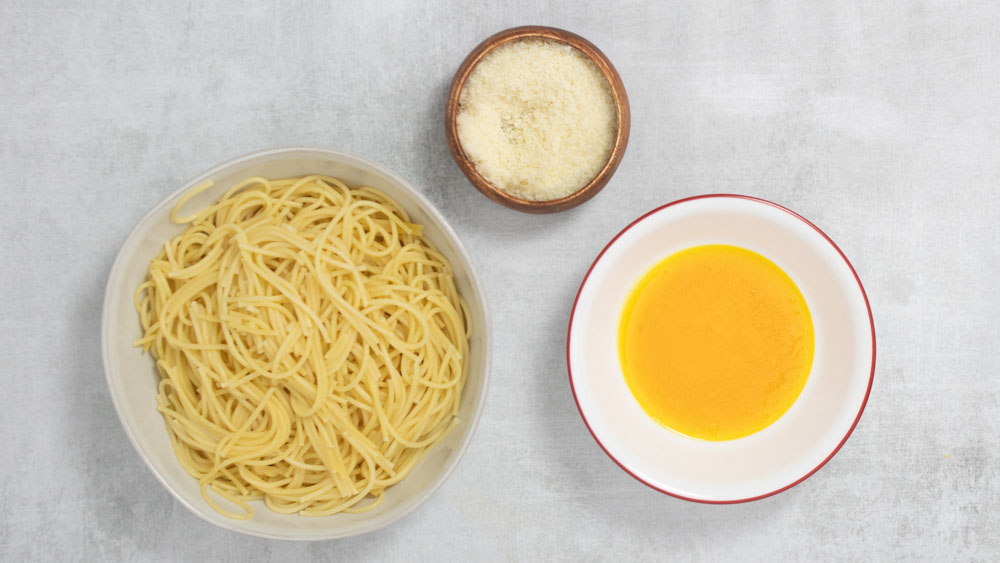 Stir the egg yolks into the spaghetti; the pasta water will thin out the sauce. Season to taste with salt and pepper. Top with grated parmesan cheese.
Prepare the Caesar dressing. In the small bowl with 1 tsp egg yolk, add the juice of ½ a lemon, 1 tsp Worcestershire sauce, ¼ cup olive oil, and 2 tbsp parmesan cheese. Whisk to combine and season to taste with salt and pepper.
After broiling, toss the broccoli with the Caesar dressing.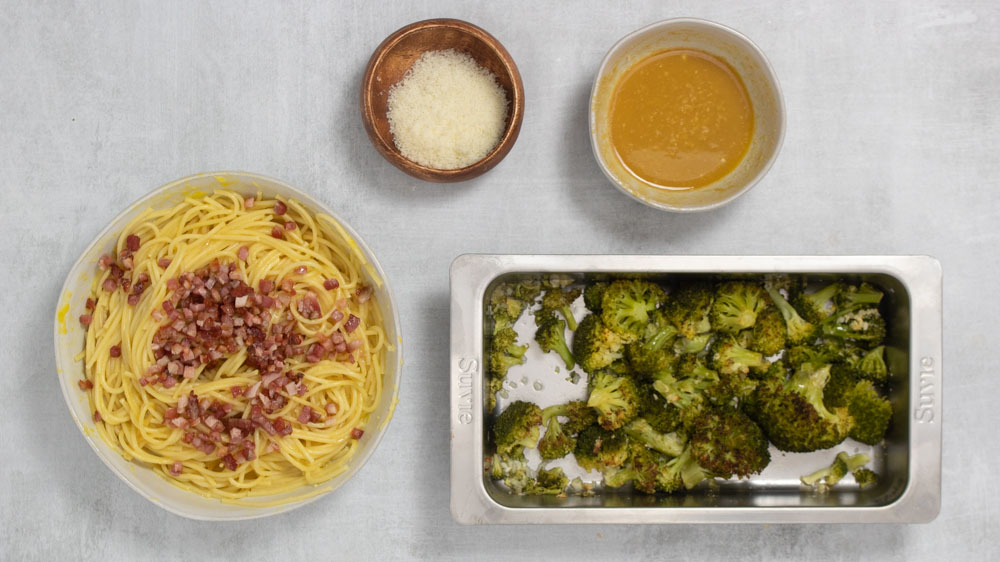 Add the crispy pancetta to the spaghetti. Divide between two plates, and garnish with more parmesan cheese. Buon appetito!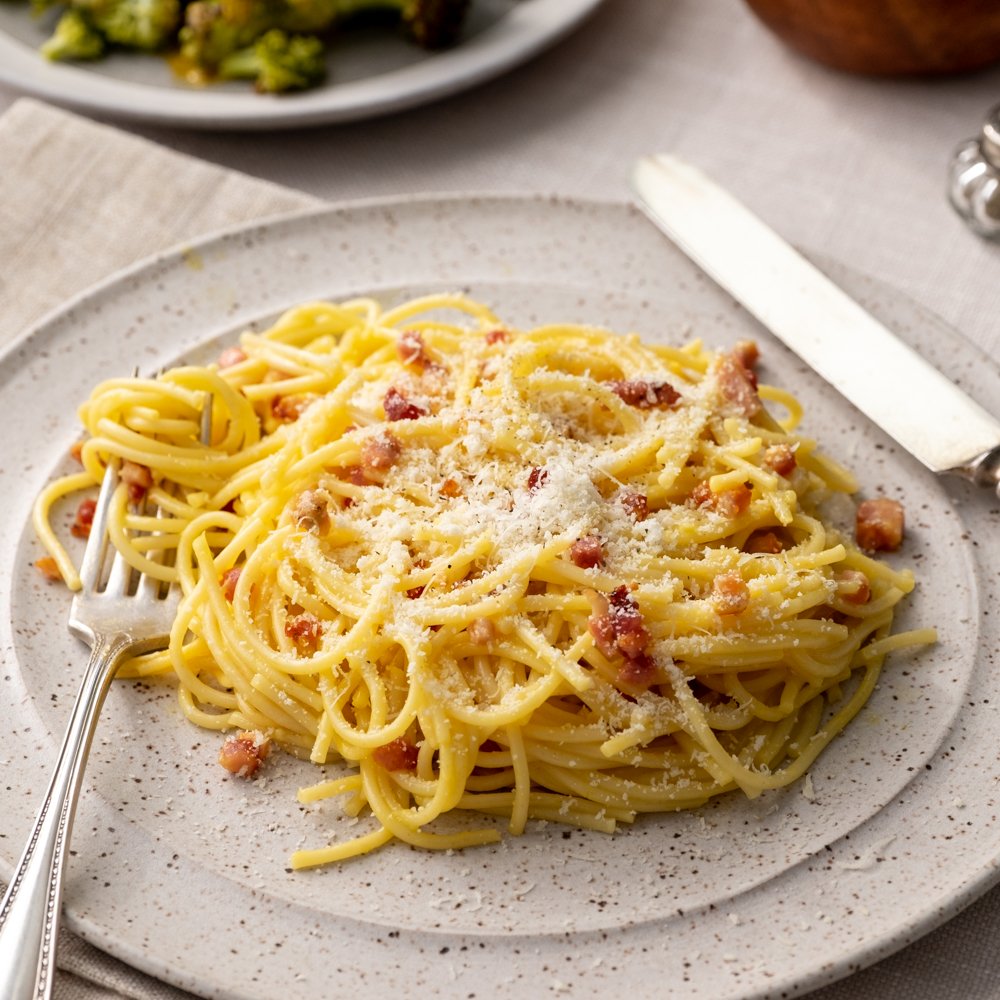 Wine Pairing
Crisp and zesty white wines are best suited to this dish. We recommend pairing carbonara with a good quality, and preferably Italian, bottle of Pinot Grigio.