Papa rellenas or "stuffed potatoes", are a popular Peruvian dish that makes for some scrumptious appetizers. We love using leftover mashed potatoes for this recipe because they are pliable enough without being sticky, and perfectly conceal our meaty stuffing. If you're lacking in leftovers, boil about 3-4 medium potatoes until soft, mash and completely cool in the refrigerator before using. The ground beef filling uses a uniquely Peruvian ingredient, aji panca pepper paste. Aji panca is a type of chili pepper that is common in Peru and used frequently in Peruvian recipes. It is a mild, dark red chili with oodles of smoky flavor. Zócalo is a brand of aji panca we like and can be purchased online.
Papa Rellenas: Peruvian Crispy Stuffed Potatoes
Please always check your food to ensure your food has been cooked to safe serving temperatures. Please see our guide
here
for recommended FDA Time & Temperatures.
Servings: 4-6
Difficulty: 40 minutes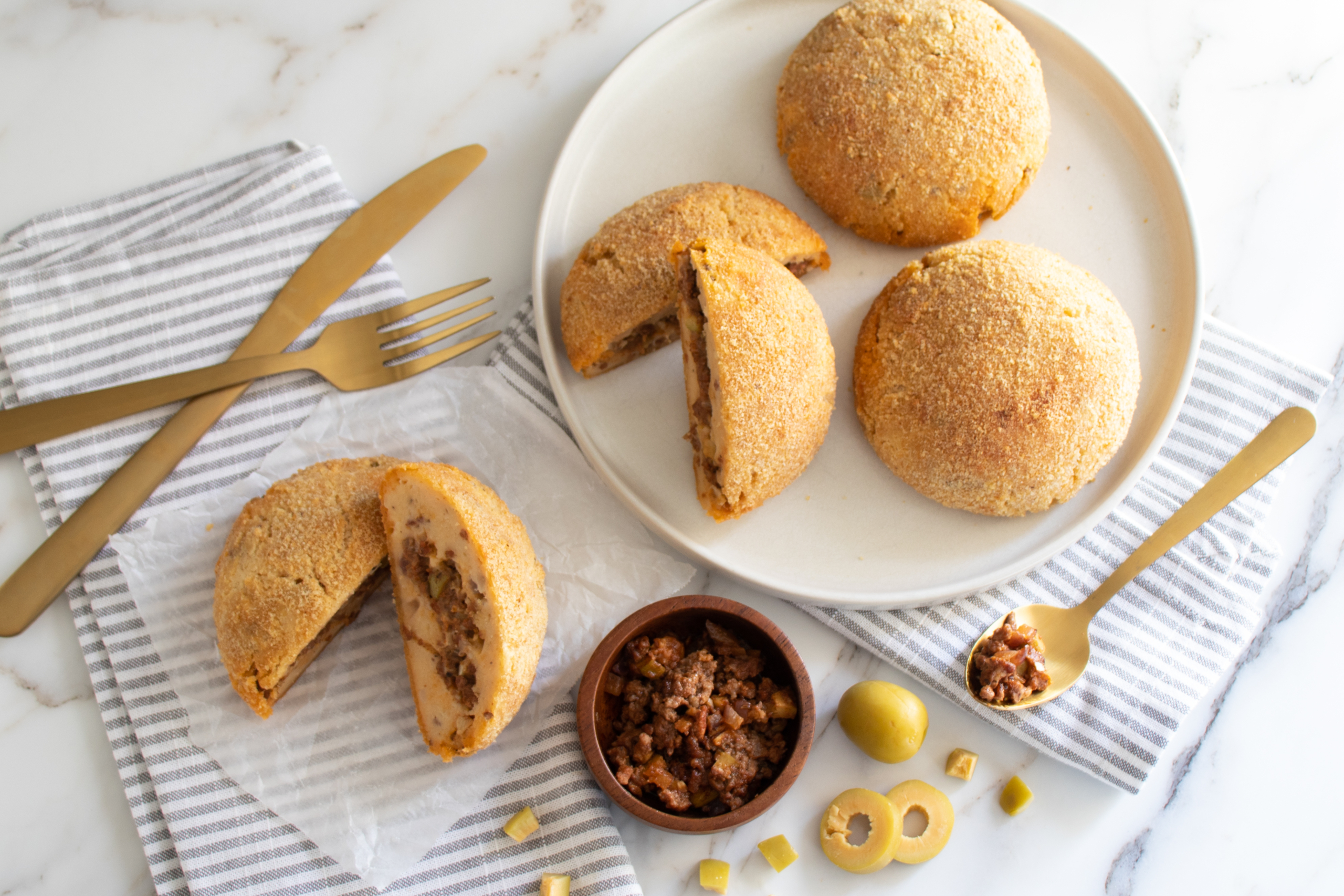 Ingredients
1 tbsp olive oil
½ lb ground beef
2 garlic cloves, peeled and minced
¼ cup diced red onion
¼ chopped green olives
1 tbsp aji panca pepper paste
1 tsp ground cumin
½ tsp dried oregano
½ tsp paprika
1 tbsp tomato paste
2 cups mashed potatoes
1 cup all purpose flour
3 large eggs
1 cup Italian-style bread crumbs
Directions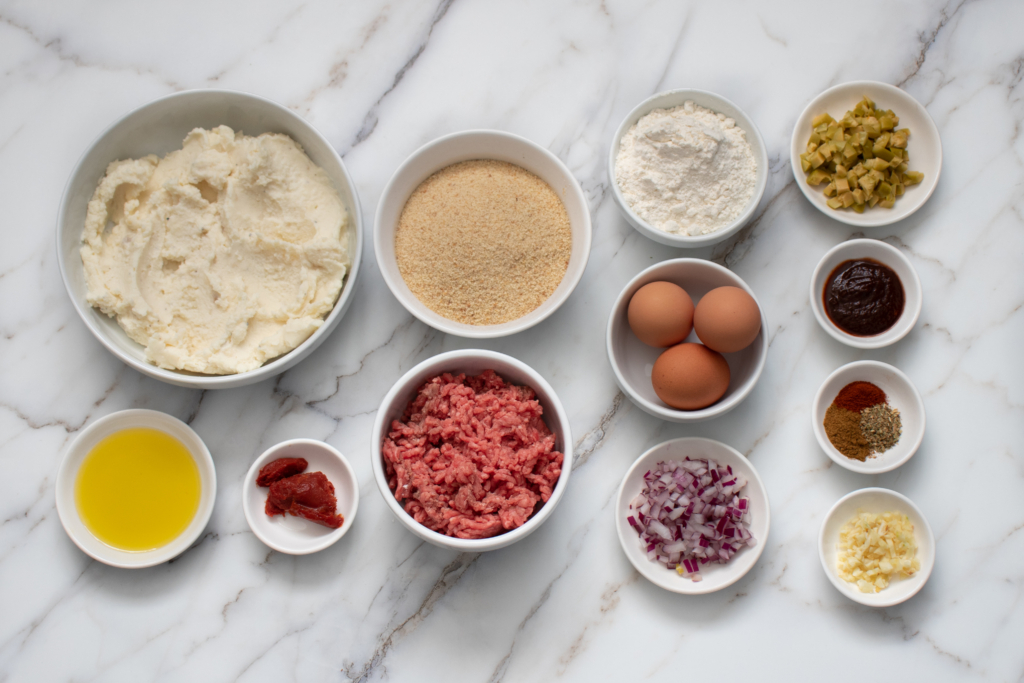 1) Drizzle a Suvie pan with 1 tbsp of olive oil and crumble ½ lb ground beef into the pan. Add 2 minced garlic cloves, ¼ cup red onion, ¼ cup chopped olives, 1 tbsp aji pepper paste, 1 tsp cumin, ½ tsp oregano, 1 tbsp tomato paste, and ½ tsp salt to the pan, and stir to combine. Place the pan in the top zone of your Suvie and broil for 15 minutes, stirring halfway through.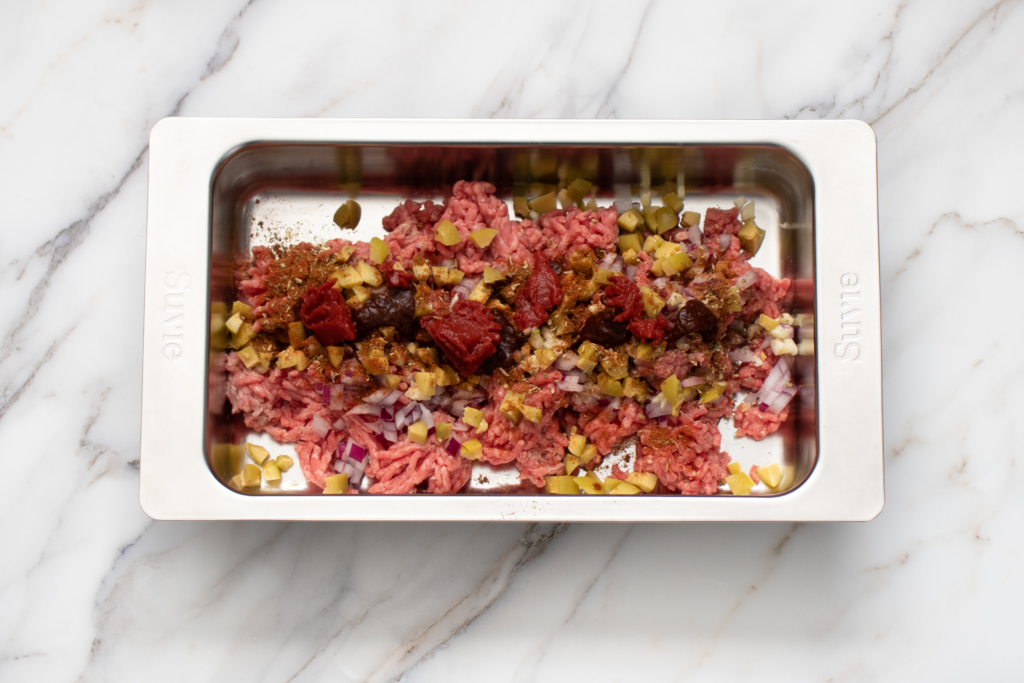 2) Once the meat filling has broiled, remove from your Suvie, and set aside to cool for 5 minutes.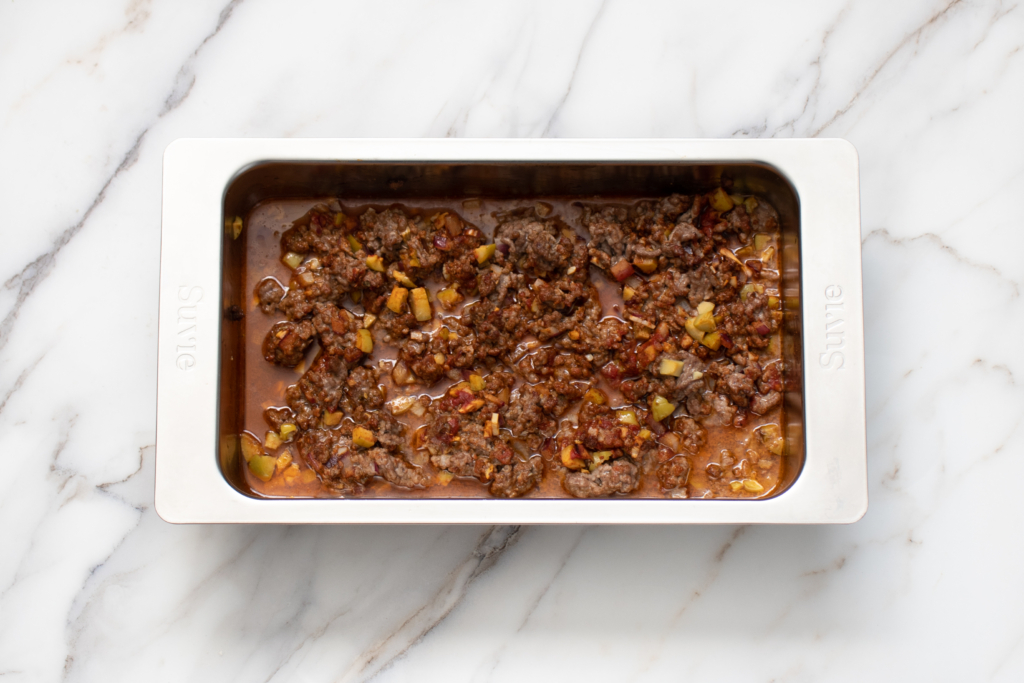 3) Divide the mashed potatoes into 6 even portions, roughly ⅓ cup of mashed potato per portion. Using the back of a spoon, make a well in the center of each portion. Once the filling has cooled, using a slotted spoon, divide the meat filling between the potatoes. Using your hands, mold the mashed potatoes around the meat filling, and gently roll into balls. Place the papa rellenas in the refrigerator, uncovered, for 15 minutes.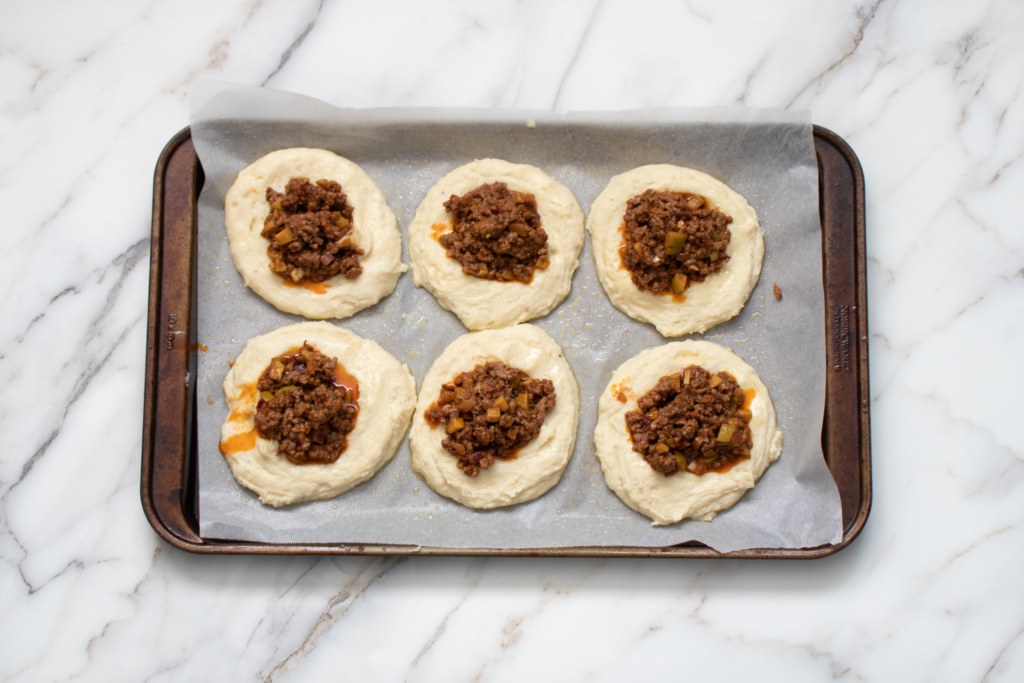 4) Place 1 cup of flour on a large plate and season with ½ tsp salt and ¼ tsp black pepper. Whisk eggs together in a large bowl. Place bread crumbs in a separate, large bowl. Remove the papa rellenas from the refrigerator and coat in the seasoned flour, tapping off any excess. Working with one floured papa rellena at a time, dip in the egg, letting any excess egg drip off, and thoroughly coat in the bread crumbs.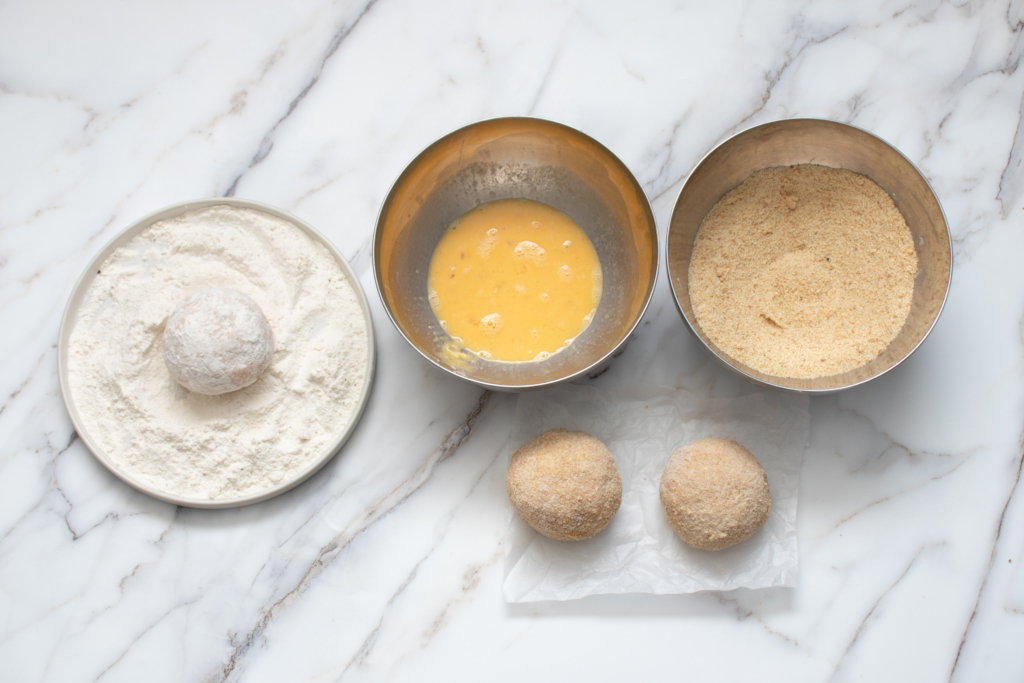 5) Lightly grease 2 Suvie pans with cooking spray and place 2 breaded papa rellenas in each pan. The remaining 2 papa rellenas can be wrapped and frozen for cooking later or set aside in the refrigerator to be cooked after the first batch. Place the pans in your Suvie, input settings, and cook now.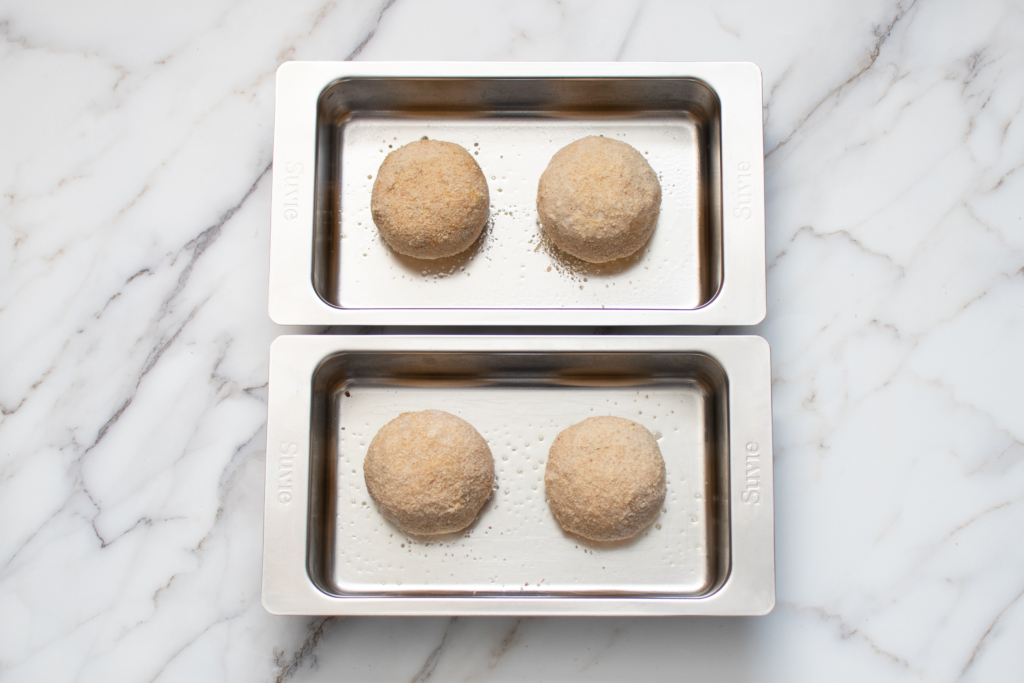 Suvie Cook Settings
Bottom Zone: Roast at 325°F for 25 minutes
Top Zone: Roast at 325°F for 25 minutes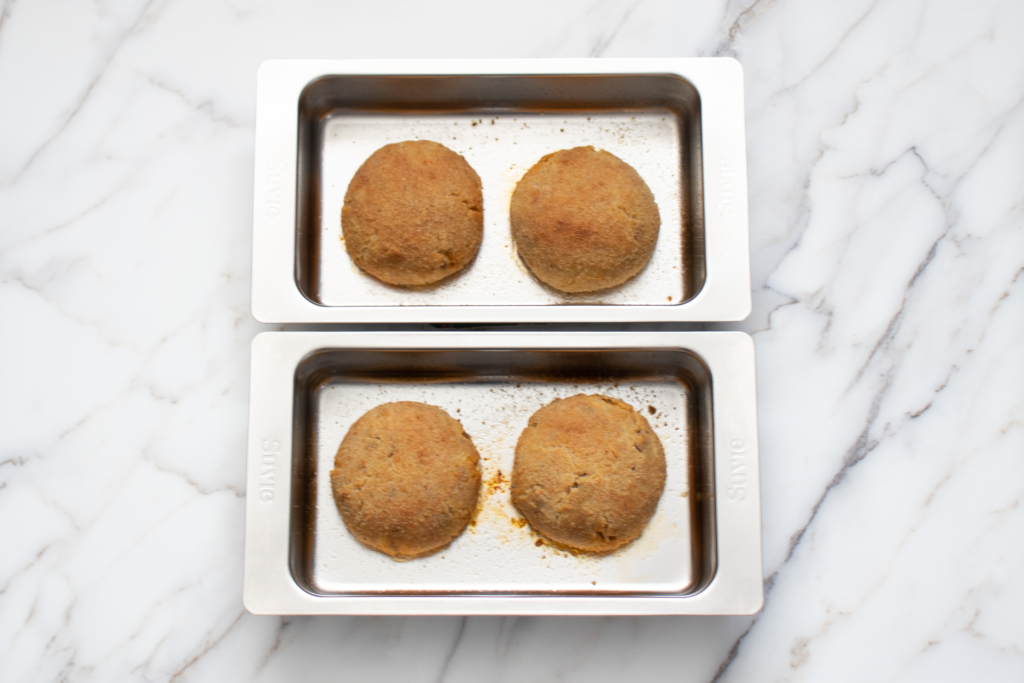 6) Halfway through the cook, rotate the pans for even browning. After the cook, remove the pans from your Suvie, and divide the papa rellenas between plates.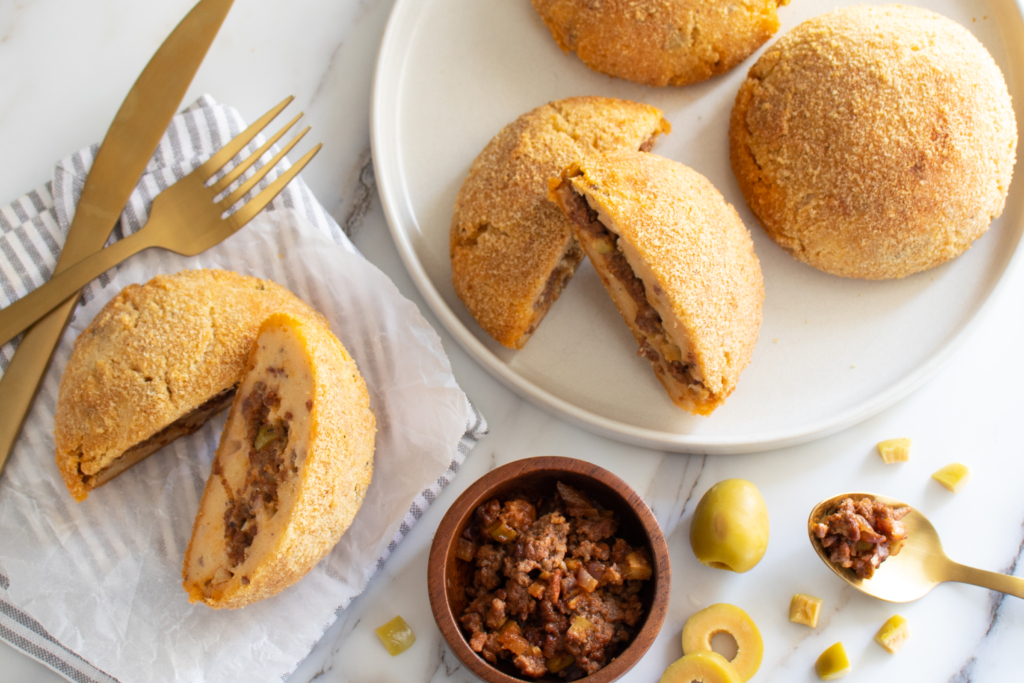 Nutrition
Nutritional Information per serving (6 servings per recipe): Calories 355, Total Fat 10g, Total Carbohydrates 45g, Total Sodium 649mg, Total Protein 21g.