Empanadas are tasty turnovers popular all over South and Central America. Every region that enjoys empanadas has their own unique version made with a variety of fillings and ingredients. This Peruvian empanada recipe showcases some of Peru's most popular fillings, including aji panca-seasoned steak, green olives, and hard boiled eggs. Aji panca is a type of chili pepper that is common in Peru and used frequently in Peruvian recipes. It is a mild, dark red chili with oodles of smoky flavor. Zócalo is a brand of aji panca we like and can be purchased online. For our empanadas we use refrigerated biscuit dough as a shortcut to reduce prep time, while still getting super flaky crust. If you would like to make your own traditional empanada dough, we recommend this recipe. 
Peruvian Empanadas
Please always check your food to ensure your food has been cooked to safe serving temperatures. Please see our guide
here
for recommended FDA Time & Temperatures.
Servings: 4
Difficulty: 45 minutes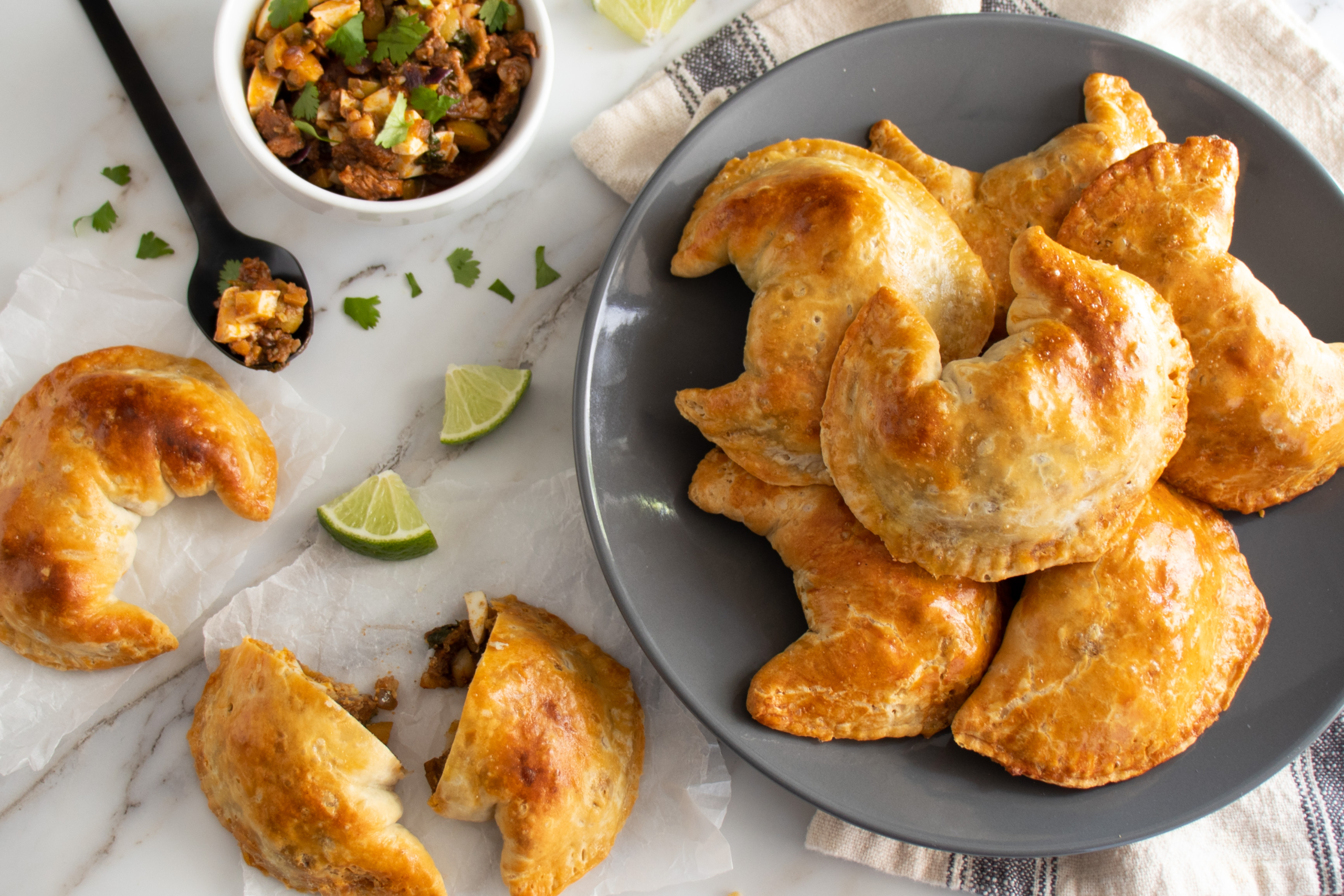 Ingredients
1 lb sirloin steak, finely diced
½ cup diced red onion
½ cup diced green olives
2 tbsp aji panca paste
4 garlic cloves, peeled and minced
¼ cup chopped cilantro
1 tsp cumin
1 tbsp olive oil
2 hard boiled eggs, peeled and diced
2 tbsp all purpose flour
1 (16 oz) can refrigerated biscuit dough, about 8 raw biscuits
1 raw egg, beaten
1 lime cut into wedges, optional
2 tbsp chopped cilantro, optional
Directions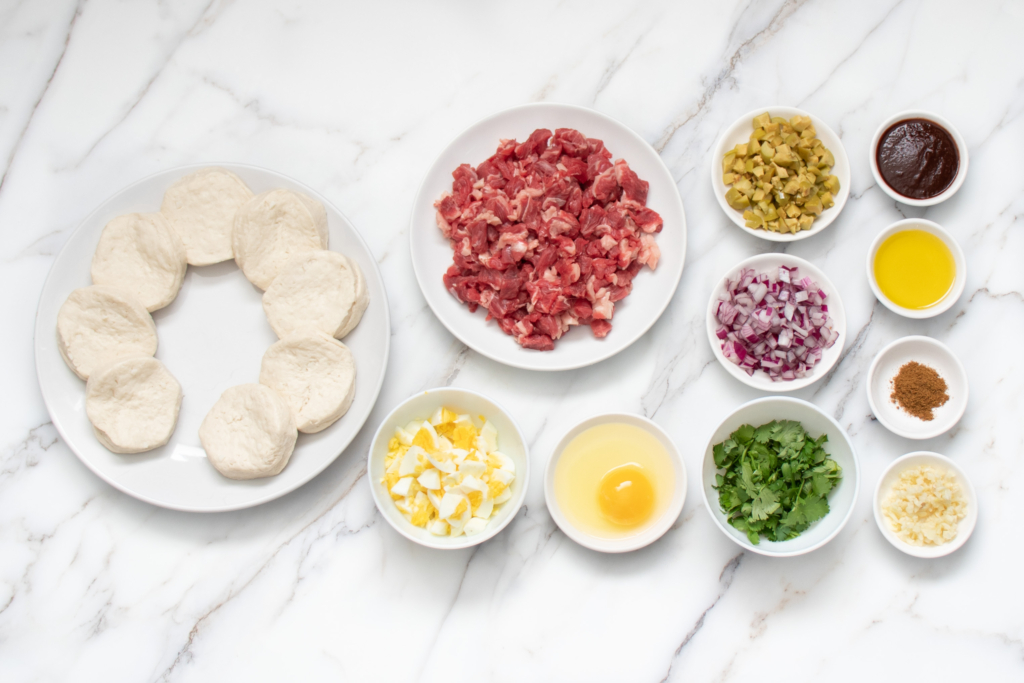 1) In a large bowl, stir together 1 lb diced steak, ½ cup diced red onion, ½ cup diced green olives, 2 tbsp aji panca paste, 4 minced garlic cloves, ¼ cup chopped cilantro, 1 tsp cumin, 1 tbsp oil, and ½ tsp salt. Transfer mixture to a Suvie pan, spread out in an even layer, and place in the top zone of your Suvie. Roast the empanada filling at 400°F for 15 minutes, stirring halfway through the cook.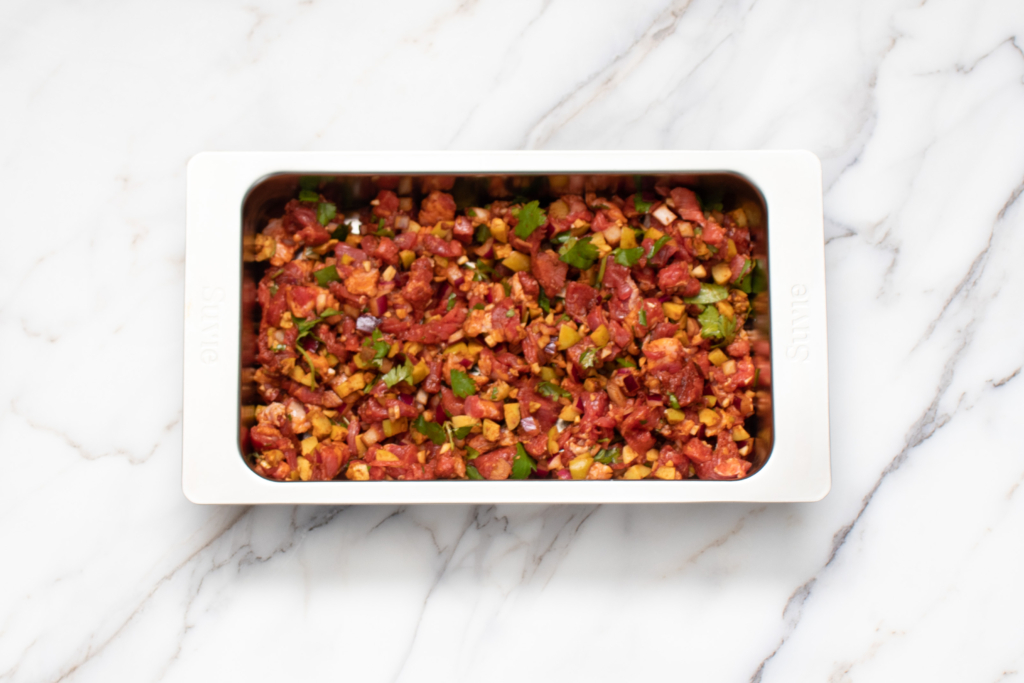 2) After the cook, remove the pan from your Suvie, add 2 chopped hard boiled eggs, and stir to combine. Set the pan aside to cool slightly for about 5 minutes.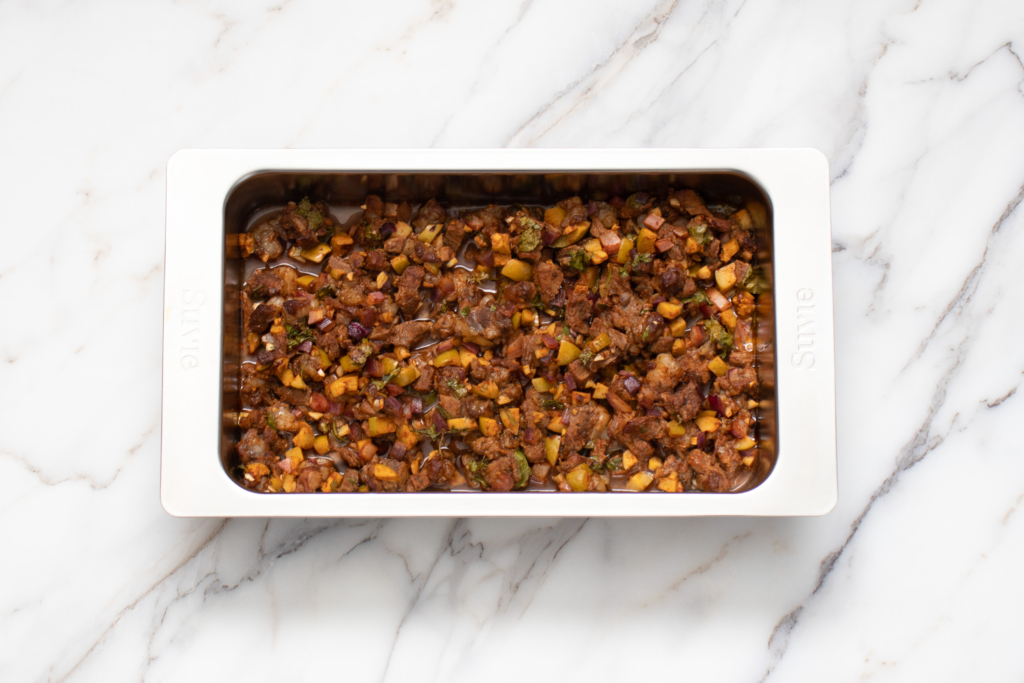 3) Sprinkle a clean work surface with 2 tbsp of flour. Remove the biscuits from the can and, using your hand, flatten into disks. Using a rolling pin, roll the biscuits into thin 5-inch rounds, and brush the edges with egg wash. Using a slotted spoon, fill the center of each biscuit round with ⅓ cup empanada filling.
4) Fold the dough up and over the filling to create little half moon shapes. Seal the edges of the empanada with a fork, pressing into the dough to seal, and gently bring the points together towards the center to create a crescent shape.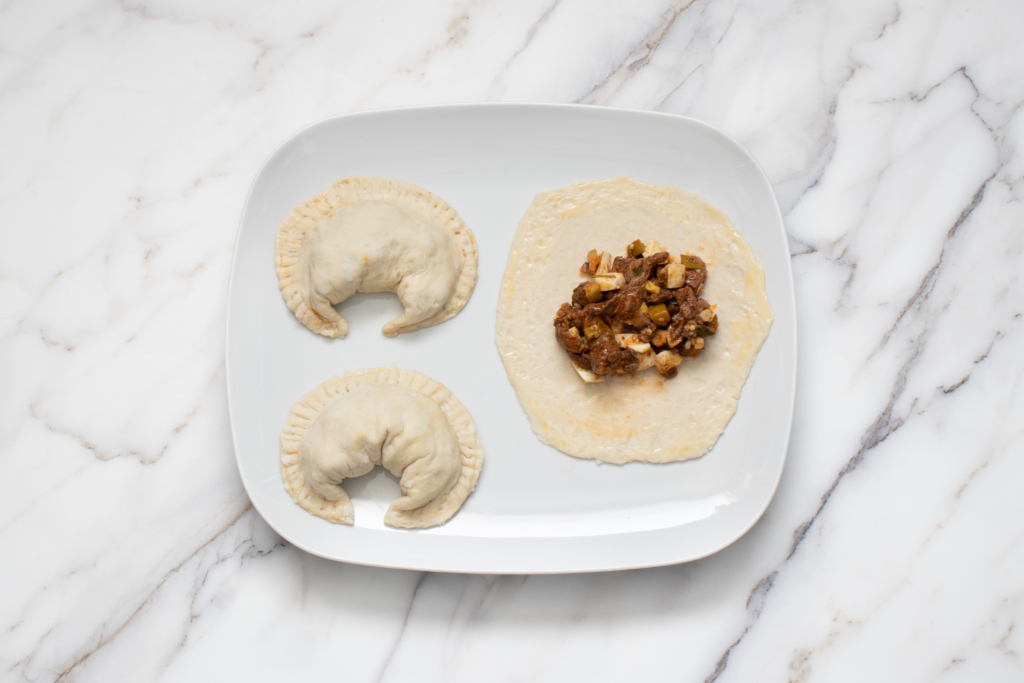 5) Set 2 Suvie roasting racks into 2 Suvie pans and lightly grease with cooking spray. Place 2 empanadas in each pan and generously brush each with egg wash. Place the pans in the top and bottom zones of your Suvie, input settings, and cook now. You can bake the remaining 4 empanadas after this first batch or place them in zipper bags and freeze for later use.
Suvie Cook Settings
Bottom Zone: Bake at 325°F for 30 minutes
Top Zone: Bake at 325°F for 30 minutes
6) Halfway through the cook, rotate the pans for even browning.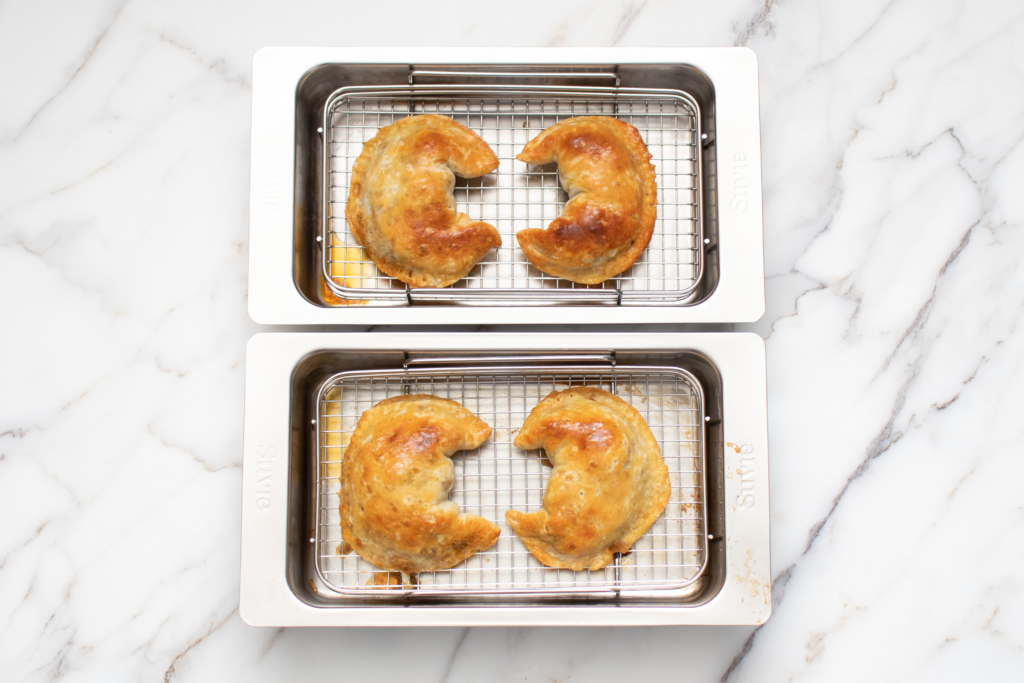 7) After the cook, remove the pans from your Suvie, and set aside to rest for 2 minutes. Using a spatula, remove the empanadas from the pan, and serve. Garnish with lime wedges and chopped cilantro.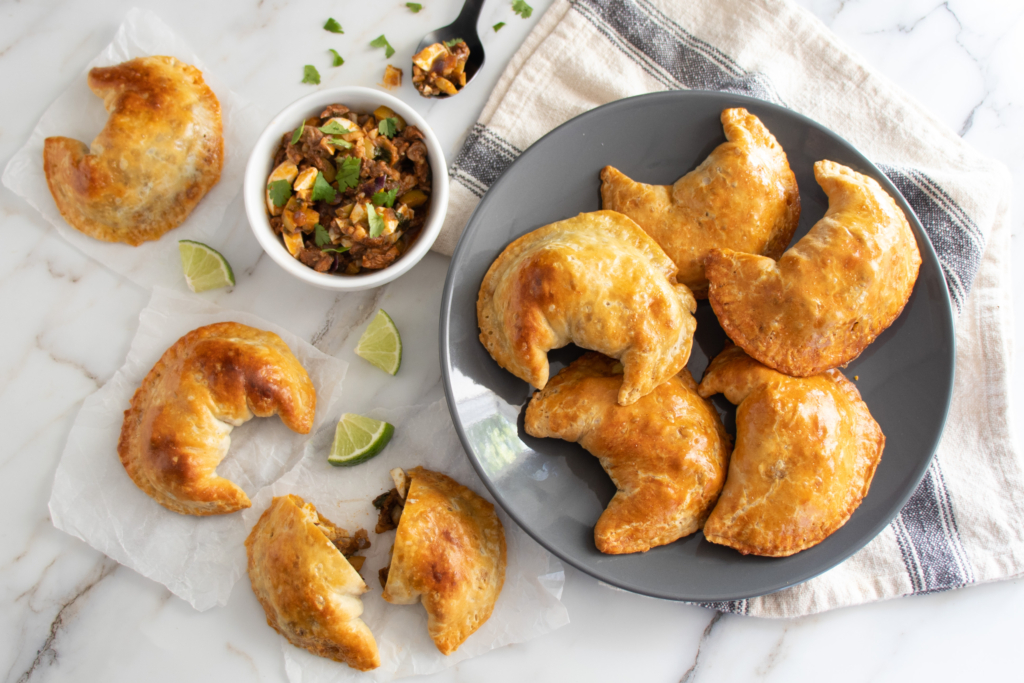 Nutrition
Nutritional Information per serving (4 servings per recipe, 2 empanadas per person): Calories 677, Total Fat 31g, Total Carbohydrates 56g, Total Sodium 2021mg, Total Protein 39g.