Gone are the days of the jaw Olympics: testing the strength of your mandibles as you attempt to gnaw through an overcooked pork chop peering out from a shallow sea of apple sauce. Suvie makes preparing the best pork chop you've ever tasted a snap without the possibility of overcooking. Finish it off with a light sear in some herby, garlicky butter and your chop is camera-ready. Paired with its best buddies: crispy Brussels sprouts and fragrant orzo pilaf, this pork chop is easy enough to serve up on a weeknight but feels like a decadent Sunday supper.
Note: This recipe requires Suvie 2.0 and the Suvie Starch Cooker.
Pork Chops with Orzo Pilaf and Roasted Brussels Sprouts
Please always check your food to ensure your food has been cooked to safe serving temperatures. Please see our guide
here
for recommended FDA Time & Temperatures.
Servings: 2
Difficulty: 3 hours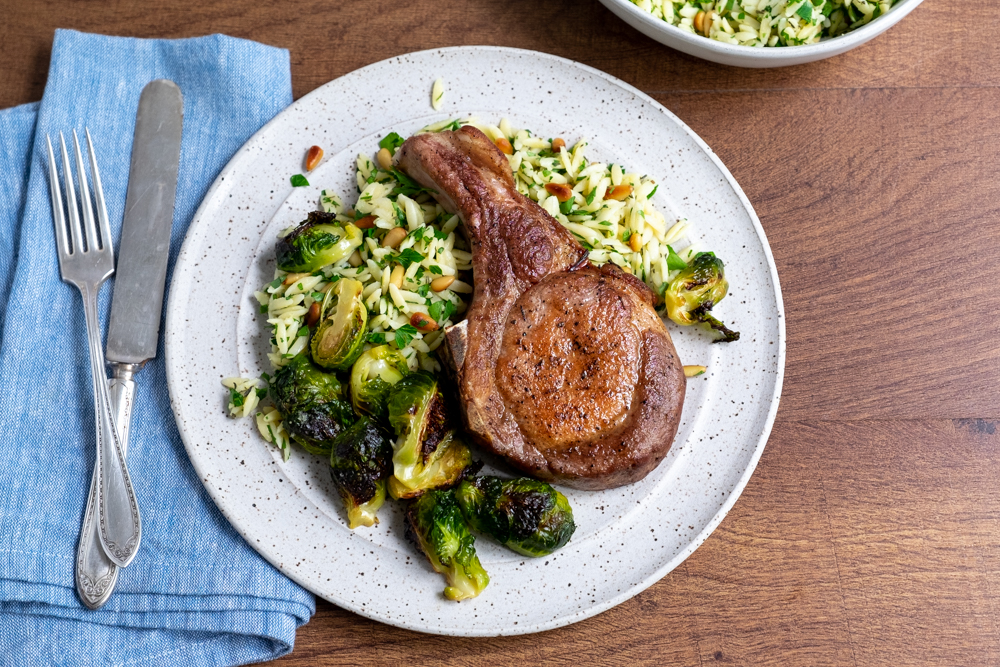 Ingredients
2 bone-in pork rib chops about 1 inch thick, about 1 ¼ pounds total
10 oz (2 cups) Brussels sprouts, washed, outer leaves removed, and stems trimmed
¾ cup orzo pasta
1 tsp chicken bouillon granules
1 tsp dried basil
½ tsp onion powder
½ tsp of dried thyme
¼ tsp garlic powder
2-4 sprigs fresh thyme
2-4 sprigs fresh rosemary
3 garlic cloves
3 tbsp pine nuts
1 tbsp olive oil, plus more to taste
3 tbsp unsalted butter, divided
¼ cup fresh parsley
Directions
Season each pork chop with kosher salt and freshly ground black pepper.

Vacuum seal pork and place in a Suvie pan. Fill pan with water to cover the pork chops and place pan in the bottom zone of Suvie.

Halve Brussel sprouts and place in a second Suvie pan. Place pan in the top zone of Suvie.
Place orzo and 2 tsp salt in the Suvie pasta strainer set inside the pasta pot. Place pot in the Suvie Starch Cooker, ensuring pot is centered on the hot plate. Fill reservoir and set orzo to cook for 9 minutes. Enter the settings below for the pork chops and Brussel sprouts; cook now or schedule.

Suvie Cook Settings

Bottom Zone: Sous Vide at 135˚F for 2 hours

Top Zone: Sous Vide at 135°F for 2 hours

Meanwhile, stir together 1 tsp chicken bouillon granules, 1 tsp dried basil, ½ tsp onion powder, ½ tsp dried thyme and ¼ tsp garlic powder in a small bowl. Roughly chop the sprigs of fresh rosemary, thyme, and 3 garlic cloves and set aside.
After the cook, carefully drain the water from the pork chops. Remove pork chops from bag and pat dry with paper towels.
Remove Brussels sprouts from Suvie. Toss with olive oil, salt, and pepper then return to the upper zone of your Suvie. Place pine nuts in a dry Suvie pan. Place pan in the bottom zone of Suvie.

Broil Brussel sprouts for 15 minutes and pine nuts for 3 minutes, watching pine nuts closely to avoid burning. Stir both pans halfway through cooking.

While pine nuts and Brussels sprouts broil, transfer orzo to a medium bowl.

Melt 1 tbsp butter into the orzo, then stir in 1 tbsp olive oil and pre-mixed orzo seasonings.

In a large skillet (preferably cast iron), heat 2 tbsp butter over high heat. Add garlic, fresh rosemary, and thyme. Cook until herbs and garlic become very aromatic and butter turns slightly brown.
Sear pork chops in the skillet until well browned on all sides, about 2 minutes per side. Brown the fat cap by pressing it against the bottom of the skillet for an additional minute. Lower heat if the pan begins to smoke in excess or the butter starts turning very dark (a little smoke is normal).

Remove pans from Suvie. Stir the toasted pine nuts and fresh parsley into the orzo. Divide the orzo pilaf and Brussels sprouts between two plates and top with the pork chops. Enjoy!

Wine Pairing

The wonderful thing about pork is that it can be paired with a wide variety of wines. If your preference is white wines we recommend Sauvignon Blanc. If you prefer red wines try a Cabernet Franc. Finally, if the choice between red and white wines is impossible try pairing this meal with a dry Rosé or a red Zinfandel.