Bring the flavors of the southwest home with this delicious Suvie Meal. We slow cook juicy chicken breasts, black beans, corn, and red bell peppers in flavorful tomatillo sauce and then shred the chicken to the perfect consistency. The chicken and vegetables are then served on top of cubed sweet potatoes for the ideal mix of flavors and textures.
Suvie Cook Settings
Bottom Zone: Slow Cook on High for 2 hours
Top Zone: Slow Cook on High for 2 Hours
Select YES from frozen
Pulled Chicken Chile Verde with Southwest Vegetables and Sweet Potatoes
Please always check your food to ensure your food has been cooked to safe serving temperatures. Please see our guide
here
for recommended FDA Time & Temperatures.
Servings: 4
Difficulty: 3 hours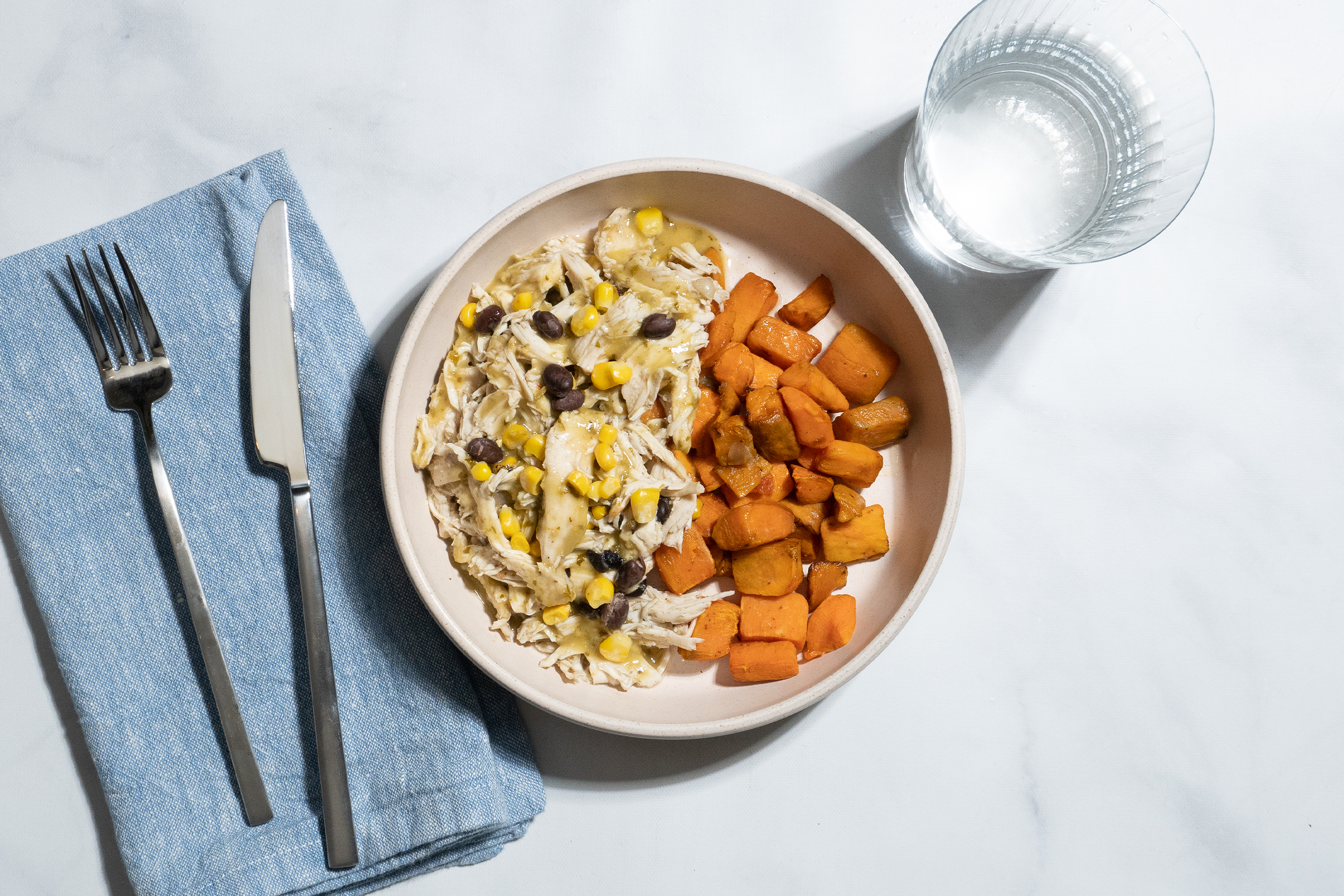 Ingredients
4, 6 oz chicken breasts
6 oz tomatillo sauce
8 oz southwest vegetable mix
20 oz sweet potatoes
Directions
1) Run tomatillo sauce under warm water to thaw.
2) Cut open chicken breasts and place into a Suvie pan.
3) Cut open tomatillo sauce and pour over chicken.
4) Cut open southwest vegetable mix and add on top of the chicken and tomatillo sauce.
5) Open sweet potatoes and add to a separate Suvie pan. Season with 2 tbsp olive oil, 2 tsp salt and freshly ground pepper.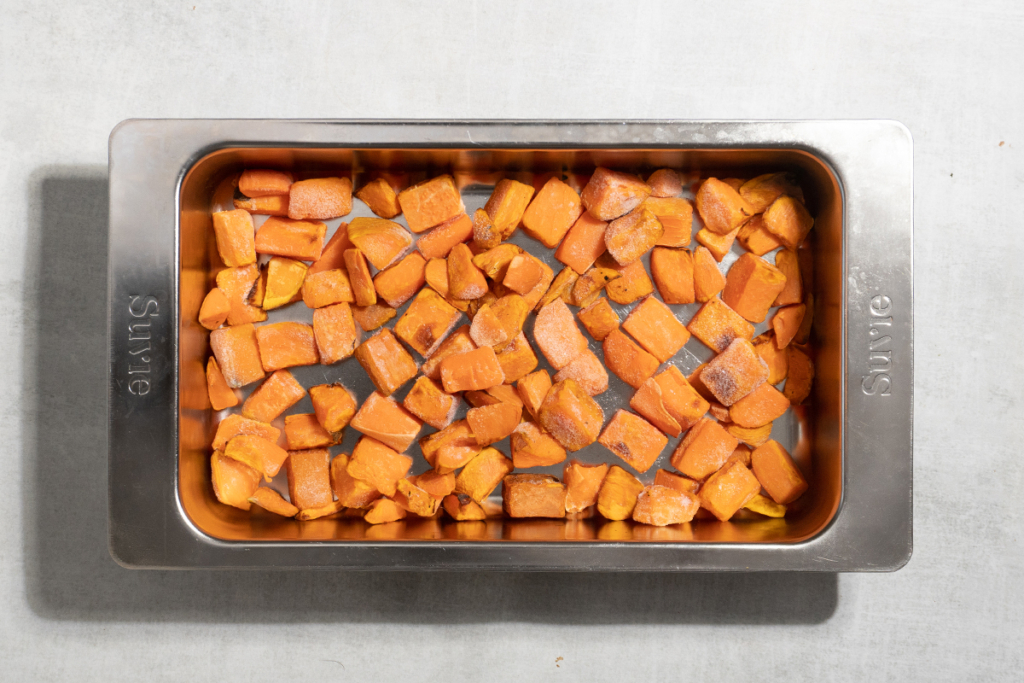 6) Place the chicken, tomatillo sauce and southwest vegetable mix into the top zone of Suvie and the sweet potatoes into the bottom zone. Input settings and cook now. Alternatively, you can store or schedule the meal in the Suvie (please be sure to select "Yes" when asked if cooking from frozen).
Suvie Cook Settings
Bottom Zone: Slow Cook on High for 2 hours
Top Zone: Slow Cook on High for 2 Hours
5) When the cook is complete, use two forks and gently pull and shred chicken apart. Toss the shredded chicken with the southwest vegetable mix and tomatillo sauce. Divide between plates with the sweet potatoes and drizzle with remaining sauce. Season to taste with salt and pepper.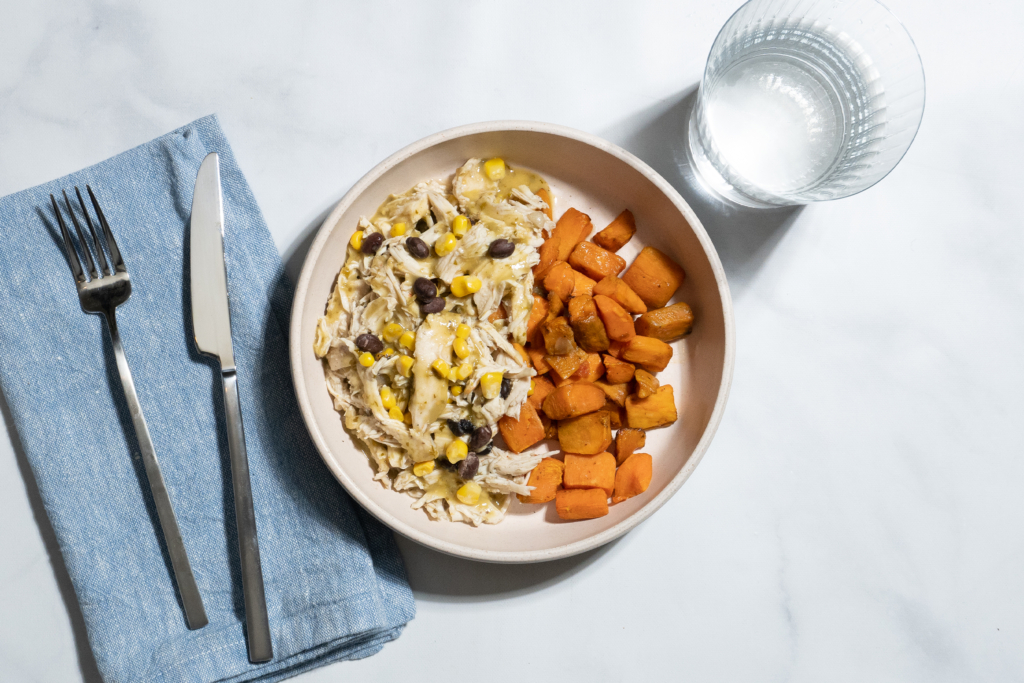 Nutrition
Nutritional Information per serving (2-4 servings per recipe): Calories 390, Total Fat 6g, Total Carbohydrates 39g, Total Sodium 590mg, Total Protein 45g.