Ah, autumn. The smell of freshly baked bread mixed with pumpkin spice and apple cinnamon. How I've missed you. The apple tree in our backyard, seemingly dormant for the last 6 years, sprang to life this year, and I suddenly found myself with five large bags of home-grown Macintosh apples sitting in my basement. My kids don't like apple pie (crazy town!), so here are six easy non-pie recipes we've found to use up our harvest. A few are somewhat unconventional, but all are delicious.
Apple Danish Braid
I love using puff pastry, especially to make baked goods that I wouldn't otherwise attempt without a lot of coaxing. This recipe for braided apple danish from Little Bits Of instructs you to cook down your apples before spreading them onto your pastry. It also gives a nice tutorial on how to quickly and easily braid your pastry without a lot of fuss.
Applesauce
In my family, we eat applesauce on everything, even pizza. Homemade applesauce is incredibly easy to make. Just chop up your apples, thrown them in a pan with a dash of water, some sugar and cinnamon to taste, and simmer until mushy. This recipe from She Loves Biscotti is a good basic one to follow until you're confident enough to start experimenting with more flavors and spices. Remember, you'll get yellow applesauce if you peel your apples before cooking; pink applesauce is made from unpeeled, redder apples.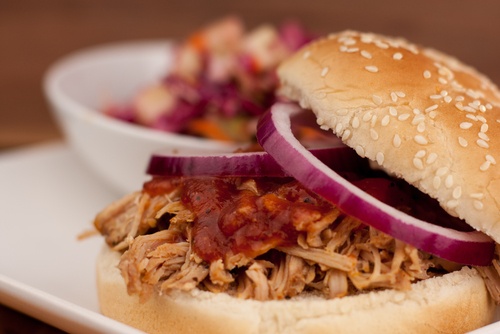 Slow Cooker Apples and Pork
Apples and pork go together like butter and bread, or ice cream and sprinkles. If you toss a cut of pork in a slow cooker and top it with some chopped apples and apple cider, you'll get a pretty decent meal out of it. Some recipes include onions or herbs too. I particularly like this recipe for Apple Bacon BBQ Pulled Pork from Emily Bites, which takes the apple/pork combo to the next level with bacon. Everything is better with bacon.
Cinnamon-Apple Twist Bread
I'm a sucker for bread and apples mixed together, and this Cinnamon-Apple twist bread from King Arthur Flour is no exception. A light drizzle of icing makes it that much more mouth-watering.
Apple Dumplings
I ate these apple dumplings for the first time at a potluck a few years ago; we all raved about the dish, and when we asked the baker's secret, she told us, "Mountain Dew." That's right. A can of soda poured over some Pillsbury crescent rolls and apples makes the most amazing dessert ever. Try it. You won't be disappointed.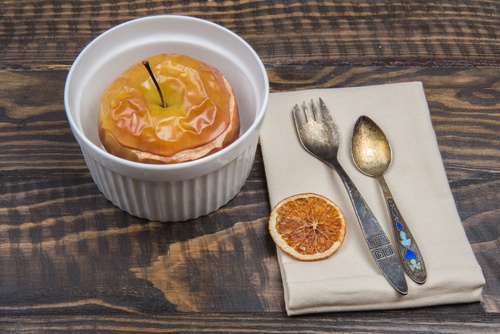 Baked Apples
Sometimes, apples just need to stand on their own. This baked apple recipe from Trisha Yearwood is super easy to make, especially if you have a handy-dandy apple corer, and is a great way to savor the essence of the apple. Add a squirt of whipped cream or a scoop of vanilla ice cream if you're so inclined.