Ready to try a recipe that's bursting with flavor and uses simple, non-specialty ingredients? Great, glad you're with us. The mushrooms, tomato paste, and soy sauce in this dish give it a huge umami boost making it taste wholesome and rich. The onion, carrot, celery and red wine evoke the classic bolognese recipe – except without the meat. This meal is great for anyone dabbling in cooking and eating vegan or just looking to cut out meat for a meal without diving into seitan and aquafaba. At the end of the day, this pasta topped with a delicious, hearty sauce will win over any skeptics making meatless night everyone's favorite night of the week.
Slow Cook: Mushroom Bolognese
Please always check your food to ensure your food has been cooked to safe serving temperatures. Please see our guide
here
for recommended FDA Time & Temperatures.
Servings: 4
Difficulty: 2 hours and 30 minutes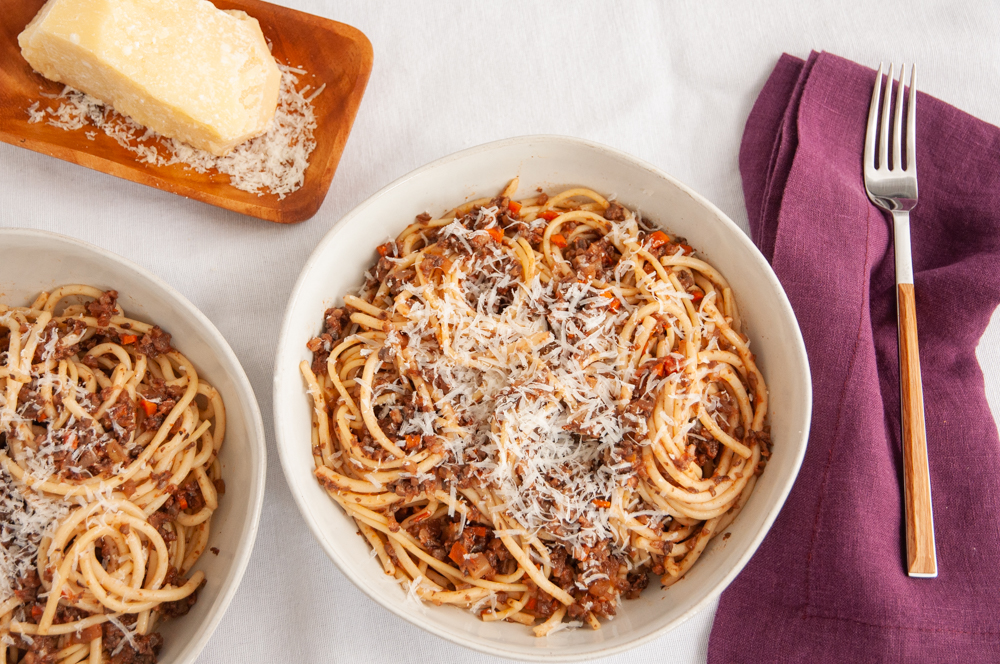 Ingredients
3 tbsp olive oil
½ onion, diced
1 carrot, peeled and diced
1 celery stalk diced
1 lb mushrooms, diced
1 cup riced cauliflower
3 cloves of garlic, minced
2 tbsp tomato paste
½ cup full-bodied red wine
1 tbsp soy sauce
1 cup puréed tomatoes
10 oz spaghetti, broken in half
½ cup Parmesan cheese or nutritional yeast
Directions
1) Combine onion, carrot, celery, mushrooms, cauliflower, 2 tsp salt, and 1 tsp black pepper in a large mixing bowl and toss with 3 tbsp olive oil. Divide between two Suvie pans and broil for 10-15 minutes, until vegetables have released their juices.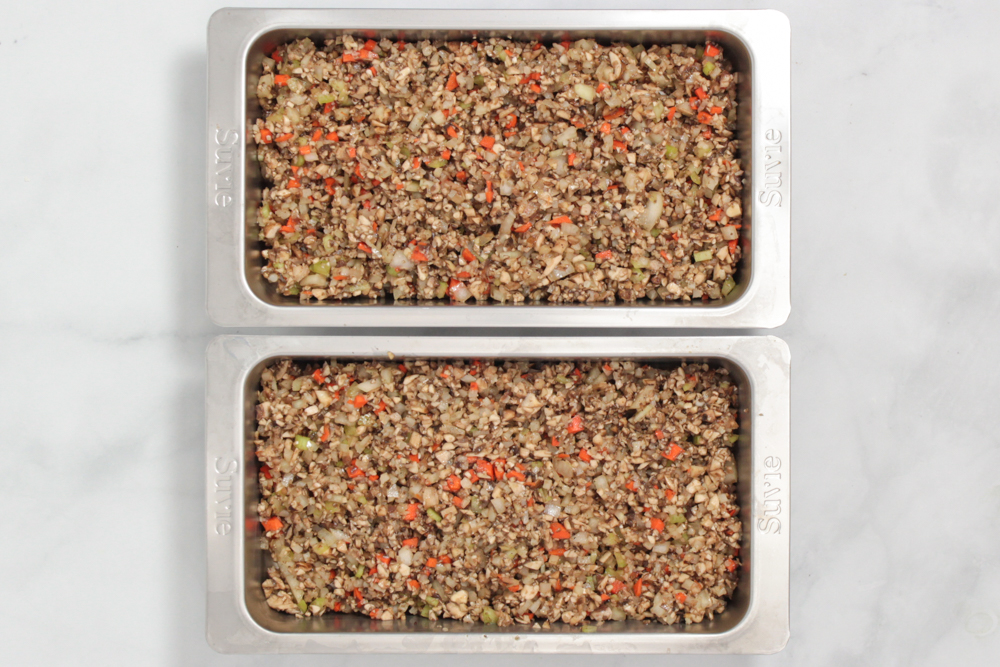 2) Meanwhile, add the garlic, tomato paste, red wine, soy sauce, and puréed tomatoes to the now-empty mixing bowl and stir to combine.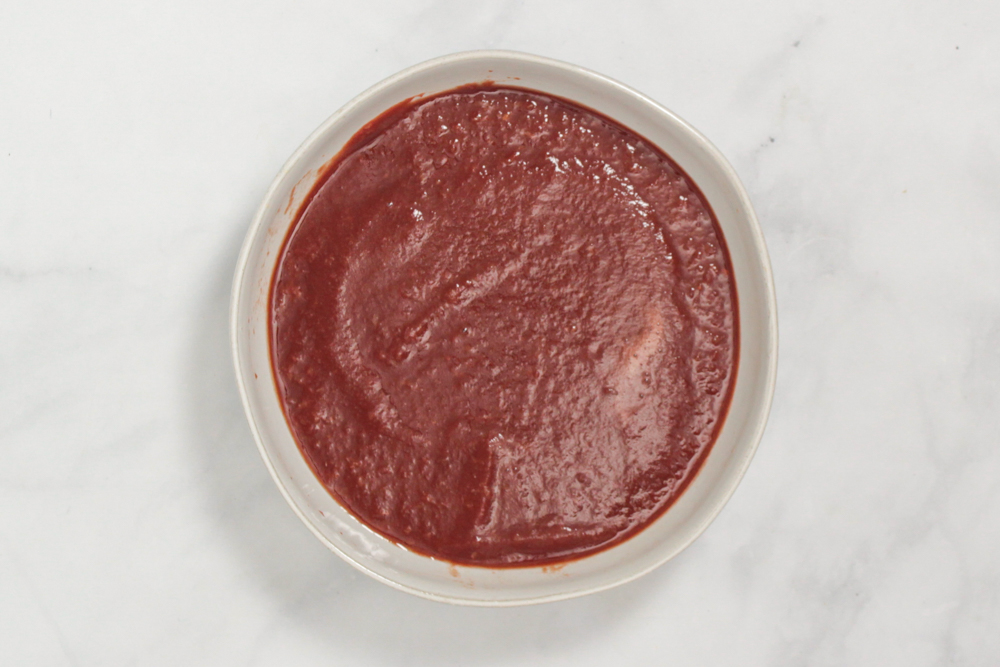 3) When the broil is finished, drain off excess liquid from pans and stir the vegetables back into the mixing bowl with the tomato sauce. Mix thoroughly. Divide the bolognese between the two Suvie pans and load into the top and bottom zone of Suvie. Input settings and cook now or schedule.
Suvie Cook Settings
Bottom Zone: Slow Cook on High for 2 hours
4) Place 10 oz spaghetti in the Suvie starch strainer set within the Suvie pasta pot (green handles). Cover pot with lid and place inside the Suvie Starch Cooker, ensuring the pot is centered on the hot plate. Input settings and cook now or schedule.
Suvie Starch Cooker Settings
Pasta, 4 cups, 10 minutes
5) Place After the cook, toss the pasta with the bolognese sauce. Divide between four bowls and sprinkle parmesan cheese over each.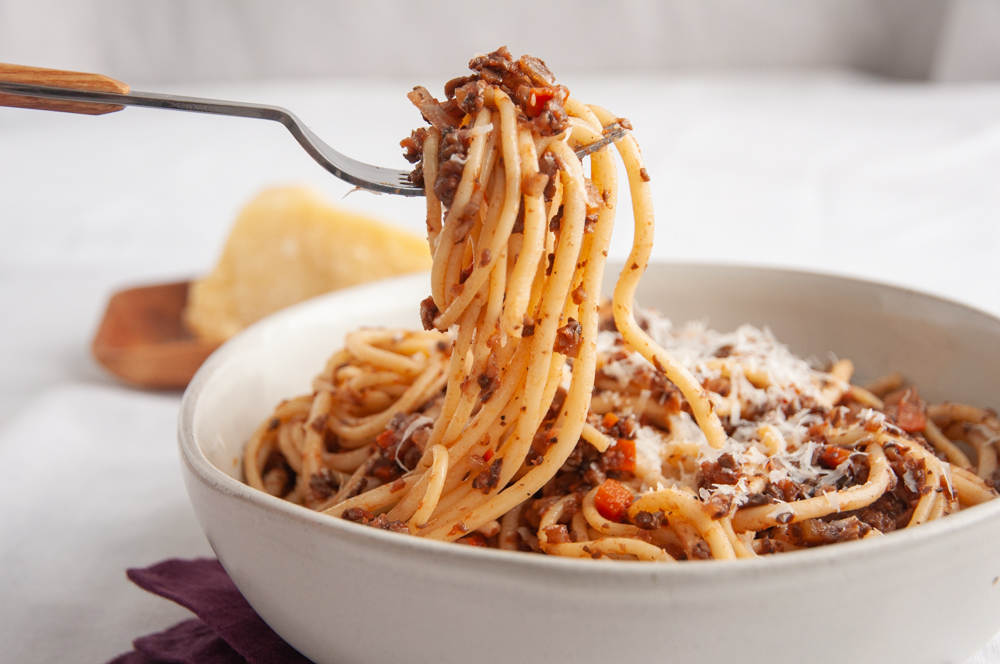 Wine Pairing
We recommend serving this dish with a glass of Italian Sangiovese wine. Sangiovese pairs beautifully with rich tomato-based sauces and will also bring out the flavors of the mushrooms.