Crisp, lacy crackers made entirely of cheese. What's not to love? Frico is the ultimate addition to cheese boards, a crunchy salad topping, or your new favorite cheesy snack.
History
This delicious snack comes from the mountainous northeastern corner of Italy. Frico was traditionally made with Montasio, an alpine cow's milk cheese that dates back to the 1200s where it was created by Benedictine monks. The dish began as a way to use up the rinds of Montasio cheese. There are two versions of frico. One is a soft pancake, similar in some ways to tortilla española–the rinds are grated and melted in a frying pan, sometimes extra ingredients like thinly sliced potatoes are added to make a meal, and cooked until the cheese browns and then flipped to brown the other side. The second version only uses cheese and is cooked until crisp. When the cheese crisp is still warm it can be molded into shapes or bowls for a unique presentation.
Montasio Cheese
Montasio cheese is not easy to find unless you have access to an excellent cheesemonger, and even then it is not always available. We decided to test our recipe with two other Italian cheeses that are more widely available, and some that often come pre-grated or shredded so the prep work is minimal. For the test we used grated and shredded Parmigiano Reggiano cheese from Parma and Pecorino Romano cheese from the Lazio region near Rome. Both are firm cheeses with Parmigiano having a more intense nutty flavor, and Pecorino being a little saltier.
How to Make Frico
Frico is extremely easy to make. All you need is a baking sheet and some parchment paper or a silicone baking mat. Make small piles of cheese in a thin layer and bake for 5-6 minutes until browned and bubbling in a 400˚F oven. You need about 2-3 tbsp cheese to make a cracker 3-4 inches in diameter.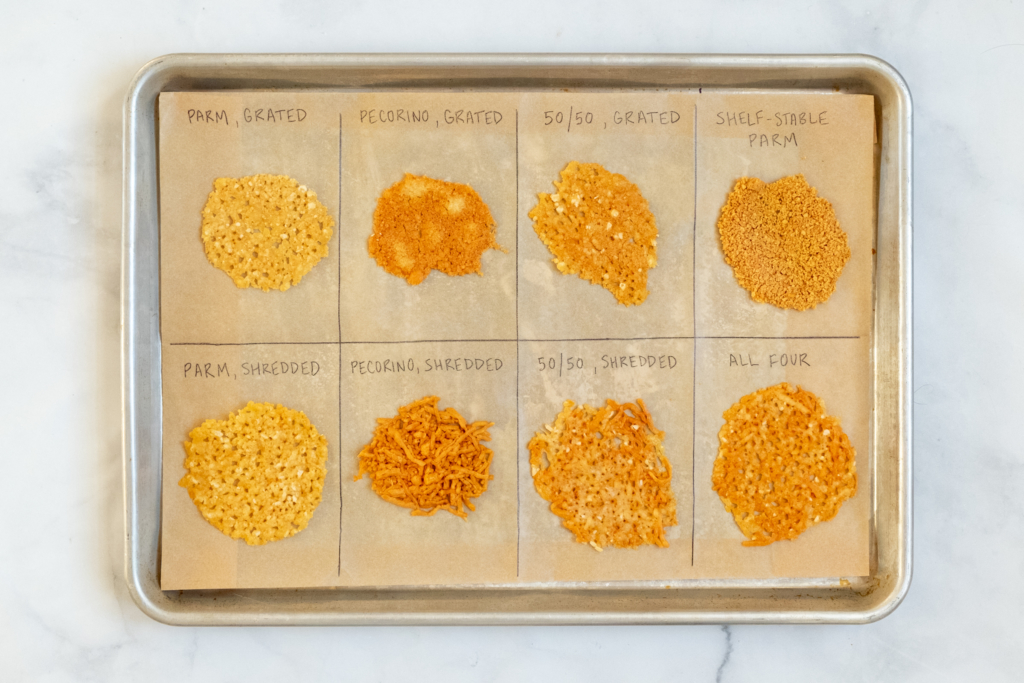 Parmigiano, Grated + Shredded
It's pretty hard to tell the difference between the grated and the shredded Parmigiano once they're baked . The cheese melts so well that it does a great job creating the lacy characteristic of good frico. Parmigiano's intense nutty flavor is delicious no matter how you eat it, but this extra crispy cracker is near perfection.
Pecorino, Grated + Shredded
You can see the Pecorino browned more than the Parmigiano in this version. The grated and shredded product we bought from the store were more distinct than its Parmigiano counterparts, but it's still interesting to see how clearly you can see the separation in crisping between the two. The Pecorino never fully melted into a new shape, which may have something to do with the salt and fat content of the sheep's milk cheese.
50/50 Blend, Grated + Shredded
This is our favorite version that we tested. The Parmigiano does a great job of keeping the frico together, but the Pecorino adds another hit of saltiness and a little more sharpness from the sheep's milk. Both the grated and shredded options were delicious, but the edge goes to the grated since it incorporated better (the shredded never fully melted into a new form).
Shelf Stable Parm
Whatever you combo you pick, do not use a shelf stable grated parmesan product. The grated cheeses found in the center aisle of the grocery store have added cellulose to keep them from clumping at room higher temperatures. Turns out clumping is exactly what you need in order to make delicious frico. The crackers made from this grated parm were very crumbly and never really melted into a cohesive cracker. As always the better your ingredients, the better the end product.