A couple of years ago I joined a farm share. The sudden presence of a bounty of fresh veggies was instrumental in forcing me to start eating healthier and incorporate more vegetables into my meals. An added bonus was that every so often the farm share would include an unusual item in addition to the standard potatoes, peppers, and cabbages. One such item was garlic scapes.
Garlic scapes are the flower stalks of garlic bulbs and are a delightfully delicious and surprisingly versatile addition to any number of dishes and meals. Scapes are less pungent than garlic cloves and have a taste similar to spring onions. It's unlikely that you'll find garlic scapes at your local supermarket but if you do I heartily recommend grabbing a bunch and try whipping up some of the following recipes. I guarantee that you won't be disappointed with the results.
Garlic Scape Pesto
Garlic scape pesto is remarkably simple to make and arguably tastes better than regular basil pesto. Best of all, scape pesto doesn't turn brown as quickly as the basil variety so it will last for longer.
You'll need
12 garlic scapes with the bulbs removed
1/2 cup pine nuts
1/4 tsp kosher salt
1 cup virgin olive oil
1 cup parmesan cheese
A food processor
Method
Place the nuts into a dry pan and gently heat for a few minutes. Once the nuts start to brown remove them from the heat. Cut the scapes into small pieces and grate the parmesan cheese.
Place the scapes and salt into a food processor and mix while at the same time slowly adding the oil. Once the scapes and oil have combined you should be left with a smooth paste. Add the nuts and parmesan and process until the nuts are finely chopped.
Grilled Scapes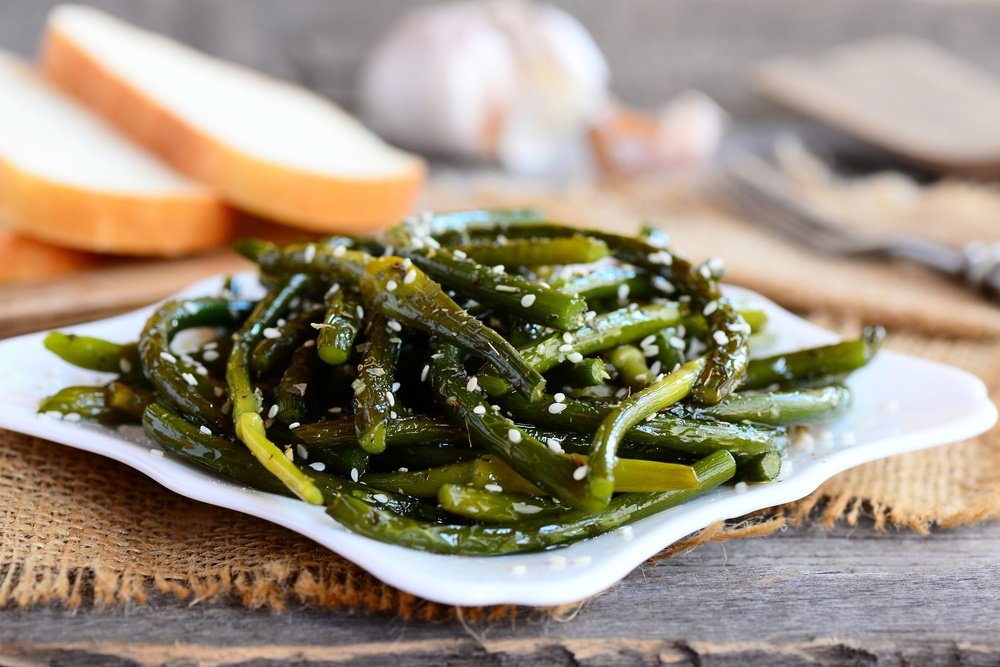 One of the simplest and quickest ways to cook garlic scapes is to grill them. Grilling scapes gives them a sweeter flavor and softens the garlic flavor considerably.
The best way to barbeque some scapes is to just treat them as you would some spring onions or asparagus, and throw them directly on the grill. Simply coat the scapes with some oil and add some salt and pepper. Place the scapes on a hot grill for about 4 minutes, turning once. Once the scapes begin to char they're ready to take off the fire.
Scape Stir-fry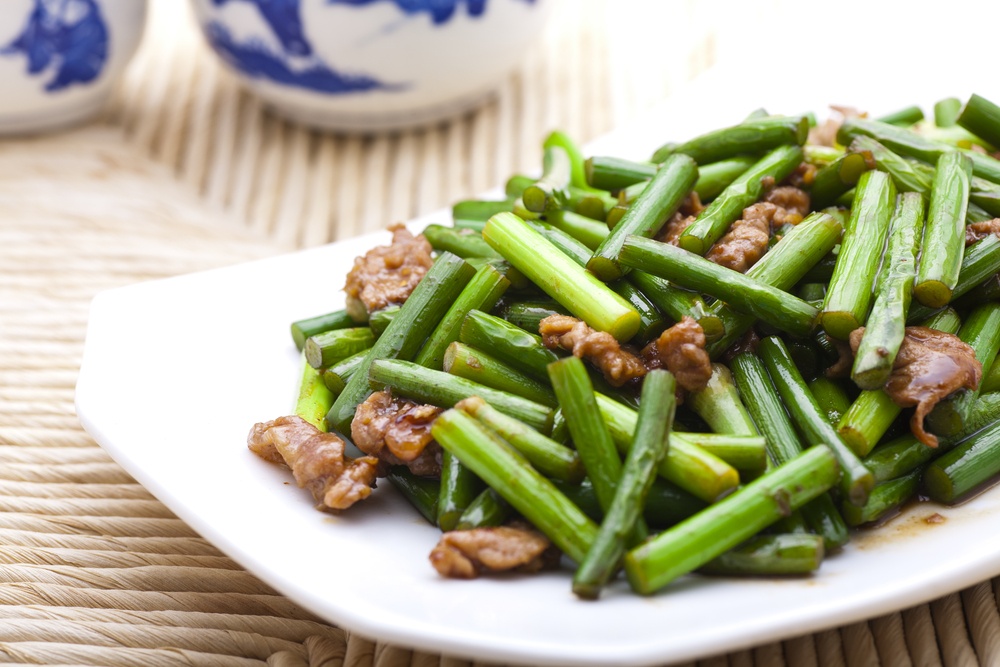 Scapes can be used as either an aromatic or just a vegetable addition to stir-fry and mixed vegetable dishes. I'm particularly partial to using scapes in a stir-fry. The scapes add a subtle garlic flavor and really enhance the overall taste and texture.
You'll need
1 pound of pork fillet cut into strips
1 cup garlic scapes cut into 3-inch length pieces
1 bell pepper diced
2 tbsp minced ginger
1/4 tsp pepper flakes
1 1/2 tsp cornstarch
2 tsp soy sauce
2 tbsp rice wine
1/2 tsp salt
1/4 cup vegetable stock
Vegetable oil
Method
Combine the pork, cornstarch, half the soy sauce, 1 tsp rice wine, and the salt in a large bowl. Mix until the pork is coated. Finally, add 1 tsp of oil and mix.
In a smaller bowl combine the stock, the remaining rice wine, and 1 tsp of soy sauce.
Heat the wok and add some oil. Once the oil is hot add the ginger and pepper flakes. Cook for about 10 seconds. Add the pork and cook for about 2 minutes until browned. Add the scapes and pepper and cook for a few more minutes. Add the sauce and cook until the pork is cooked all the way through.