This recipe is packed with bold and bright flavors. Fresh basil and chives harmoniously round out the garlicky aioli, with just a hint of heat provided by the whole grain mustard. The aioli plays two creative roles in this recipe. Firstly, as a marinade for the pork tenderloin and, secondly, as a tasty sauce perfect for dipping. To minimize your meal prep, feel free to prepare the aioli a day or two in advance. The grapes add a sweet-tart element to this recipe, creating a delicious combination when paired with the pork and sweet potatoes. The grapes are seasoned with shallots, brown sugar, balsamic vinegar, salt, and pepper. Keeping the grapes on the vine maintains better airflow, cooking the grapes more evenly, and it makes the stems easier to remove from the soft grapes.
Aioli & Herb Pork Tenderloin with Roasted Grapes
Please always check your food to ensure your food has been cooked to safe serving temperatures. Please see our guide
here
for recommended FDA Time & Temperatures.
Servings: 4
Difficulty: 3 hours and 35 minutes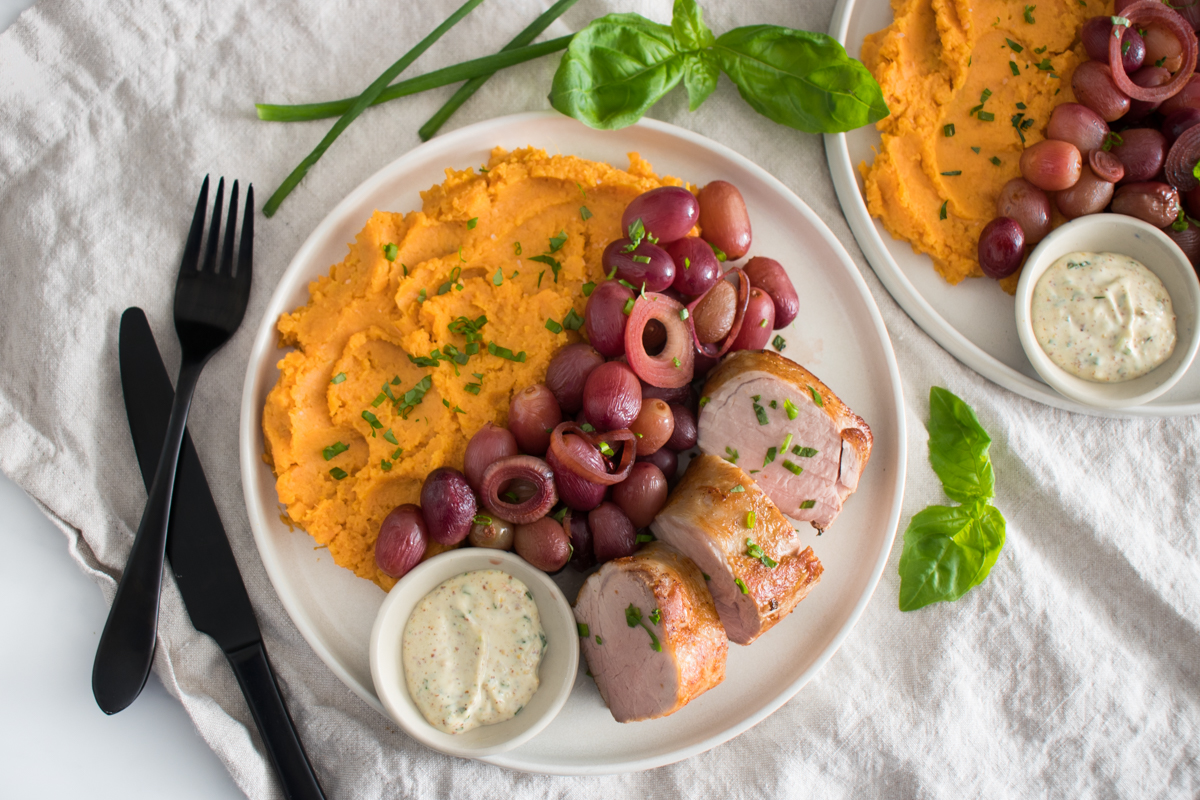 Ingredients
½ cup mayonnaise
1 tbsp fresh chives, chopped, plus extra for garnish
1 tbsp fresh basil, chopped, plus extra for garnish
2 garlic cloves, peeled and minced
2 tbsp whole grain mustard
1 (1½ lbs) pork tenderloin
2 bunches red, seedless grapes
¼ cup sliced shallot
2 tbsp balsamic vinegar
1 tbsp brown sugar
¼ tsp salt
¼ tsp ground black pepper
1½ lbs sweet potatoes, peeled and diced
2 tsp olive or vegetable oil
1 tbsp unsalted butter
Directions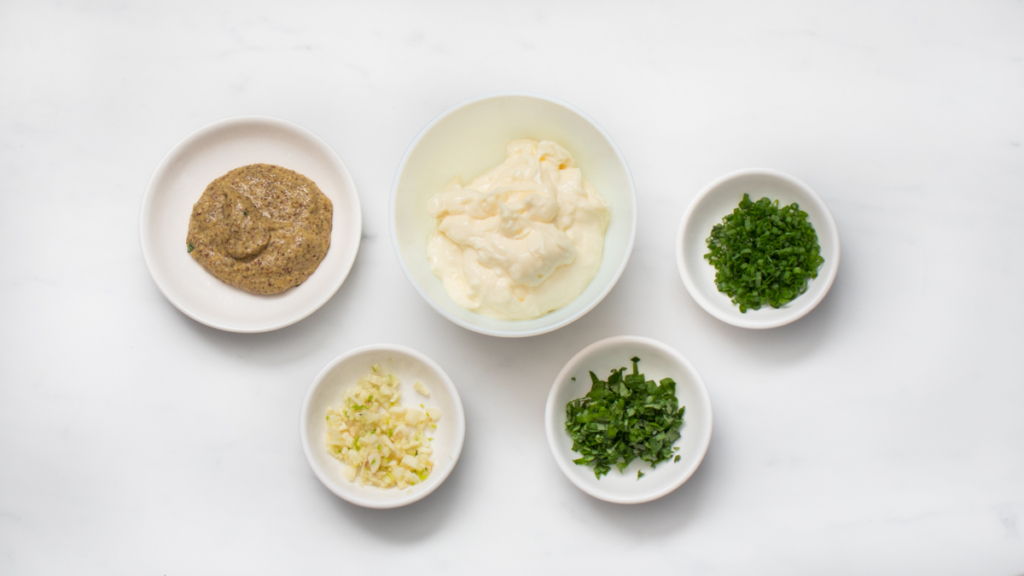 1) In a small bowl, whisk together mayonnaise, chives, basil, garlic, and mustard.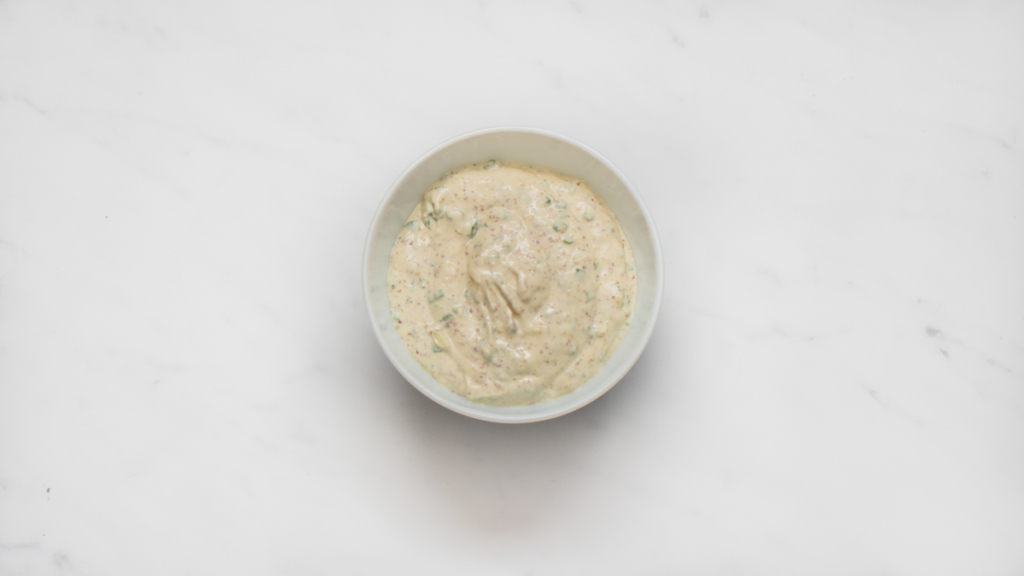 2) Pat pork tenderloin dry with paper towels and cut in half. Spread half the aioli over the tenderloin to completely cover (refrigerate the remaining aioli).
Vacuum seal tenderloin using a vacuum sealer or with our DIY vacuum sealing guide. Place sealed pork in a Suvie pan.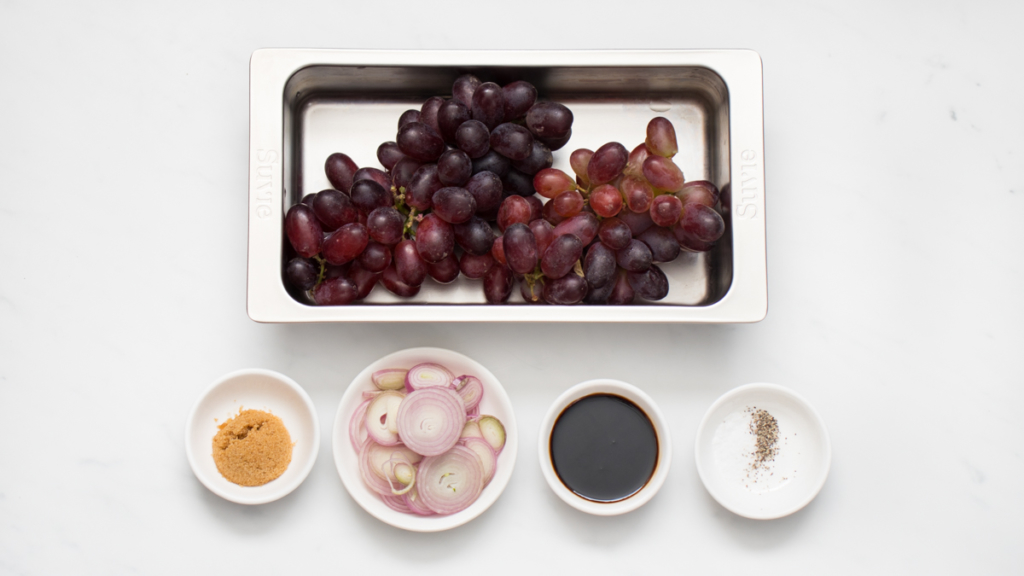 3) Place grapes and shallots in another Suvie pan, drizzle with balsamic and sprinkle with sugar, salt, and black pepper.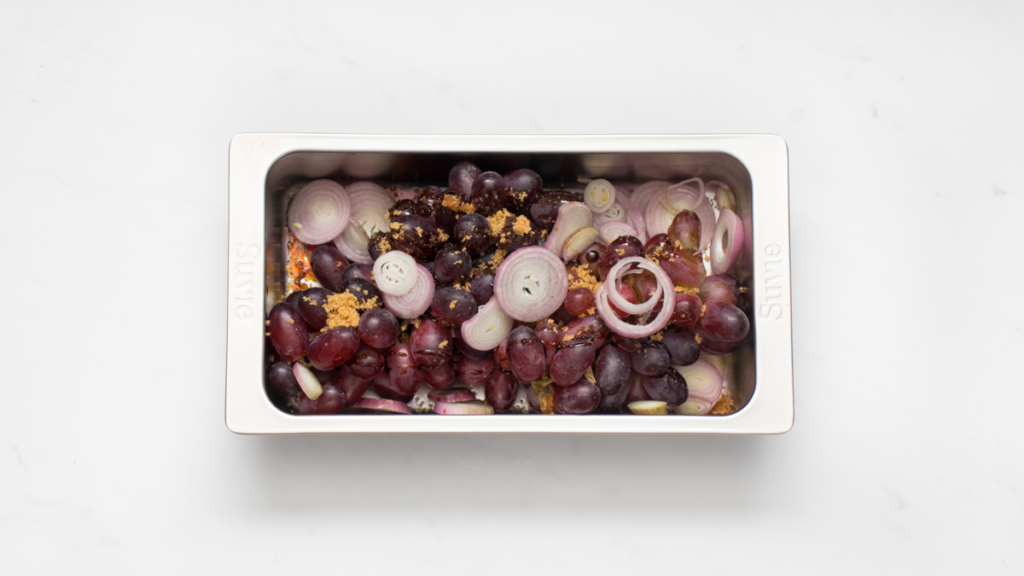 4) Place sweet potatoes in the starch pan. Place the pan with the pork in the top right zone of your Suvie, place grapes in the top left zone, and place sweet potatoes in the bottom right zone. Fill reservoir, input settings, and cook now or schedule.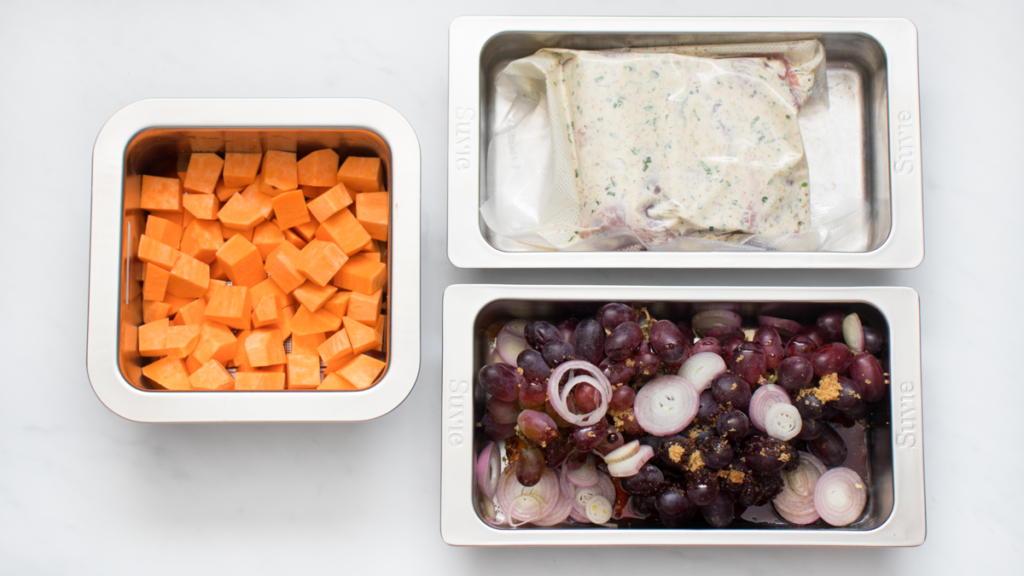 My Cook > Multi-Zone Settings
Protein: 135°F, 2 hours 
Vegetable: 10 minutes
Starch: 50 minutes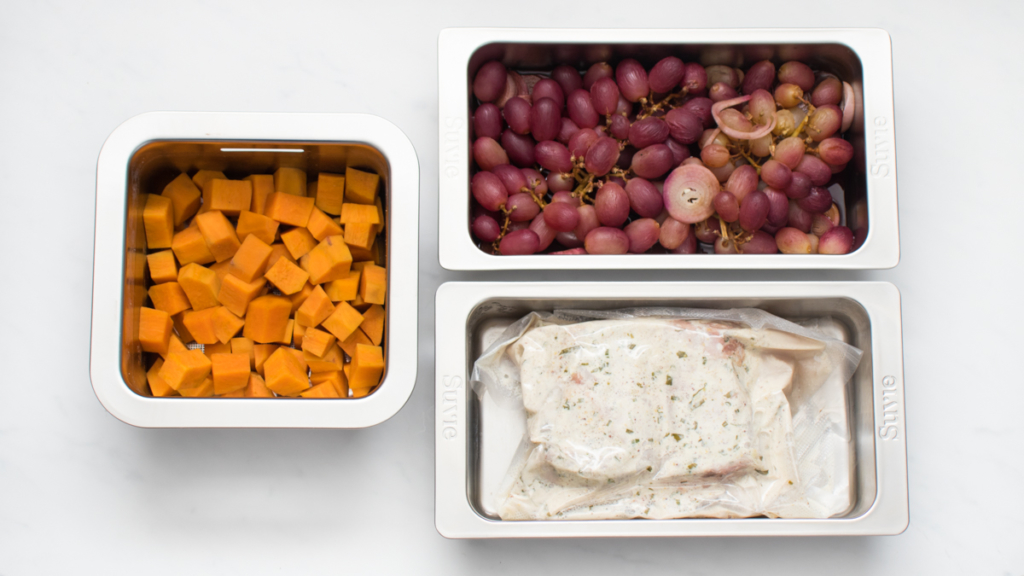 5) After the cook, remove all the pans from your Suvie. Drain excess water from the protein pan, remove pork tenderloin from vacuum-sealed bag, and pat pork dry with paper towels. Heat oil in a large skillet over medium-high heat until shimmering. Add the tenderloin and sear on all sides until browned, about 30 seconds per side. Remove pork from skillet and set aside to rest, about 5 minutes, before slicing in 1-inch thick medallions.
6) While the pork sears, remove and discard grape stems and toss grapes in the pan sauce. Return pan to your Suvie and broil for 10 minutes or until grapes have caramelized slightly, stirring halfway through.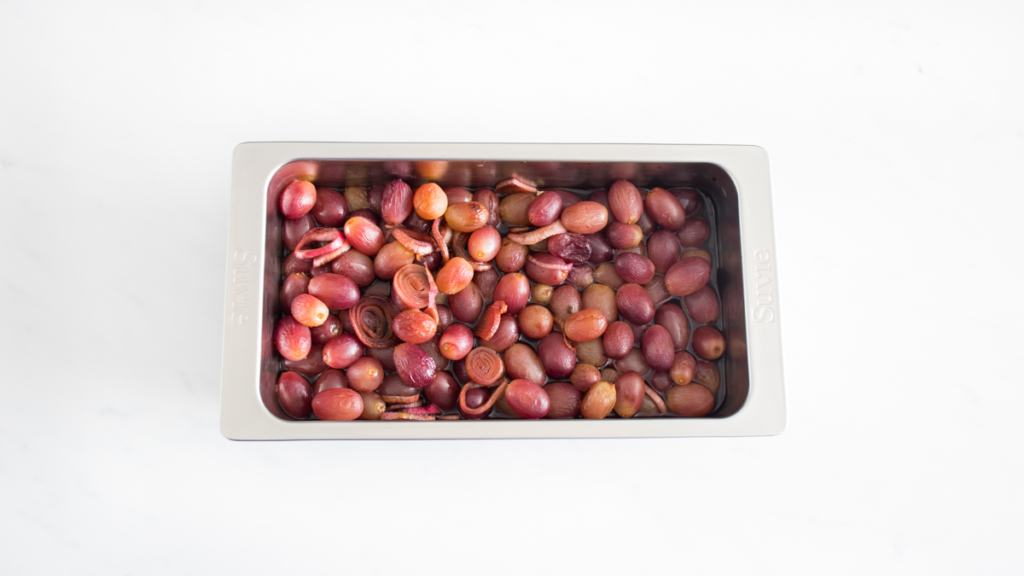 7) Transfer sweet potatoes and butter to a large bowl. Using a potato masher or fork, mash until smooth. Season to taste with salt and pepper.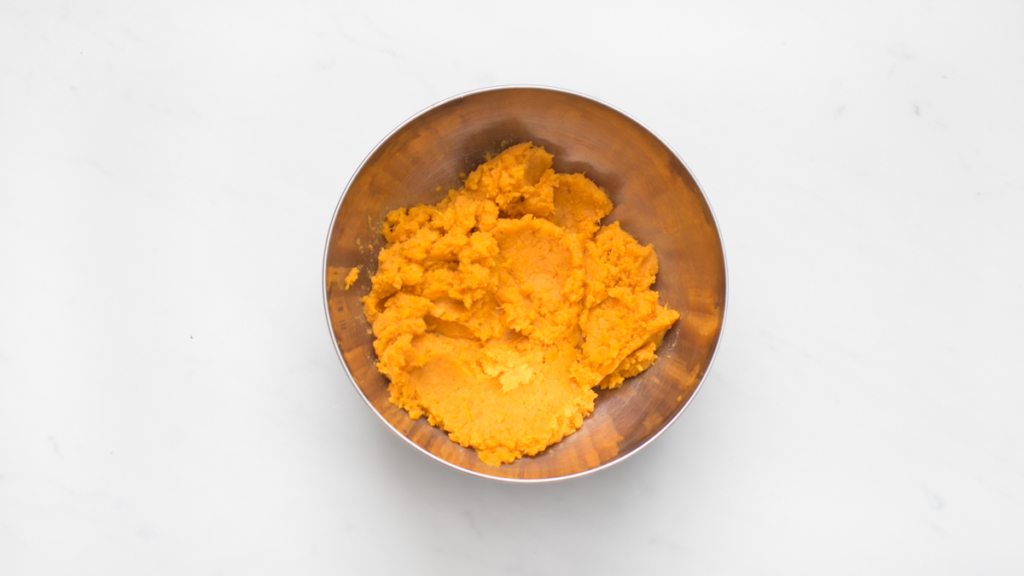 8) To serve, divide sweet potato mash, grapes, and sliced pork tenderloin between 4 plates. Sprinkle each serving with herbs to garnish and serve reserved aioli on the side.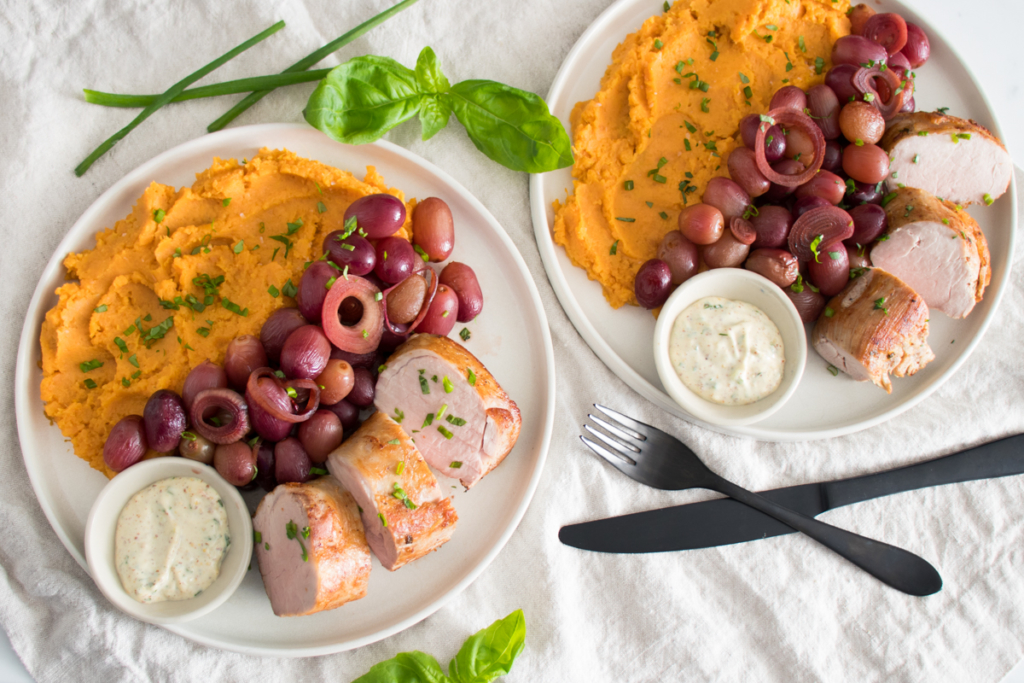 Nutrition