With an entire block of rich and tangy feta cheese nestled in between colorful vegetables, this creamy sauce is the perfect comfort sauce for juicy chicken and fluffy rice. Feta is the perfect cheese to use in this dish because it brings the right level of salt and depth when mixed into fresh and juicy roasted vegetables. To prepare the rice without the Suvie Starch Cooker, bring 1 1/2 cups water to a boil, add 1 cup rice, and cook over low heat for 20 minutes.
Baked Feta with Chicken and Vegetables
Please always check your food to ensure your food has been cooked to safe serving temperatures. Please see our guide
here
for recommended FDA Time & Temperatures.
Servings: 4
Difficulty: 50 minutes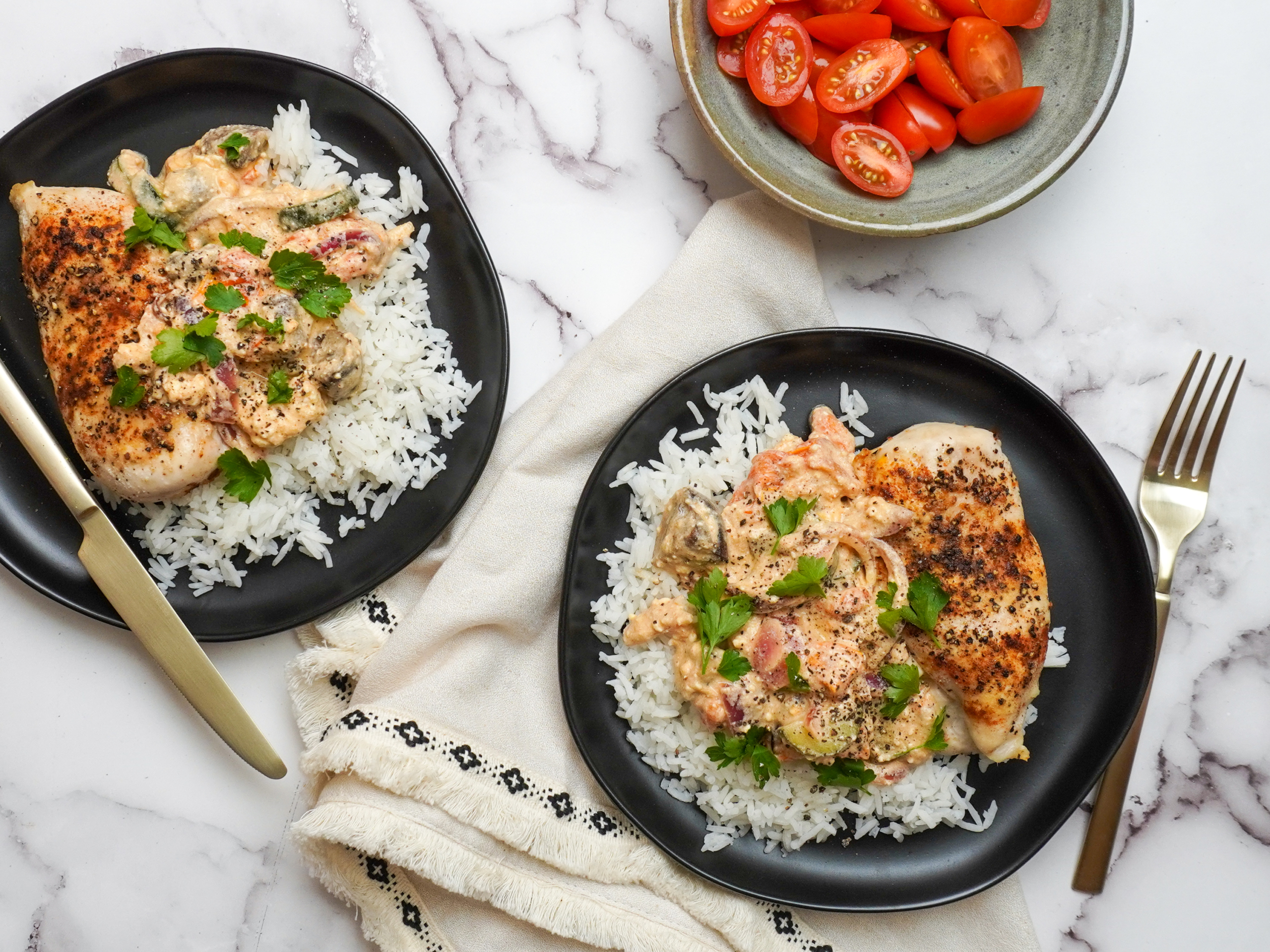 Ingredients
1 ½ lbs boneless, skinless chicken breast
½ tsp smoked paprika, divided
½ tsp garlic powder, divided
8 oz greek-style feta cheese block
5 oz baby bella mushrooms, quartered
1 cup red onion slices
1 medium zucchini, cut into ½" thick half moons
5 oz cherry tomatoes, halved lengthwise
1 cup jasmine rice
2 tbsp roughly chopped fresh parsley
Directions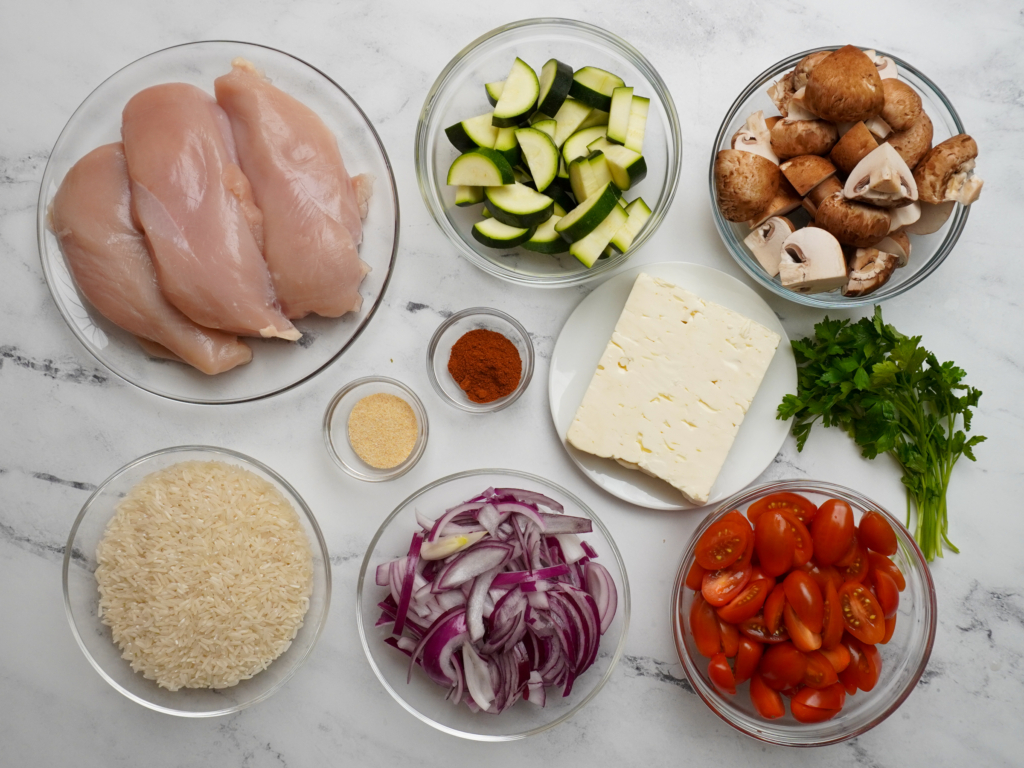 1) Lay 1 ½ lbs chicken breast in a Suvie roasting rack and set the rack into a Suvie pan. Drizzle olive oil on the chicken breasts and season with ¼ tsp smoked paprika, ¼ tsp garlic powder, ½ tsp salt, and ¼ tsp pepper. Load the chicken breasts into the bottom zone of your Suvie.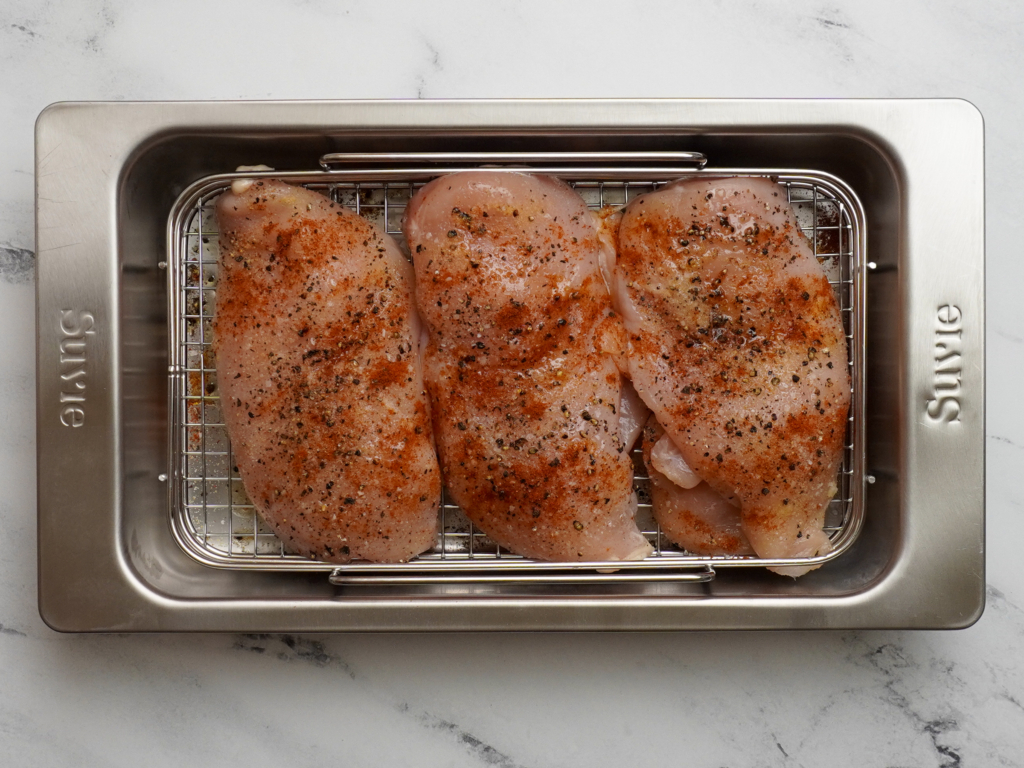 2) Place 8 oz feta cheese block in the middle of another Suvie pan and surround it with 5 oz baby bella mushrooms, 1 cup red onion slices, 1 medium zucchini, and 5 oz cherry tomatoes. Drizzle ¼ cup olive oil over the cheese and vegetables and sprinkle with ¼ tsp smoked paprika, ¼ tsp garlic powder, ¼ tsp salt, and ¼ tsp pepper. Load cheese and vegetables into the top zone of your Suvie. Input settings and cook now.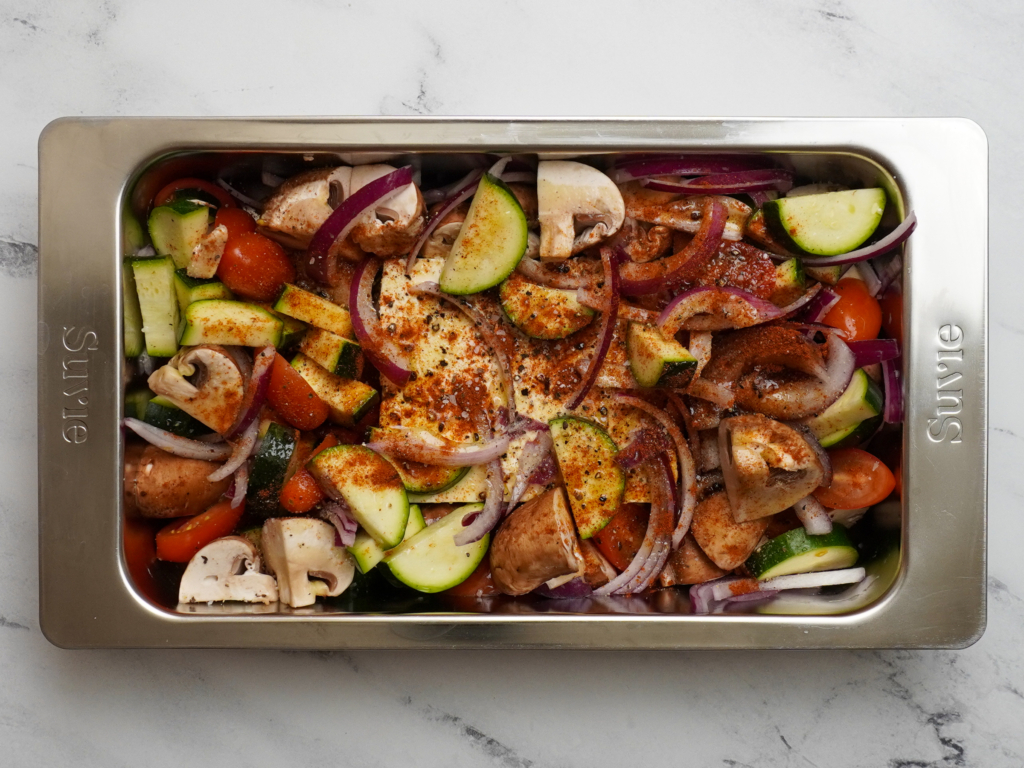 Suvie Cook Settings
Bottom Zone: Roast at 375°F for 30 minutes
Top Zone: Roast at 400°F for 50 minutes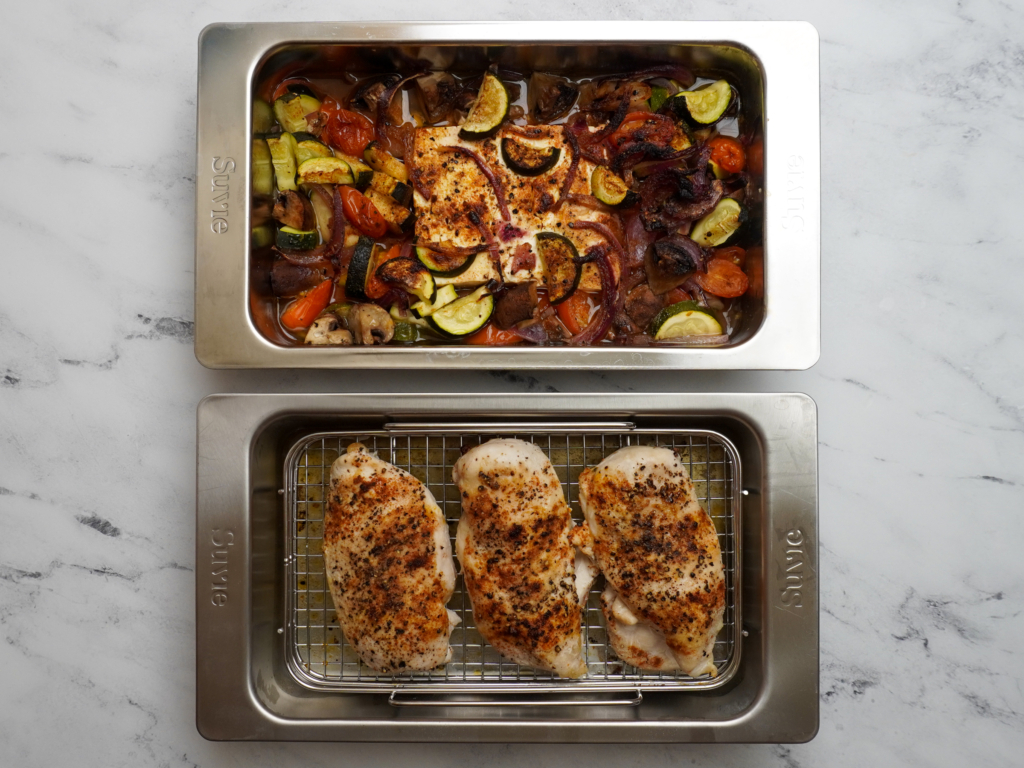 3) While the chicken and vegetables roast, fill the water reservoir located on top of the Suvie Starch Cooker to the 3 liter line. Place 1 cup jasmine rice in the rice pot (black handles), and place the pot lid on top. Place the rice pot on the hot plate, close the door, ensure drain tray is in place, and hit "Cook".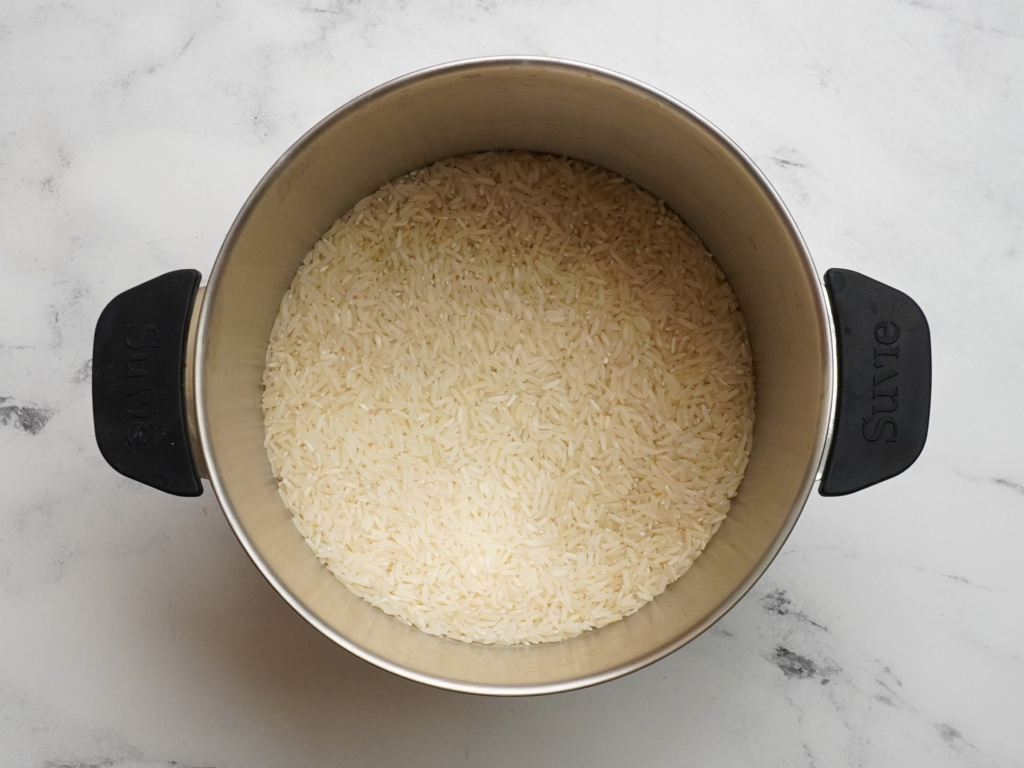 Suvie Starch Cooker Settings:
Rice, Long Grain, 1 Cup
4) After the cook, remove the chicken breasts and vegetables from your Suvie.
5) Remove the rice from the Suvie Starch Cooker and fluff with a fork.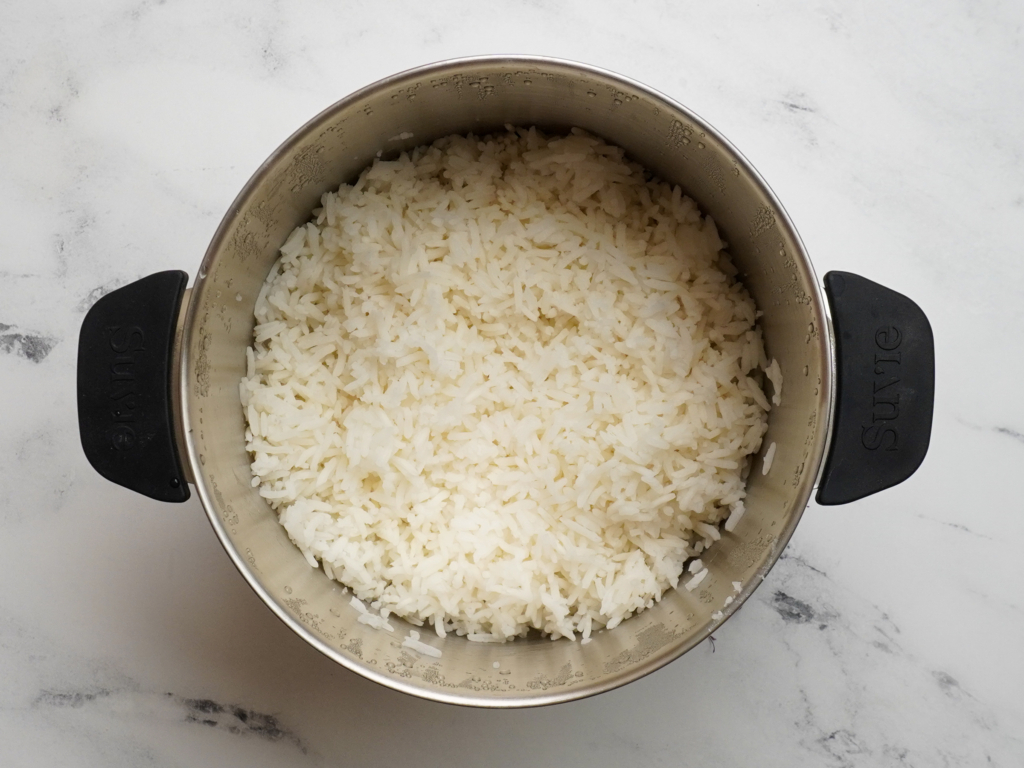 6) With a spatula, stir the baked feta into the vegetable juice until smooth. To serve, divide the rice, chicken breasts, and feta sauce between plates and top with the 2 tbsp fresh parsley.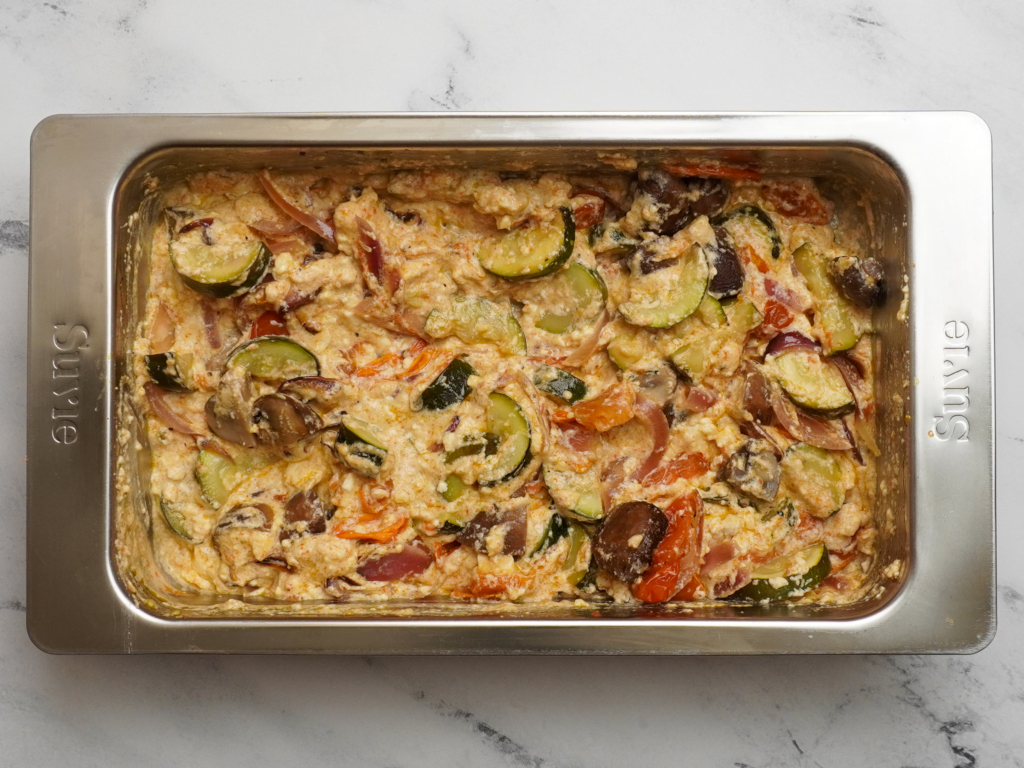 Nutrition
Nutritional Information per serving (4 servings per recipe): Calories 640, Total Fat 43.3g, Total Carbohydrates 18.4g, Total Sodium 80.9mg, Total Protein 66.3g