With hints of sweetness from the potatoes to the savory aromatic notes from the onion and garlic, this curry delivers the flavors of the Caribbean right into your kitchen. We've used traditional ingredients such as coconut milk, plantains, and green pigeon peas. Enjoy this hearty curry with warm fluffy jasmine rice as soon as it's done cooking or freeze for an easy staycation meal later. Use plantains that are yellow mottled with brown spots, but are not completely brown yet.
Note: If you would like, add 1-2 tsps homemade Curry Powder to add even more flavor to this delicious meal.
Caribbean Plantain Curry
Please always check your food to ensure your food has been cooked to safe serving temperatures. Please see our guide
here
for recommended FDA Time & Temperatures.
Servings: 6
Difficulty: 4 hours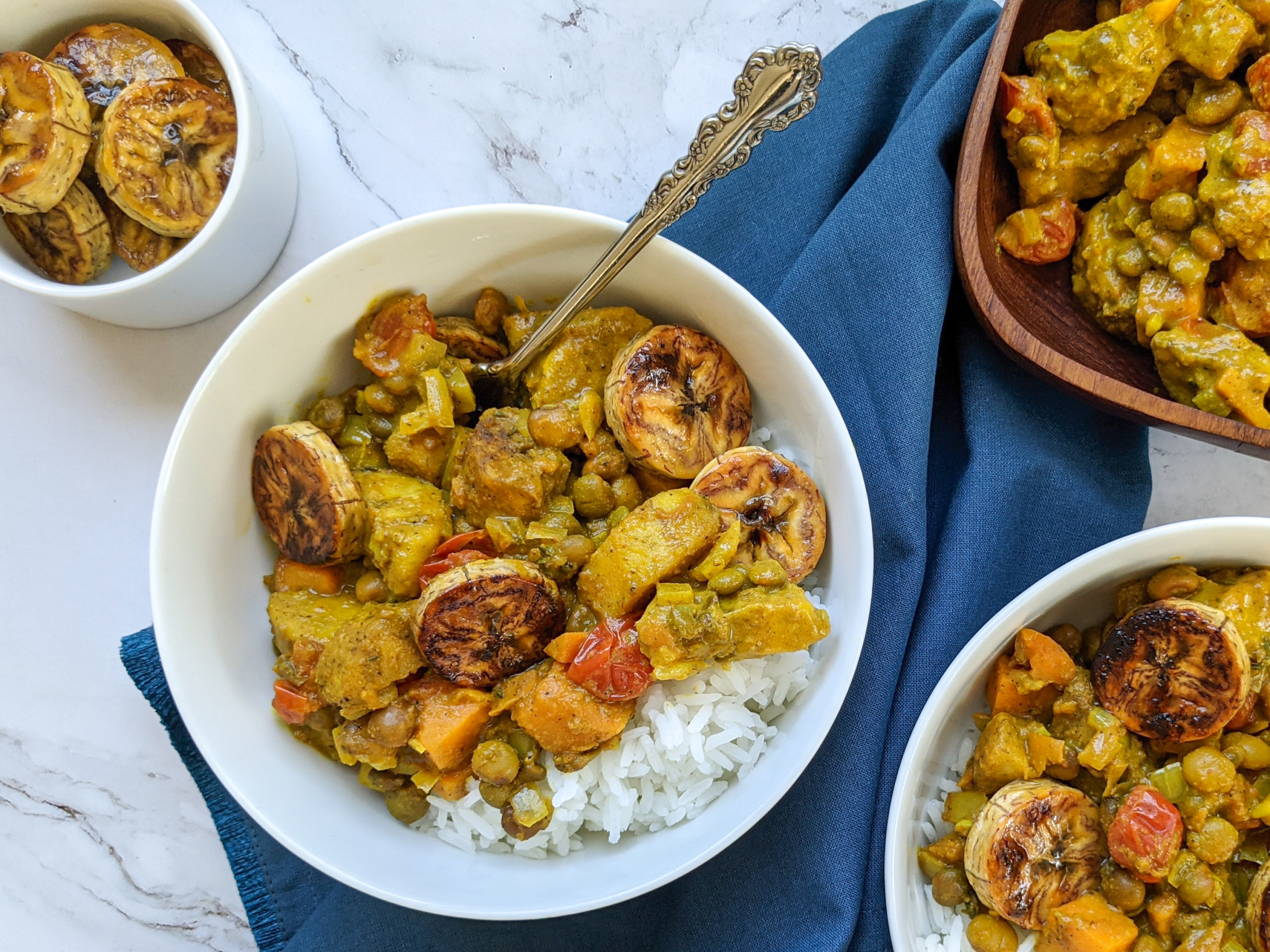 Ingredients
1 cup sweet potato, peeled and cut into ½" cubes
2 slightly ripe plantains, peeled, 1 cut into ½" thick coins and the other cut into ½" thick half moons, divided
½ cup finely chopped yellow onion
2 clove garlic, finely chopped
1 cup canned pigeon peas, drained
1 cup grape tomatoes, halved
½ cup full fat coconut milk
¼ cup chicken broth
1 ½ tbsp curry powder
½ tsp ginger powder
1 tsp fresh thyme
1 tsp granulated sugar
8 oz jasmine rice
Directions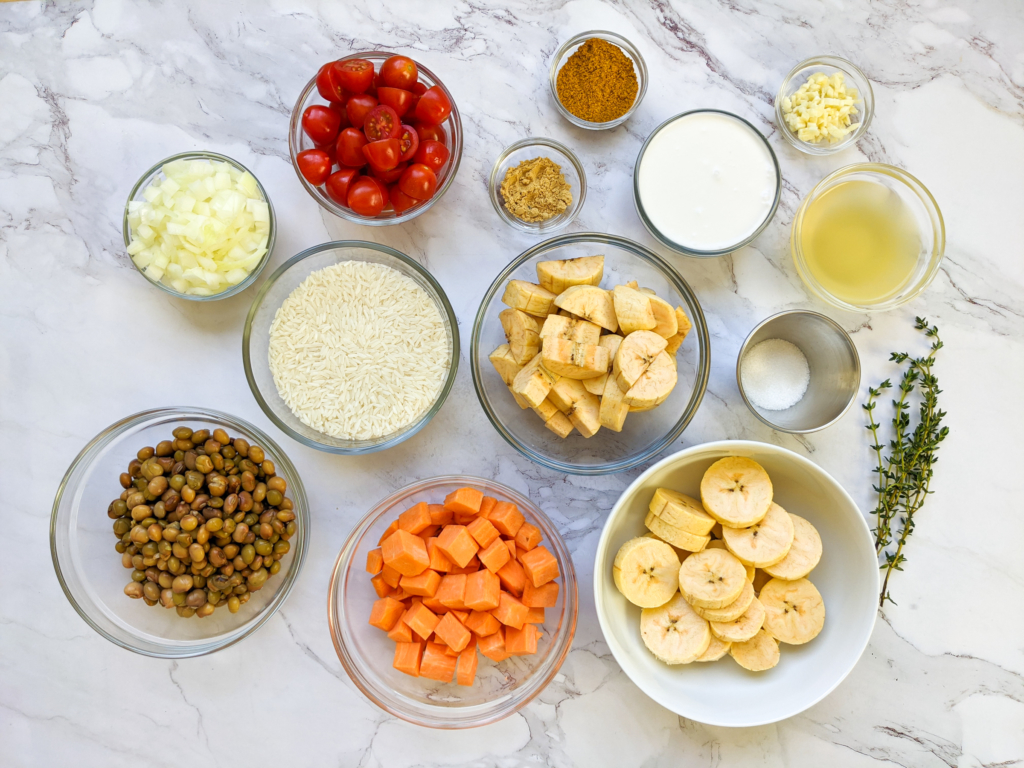 1) In a large bowl, stir together sweet potato, plantains cut into half moons, onion, garlic, pigeon peas, tomatoes, coconut milk, chicken broth, curry powder, ginger, and thyme.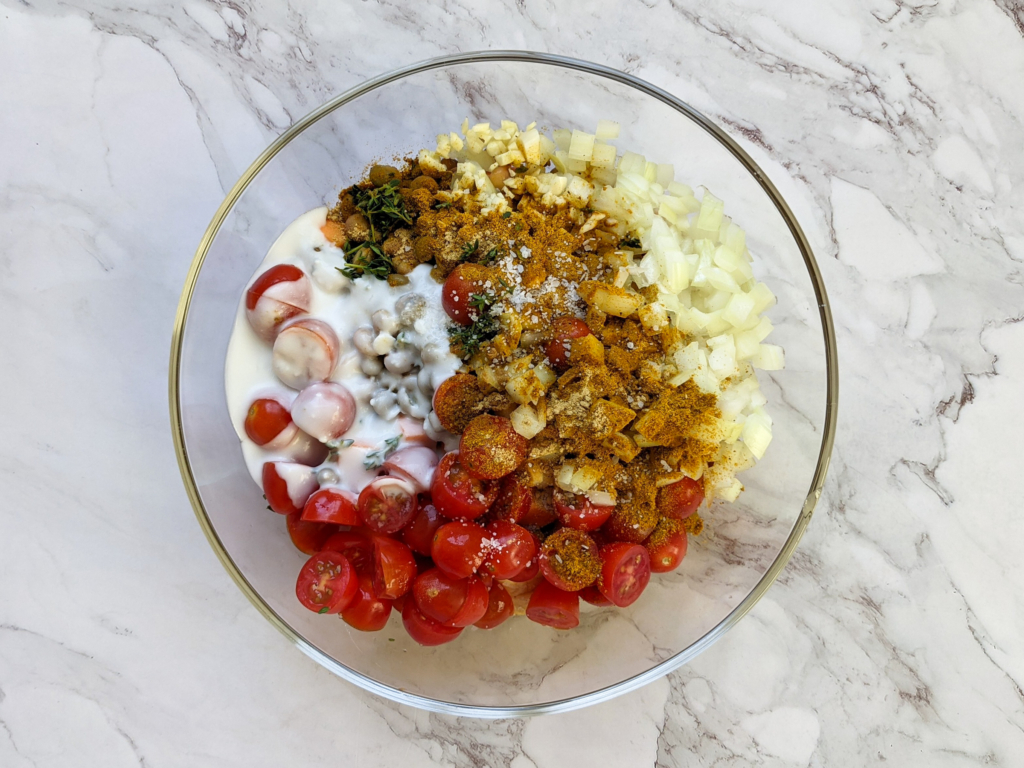 2) Transfer curry to Suvie pan and load into bottom zone of Suvie.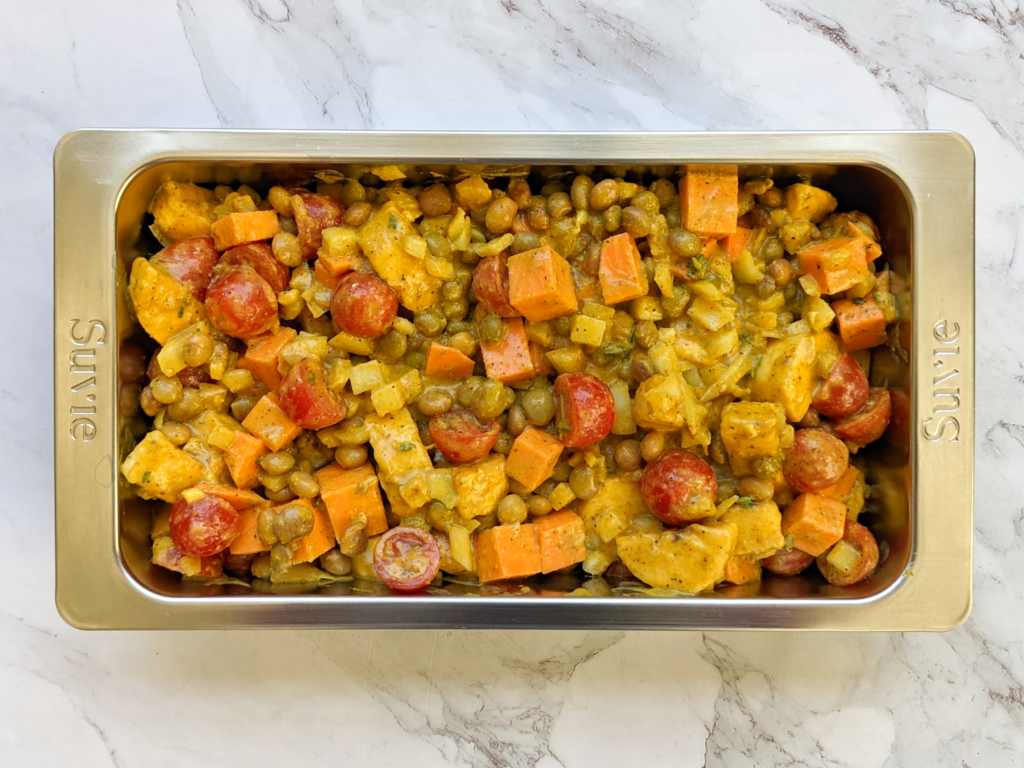 3) Lightly grease another Suvie pan and arrange remaining plantain rounds in a single layer. Load pan into top zone of Suvie.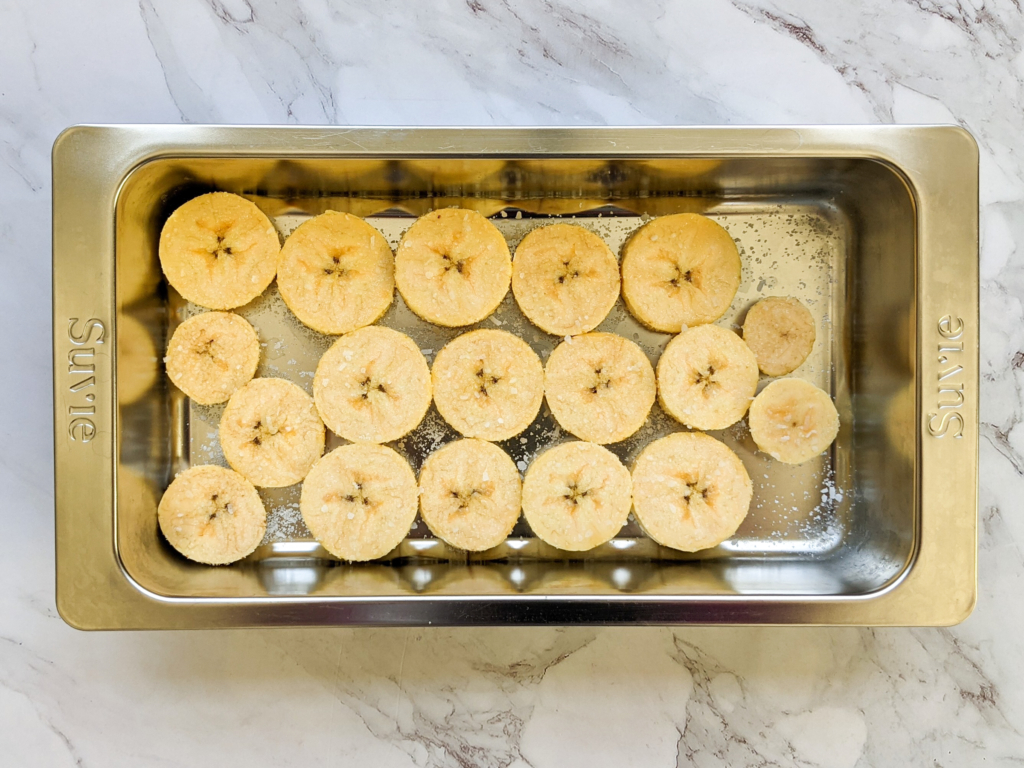 4) Add rice to Suvie starch pot and load into Suvie Starch Cooker, ensuring pot is centered on the hot plate. Enter settings for long grain rice. Fill reservoir, enter cook settings and set to Cook Now or Schedule.
Suvie Cook Settings
Bottom Zone: Slow Cook on High, 2 hours
Top Zone: Slow Cook on High, 2 hours
5) After the cook, remove curry from Suvie, stir to combine, and season to taste with salt and pepper. Remove plantains from Suvie and drizzle with olive oil, sprinkle with sugar and ¼ tsp kosher salt, and return to Suvie. Broil 7-10 minutes or until golden brown.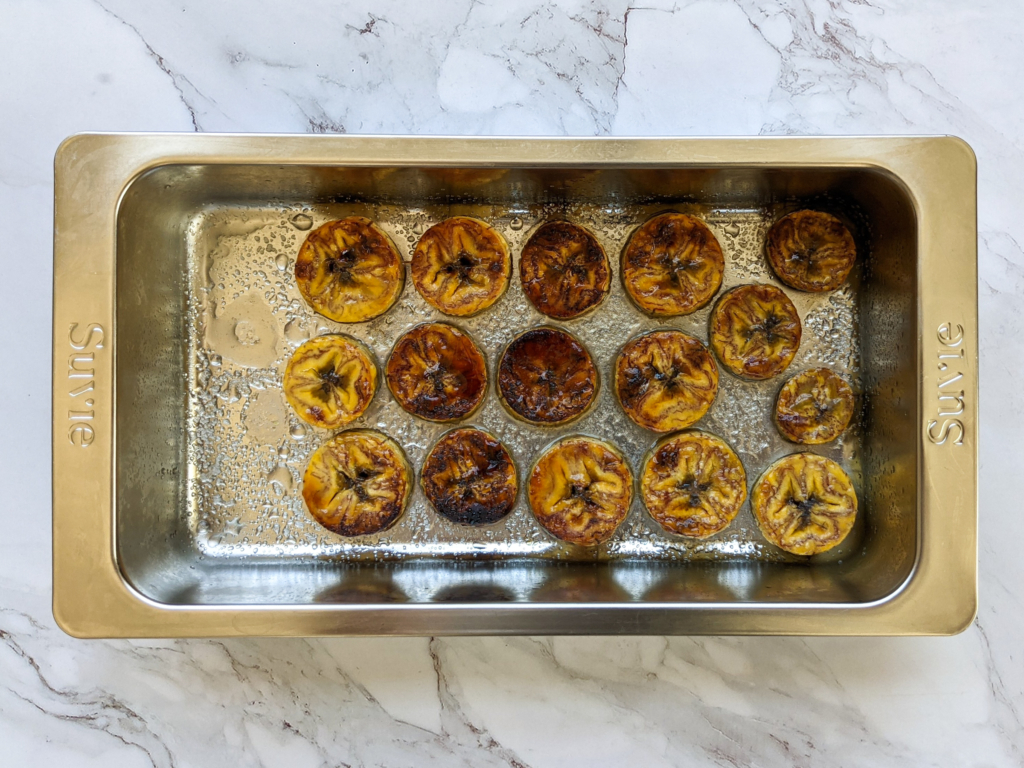 6) To serve, divide rice and curry between bowls. Top with broiled plantains.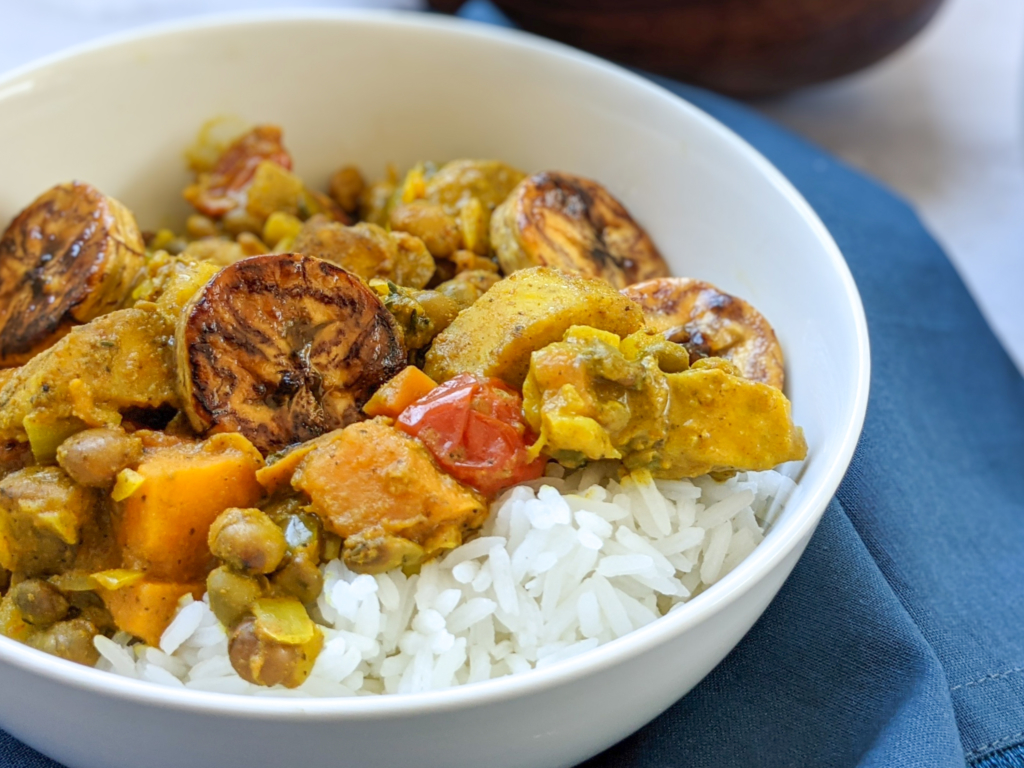 Nutrition
Nutritional Information per serving (6 servings per recipe): Calories 364, Total Fat 6g, Total Carbohydrates 70.3g, Total Sodium 119.6mg, Total Protein 5.6g