This rich and hearty gumbo is brimming with chicken, vegetables, and flavorful andouille sausage. In this recipe, we wanted all the classic gumbo flavors that we know and love with less hands-on attention. To do this, we develop a dark and flavorful roux on the stovetop that is then slow cooked with the remaining ingredients. The combination of the roux and the okra help to thicken the stew and give it body. If you have filé powder, stir in 1 tsp at the end of cooking.
Chicken and Sausage Gumbo
Please always check your food to ensure your food has been cooked to safe serving temperatures. Please see our guide
here
for recommended FDA Time & Temperatures.
Servings: 4
Difficulty: 5 hours and 45 minutes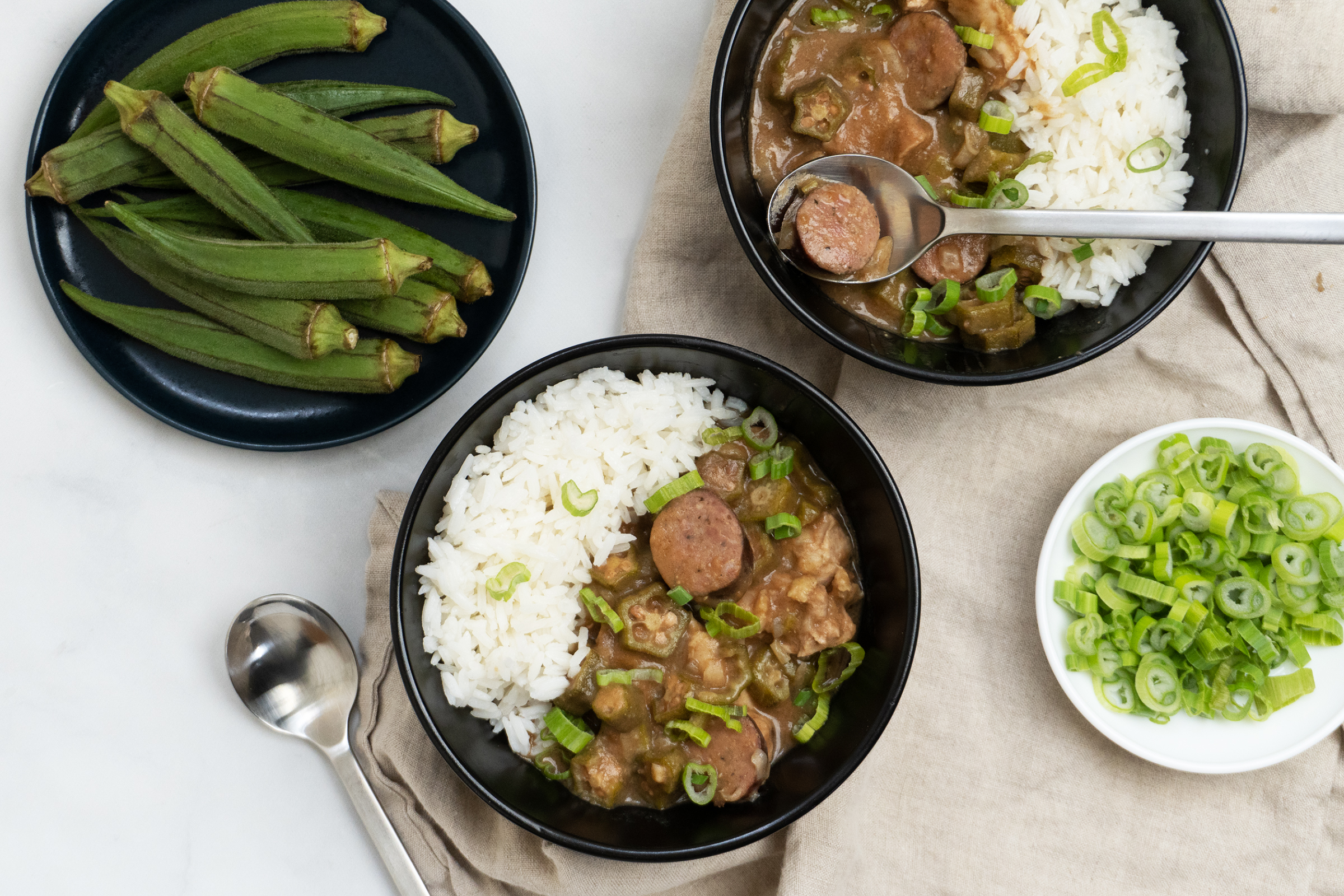 Ingredients
¼ cup vegetable oil
½ cup flour
2 boneless, skinless chicken thighs, cut into 1″ pieces
6 oz andouille sausage, sliced into coins
1 small red onion, chopped
1 celery stalk, finely chopped
1 green bell pepper, stemmed, seeded, and chopped
3 cups chicken stock
6 oz okra, sliced
1 cup white rice
2 scallions, thinly sliced
Directions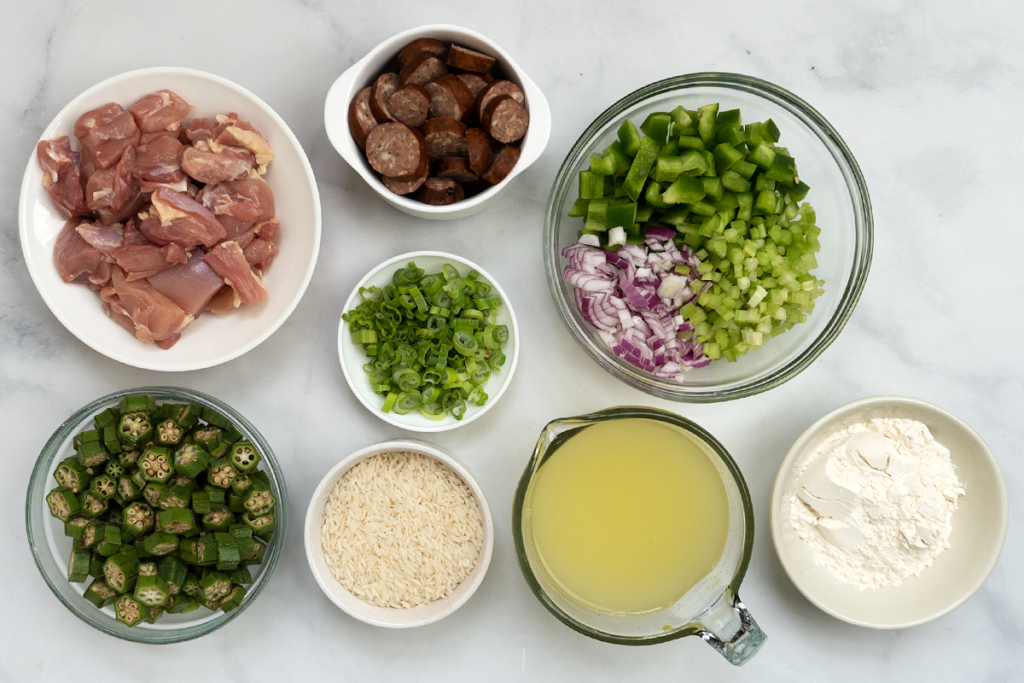 1) Heat ¼ cup vegetable oil in a medium skillet over medium-high heat until shimmering. Sprinkle in flour and cook, stirring constantly, until flour is the color of peanut butter, about 2 minutes. Reduce heat to medium and continue to cook, stirring constantly until roux has darkened and is fragrant, about 5 minutes more. Remove skillet from heat.
2) Slowly pour in chicken stock, stirring to combine. Divide chicken thighs, andouille sausage, onion, celery, bell pepper, okra, roux mixture, 1 tsp salt, and ½ tsp ground black pepper between two Suvie pans. Place pans in Suvie. Input settings, and cook now or schedule.
Suvie Cook Settings
Bottom Zone: Slow Cook on Low, 4 hours
3) Place 1 cup white rice in the Suvie rice pot (black handles). Place pot in the Suvie Starch Cooker, ensuring pot is centered on the hot plate. Close the door, input settings and cook now or schedule.
Suvie Starch Cooker Settings
Rice, Regular, 1 Cup
4) After the cook, fluff rice and divide between bowls. Season gumbo to taste with salt and pepper and pour over rice. Garnish with scallions and serve.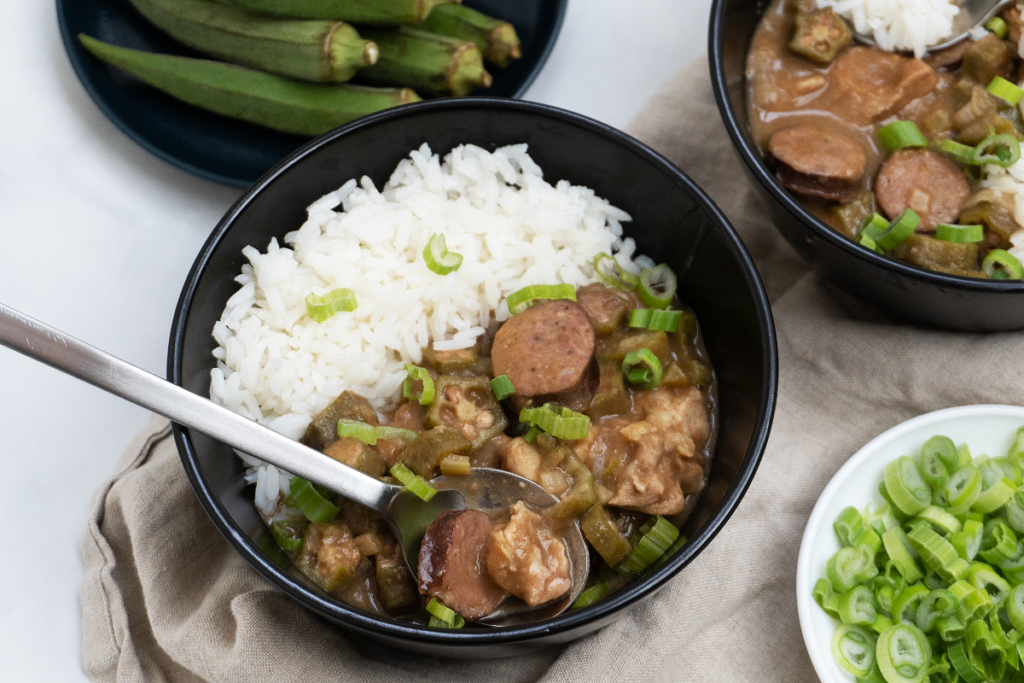 Nutrition
Nutritional Information per serving (4 servings per recipe): Calories 550, Total Fat 28g, Total Carbohydrates 75g, Total Sodium 990mg, Total Protein 19g.