For a truly special morning, start your day with a warm tray of cinnamon rolls. The beauty of this recipe is that you can make the rolls the day before and have Suvie refrigerate them overnight, bake them, and have them ready for you when you wake up in the morning. In this recipe we utilize Greek yogurt in the dough for richness and also in the frosting for subtle tanginess. If you only want to bake one pan of cinnamon rolls you can freeze the other pan after shaping them for up to 2 months. Allow the rolls to sit at room temperature to defrost before baking.
Cinnamon Rolls
Please always check your food to ensure your food has been cooked to safe serving temperatures. Please see our guide
here
for recommended FDA Time & Temperatures.
Servings: 12
Difficulty: 1 hour and 45 minutes, plus 90 minutes resting time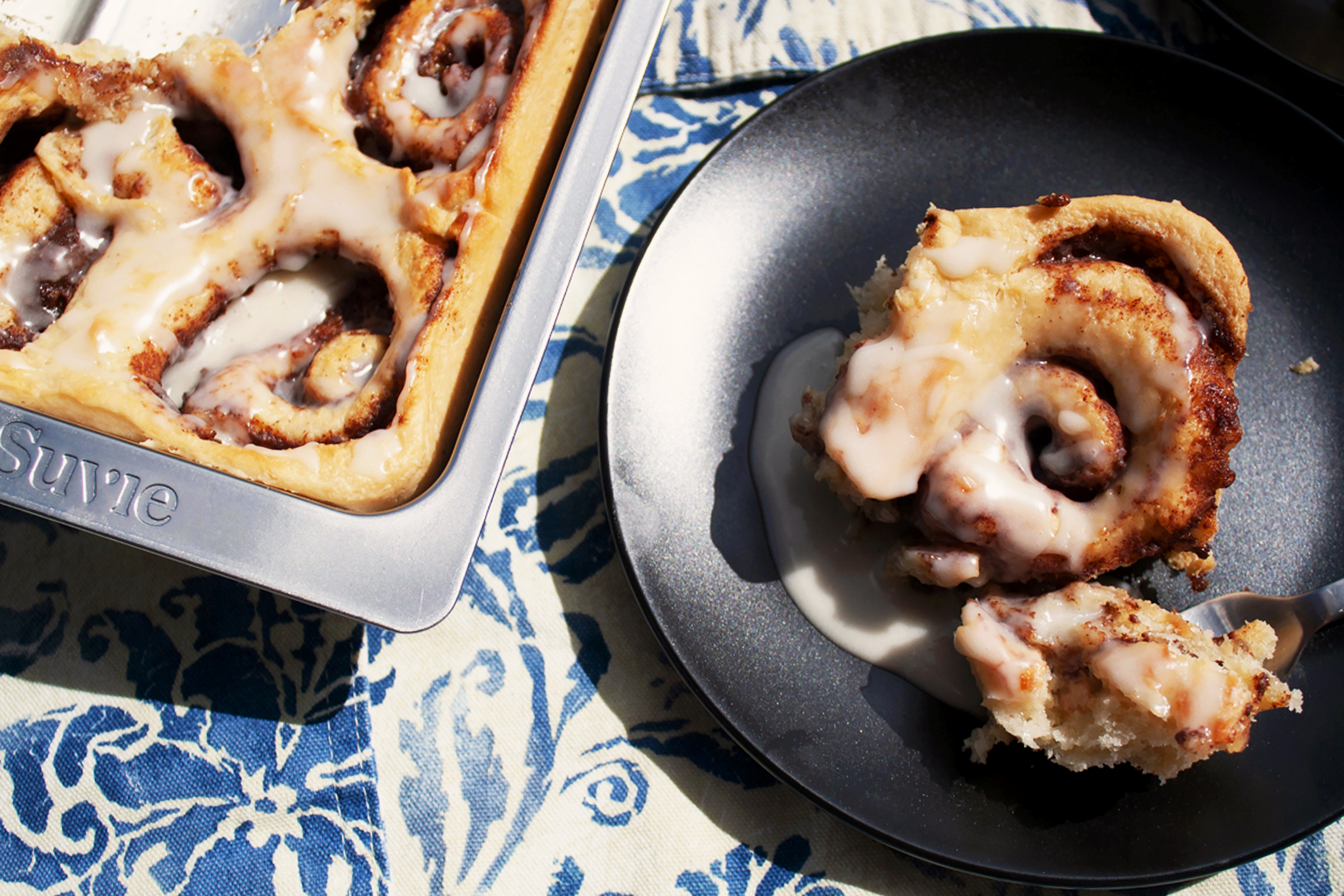 Ingredients
Dough
3 ½ cups all purpose flour
½ cup granulated sugar
2 tsp instant dry yeast
1 tsp kosher salt
¼ tsp baking soda
1 stick (8 tbsp) unsalted butter
½ cup milk
1 cup plain Greek yogurt, cold
Filling
2 tbsp unsalted butter, melted
¼ cup all purpose flour
¾ cup packed brown sugar
2 tablespoons ground cinnamon
¼ tsp kosher salt
Frosting
1 cup powdered sugar
1 tsp vanilla
2 tbsp greek yogurt
Directions
1) Spray two Suvie pans with cooking spray. In the bowl of a stand mixer, whisk together flour, sugar, yeast, salt, and baking soda. 
2) In a small saucepan, combine butter and milk and heat over medium low until butter is melted and warm. Whisk the yogurt into the milk mixture to cool the mixture slightly (ideally to 80°F).
3) Add milk mixture to flour and stir to form a rough dough. Mix dough on low speed with a dough hook until smooth and elastic, about 20 minutes.
4) Cover the bowl with plastic or a large plate until doubled in size, about 1 hour and 30 minutes (at cool temperatures less than 70°F this may take over 2 hours).
5) Transfer the dough to a lightly floured surface and roll into a 13 inch square. Stir together filling and spread over the dough, leaving a ½-inch uncovered border on one side of the square. Roll dough up into a log starting with the side opposite the uncovered edge. Pinch the seam and ends to seal.
6) Slide a piece of string under the middle of the dough and pull opposite ends together to cut the dough in half.
7) Use the same method to cut each half into 6 portions. Divide rolls evenly between prepared pans.
8) Insert pans into your Suvie, input settings, and cook now.
Suvie Cook Settings
Bottom Zone: Slow Cook High for 1 hour, 15 minutes
9) While the cinnamon rolls bake, prepare the icing. Whisk together powdered sugar, vanilla, and Greek yogurt until smooth. Set aside.
10) Once the cinnamon rolls have finished cooking, broil for 4-8 minutes until golden brown (watch carefully, as this step goes quickly).
11) Remove pans from your Suvie and let sit for 10 minutes before frosting and serving.
Nutrition
Nutritional Information per serving (12 servings per recipe): Calories 385, Total Fat 11g, Total Carbohydrates 66g, Total Sodium 242mg, Total Protein 6g