This incredibly simple Italian-inspired recipe relies on three key ingredients for the bulk of the meal: cod, kale, and cannellini beans. The rest of these ingredients you can probably rustle up from your pantry. While this dish traditionally is served with chicory instead of kale, chicory is a little hard to come by in most local markets. This recipe works because the creaminess of the cannellini beans balances the kale and lean cod. This recipe also delivers a whopping 59 g of protein per serving making it healthy and filling. We chose not to do a starch with this recipe, but you can add any starch you like to the Suvie Starch Cooker.
Cod with Kale and Beans
Please always check your food to ensure your food has been cooked to safe serving temperatures. Please see our guide
here
for recommended FDA Time & Temperatures.
Servings: 2-3
Difficulty: 2 hours and 10 minutes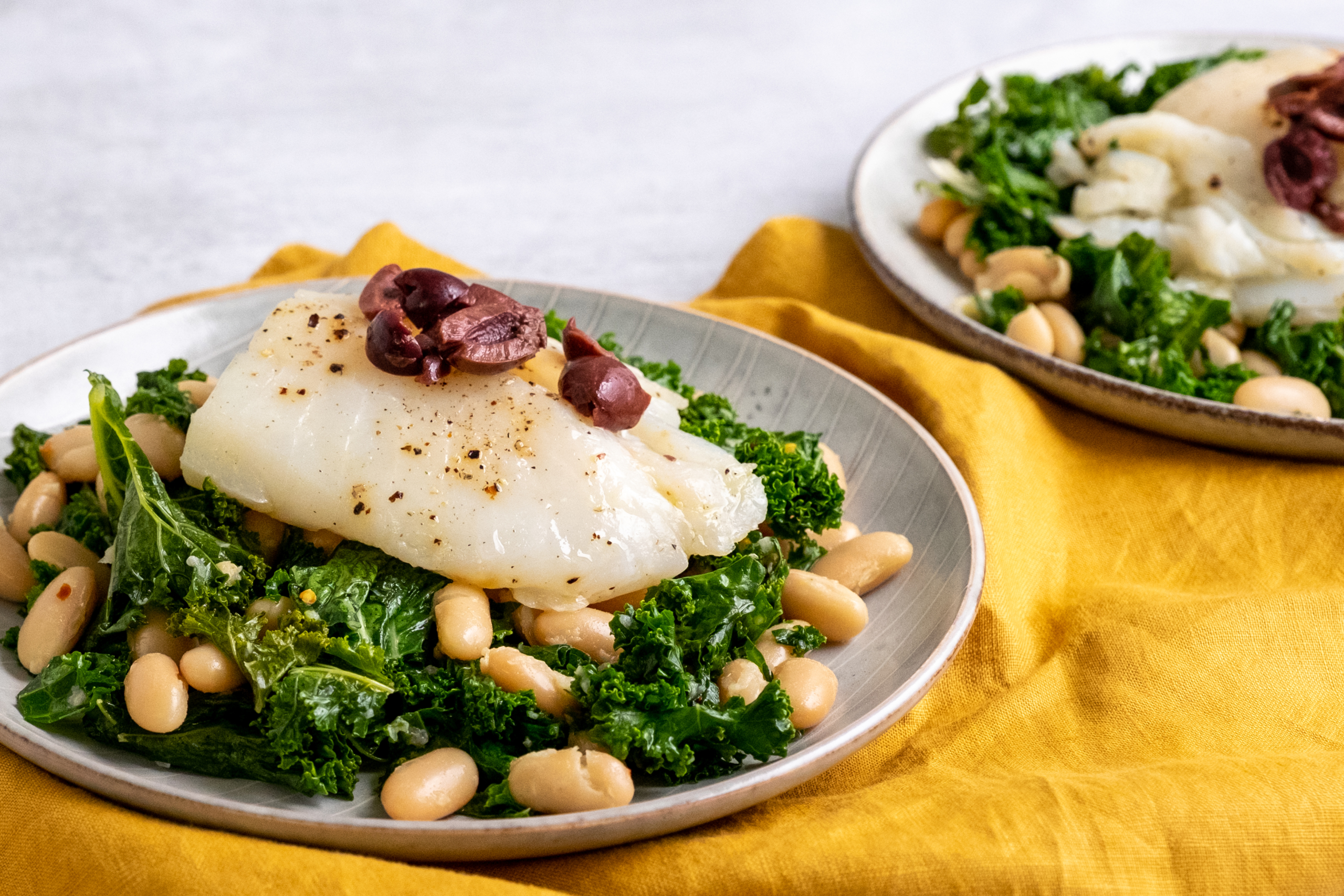 Ingredients
2 tbsp olive oil, divided
3 cloves of garlic, minced
1 pinch of dried pepper flakes (optional)
1 lb cod filets
4 cups kale, roughly chopped
1 (15 oz) can cannellini beans, rinsed and drained
¼ cup kalamata olives, chopped
Directions
1) Combine 1 tbsp olive oil, 3 cloves minced garlic, and 1 tsp dried pepper flakes in a Suvie pan. Place pan in top zone of Suvie and broil for 6-7 minutes until garlic becomes fragrant. Remove from Suvie, toss 4 cups kale, 1 can cannellini beans, and 1 tsp salt with the garlic then return to top zone of Suvie.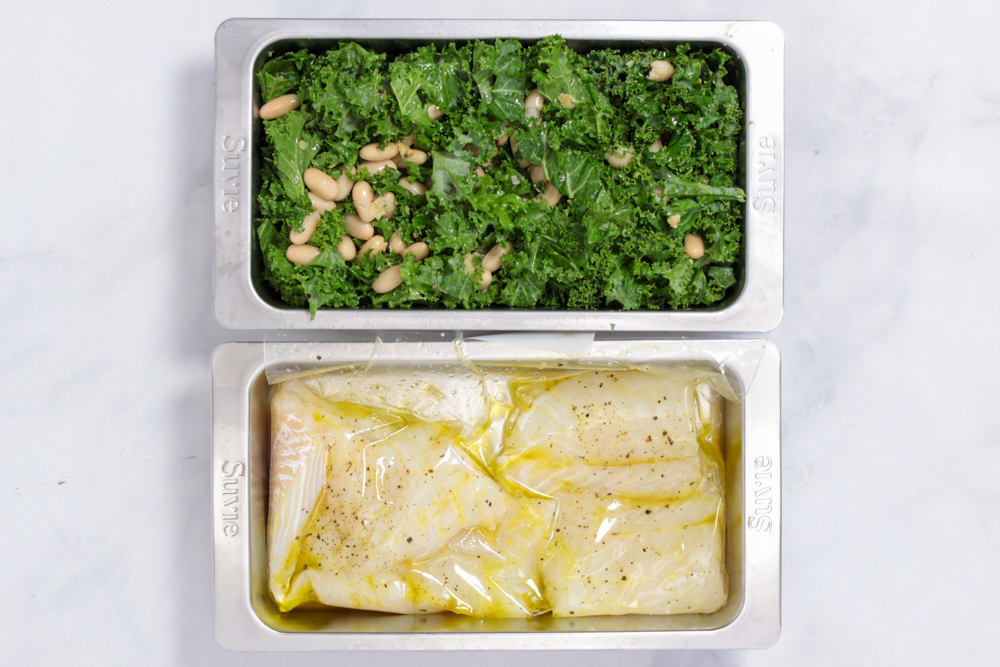 2) Season fish with salt and pepper. Vacuum seal cod with 1 tbsp olive oil, ensuring fish is evenly coated with oil. Place cod in a Suvie pan, cover with water, and load into bottom zone of Suvie. Enter settings below and cook now or schedule. 
Suvie Cook Settings
Bottom Zone: Sous Vide at 125°F for 45 minutes
Top Zone: Sous Vide at 125°F for 45 minutes
3) After the cook, remove cod from Suvie. Broil kale for 15 minutes, stirring halfway until wilted. Remove cod from vacuum bags and divide between plates.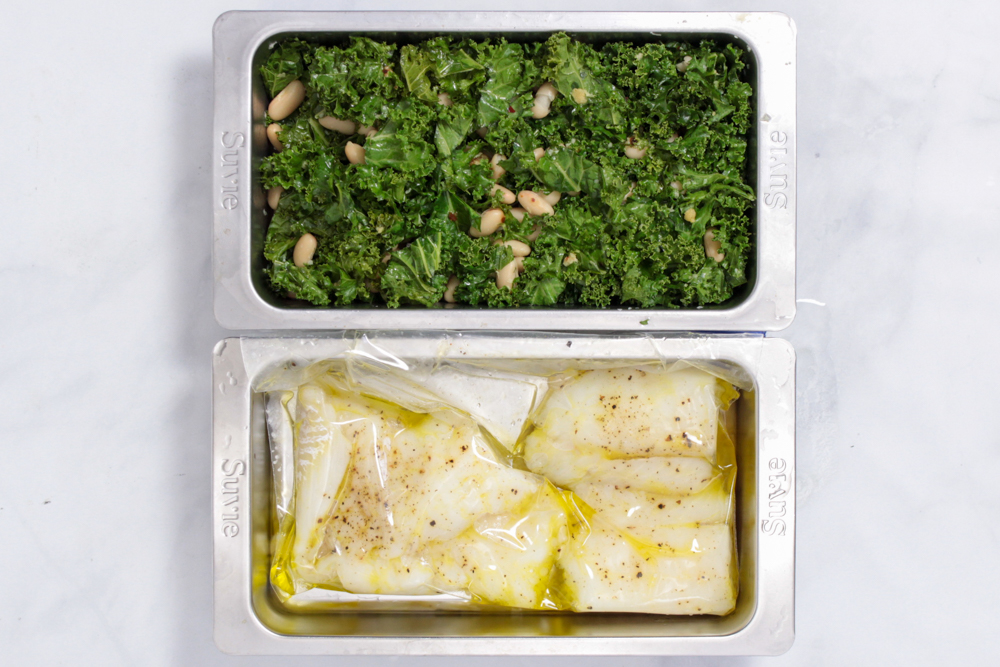 4) To serve, divide the beans and kale between plates. Top with cod, a sprinkle of chopped olives, and a dash of olive oil.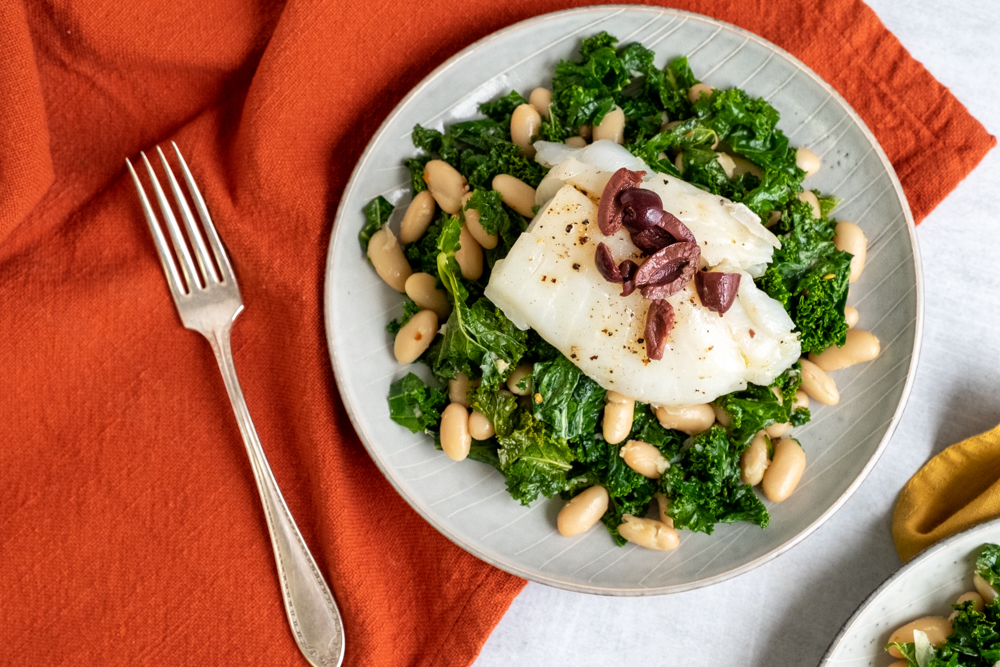 Nutrition
Nutrition Info per 1 Serving (Servings per recipe: 2): Calories 600, Fat 21g, Sodium 610mg, Carbs 48g, Fiber 19g, Protein 59g