There is no better summer meal then seafood and a light vinaigrette salad. In fact, as we get to the hottest part of the year, that's all we can think about (aside from gelato, of course). Buying pre-made crab cakes takes the fuss out of this meal making it weeknight-easy. Go ahead and buy a premade citrusy vinaigrette or you can whip up a homemade one in a few moments (we've included the vinaigrette recipe below if you've got your whisk handy). You can use as many tomatoes in this salad as you see fit even going buck wild trying a couple of different varieties. The farro in the salad is hearty enough to complete the meal while the lemon vinaigrette gives it a fresh kick that goes perfectly with the crab cakes. Garnish with a few slices of lemon and you're all set for a dynamite dinner.
My Cook: Crab Cakes with Summer Farro Salad
Please always check your food to ensure your food has been cooked to safe serving temperatures. Please see our guide
here
for recommended FDA Time & Temperatures.
Servings: 2
Difficulty: 1 hour and 35 minutes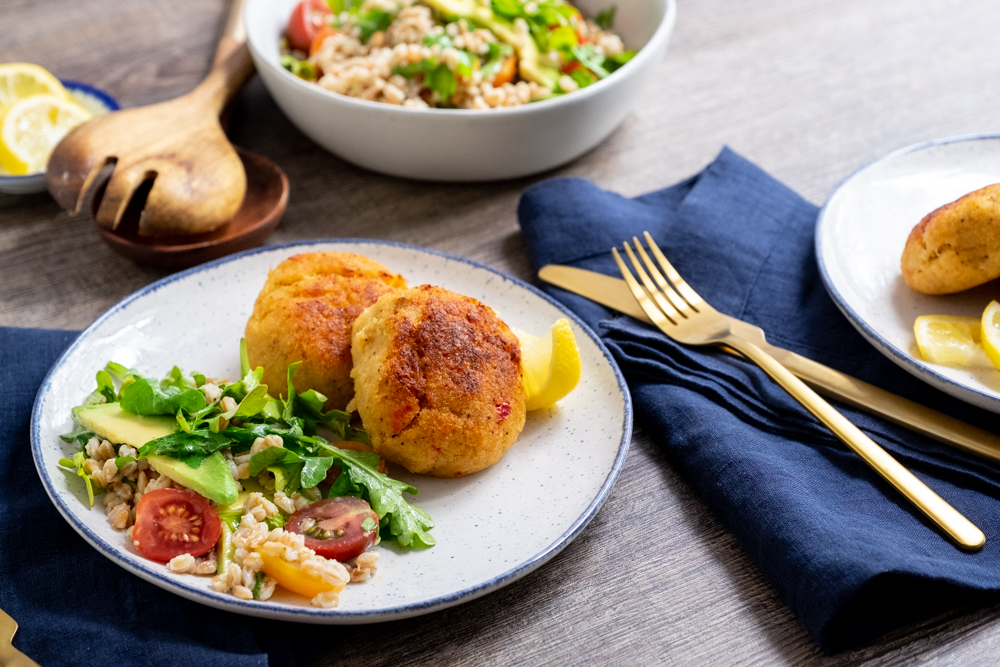 Ingredients
4 large pre-made crab cakes
½ cup farro
2 cups arugula 
1 cup cherry or grape tomatoes, halved lengthwise
2 tbsp pre-made lemon vinaigrette (or more to taste)
Salt and pepper to taste  
½ an avocado, sliced lengthwise
Lemon wedges, optional garnish  
2 tbsp lemon juice
1 tsp sugar
1/2 tsp Dijon mustard
3 tbsp olive oil
Salt and freshly ground black pepper
Directions
Vacuum seal the crab cakes using your vacuum sealer (use the lowest setting to protect the integrity of the cakes) or our DIY vacuum sealing guide. Place into Suvie pan, load into upper right zone and cover with water.
Pour farro into strainer add 2 tsp salt. Place in starch pan and load into lower right cooking zone. Enter My Cook settings, fill the reservoir, and cook now or schedule.
My Cook Settings
Protein: 145 °F for 30 minutes
Vegetable: 0 minutes
Starch: 30 minutes
After the cook, remove the crab cakes from the pan, reshape them into round cakes if they've become misshapen in the cooking process. Dry pan and return crab cakes to it.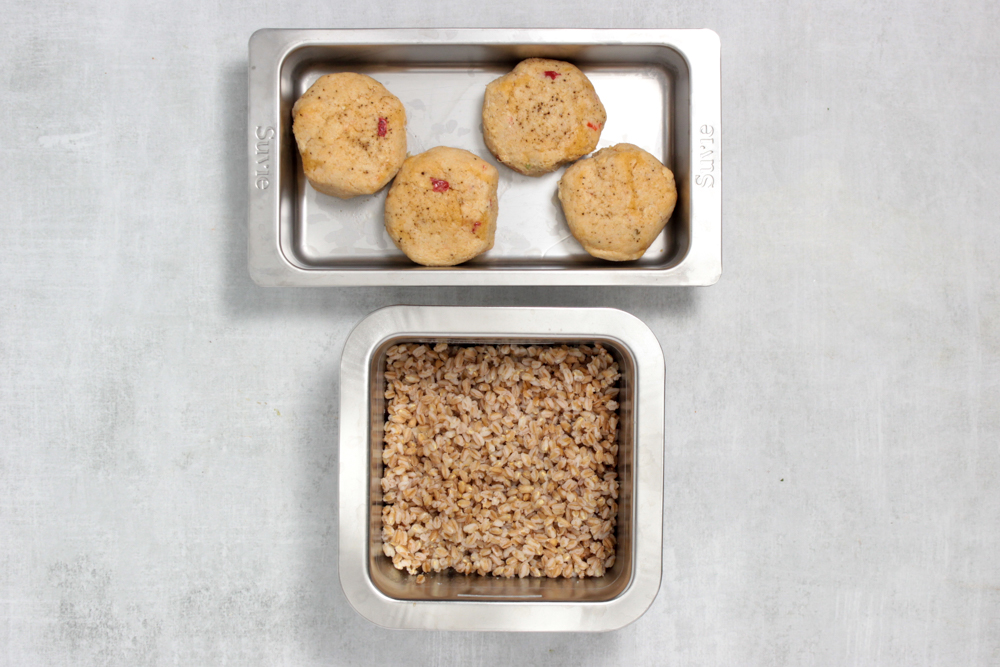 Broil for 10 minutes flipping halfway through until crab cakes are browned. While the crab cakes are broiling, add arugula, tomatoes, and farro to a large mixing bowl.
Drizzle vinaigrette over the salad and toss to combine. Season to taste and top with sliced avocado.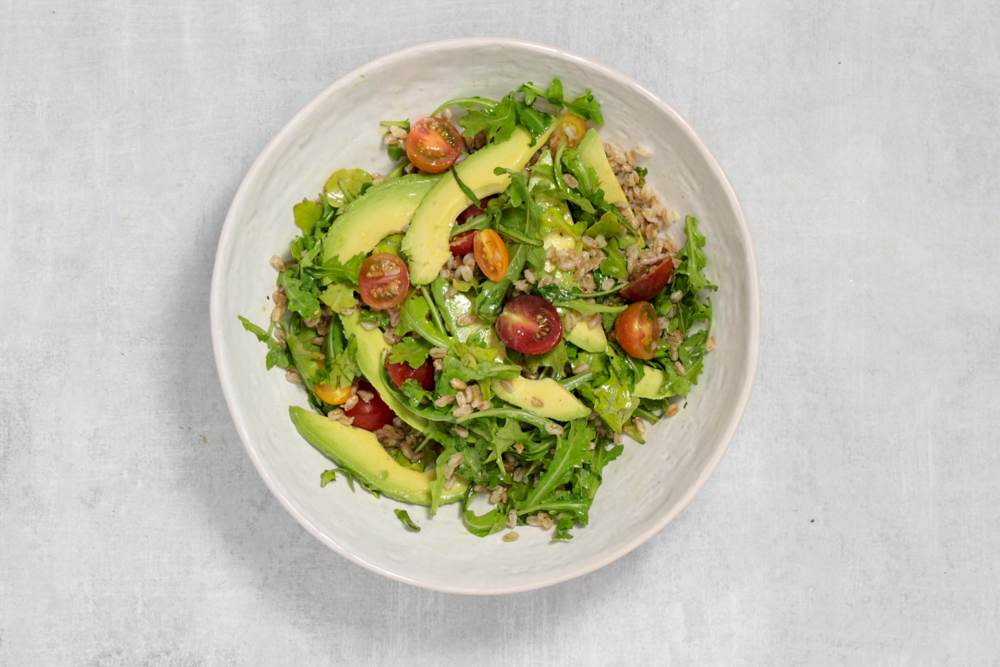 When the crab cakes are browned, remove from Suvie.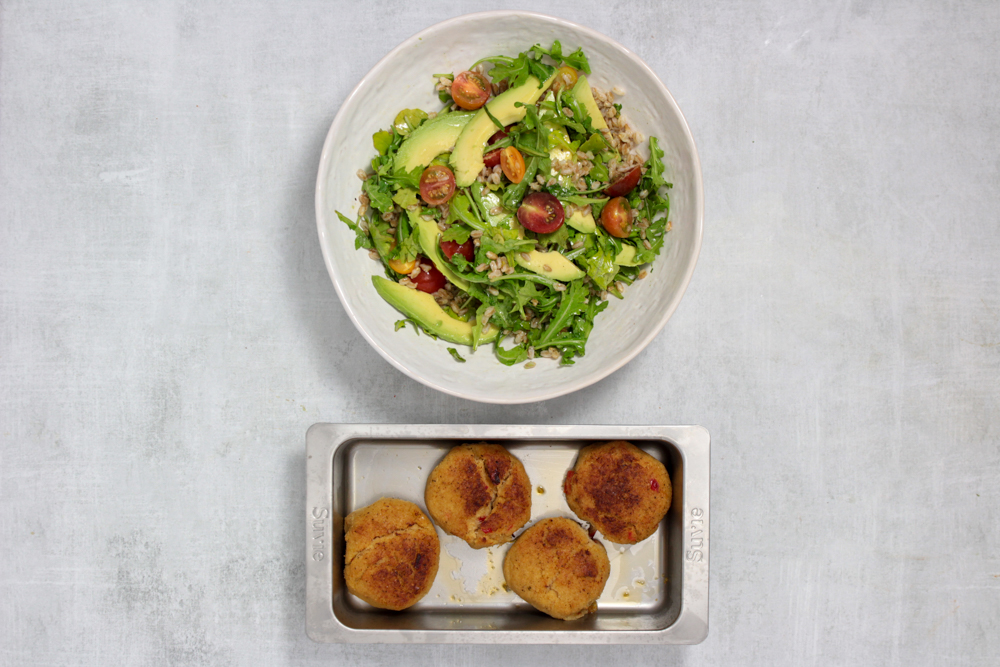 Split the farro salad between two plates and top with crab cakes. Serve with optional lemon wedges for garnish. Enjoy!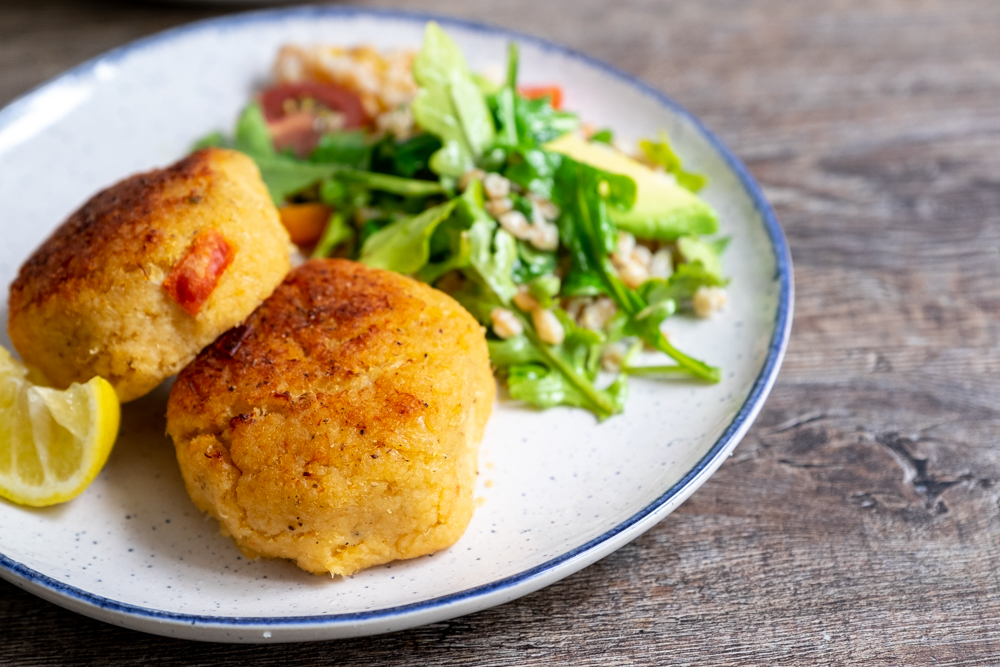 Wine Pairing
Considering the wonderful warm weather, why not try pairing this meal with a chilled glass, or bottle, of Champagne or Cava?