This is the ideal weeknight meal that requires minimal preparation and maximum tastiness. Think of this as a dressed-up, yummier version of your parents' mushroom-noodle casserole. The crispy chicken skin adds a savory crunch to the dish while orzo acts as the perfect base for the creamy, umami-rich mushrooms. This dish is a crowd-pleaser and can easily be doubled to serve a larger family. For additional vegetables, serve with a simple salad and enjoy!
Note: If you would like to schedule this meal but do not want to wait for the broiler to cool before refrigerating, sauté mushrooms, onions, and garlic with 2 tsp olive oil in a large skillet over medium-high heat until softened, about 8 minutes, instead of broiling.
Creamy Mushroom Chicken
Please always check your food to ensure your food has been cooked to safe serving temperatures. Please see our guide
here
for recommended FDA Time & Temperatures.
Servings: 3
Difficulty: 2 hours and 35 minutes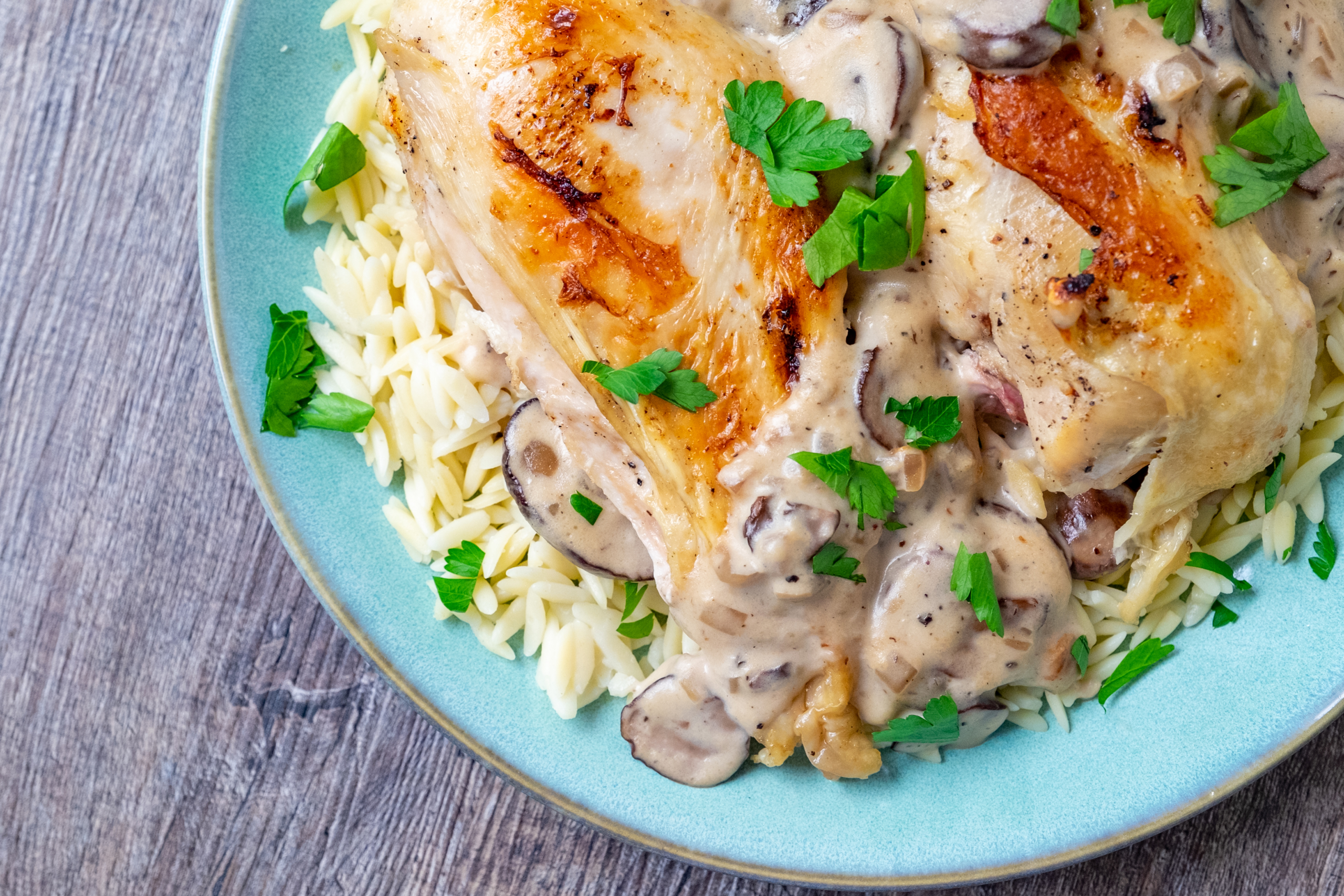 Ingredients
8 oz cremini mushrooms, sliced
½ medium onion, diced
2 garlic cloves, minced
2 tsp, plus 2 tbsp olive oil, divided
2 skin-on chicken breasts (approx 1 lb)
¾ tsp salt
¼ tsp black pepper or to taste
⅔ cup orzo
2 tbsp butter, melted
1 tbsp cornstarch
2 tbsp cooking sherry
½ cup chicken broth
⅓ cup heavy cream
1 tbsp parsley, roughly chopped
Directions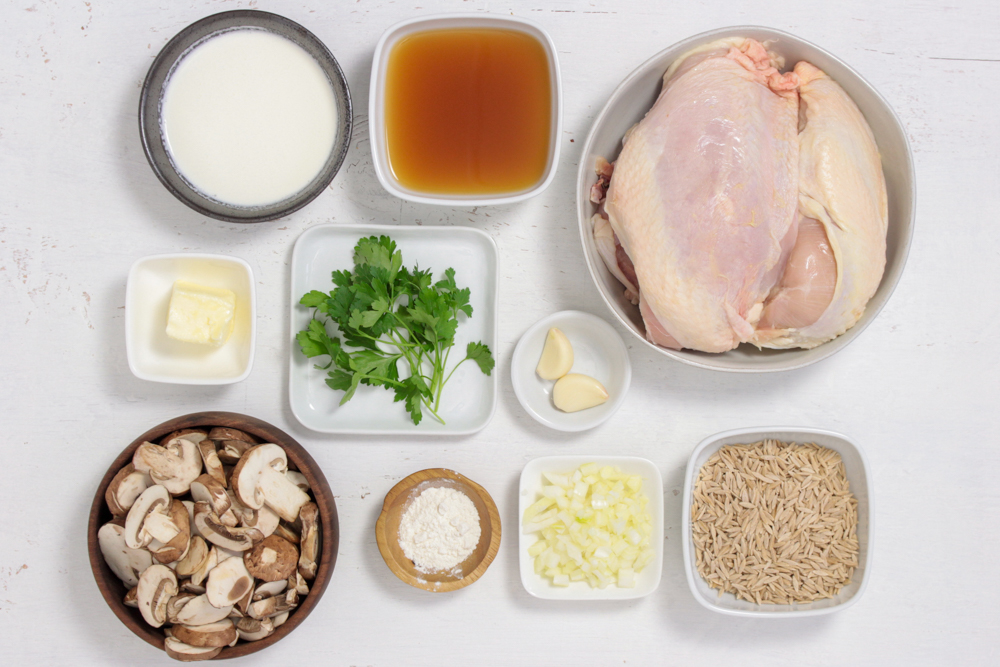 Add mushrooms, onion, and garlic to a Suvie pan. Toss with 2 tsp olive oil and broil in the upper left zone for 10 minutes. Do not fill reservoir before broiling.
Meanwhile, season the chicken breast generously with salt and pepper. Place chicken breast in a vacuum seal bag, add 2 tbsp olive oil to the bag making sure chicken breasts are coated. Vacuum seal the chicken (here's our DIY vacuum sealing guide). Place the chicken in a Suvie pan, cover with water and load into upper right cooking zone.
Pour orzo and 2 tsp salt into starch pan and load into starch zone. When the broil is complete, leave the mushroom pan in the vegetable zone.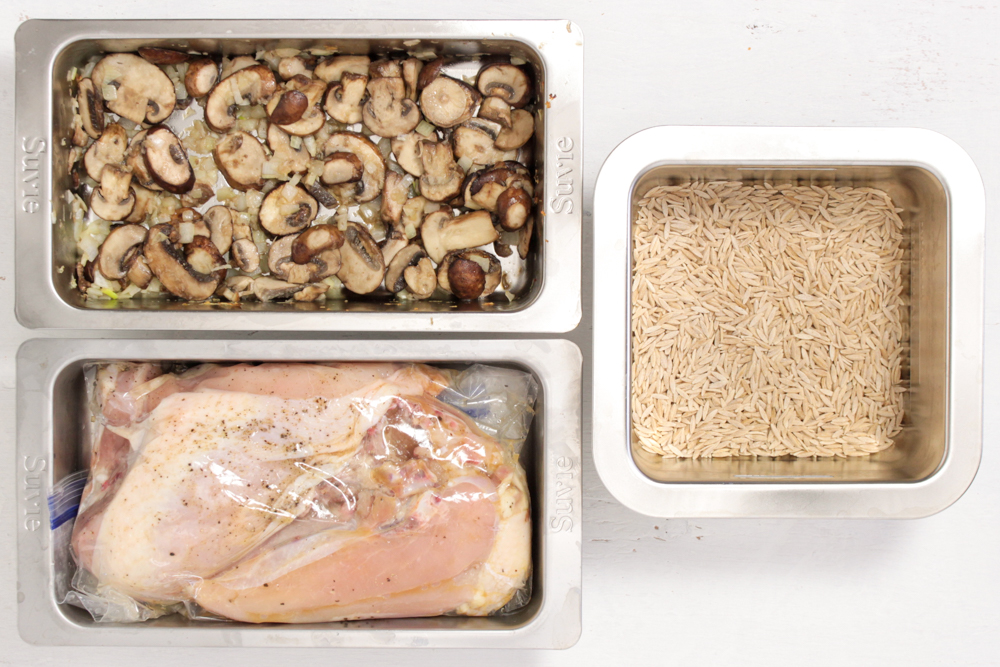 Fill reservoir, enter cook settings and cook now or schedule.
My Cook > Multi-Zone Settings
Protein: 155˚F, 1 hour
Vegetable: 20 minutes
Starch: 8 minutes
After the cook, remove the chicken breasts from Suvie.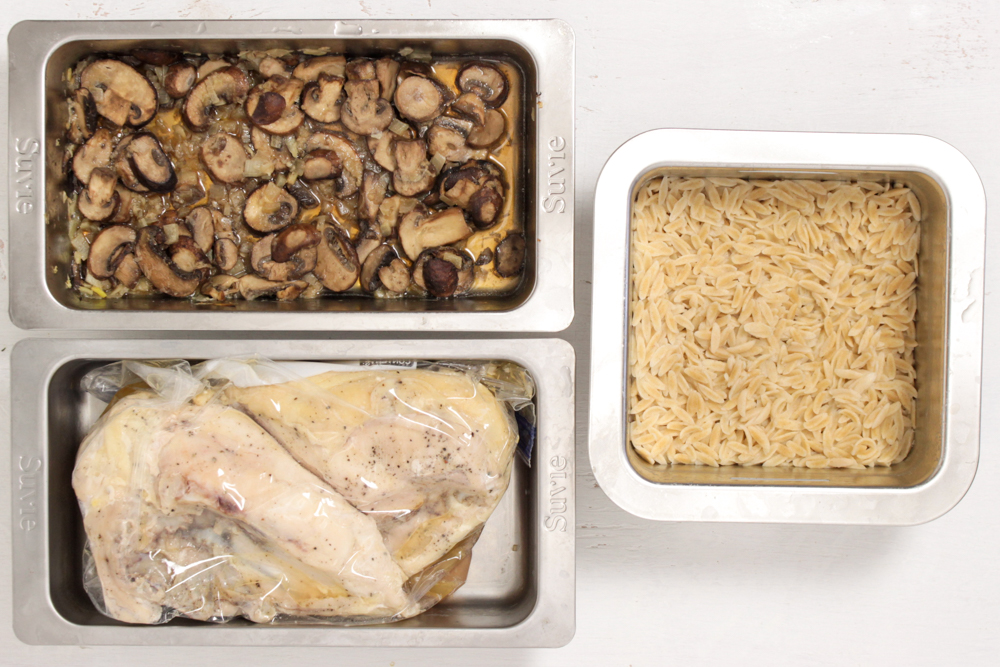 Drain water from the pan and any liquid from the vacuum-sealed bag. Pat the chicken and pan dry with paper towels. Return chicken skin-side up to Suvie pan. Brush 2 tbsp melted butter over the chicken breasts. Return chicken breast pan to upper right zone.
Drain excess liquid from the mushroom pan. In a medium bow,l whisk the cornstarch and sherry together until combined. Add in the chicken stock and heavy whipping cream and whisk to incorporate. Pour mixture over the mushrooms and stir. Return pan to upper left zone of Suvie. Broil mushrooms and chicken for 10 minutes, making sure to rotate the chicken pan and stir the mushroom pan halfway through the broil. Remove the mushroom pan when the sauce thickens. If you prefer your chicken skin crispier, return for a second 10-minute broil, but be careful it doesn't burn.
After the broil, pour the orzo into a large serving bowl, add the mushroom sauce over the orzo. Top with chicken breasts and chopped parsley and serve.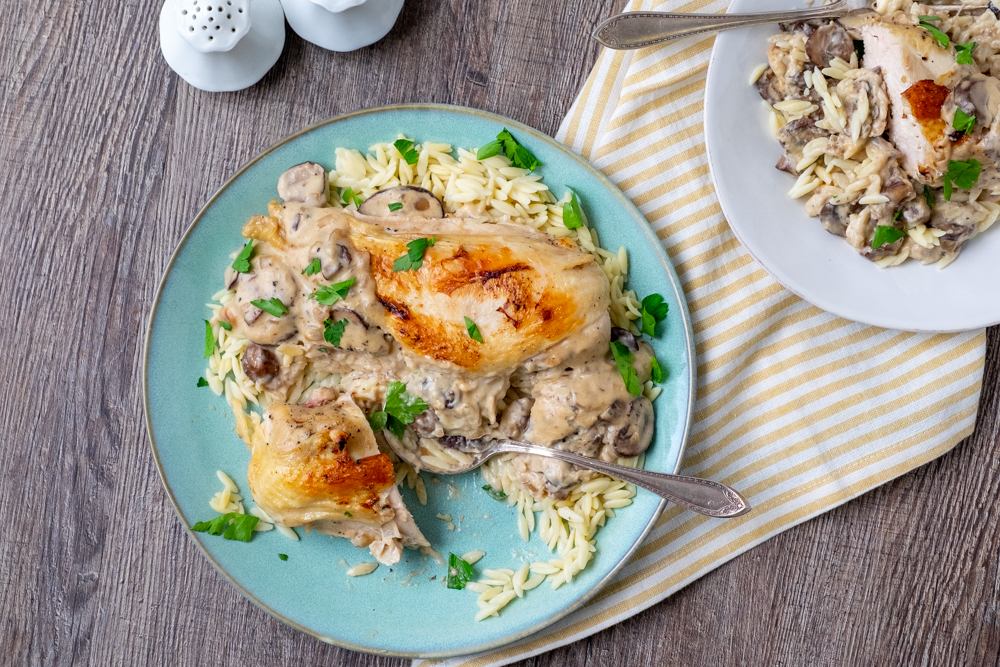 Nutrition
Nutrition Info per Serving (3 servings per recipe): Calories 563, Total Fat 34.8g, Sodium 355.7mg, Total Carbs 23.4g, Protein 36.3g