Chicken breast is often the go-to for many dinners, however, skin-on chicken breast rarely graces our plates. With Suvie you can have perfectly cooked chicken and crispy skin all in one. We sous vide the chicken breasts leaving them tender and finish by coating the chicken skin in a herbed butter then broiling until crisp. The chicken matched with a light salad and wholesome wild rice is the ideal dinner for when you want to try something a little different. You can also add a vegetable to the veggie zone and skip the salad if you prefer cooked greens.
Crispy Chicken Breast with Wild Rice, Cranberry and Apple Salad
Please always check your food to ensure your food has been cooked to safe serving temperatures. Please see our guide
here
for recommended FDA Time & Temperatures.
Servings: 2
Difficulty: 2 hours and 35 minutes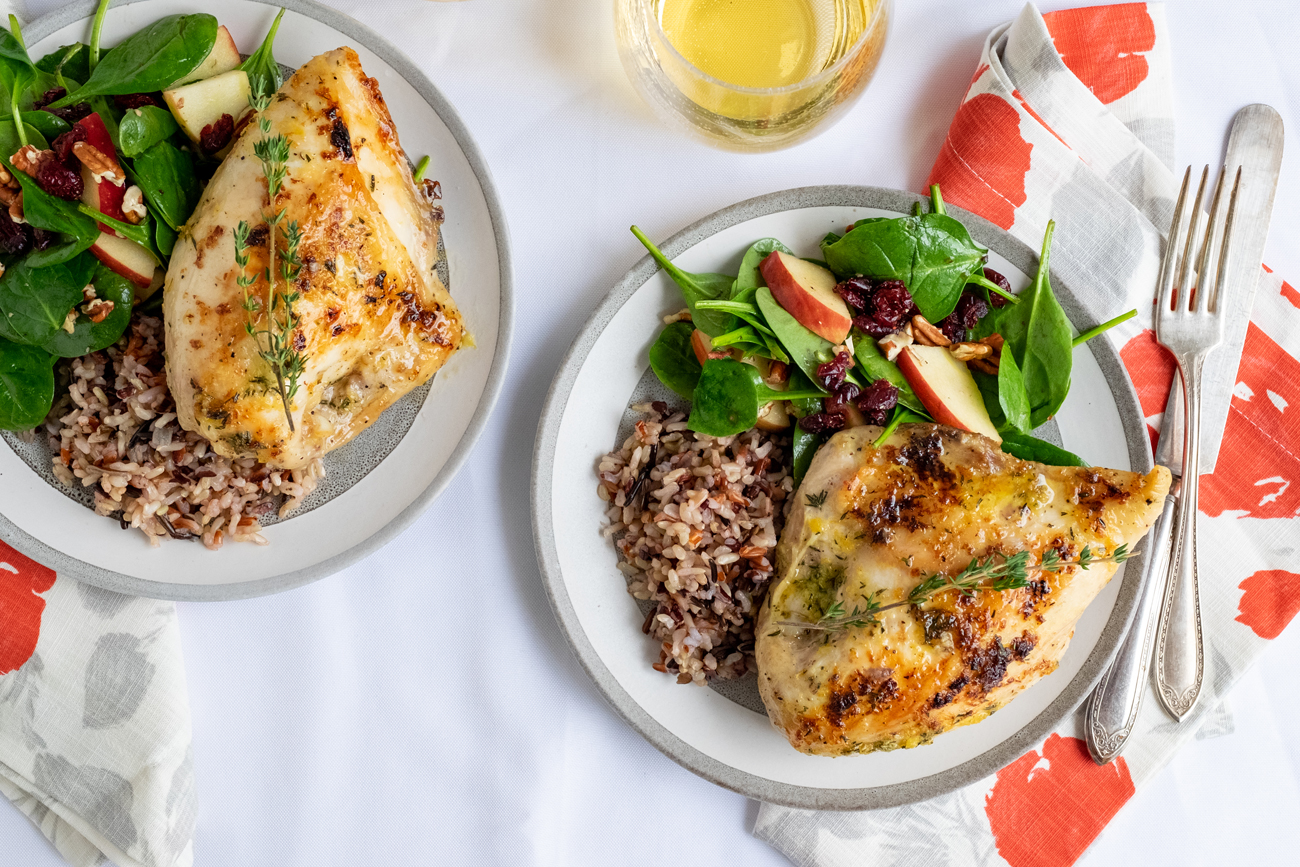 Ingredients
2 skin-on chicken breasts
2 tbsp olive oil
⅔ cup wild rice
2 cloves garlic, minced
2 tbsp butter, softened
2 tsp lemon zest
1 tbsp fresh thyme leaves, coarsely chopped
1 tsp lemon juice
1 small apple
⅓ cup pecans
⅓ cup dried cranberries
3 cups baby spinach
2 tbsp vinaigrette
Directions
Season the chicken breast generously with salt and pepper. Place chicken breast in a vacuum seal bag, add 2 tbsp olive oil to the bag making sure chicken breasts are coated. Vacuum seal the chicken (here's our DIY vacuum sealing guide). Place the chicken in a Suvie pan, cover with water and load into upper right cooking zone.
Pour wild rice and 2 tsp salt into starch pan and load into starch zone.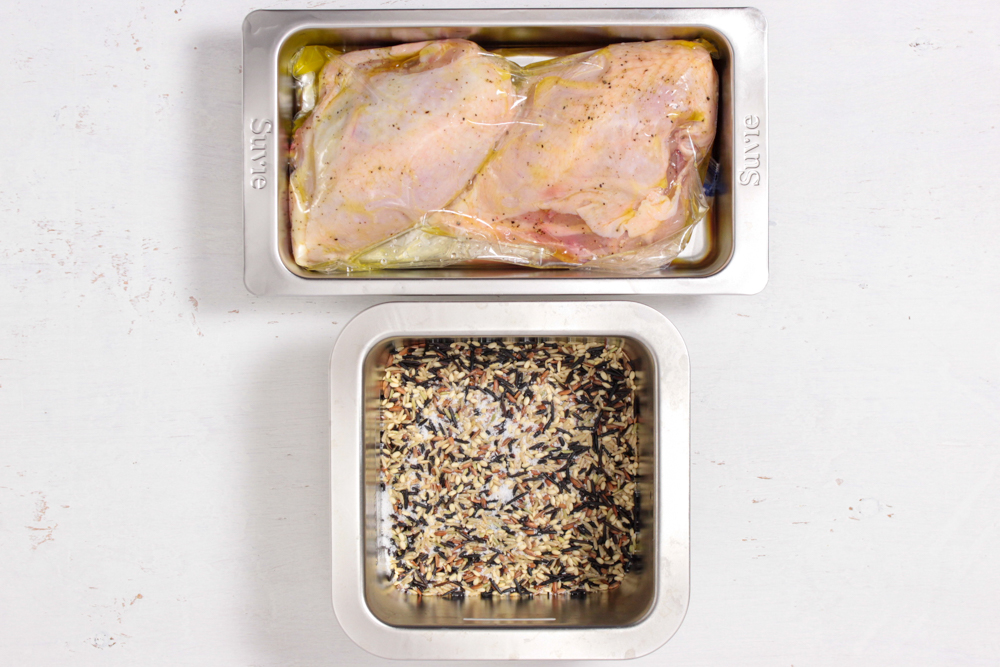 Fill reservoir, enter cook settings and cook now or schedule.
My Cook > Multi-Zone Settings
Protein: 155˚F, 1 hour
Vegetable: 0 minutes
Starch: 42 minutes
During the cook stir together the minced garlic, softened butter, lemon zest, and fresh thyme.
After the cook, remove the chicken breasts from Suvie.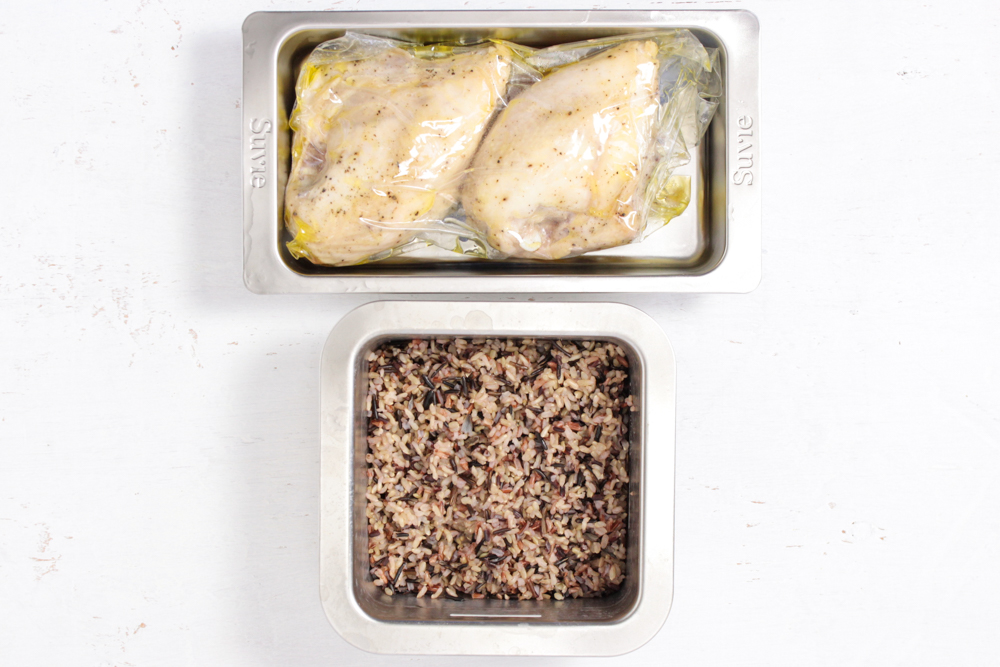 Drain water and juice from the pan and vacuum-sealed bag. Pat the chicken and pan dry with paper towels. Return chicken skin side up to Suvie pan. Brush the butter mixture over each of the chicken breasts. Return chicken breast pan to Suvie and broil for 10 minutes or until skin is crisp. If you prefer your skin crispier, return for a second 10-minute broil, making sure to rotate the pan so the chicken skin doesn't burn and to ensure even browning.
While the chicken broils, prepare the salad. Thinly slice the apple. Coarsely chop the pecans.
Toss the spinach with 2 tbsp vinaigrette in a large bowl. Sprinkle the apple slices, walnuts, and cranberries over the spinach.
Drizzle 1 tsp lemon juice over the wild rice, mix and adjust seasoning to taste. To plate divide the salad and rice between two plates, top each with a chicken breast.