A cross-continental dish, a UNESCO recognized recipe, and one of the oldest recorded menu items that is still made today, Dolmades are much more than grape leaves and rice.
What are Dolmades
Dolmades, or dolmas, are tightly wrapped appetizer-sized bundles consisting of vegetables, grains, and, occasionally, minced meat and nuts. Named after the Turkish word 'dolmak' meaning to stuff or fill, dolmades are a delicious dish with an intriguing history. This style of menu item, usually served as an appetizer or in part of a greater meze platter of appetizers, was first popularized throughout what is now known as the Balkans and Middle East. From Ancient Greece to the Ottoman Empire, a form of dolmades was made and served utilizing common ingredients found throughout the vast region. As a major menu item during the golden age of the Ottoman Empire, dolmas or dolmades still hold a strong place in many culinary cultures today. In Azerbaijan, in 2017, dolmas were included into the UNESCO Intangible Cultural Heritage Lists.
Making Dolmades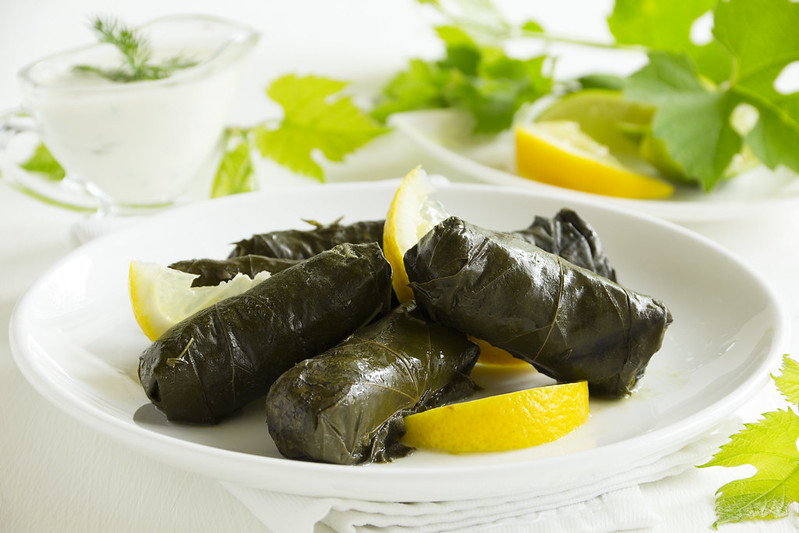 In more modern culinary times the most common dolmas are the Greek version, made using a grape leaf wrapper and seasoned rice filling. Grape leaves are prolific throughout the Balkans, greater Mediterranean, and Middle East, making them an excellent ingredient choice for this regional dish.
To make dolmades, the grape leaves are first simmered in water until tender. They are then cooled and stored in jars filled with brine to preserve and season the leaves. Grape leaves prepared in this manner can easily be found at gourmet grocers or specialized grocery stores featuring Mediterranean ingredients. The rice mixture is seasoned with herbs and seasonings, occasionally mixed with ground or minced meat (lamb or goat), nuts (especially pinenuts) or dried fruit. A small dollop of the rice mixture is placed in the center of a grape leaf and rolled into a tight cylinder. We recommend serving your dolmades with an array of Greek recipes to round out your meal. 
Vegetarian versions of dolmades are typically served chilled with a variety of dips and sauces, most commonly an eggy-lemon dip, known as avgolemono, or garlicky yogurt. Meat and rice-filled dolmades are often served warm. If you're looking to make dolmades at home, here are two of our favorite recipes. This recipe for Greek Dolmades is the traditional cold vegetarian version and this recipe for Lamb Stuffed Grape Leaves also includes a very tasty recipe for avgolemono. 
Feature Image:  tugay aydın from Pexels