Harissa is a popular hot pepper paste actively used in dishes from Tunisia, Morocco, Algeria, and Libya. Read on to learn about harissa and how it's used in recipes to bring on a much-needed spicy kick.
What is Harissa?
Harissa is a hot pepper paste widely used in North African and Middle Eastern cuisine. The Arabic word "harissa" means "to pound" since harissa is prepared from pounding the roasted red chilis, which are then combined with herbs, spices, and olive oil, forming a velvety red paste.
The origin of harissa is attributed to Tunisia, where it's considered a national condiment and used especially in meat and fish dishes. Besides Tunisia, many countries use harissa as their main condiment and as a base for curries, soups, stews, and meat dishes. However, we love Tunisian harissa because it is relatively mild in spiciness with a Scoville scale score of 4000 to 5000, but is still exceptionally flavorful.
Rose Harissa is a popular variation which calls for dried rose petals and rose water in addition to the traditional harissa ingredients. The rose flavors balance out the harissa spiciness with floral sweetness and fragrance.
How is Harissa Made?
Harissa is usually made with dried and roasted red peppers, baklouti peppers, or serrano chilis that are first rehydrated in hot water. The chilies are then blended with minced garlic, cumin seeds, coriander seeds, caraway seeds, salt, and olive oil until a smooth paste is formed. Prepared harissa is then topped with olive oil for prolonged freshness.
Homemade harissa can be kept in the fridge for about one month. Sometimes, lime or vinegar is added to harissa for a spicy-savory flavor. As mentioned, rose petals or rose water can be introduced for a mild sweetness.
Harissa Uses
Harissa is served as a condiment alongside couscous, stews, curries, and bread in North African cuisine. On the other hand, it's commonly used as a spicy marinade for lamb, and fish dishes in Middle Eastern cuisine. Similarly, it's widely used in soups, stews, and curries to make them spicier and more flavorful.
Lablabi, for Instance, is a typical Tunisian soup dish featuring chickpeas, broth, ground meat or tuna, heavily seasoned with harissa, olive oil, spices, herbs, and lemon juice that's served on pieces of crusty bread and nearly always topped with soft-cooked eggs, cilantro, and scallions. Try out our version of Lablabi: Harissa Chickpea and Lentil Soup.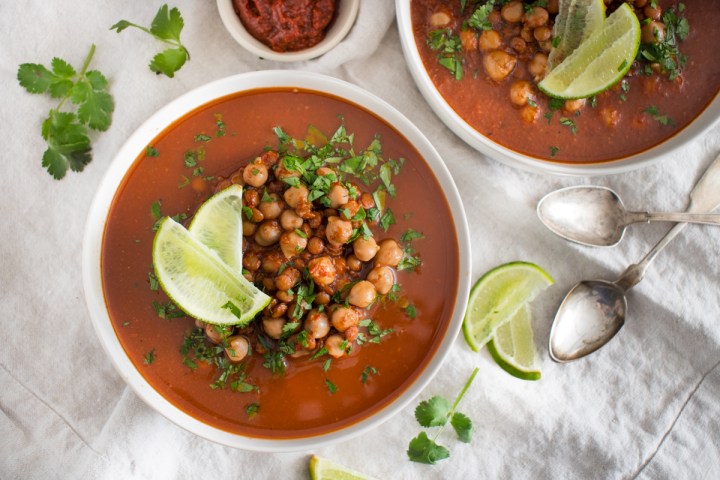 Since harissa pairs exceptionally well with chickpeas, you might also like our recipes for Spicy Chickpeas with Chorizo or Chickpea Stew, which are loaded with harissa for a boost of flavor. Additionally, harissa pairs well with yogurt, ketchup, or mayonnaise for a fiery dip, or mix it together with honey for sweet-spicy toppings for chicken wings. If you're a fan of hot and spicy flavors, don't resist adding a bit of harissa to every dish of your liking.
Where to Buy Harissa Paste?
You can find harissa paste packed inside jars, tin cans, and tubes, or even in powdered form in the international food section of your grocery store, or you can always find it at Middle Eastern stores in the US.