Involtini, braciole, veal birds, beef roll-ups: This classic Italian dish goes by many names, but they all lead to one delicious conclusion. The basic premise is to take a tough cut of meat, slice it very thinly, then pound it out even thinner and fill it with a mix of herbs, leafy greens, cheese, and other seasonings. Roll it up into a neat little package, sear in a hot pan, and braise for a few hours in a tomato sauce. Not only do the little parcels of meat get juicy and tender, they also help to enrich the flavor of the sauce with all the bits of filling that sneak out from the roll ends.
This recipe is a labor of love best reserved for lazy Sunday afternoons when the whole family can gather for a proper feast. Many hands make light work, so get everyone involved with the prep, and it won't feel like a chore. There are two main techniques in this recipe that are important for getting the most flavorful product.
Making the Involtini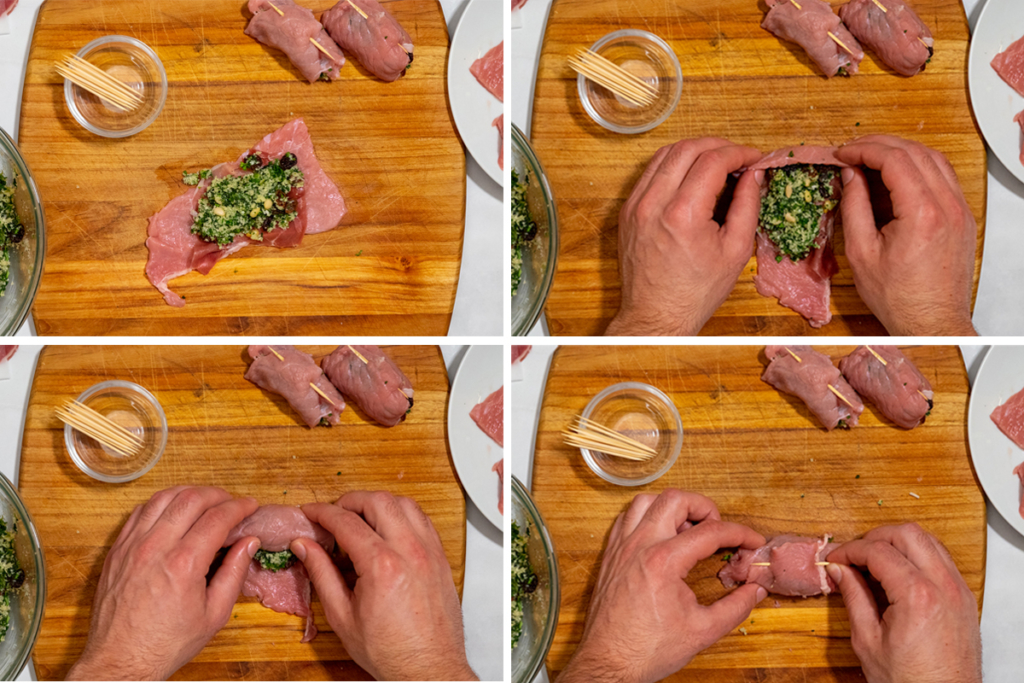 There are two ways to go about sealing the fillings into their meat packages. The first is to use string or butcher's twine. You need to use two pieces of string per roll to ensure that both sides are sealed and that less filling will leak out when cooked. The second way is to use a toothpick to keep the rolls together. That's the method that we've chosen for this recipe. Use a toothpick as you would a safety pin to keep the end of the roll secure; this saves some time tying and trimming lots of little knots.
The Sear
The searing step is essential to make a delicious braise. The key here is to preheat your pan for at least 5-10 minutes before you are ready to start searing. A hot, heavy pan like a Dutch oven or enamel brazier is critical to a beautiful sear. These pans do a great job retaining heat, so when you add the meat, it keeps the temperature high enough to ensure a dark, golden-brown sear. It's also important to turn and brown the rolls on all four sides, which adds to the fond—the layer of browned concentrated flavor that builds up on the bottom of the pan while searing. When you add the tomato sauce, the fond will dissolve and absorb into the flavor of the sauce. Delicious.
Try our recipe for Veal Involtini
Veal Involtini Recipe
Serves: 4
Active Time: 40 minutes
Total Cook Time: 2 hours
Ingredients
1 lb thinly sliced veal or beef top round
6 slices prosciutto
½ cup frozen spinach, thawed and drained
½ cup bread crumbs
¼ cup raisins (optional)
¼ cup pine nuts
¼ cup pecorino Romano cheese, grated
¼ cup Parmesan cheese, grated
¼ cup parsley, chopped
2 cup tomato sauce
1 cup beef stock or water
Instructions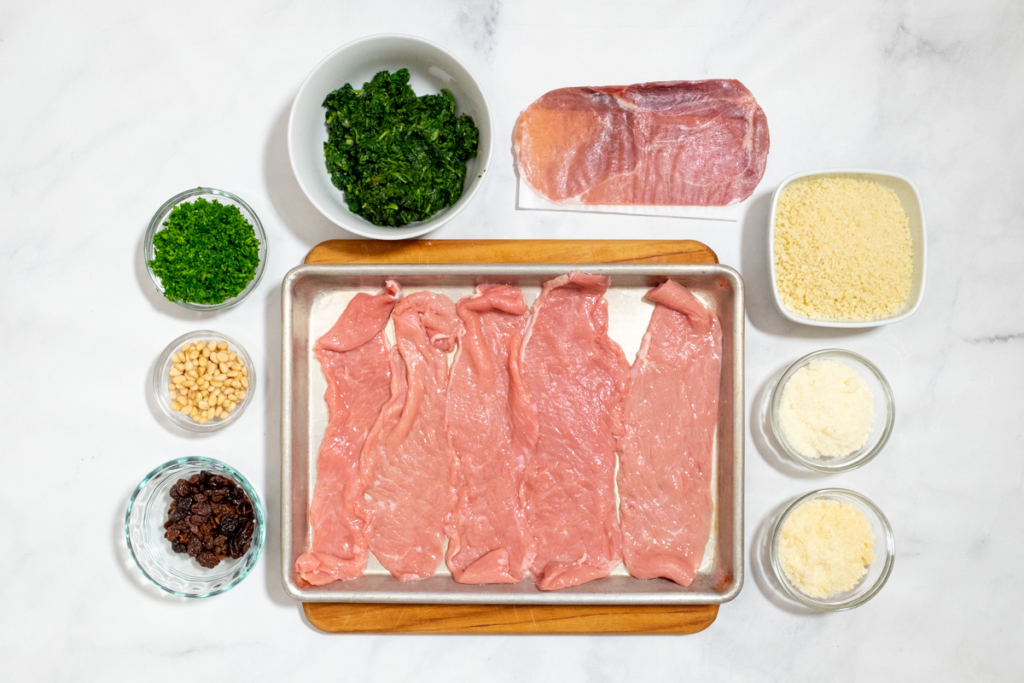 1) Mix the spinach, bread crumbs, raisins, pine nuts, pecorino, Parmesan, parsley, and 2 tbsp olive oil in a large bowl.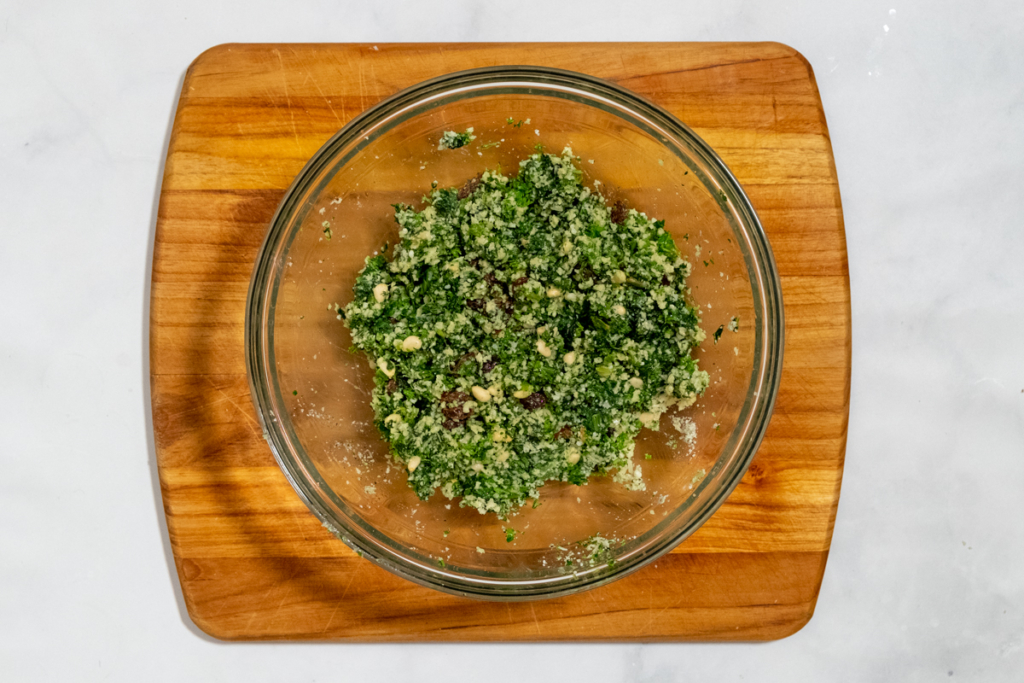 2) Cut the thinly sliced veal into rectangles roughly 2 x 4 inches in size.
3) Place a layer of prosciutto on the veal, then top with 1–2 tbsp of the filling. Leave a little room on either end.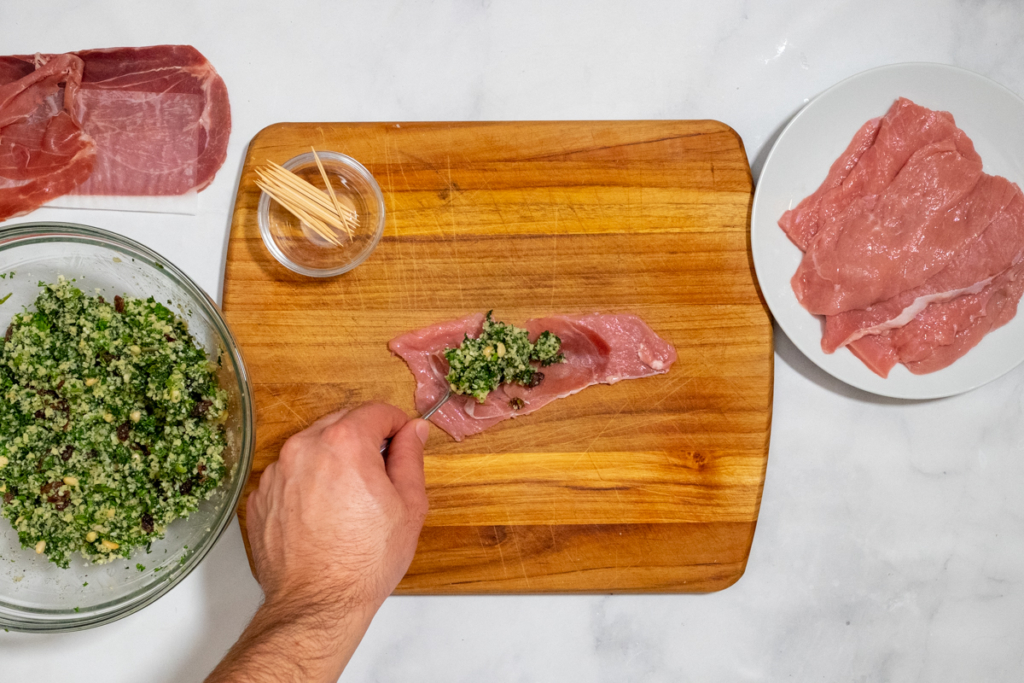 4) Roll the veal up to seal in the filling. Use a toothpick as a safety pin to attach the end of the strip to the roll and seal the package. Set aside until all the veal is used and you're ready to sear.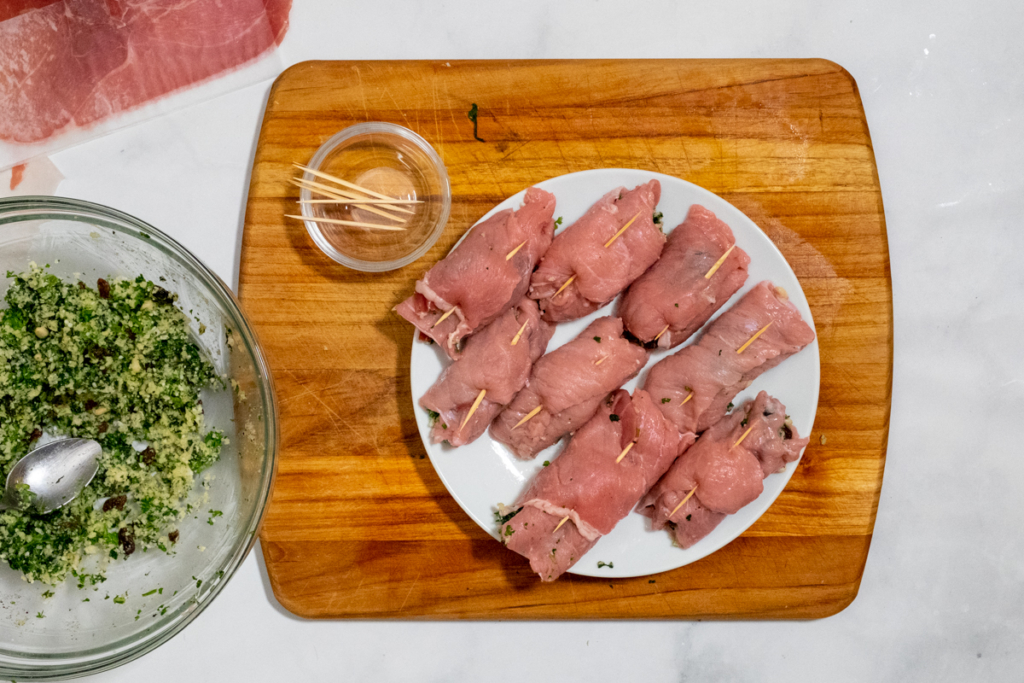 5) Heat a Dutch oven or ceramic-coated brazier over medium-high heat. Add 1 tbsp olive oil and sear the involtini in batches of 4–5, turning after 2–3 minutes until all sides are browned.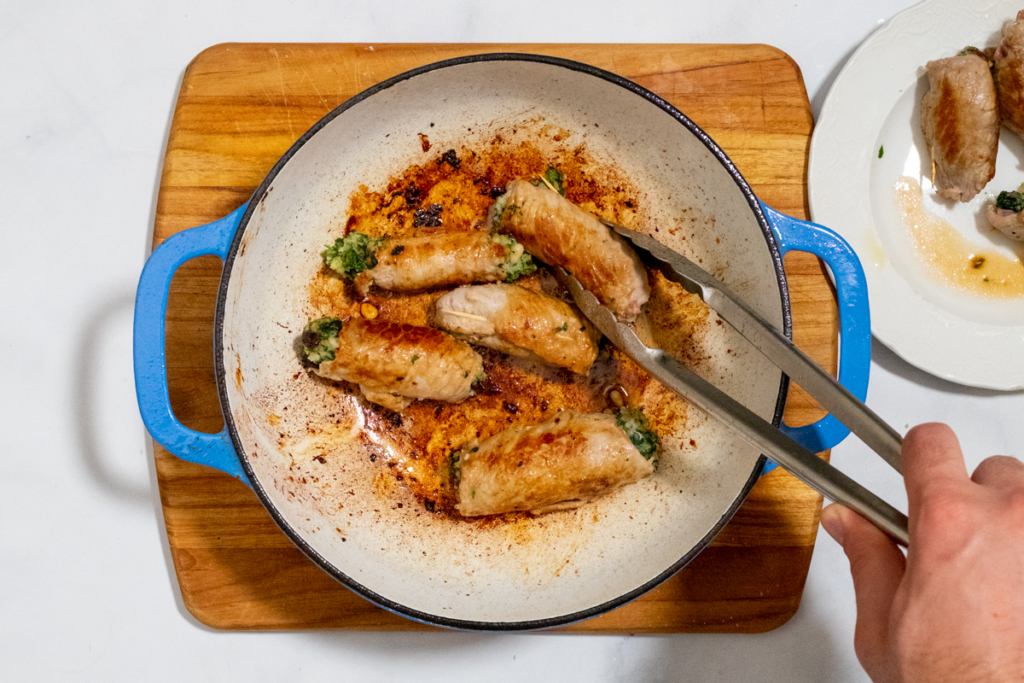 6) After all of the involtini are seared, return them to the pot. Add the tomato sauce and beef stock and stir to combine.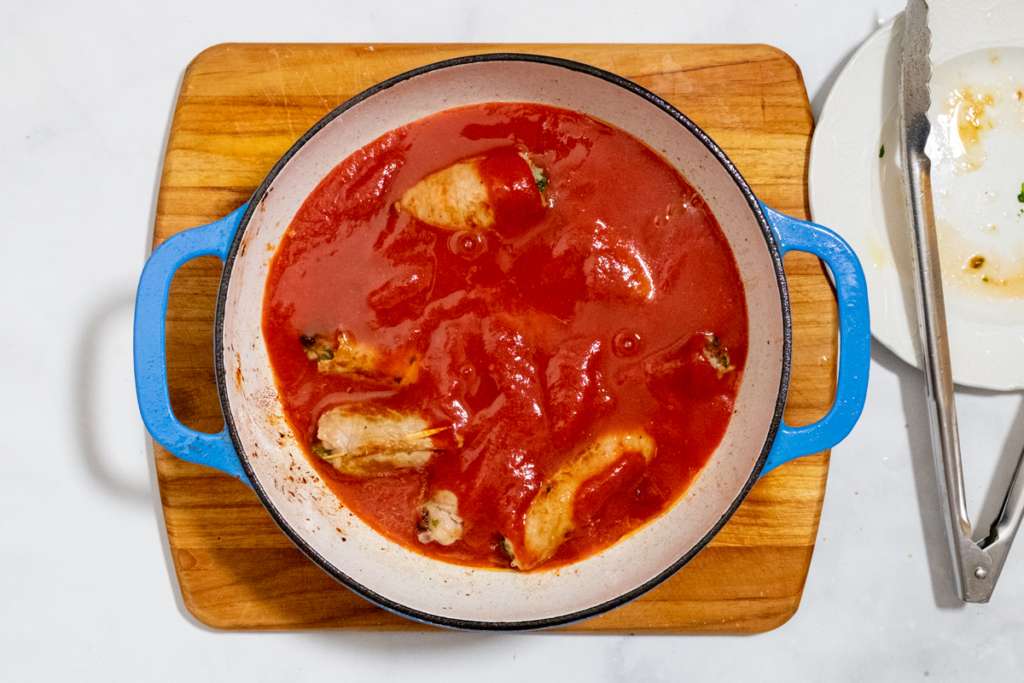 Cover and braise on low heat for 1 hour until tender.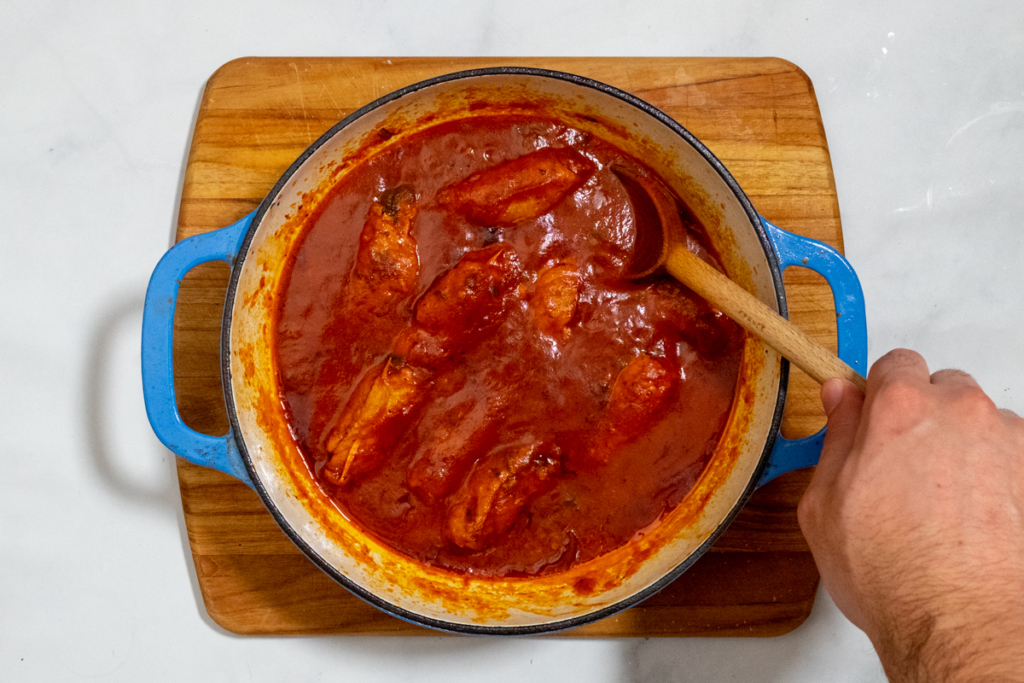 Serve with bread, pasta, or polenta.
Nutritional Information per serving (4 servings per recipe): Calories 490, Total Fat 25g, Total Carbohydrates 25g, Total Sodium 1249mg, Total Protein 43g