Kakuni is a Japanese dish of pork belly simmered in a sweet soy sauce broth until tender and succulent. The name kakuni means "square simmered" in reference to the shape of the pork belly squares.
Kakuni
Please always check your food to ensure your food has been cooked to safe serving temperatures. Please see our guide
here
for recommended FDA Time & Temperatures.
Servings: 6-8
Difficulty: 9 hours and 30 minutes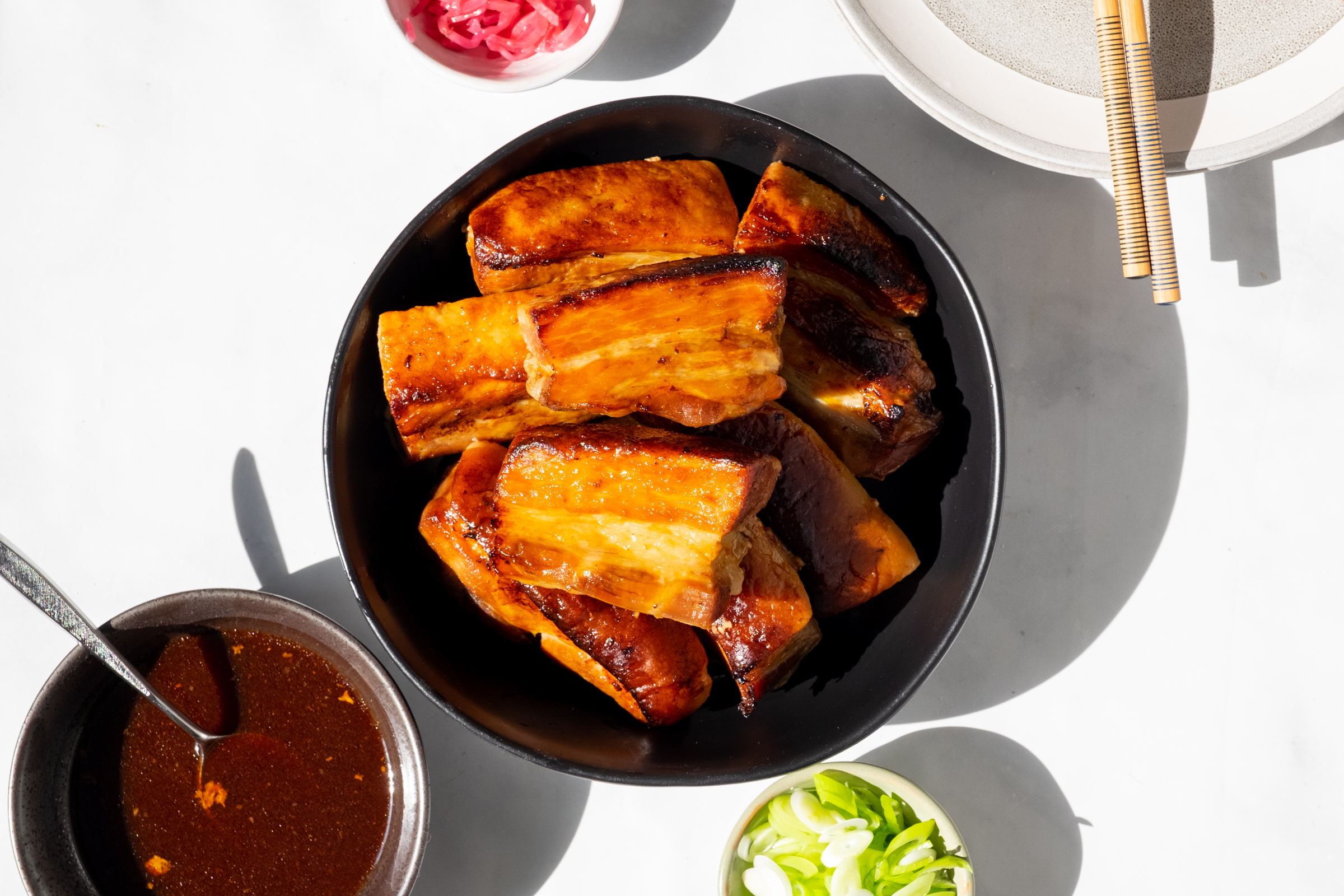 Ingredients
½ cup soy sauce
½ cup sake or shaoxing cooking wine
¼ cup mirin
¼ cup sugar
2 lbs pork belly, cut into large, 1×4-inch pieces
4 scallions, cut into 1-inch pieces
1 (1-inch) piece ginger, sliced into 4 pieces
2 tbsp sliced scallion, for garnish
2 tbsp pickled ginger, for garnish
Directions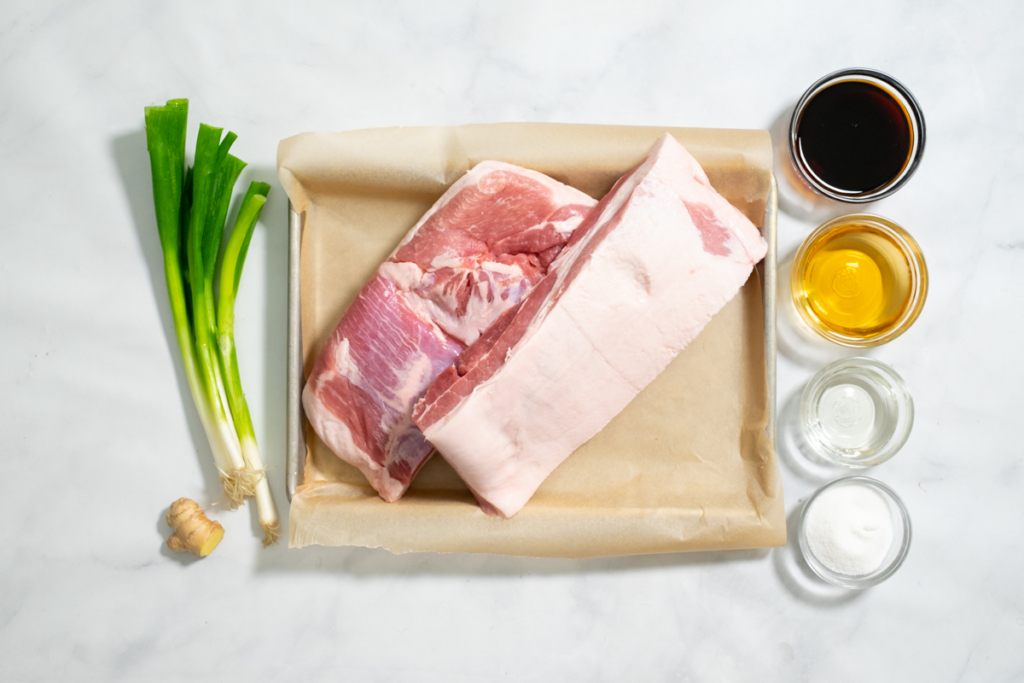 1) Whisk together soy sauce, sake or cooking wine, mirin, and sugar in a medium bowl until the sugar dissolves.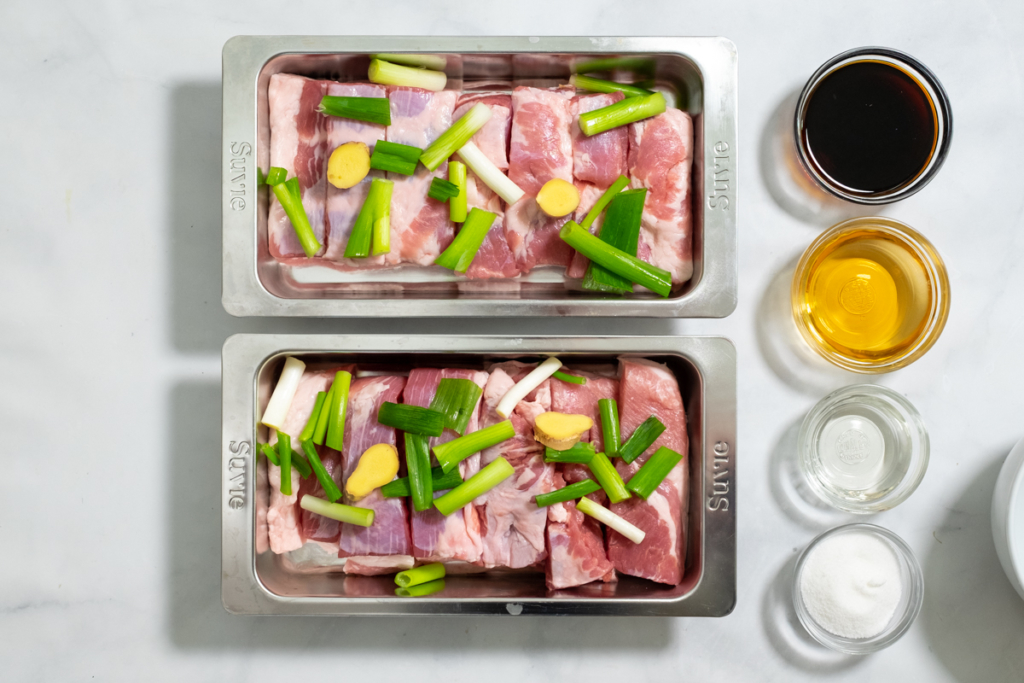 2) Divide the pork belly pieces, scallions, and ginger between two Suvie pans.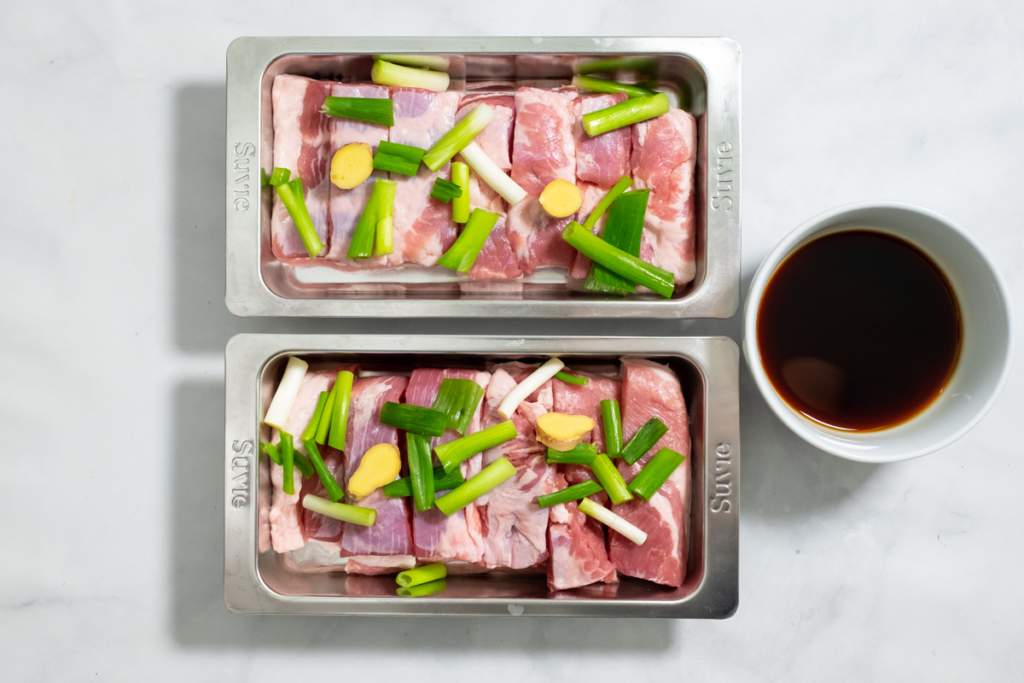 Pour the sauce over the pork and insert both pans into your Suvie. Input settings, and cook now or schedule.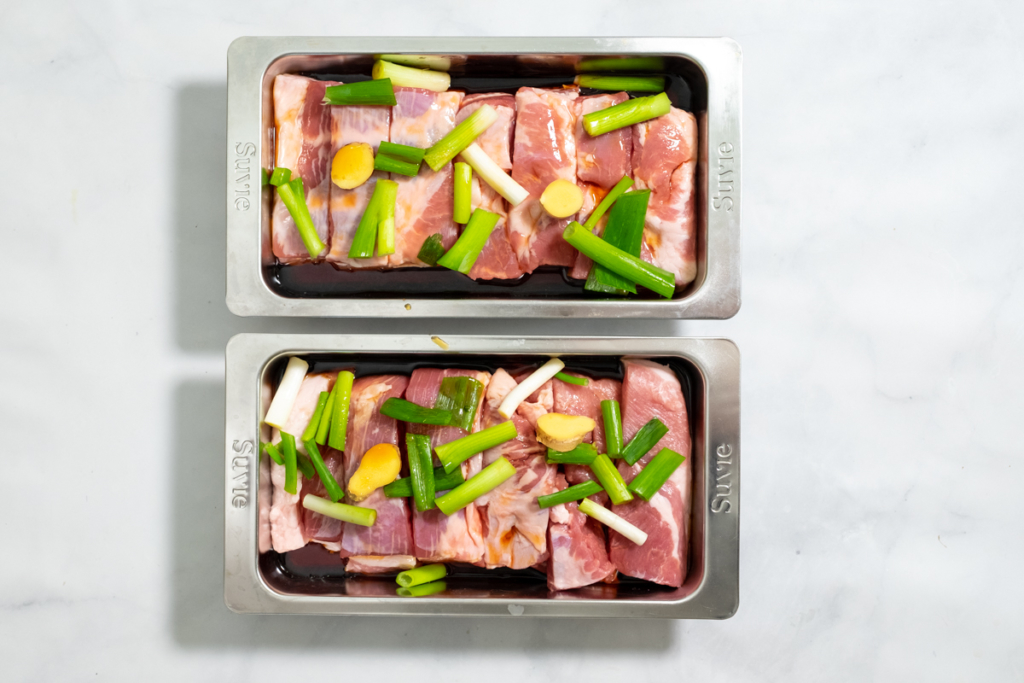 Suvie Cook Settings
Bottom Zone: Slow Cook Low for 8 hours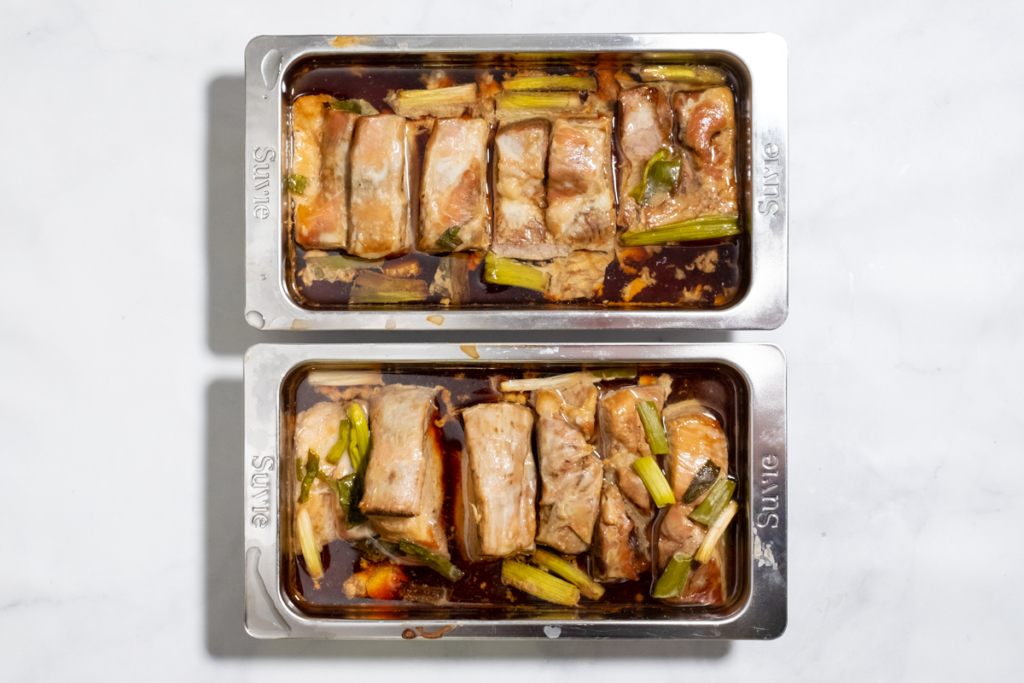 3) After the cook, remove both pans from Suvie and pour liquid into a bowl, leaving pork in the pan.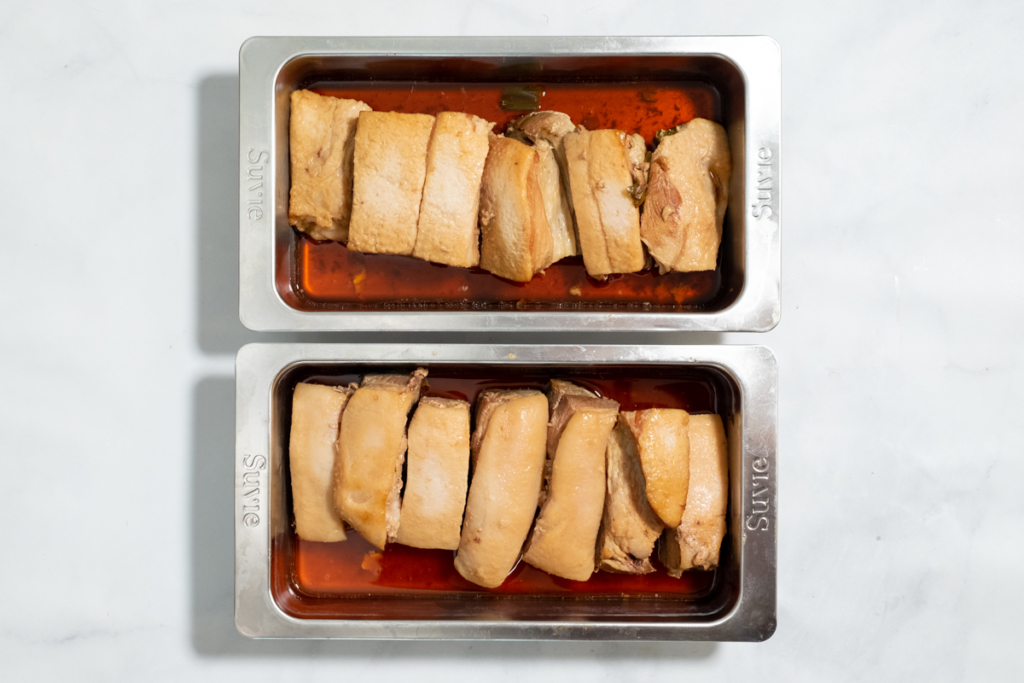 4) Turn pork belly pieces fat side up. Return pans to Suvie and broil for 6-8 minutes until browned. Flip pork over and baste with some of the reserved braising liquid. Return pans to Suvie and broil for another 6-8 minutes until browned.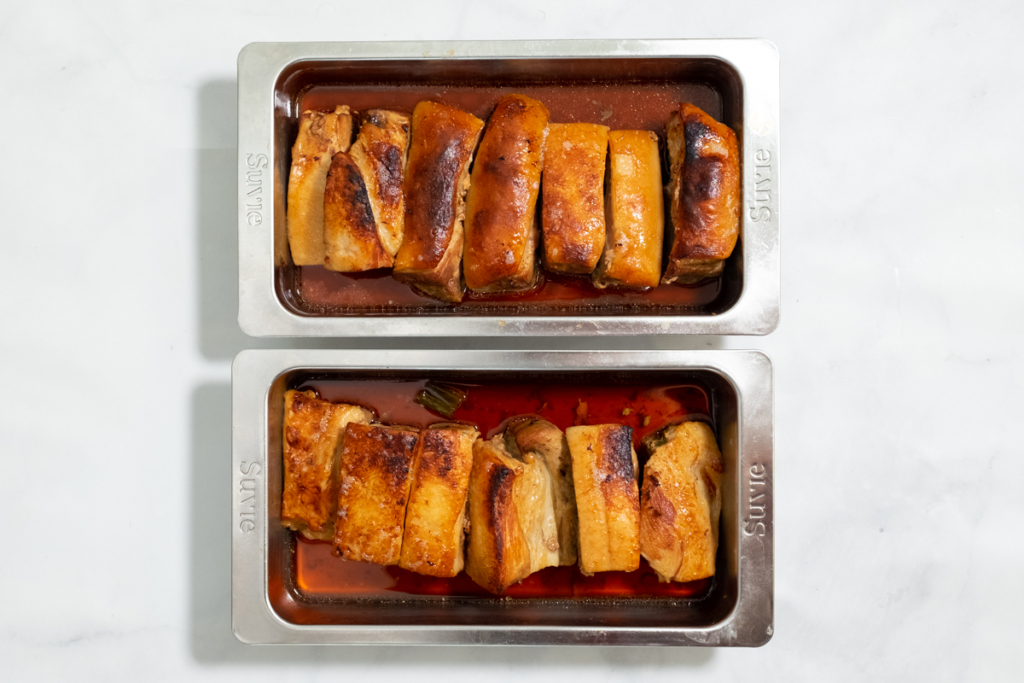 5) Serve the kakuni with sliced scallions and pickled ginger. If desired, transfer remaining braising liquid to a small saucepan and cook over high heat until reduced by half to serve as a dipping sauce.
Note: If you would like to make this recipe in Suvie 1.0, insert pan into the top zones of Suvie, fill reservoir, and set to Slow Cook on Low for 8 hours.
Nutrition
Nutritional Information per serving (8 servings per recipe): Calories 357, Total Fat 33g, Total Carbohydrates 8g, Total Sodium 262mg, Total Protein 6g