Our crab cakes are filled with delicate and flaky crab meat with just the right amount of filling to hold it all together. We top our delectable crab cakes with our light and bright lemon herb sauce and serve them alongside creamy, rich potato gratins and tender broccoli florets. 
Lemon Herb Crab Cakes with Potato Gratin & Broccoli
Please always check your food to ensure your food has been cooked to safe serving temperatures. Please see our guide
here
for recommended FDA Time & Temperatures.
Servings: 2-4
Difficulty: 30-40 minutes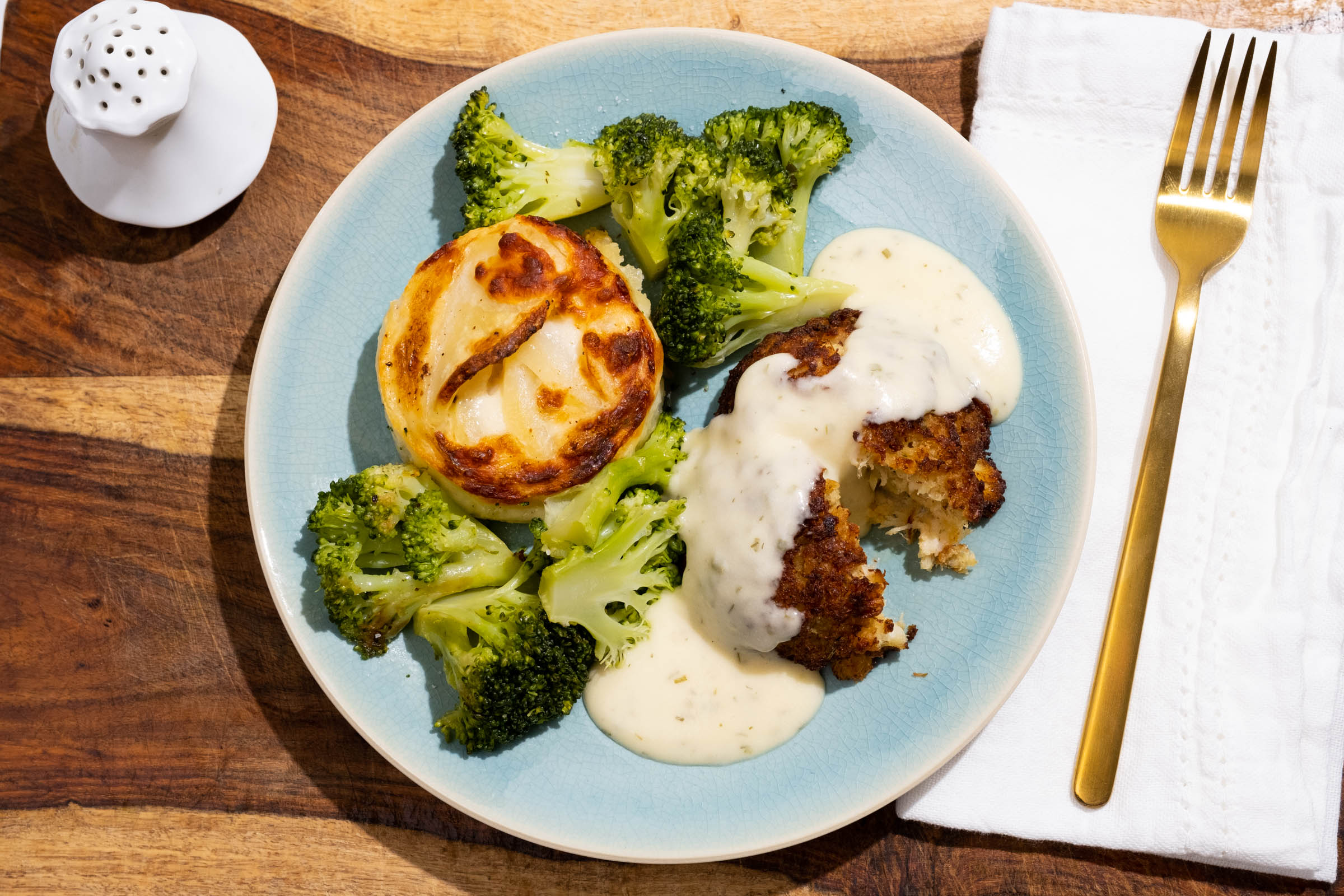 Ingredients
1-2 packets lemon herb sauce
1-2 packages crab cakes
1-2 packages potato au gratins
1-2 packages broccoli
Directions
1) Thaw Lemon Herb sauce in warm water, or place in the refrigerator to thaw during refrigeration. (You can also place on top of Suvie to warm if you are doing a "Cook Now"). Cut open crab cakes and place in a Suvie pan. Place crab cakes in the Top Zone of Suvie.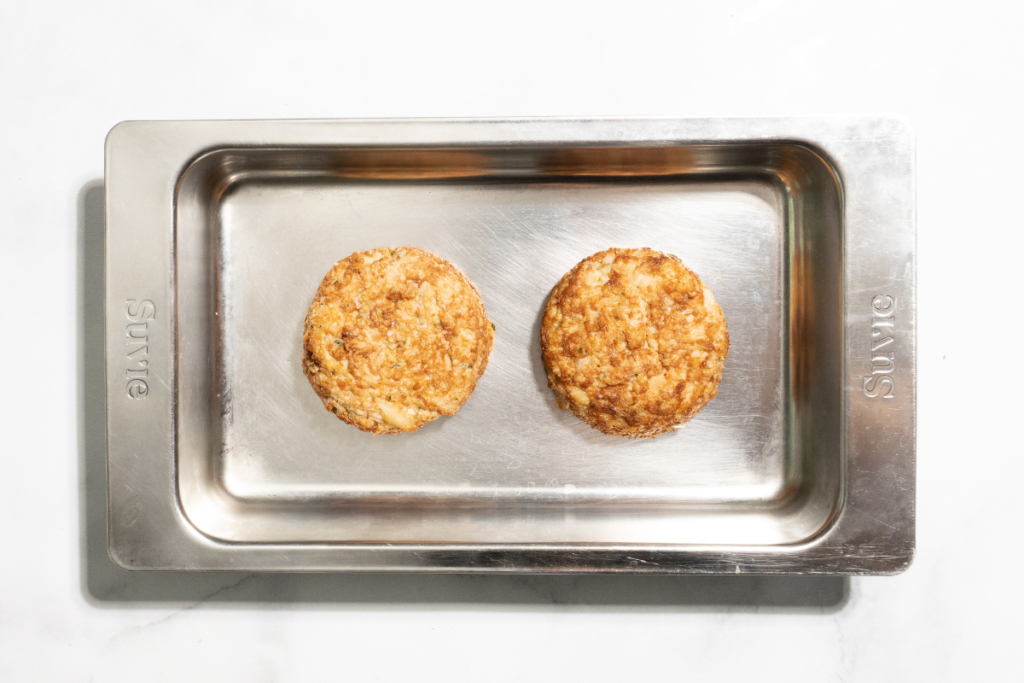 2) Before opening, gently tap broccoli on the counter to break up any large pieces. Open broccoli and add to a separate Suvie pan. Season with 1 tbsp olive oil (2 tbsp), 1/4 tsp (1/2 tsp) salt and freshly ground pepper. Nestle potato gratins into the broccoli, ensuring they touch the bottom of the pan.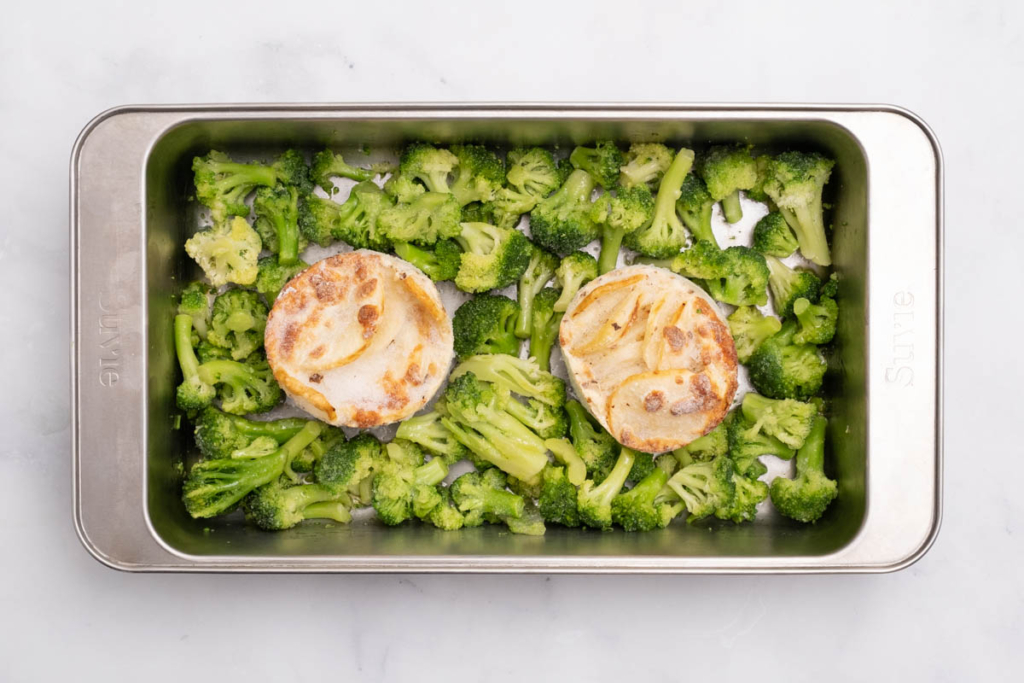 3) Place broccoli and gratins in the Bottom Zone of Suvie. Input settings and cook now or schedule. Be sure to select "Yes" when asked if cooking from frozen.
Suvie Cook Settings
Bottom Zone: Roast at 325°F for 15 minutes (for 4 servings, Roast for 25 minutes)
Top Zone: Roast at 375°F for 15 minutes (for 4 servings, Roast for 25 minutes)
4) When the cook is complete, remove crab cakes, broccoli, and potato gratins from Suvie. Divide crab cakes, potato gratins, and broccoli between plates. Drizzle the lemon herb sauce over the crab cakes. Season to taste with salt and pepper, and serve.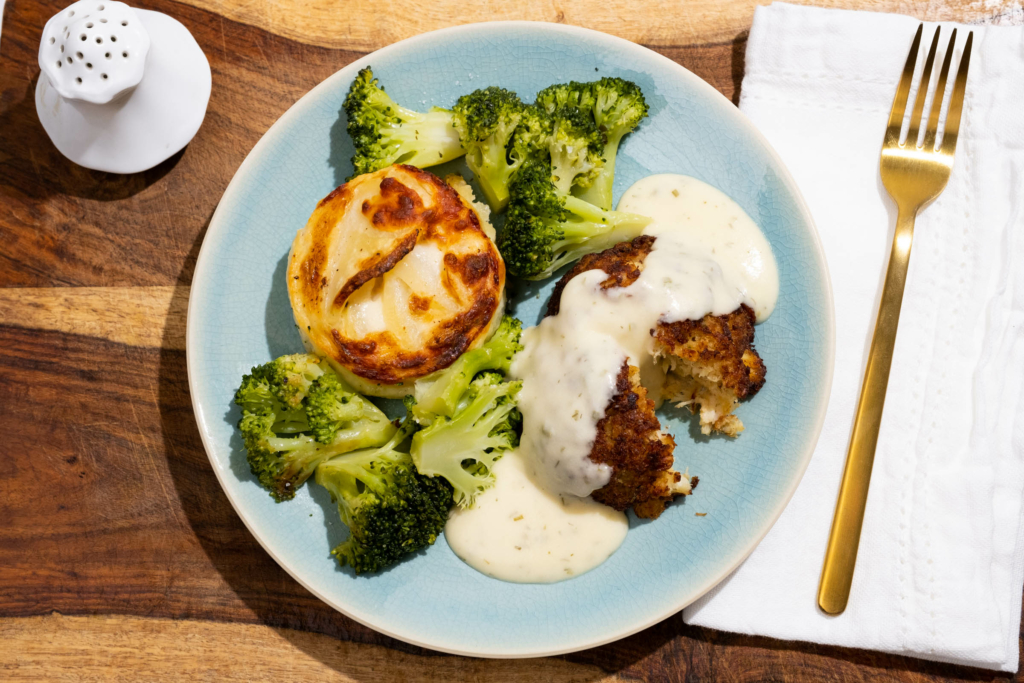 Nutrition
Nutritional Information per serving (2-4 servings per recipe): Calories 650, Total Fat 47g, Total Carbohydrates 210g, Total Sodium 1300mg, Total Protein 20g.