Calling all sweet-and-salty lovers! This recipe is for you. Umami-rich miso is the perfect accompaniment to sweet caramel in this decadent dessert recipe. Ultra flavorful homemade caramel is punctuated by a pop of miso and then whisked into a custard base of eggs and cream before being poured over toasted brioche. 
Miso Caramel Bread Pudding
Please always check your food to ensure your food has been cooked to safe serving temperatures. Please see our guide
here
for recommended FDA Time & Temperatures.
Servings: 8
Difficulty: 2 hours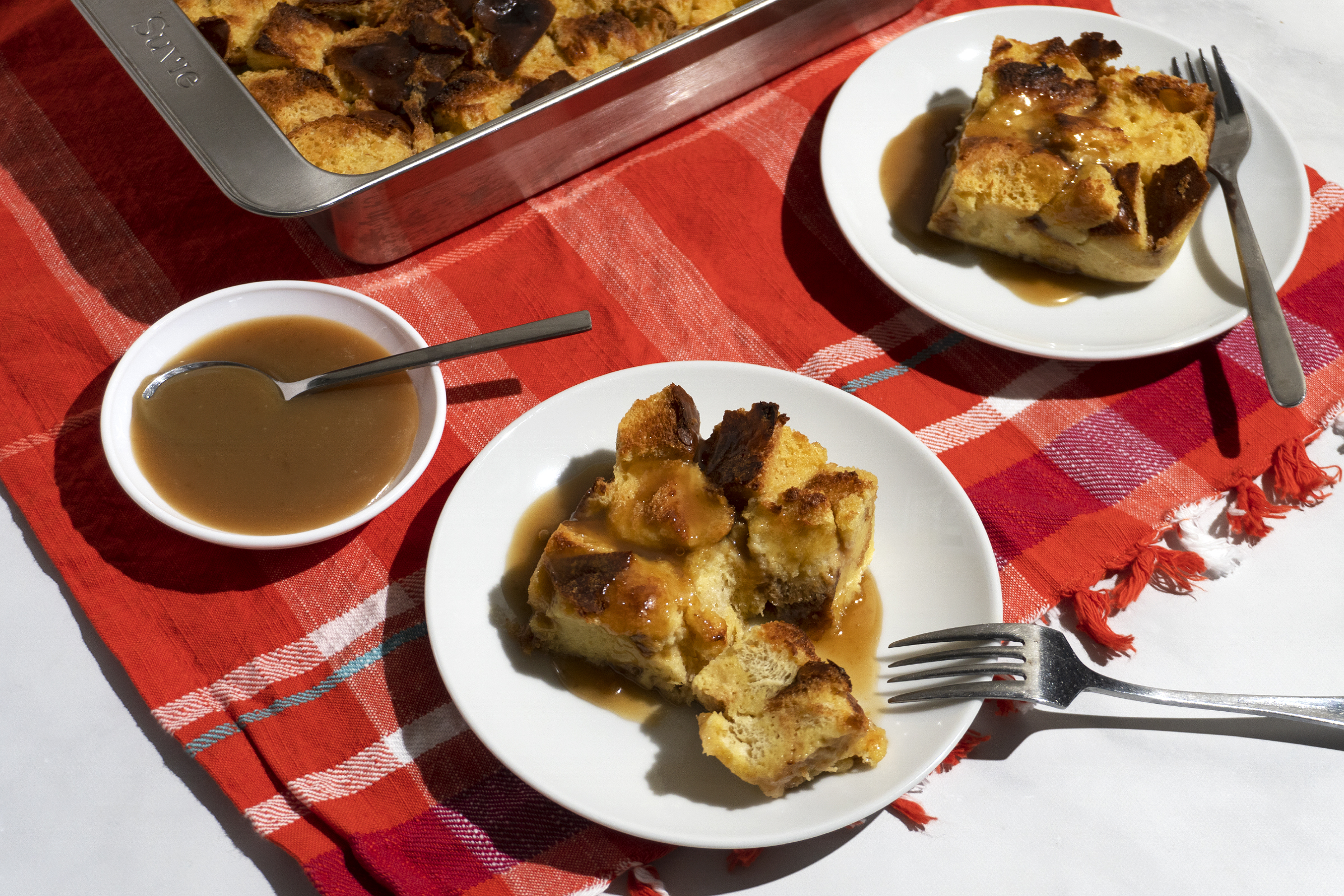 Ingredients
6 cups (10 oz) challah or brioche cut into 1″ cubes
6 tbsp unsalted butter
1 cup light brown sugar
½ cup heavy cream
2 tbsp light corn syrup
2 tsp vanilla extract
2 tbsp white miso
1 ½ cups half and half
3 large eggs
1 pinch salt
Directions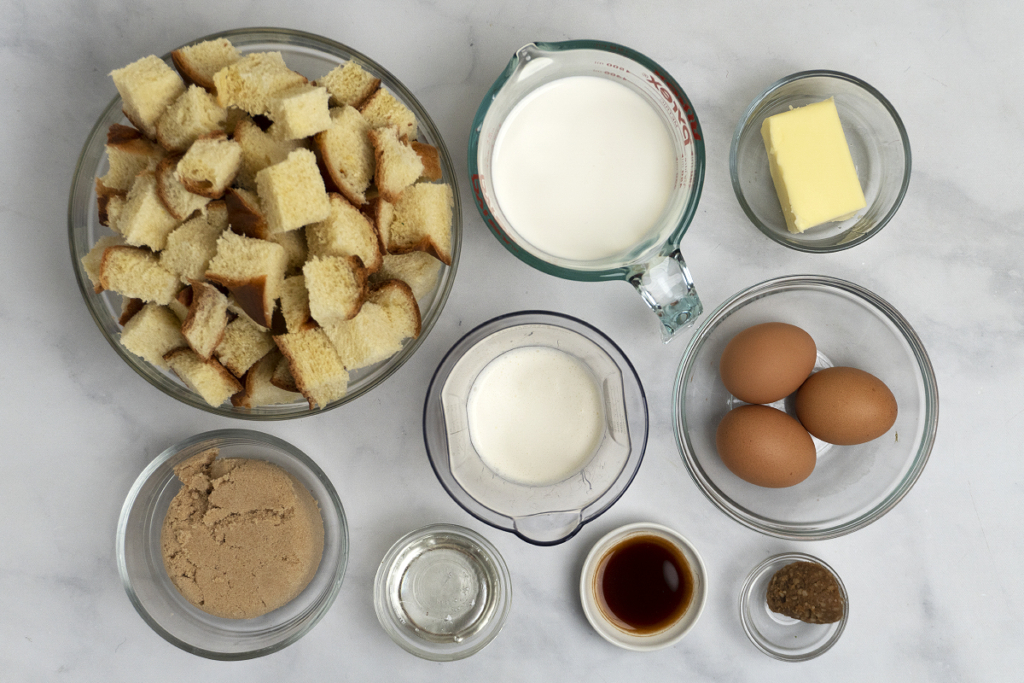 1) Divide 6 cups bread cubes between 2 Suvie pans. Place pans in Suvie and Roast at 350°F for 10 minutes until lightly toasted.
2) Meanwhile, melt 6 tbsp butter and 1 cup light brown sugar in a medium saucepan over medium high heat until bubbling around the edges, stirring occasionally. Remove the saucepan from heat and carefully whisk in ½ cup heavy cream, 2 tbsp light corn syrup, 2 tsp vanilla extract, and 2 tbsp miso. Pour ½ cup of the caramel mixture into the bottom of a greased Suvie pan.
3) Set aside ½ cup caramel for serving. In a large bowl, whisk together eggs, 1 pinch salt, 1 ½ cups half and half, and remaining caramel. Fold in the toasted bread. Transfer mixture to the prepared Suvie pan, pressing on bread to submerge. Input settings and cook now or schedule.
Suvie Cook Settings
Bottom Zone: Slow Cook on Low for 1 hour, 30 minutes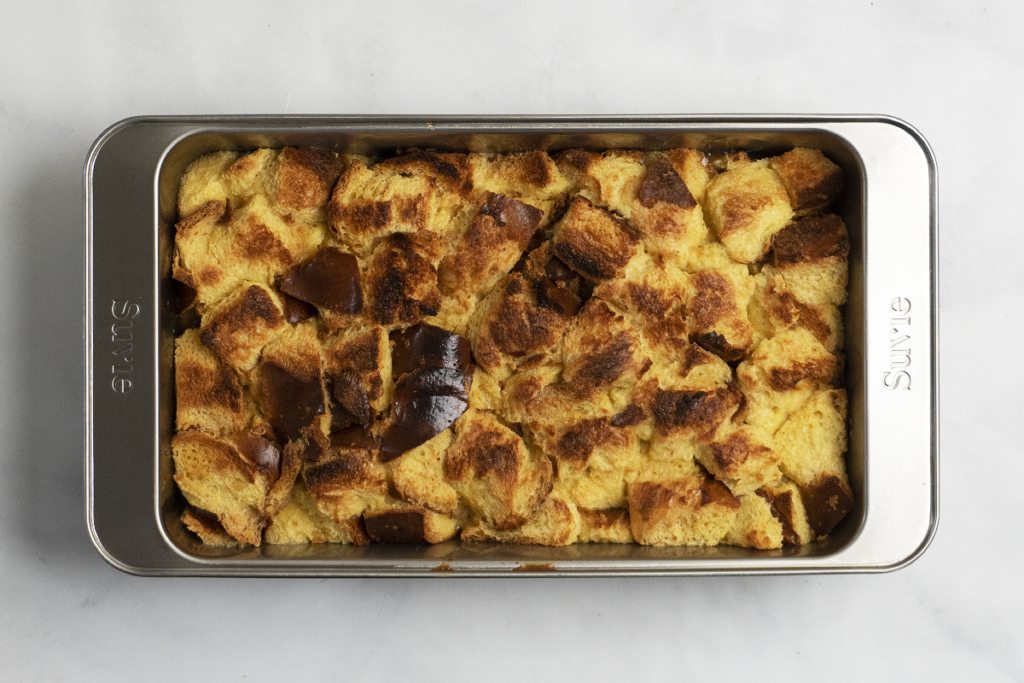 4) When the bread pudding is done cooking, broil the top for 5-10 minutes or until browned. Remove pan from Suvie. Warm reserved caramel sauce and pour over the bread pudding. Let cool in pan 15 minutes. Cut into slices and serve.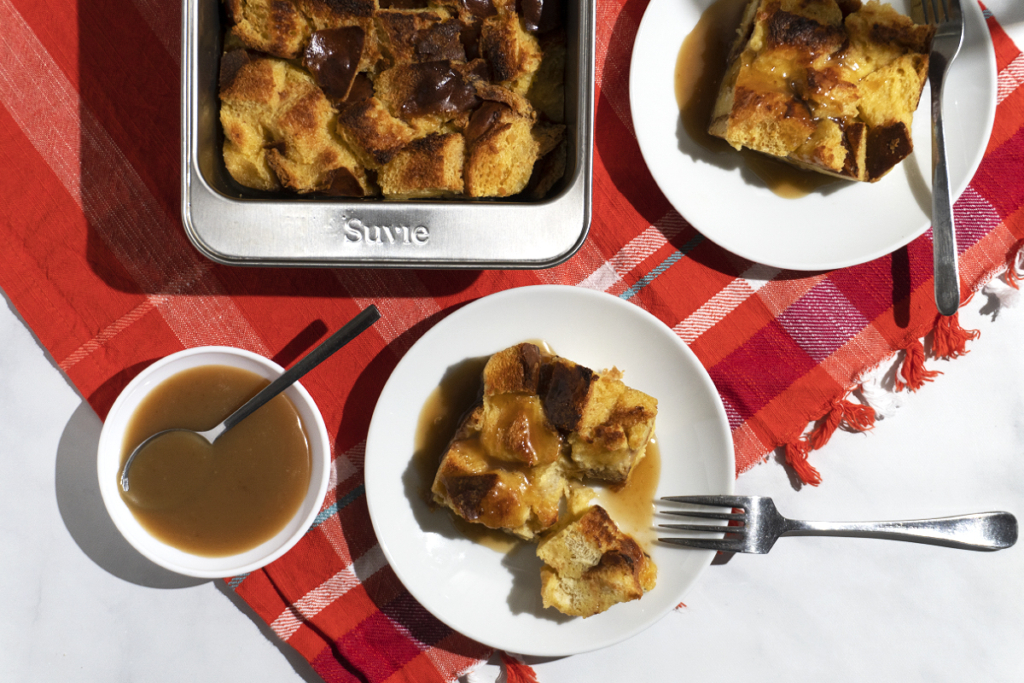 Nutrition
Nutritional Information per serving (8 servings per recipe): Calories 420, Total Fat 24g, Total Carbohydrates 44g, Total Sodium 310mg, Total Protein 8g.